The Stunning Transformation Of Jeff Bezos' Fiancee, Lauren Sanchez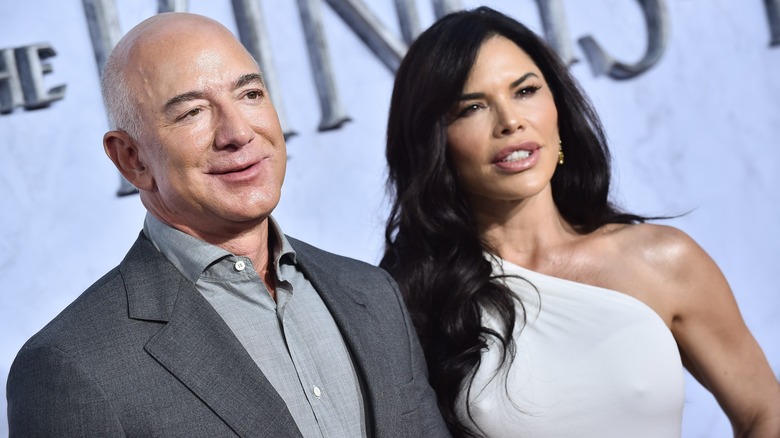 DFree/Shutterstock
Millions of people can admit that they, at one point or another, have daydreamed about catching the eye of a billionaire and living out a fabulous and luxurious happily ever after, but being the fiancée of one of the wealthiest men on Earth isn't even close to being the most interesting thing Lauren Sánchez has accomplished over the course of her life so far. 
From becoming a widely recognized television personality to learning how to fly helicopters and starting her own company, Sánchez has achieved an impressively diverse array of accolades. She is an award-winning journalist who has also shown her prowess in film, fashion, and philanthropic pursuits. In addition to her professional achievements, she is also a devoted mother to her children and a doting partner to Jeff Bezos. 
Since the couple became engaged in May 2023, attention and intrigue surrounding Sánchez's action-packed life have reached new heights, so here is a recap of her transformation from budding journalist to showstopping businesswoman, philanthropist, and fashion icon. 
Lauren Sánchez spent her childhood in New Mexico with her family
Lauren Sánchez was born on December 19, 1969, to second-generation American parents Ray and Eleanor Sanchez. She is a native of New Mexico and was actually born at the same Albuquerque hospital as Jeff Bezos almost six years after him, according to The Wall Street Journal. She spent her childhood in Albuquerque with her parents and siblings. Being 13 years older than her sister, Elena Sánchez, Lauren spent her teen years helping her parents care for her, and the two have enjoyed a close and loving relationship ever since.
Elena took to Instagram last December to wish Lauren a heartfelt "Happy Birthday," and to share her gratitude for the role her sister has played in her life. The post features a photo of Lauren holding Elena as a newborn, along with a caption that reads, "Thank Goodness someone took these photos of the exact moment when we met. What a gift. I don't remember it of course, but I feel it. Because she has been holding me like this both literally and metaphorically ever since."
Lauren alluded to a humble childhood in an interview with The Hollywood Reporter stating, "We came from nothing. I used to sleep in the back of my grandmother's car when she would go clean houses." Instead of seeing it as a hindrance, her blue-collar upbringing instilled the work ethic that ensured her successful future. "Working is part of my DNA. I enjoy it," she added.
Lauren Sánchez went to college for journalism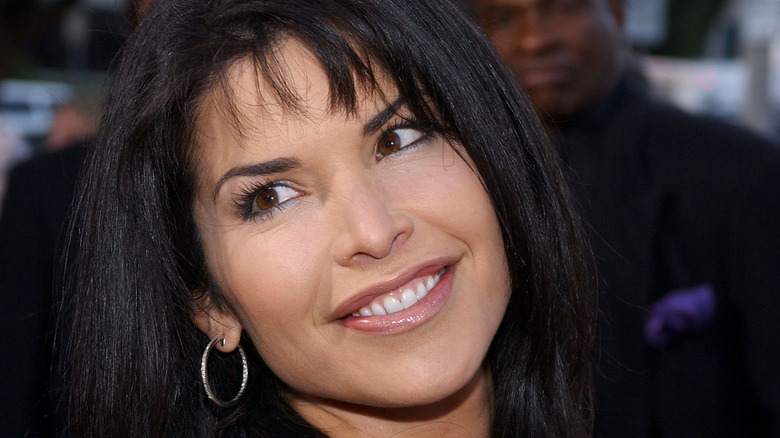 Vince Bucci/Getty Images
Having dealt with undiagnosed dyslexia as a child, Lauren Sánchez struggled with her studies at the elementary and high school levels. She aspired to be a journalist and selected communications as her major at El Camino College in Torrance, California, but the writing-intensive coursework proved to be a substantial hurdle in her pursuit of academic excellence. However, under the guidance of her journalism teacher, Sánchez was tested for learning differences and received her diagnosis, which changed the trajectory of her grades for the better. Moreover, her teacher provided her with the confidence and tools (including a pocket dictionary) which propelled her into a successful career in mass communication. "It changed my life," Sánchez told WSJ regarding the support and influence of her mentor, "I went from a barely 2.0 student to the dean's list."
The dramatic improvement of her grades at El Camino College resulted in a scholarship to the University of Southern California, which she attended for two years before deciding to leave the institution to make her first big career move.
Lauren Sánchez got her start in entertainment as a news anchor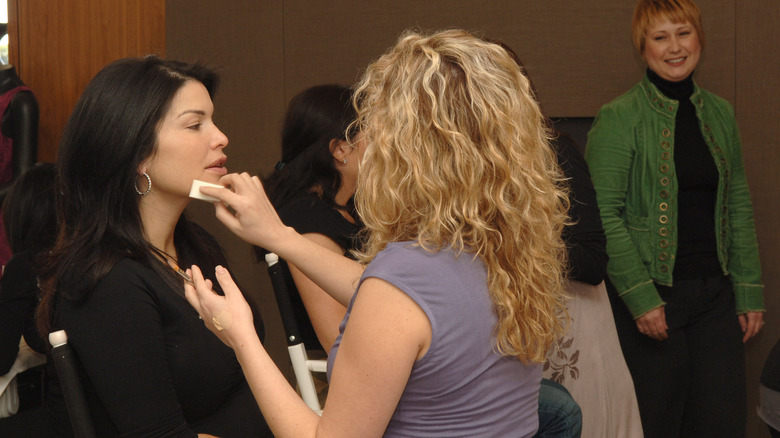 L. Cohen/Getty Images
Lauren Sánchez left the University of Southern California because she was offered a position at KTVK in Phoenix, Arizona. She expressed in her interview with WSJ that having an on-air job in such a large market was no small feat for her.
Less than two years later, Sánchez accepted a position at Fox Sports and returned to Los Angeles. She later took on roles as a correspondent for "Extra" and a co-host for UPN 13 in the late '90s and early 2000s. She also applied for an anchor position with "The View" in 1999, but did not receive the role due to some animosity between cast member Star Jones and herself. She explained that she was upset by the rejection at the time, but was later grateful for the way things had turned out since she would have had to move to New York City and would never have had the opportunity to meet NFL star, Tony Gonzales, who is the father of her first child, Nikko.
Sánchez also took her skills into the world of television competitions when she landed her role as the original host of "So You Think You Can Dance" before returning to news anchoring for "Good Day L.A." from 2011 to 2017.
Lauren Sánchez has been featured in multiple movies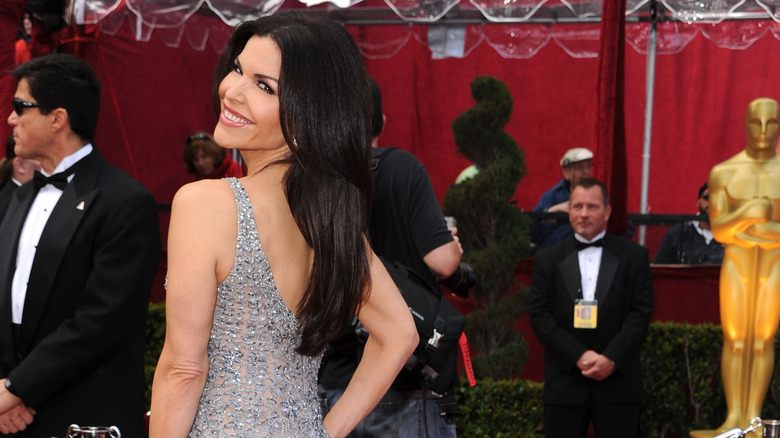 Steve Granitz/Getty Images
Along with her successful career in news broadcasting, Lauren Sánchez has also dabbled in the world of film as an actress. Her classically beautiful appearance and ability to feel at home in front of the camera made her a natural candidate for multiple minor roles over the course of her career.
Her first experience in the glamorous world of Hollywood occurred in 1999 when Sánchez was 28 years old; she was featured briefly in "Fight Club" and was cast to play the role of a news anchor. She fondly recounted the occasion for The Wall Street Journal, saying, "Jared Leto calls me hot — I peaked!" 
She has also made appearances in movies such as "Cellular" (2004), "The Day After Tomorrow" (2004), "The Longest Yard" (2005), "Fantastic Four" (2005), "Akeelah and the Bee" (2006), "Killer Movie" (2009), "We Bought a Zoo" (2011), "Celeste & Jesse Forever" (2012), "White House Down" (2013), and "Ted 2" (2015). 
Lauren Sánchez was married to Patrick Whitesell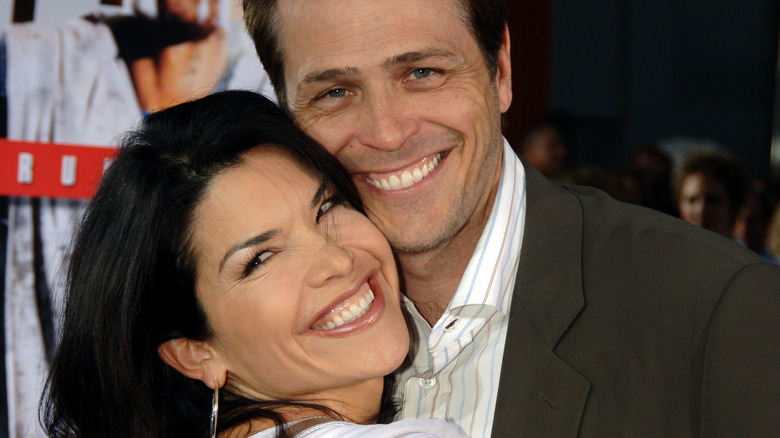 Jeff Kravitz/Getty Images
Jeff Bezos is not Lauren Sánchez's first impressive beau. In the same year that she became the host of "So You Think You Can Dance," she married talent agent Patrick Whitesell, who currently serves as Executive Chairman of Endeavor Group Holdings and has a place on Endeavor's Board of Directors. Whitesell was ranked alongside his co-CEO, Ari Emanuel, as one of Fortune's Top Businessmen of the Year in 2010 after merging Endeavor with the William Morris agency. Forbes estimated that his net worth was about $440 million in 2015. Whitesell and Sánchez have two children together: Evan and Eleanor Whitesell.
An article published by People shortly after the couple's wedding indicated that Sánchez and Whitesell's marriage had a romantic beginning, with Sánchez stating, "I'd always ask my friends, 'How do you know it's the right one? Then, when I met Patrick, I told them, 'I so get it.'" However, after 14 years together, the marriage began to break down. Sánchez and Whitesell filed for divorce in April of 2019, just one day after the finalization of Bezos' divorce from his then-wife, MacKenzie Scott. The proceedings of Sánchez's divorce went smoothly, and the couple's marriage was officially dissolved in October of the same year. They currently share custody of their children.
Lauren Sánchez started her own aerial production company
Lauren Sánchez's history with flying runs deep. Her father, Ray Sánchez, was a pilot, and at one point, she wanted to become a stewardess at Southwest Airlines. Her stewardess dreams were dashed, however, when the company decided that, after a mandatory weigh-in, the 121-pound Sánchez was too heavy for the position, which is shocking to hear in 2023, but was apparently standard practice in the 1989. 
Despite having spent much of her childhood around airplanes, she didn't have much practical knowledge about being a pilot until 2011, when she discovered how much she truly loved flying and capturing the experience through film. In her interview with The Hollywood Reporter, she said, "I had my job, I had a career, and then I found a calling. I loved entertainment and I loved filming, and so I got to combine all of it."
She explained in the same interview that with her dyslexia, flight school was anything but a breeze, "I literally had to put myself in a room and just cram to figure it out," she said. Despite the added difficulty, Sánchez received her license in 2016 and subsequently created Black Ops Aviation. Since then, she has consulted on film projects such as "Dunkirk" and "Miss Bala," as well as has filmed aerial shots for Discovery Land, which is a luxury residential developer.
Lauren Sánchez's relationship with Jeff Bezos began as an affair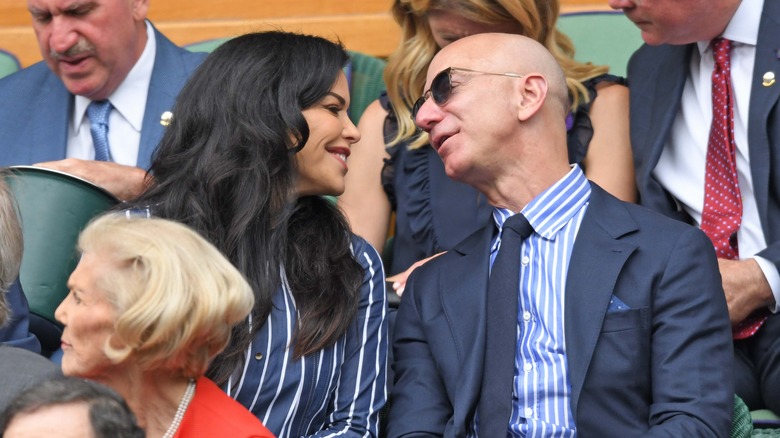 Karwai Tang/Getty Images
Lauren Sánchez's marriage with Patrick Whitesell had been on the fritz for some time before she and Jeff Bezos became romantically involved. "Patrick and Lauren have been on and off for a while and have been separated. [Patrick] knew they were seeing each other," reported People in regard to the state of Sánchez and Whitesell's marriage at the time of the affair.
Just before the details of Sánchez and Bezos' relationship were shared by the media, Bezos announced that he and his wife of 25 years were filing for divorce. According to the aforementioned article, Sánchez and Bezos had been spending time together in social settings in the months leading up to their respective divorces, and as 2019 went on, their behavior toward each other began to "raise eyebrows." The couple weathered a short storm of backlash in the time that elapsed during and after their respective divorces, but the outrage eventually died down, and the pair went about their lives together as an official, happy couple.
Lauren Sánchez is philanthropic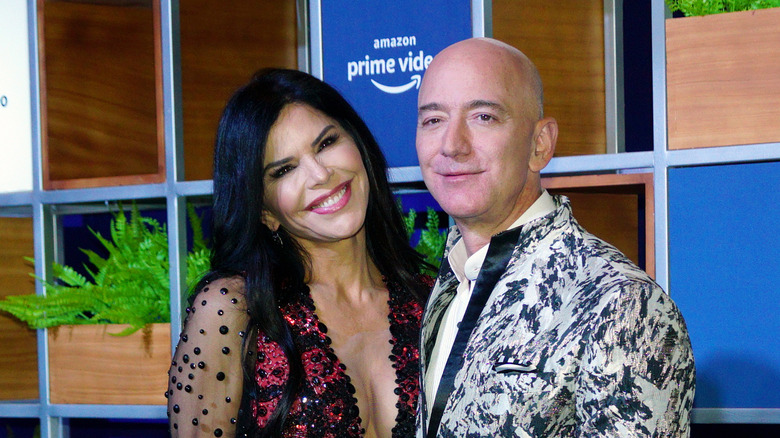 Prodip Guha/Getty Images
Lauren Sánchez is heavily involved with Jeff Bezos' philanthropic endeavors and frequently shares social media posts that bring attention to climate change and human rights. Her staff profile featured on the website for Bezos Earth Fund states that she is the program's Vice Chair, and she works with other organizations such as This is About Humanity and the Bezos Day One Fund.
Sánchez's Instagram profile is filled with posts centered on spreading awareness for these charitable causes, and some allow her followers to catch a glimpse of her own experiences while volunteering. In a post from August 2023, Sánchez shared a photo of her oldest child, Nikko Gonzales, and another volunteer with This is About Humanity preparing food for children seeking refuge in shelters near the U.S. border. Sánchez's post was accompanied by a caption that said, "It was an incredibly moving experience to spend time with these amazing kids living in shelters. Their resilience and spirit touched my heart deeply. With my own kids by my side, we came together to make delicious meals, cupcakes and passed out backpacks filled with games, stuffed animals and essential supplies. Seeing the smiles on their faces and feeling their gratitude warmed my soul."
Aside from their own charitable organizations, Sánchez and Bezos are also known to give funds in times of sudden distress and turmoil. In August 2023, the couple also pledged $100 million to aid Maui after the island was devastated by wildfires.
Lauren Sánchez dove into the world of fashion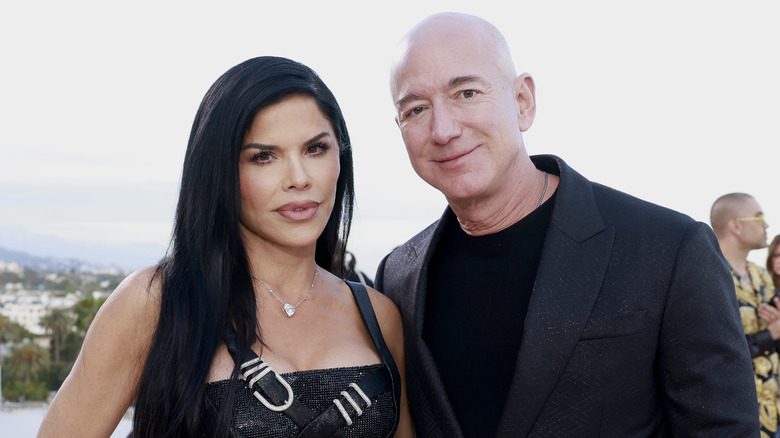 Emma Mcintyre/Getty Images
Like many celebrities, Lauren Sánchez's life in the public eye encourages her to be mindful of the way she presents herself, and fashion is a major factor when it comes to curating one's image. Over the past 20 years, Sánchez has turned heads with striking silhouettes and tasteful ensembles, sporting neutral classics, and luxury pieces while treating the world as her runway.
Sánchez told WSJ about the positive influence of her mentor, Barbara Walters, in regard to her style, saying, "Producers were trying to make me dress extra conservative and she saw me and said 'What happened?' She said, 'They will try and make you ordinary. Don't let them. Then, if you fail, at least you fail as yourself.' I never forgot that."
She has mastered the art of dressing for any occasion and is known for her eye-catching formal attire, such as the strappy, black Versace dress paired with tights and pointed-toe heels she wore for the designer's 2023 fall show in California. Sánchez tends to lean toward formalwear that is dark and striking in color, often sporting black or the occasional vibrant red to compliment her dark hair and tan complexion. On the opposite end of the fashion spectrum, her casual outfits tend to be earth-toned, natural fibers such as off-white linens. She has also been seen sporting perfectly tailored jeans and trendy blazers for a business casual look.
Jeff Bezos proposed in May 2023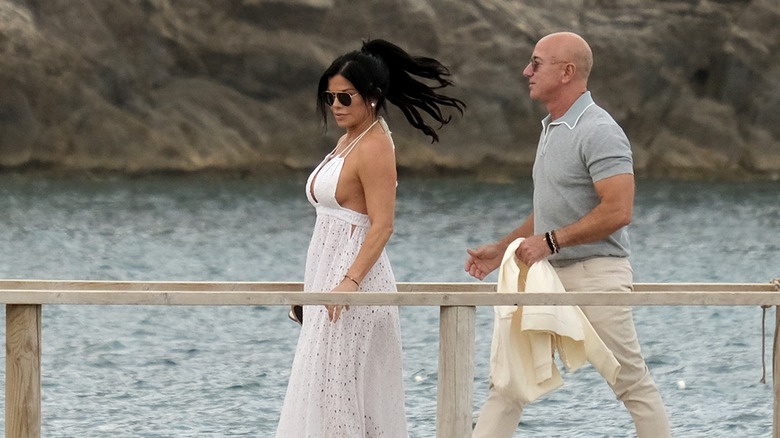 Mega/Getty Images
After the controversial beginning of their relationship and approximately four years of dating, Jeff Bezos proposed to Lauren Sánchez in May 2023. At the time, the couple enjoyed a luxurious vacation on Bezos' $500 million yacht as they cruised through the Mediterranean. Bezos completed the romantic gesture with a wooden sculpture of Sánchez attached to the vessel's prow. People reported that the sculpture included a symbol for Koru, which is one of significance to the couple — it signifies new beginnings.
On May 21, Sánchez was photographed wearing a large, cushion-cut diamond ring on her left ring finger which is estimated by Town and Country Magazine to be between 20 and 30 carats and worth approximately $2.5 million. The couple spent the rest of their vacation sailing around, intermittently stopping in destinations such as Portofino and Ibiza, as well as taking some time to enjoy the Cannes Film Festival.
Lauren Sánchez has a children's book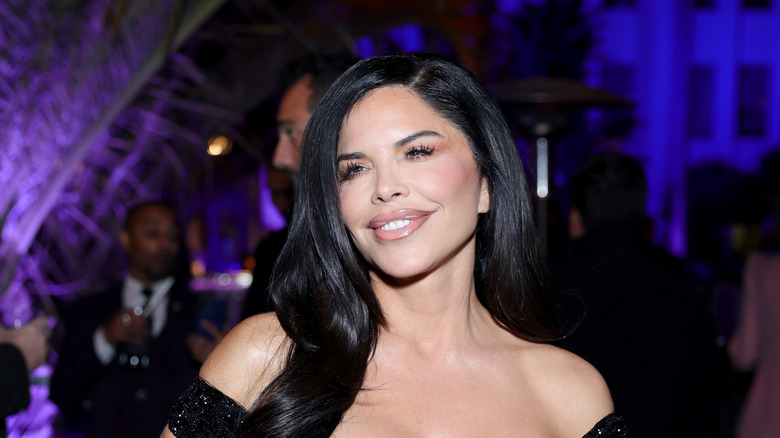 Stefanie Keenan/vf23/Getty Images
Lauren Sánchez is no stranger to childhood development. Through her experience as a mother, stepmother, and her work with children over the course of her volunteering and philanthropic work, she has developed an interest in the education and quality of life for young people across the world. She has also worked tirelessly to become a role model, especially to girls, as a skilled career woman. 
In an effort to combine her love for the betterment of youth and her hard-earned skills and work experience, Sánchez has decided to create a children's book that will be released in the later months of 2023. The book is titled, "Flynn, the Fly Who Flew," which is a concept that occurred to her while she was in the air. She told WSJ, "I was in the helicopter, and there was a fly. I was like, 'Oh my gosh, look, a fly who flew! This is such a great idea for a children's book. And it stuck.'" She went on to explain her intent, stating, "I hope that a reader, especially children, will see that if you wander and explore, you never know what you'll discover. You shouldn't stay in one place. Don't be typical." 
Lauren Sánchez is going to outer space on an all-female crew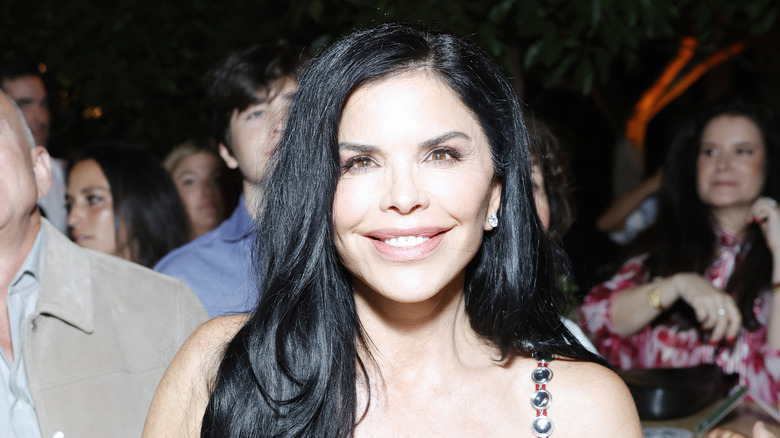 Stefanie Keenan/Getty Images
The Wall Street Journal reports that Lauren Sánchez will be an integral part of an all-female space mission organized by Jeff Bezos' space exploration company, Blue Origin. Bezos and the crew have scheduled the event to take place in the early months of 2024. Sánchez states that she is strictly against Bezos joining the team, and though he does desperately wish to go with them, his fiancée is confident that he will be an adamant supporter of the endeavor, even if he is excluded from the crew. 
Sánchez speaks in reference to the five other, undisclosed individuals who will be joining her when she says, "It's going to be women who are making a difference in the world and who are impactful and have a message to send." Sánchez admits that she is excited but also nervous about going into outer space, and she discloses to the interviewer, Derek Blasberg, that Bezos is enthusiastic about accomplishing this feat with the help of all of the women involved. "He's very encouraging and excited," she said, "he's thrilled we're putting this group together."