Melania Trump's Campaign Trail Absence Raises Major Flags (Literally)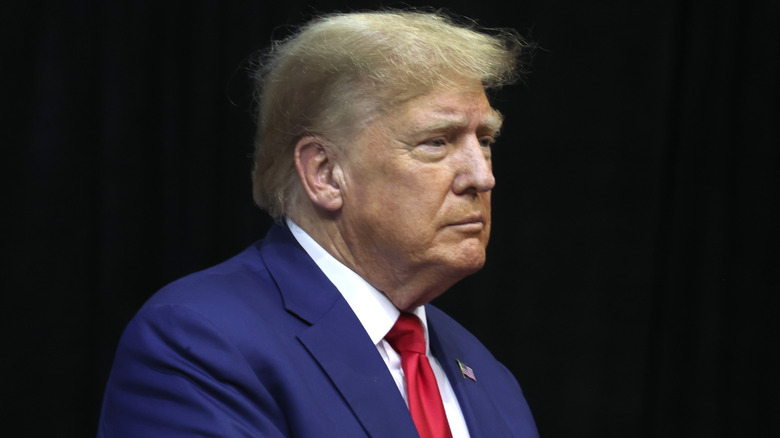 Scott Olson/Getty Images
Donald Trump is running for president for the third time. And even though he's facing a historic four indictments and nearly 100 criminal charges, he's out on the campaign trail. One of his recent stops was in Iowa — Iowa will be the first state for voters to cast their ballot for who should be the Republican nominee for president, and it's long been a vital campaign stop for presidential hopefuls. Trump also stopped by the Iowa vs. Iowa State football game in Ames, Iowa.
But while Donald might be out campaigning, he's not been joined by his wife, former first lady Melania Trump. She did join him for the announcement of his candidacy at Mar-a-Lago back in November 2022, and she told Fox News Digital that she supported his bid for the presidency. But other than that, she's been keeping out of the spotlight. And her absence has definitely been noticed. Before the game in Ames, a plane flew over the stadium, flying a banner that read, "Where's Melania?" A not too subtle dig at the former president and first lady!
Donald Trump joined Ron DeSantis in getting trolled by airplane
The banner may have been a comment on more than just Melania Trump's absence during Donald Trump's presidential campaign. Melania has been staying off the campaign trail as well as staying out of sight for her husband's multiple court appearances (though apparently, Melania's silence on Trump's indictments is a part of her strategy).
Trump isn't the only Republican presidential candidate who has been targeted by a high-flying banner in Iowa. When Florida Governor Ron DeSantis was at the Iowa State Fair, a plane flew overhead with a banner that read "Be likable, Ron!" Trump was also at the Iowa State Fair on the same day as DeSantis, and his private plane, emblazoned with "Trump" along the side, arrived and flew over the fairgrounds while the Florida Governor was grilling pork chops at the fair's pork tent along with the Iowa Governor. Unlike Donald and Melania, Ron has been joined on the campaign trail in Iowa by his wife Casey DeSantis; she's even gone on some solo outings working to help boost her husband's campaign.
As well as both attending the Iowa State Fair, both DeSantis and Trump were at the Iowa vs. Iowa State game, as were candidates Vivek Ramaswamy, Asa Hutchinson, and Doug Burgum. And regardless of Melania's lack of public support, Trump is currently leading the Republican presidential pack in Iowa with a near 2 to 1 lead over DeSantis, according to the Des Moines Register.