Who Are Danny Masterson's Wife Bijou Phillips And Daughter Fianna Masterson?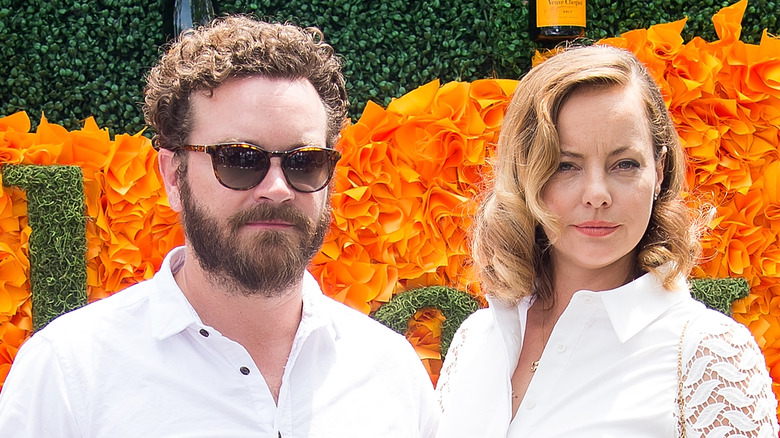 Michael Stewart/Getty Images
Danny Masterson, who played the sunglasses-clad, deadpan Hyde on "That 70's Show" from 1998 to 2006, has been plastered across news headlines before, during, and after his 2023 trial in which he was accused of raping three women in the early 2000s. But far less is known about his wife, Bijou Phillips, and their daughter, Fianna Masterson. 
Phillips stood by her husband's side throughout the arduous legal process, having been no stranger to highly publicized turmoil herself. Per the Independent, Phillips became tabloid fodder after moving to New York City by herself at only 14 years old. She quickly joined the party scene of the rich and famous, rubbing elbows with the Hilton sisters and succumbing to hard drugs before entering rehab at 17. The model and actress faced accusations of harassment and assault by her "Bully" co-star, Daniel Franzese, in 2017. 
And unfortunately, Phillips' hardships didn't end there. Following Masterson's sentencing of 30 years to life in prison for two counts of rape, sources close to Phillips told the Daily Mail that "she is a shell of who she has been."
Bijou Phillips had famous parents but a tumultuous childhood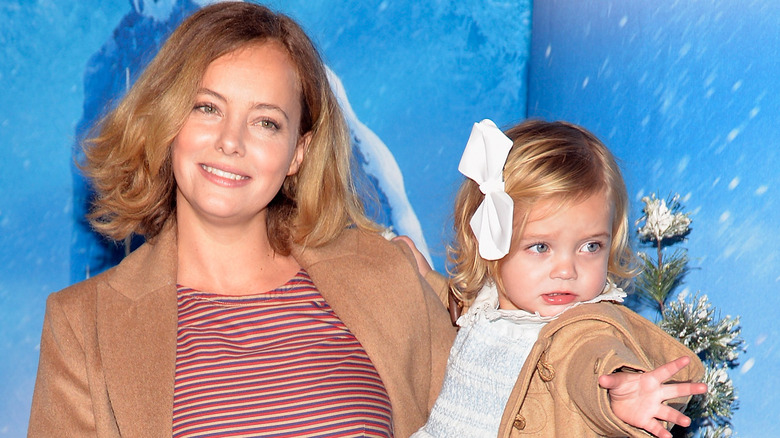 Michael Tullberg/Getty Images
Bijou Phillips was born on April 1, 1980, to The Mamas & The Papas musician John Phillips and his third wife, South African model and socialite Geneviève Waïte. In a June 2018 Instagram post, Phillips recounted how she was placed into foster care at around 3 years old because her parents were "unfit." While she described her love for her foster family, she painted a picture of a rocky childhood in which she desperately wanted to be with her birth parents. 
Phillips got her first big break as a Calvin Klein model at 13 years old. The following year, she had emancipated herself, moved into her own apartment off Fifth Avenue, and started making a name for herself as a raucous, precocious "wild child" of the city's party scene. By the 2000s, Phillips was a published recording artist and began collecting a notable acting portfolio with roles in "Almost Famous" and "Bully" before landing a recurring role as Lucy in "Raising Hope." 
Phillips met her future husband, Danny Masterson, at a celebrity poker game in 2004 when Masterson was at the height of his "That 70's Show" career. By 2008, engagement rumors started circulating, and the two finally wed in a private ceremony in 2011. Three years later, on Valentine's Day 2014, Phillips and Masterson's first and only child, Fianna Masterson, was born.
Daughter Fianna Masterson was only 9 at the time of Danny Masterson's sentencing
Bijou Phillips and Danny Masterson's daughter, Fianna Francis Masterson, was born on February 14, 2014. Masterson posted the news on his Instagram, writing, "Mom and baby are doing amazing. You can all refer to me as dj dadpants from now on." Masterson has shared snapshots of life with Phillips and their daughter on his Instagram, though Phillips has refrained from sharing pictures of her daughter on her profile.
At the time of Masterson's sentencing, Fianna was only 9 years old. Phillips wrote to Judge Charlaine Olmedo in a pre-sentencing support letter to persuade the judge to dole out a lighter sentence. "Our daughter and I are heartbroken that he is not home with us. Even though he is now in jail, he calls her every day. He helps her with homework every night," Phillips wrote, per the New York Post.
"We need him more than you can imagine," Phillips continued. "I know he has been convicted of serious crimes. But the man I married has only been an extraordinary husband to me and a devoted father to our daughter." The former cast member of "That '70s Show" was convicted of raping two women in his Hollywood Hills home in the early 2000s. Per AP News, the jury could not reach a unanimous verdict regarding the third accuser, Masterson's ex-girlfriend. Masterson will be eligible for parole in 25.5 years when he's 72.