Ice Cube Shared His Thoughts On The Infamous 'Compton' Headline About Meghan Markle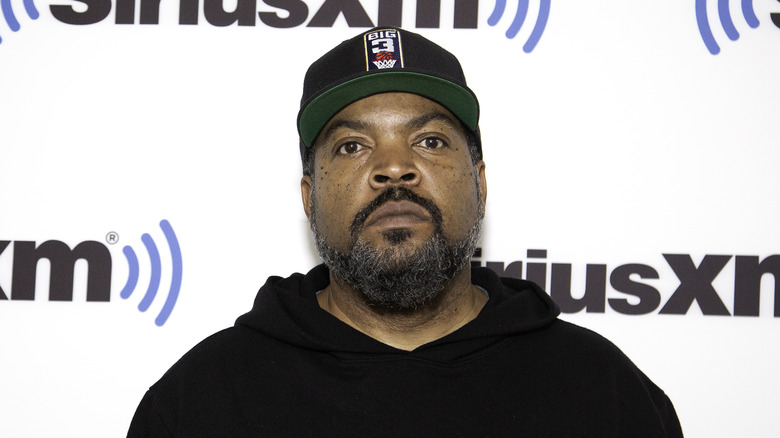 Santiago Felipe/Getty Images
Royal fans will certainly remember when news broke — inaccurately — of Meghan Markle, Duchess of Sussex's California hometown. The article, titled "Harry's Girl is (Almost) Straight Outta Compton," was originally posted by the Daily Mail in 2016 shortly after her relationship with Prince Harry went public. The article claimed that Markle grew up in a "gang-scarred" neighborhood with her mother, and went into detail over her parents' financial woes.
The writeup immediately raised eyebrows due to its blatant racism and clickbaiting headline — Markle grew up in the nearby neighborhood of Crenshaw. The headline referred to a song and album of the same name by the rap group N.W.A. Founding members Eazy E, Dr. Dre, and Ice Cube put the California suburb on the map with their 1988 hit. Almost seven years after the inflammatory headline broke, Ice Cube finally spoke out about the ordeal.
"It was a very off-colored joke, but I think when you are in the house you can make more changes to the house than when you are outside of the house." the rapper told Good Morning Britain (per The Independent). Referring to the Duke and Duchess of Sussex's infamous "Megxit" in 2020, Ice Cube criticized their decision to leave the royal family: "If they stuck it out they might have been able to make some changes."
Meghan Markle's treatment by British media led to a breaking point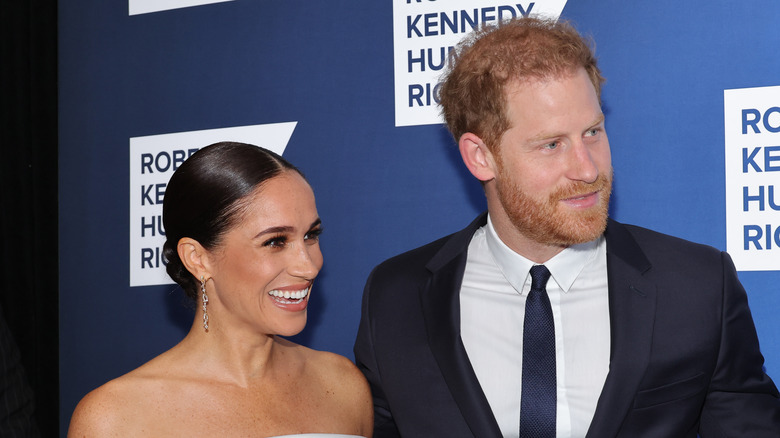 Mike Coppola/Getty Images
As a mixed-race woman, Meghan Markle, Duchess of Sussex, faced extreme judgment and stereotyping as she entered the royal family. While the British royals aren't necessarily known for being the most welcoming bunch, they have become quite familiar with outsiders entering the family. Prince William married Kate Middleton, now Catherine, Princess of Wales, in 2011, joining the ranks of several royals who have married a "commoner." But when Prince Harry began dating Meghan Markle in 2016, there were new layers to the British media firestorm that ensued.
The Daily Mail's "Straight Outta Compton" article highlighted differences in their upbringings, based on twisted statistics about Crenshaw and surrounding neighborhoods. After the incredible backlash it received, the title of the article was changed while the contents remained the same. This was just one of thousands of derogatory articles that have targeted Markle over the years. In their Netflix documentary "Harry & Meghan," the couple shared details about how the press — and cooperation from the Institution — led them to exit royal life.
"They knew how bad it was. They thought, 'Why couldn't she just deal with it?'" Harry said in the docu-series (per Vogue). In terms of his family's complacency and at some points exploitation, he continued: "There's leaking, but there's also planting of stories." After the announcement of "Megxit" in 2020, the British public was split between understanding and betrayal.
Meghan Markle and Prince Harry's exit from royal duties was highly criticized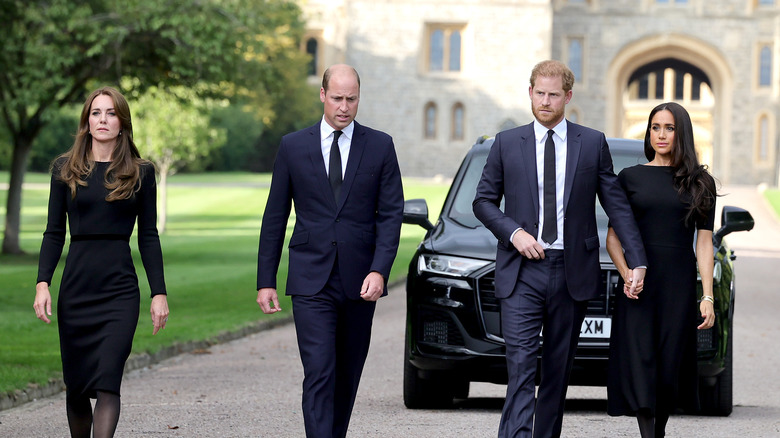 Chris Jackson/Getty Images
In 2020, Prince Harry and Meghan Markle, Duchess of Sussex famously decided to step down as royals, leaving Kensington Palace for the U.S. The media quickly criticized Prince Harry's apparent lack of devotion to the royal Institution as well as the British people. But aside from the media critique, he was determined to protect his family above all. Since then, Prince Harry revealed why they left the royal family via interviews, a documentary, and even his own autobiography.
In addition to harassment from the British press, the Duke and Duchess of Sussex cited a lack of support from fellow royals. It didn't help that Markle was quite the nontraditional Duchess. As an American with Black heritage, her race and nationality were quickly woven into the discourse concerning the couple. As revealed in their explosive interview with Oprah Winfrey, the Institution's lack of support eventually reached a boiling point.
"It was only once we were married and everything started to really worsen," Markle told Winfrey (per Reuters). "I came to understand that not only was I not being protected, but that they were willing to lie to protect other members of the family." Since their separation from the Institution, Harry and Meghan's relationship with the royals has only worsened as they continue to speak out. Since Prince Harry's tell-all "Spare" was published in 2022, it is reported that he and Prince William have not spoken (per Us Weekly).