Prince Harry Reveals The Real Reason He Left The Royal Family
Wpa Pool/Getty Images
When Prince Harry and Meghan Markle announced they were stepping back from their royal duties, in a move later dubbed "Megxit," it sent shockwaves through the world. The move came amidst mounting rumors about how unhappy the couple was with the strict rules pertaining to their existence. Markle, in particular, seemed to find her new royal standing difficult to comprehend. As WWD notes, intense press scrutiny likely contributed to the couple's decision to bow out of public life, too, as the U.K. tabloids were particularly enamored with them. 
The official announcement was made on Instagram, with Harry and Meghan advising they'd made the tough decision "after many months of reflection and internal discussions," while thanking supporters for giving them the courage to do so. The following 12 months were busy for the Sussexes as they moved across the pond, got settled in a fancy neighborhood where the couple counts the likes of Oprah Winfrey as neighbors, and conducted charity work out in the community. Finally, we know why they decided to leave in the first place. 
The press played a major role in Prince Harry's decision to leave the royal family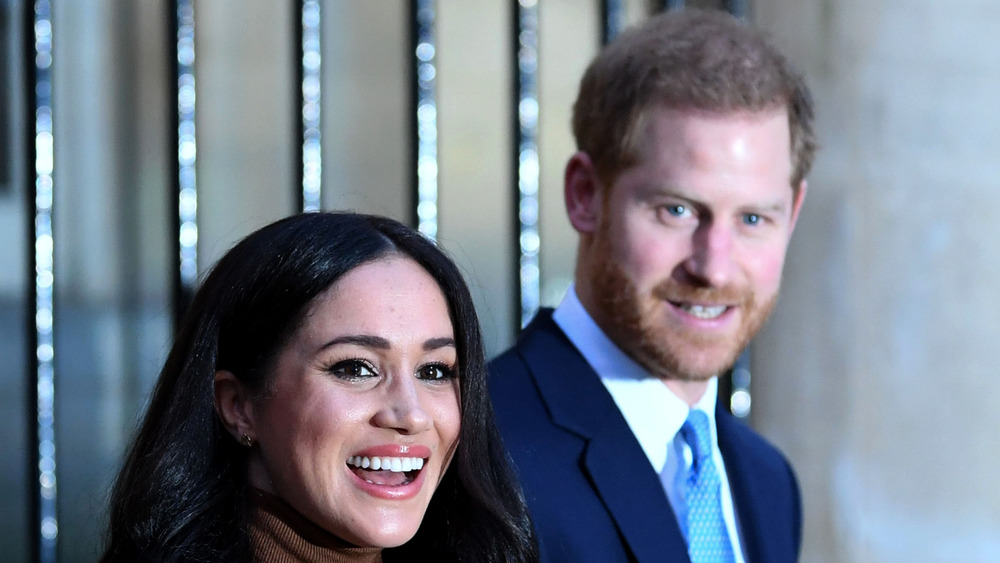 Wpa Pool/Getty Images
While chatting to The Late Late Show host, and fellow Brit, James Corden, Prince Harry revealed that living in the U.K. was "destroying" his mental health. Ultimately, the father of one, who has another child on the way, realized he had to move his family away from prying eyes for their own safety. "We all know what the British press can be like," he argued. The former royal elaborated, "I was like, this is toxic. So I did what any husband and what any father would do." However, Harry made it clear that it wasn't about "walking away" from his family, clarifying that he and Meghan stepped back rather than down. 
The couple was finding the environment in England simply too difficult to exist in, particularly with baby Archie, and they knew something had to change. The Duke of Sussex stated emphatically, though, "I will never walk away. I will always be contributing. But my life is public service. So, wherever I am in the world it's going to be the same thing." Meghan and Harry are set to sit down with Winfrey, on March 7, for their first on-camera interview since Megxit. The Duchess of Sussex recently won a major privacy claim against the publishers of tabloid the Mail on Sunday, as per CNN, further cementing the couple's position.