All My Children's Susan Lucci Could Barely Believe It When Her Daytime Emmy Losing Streak Broke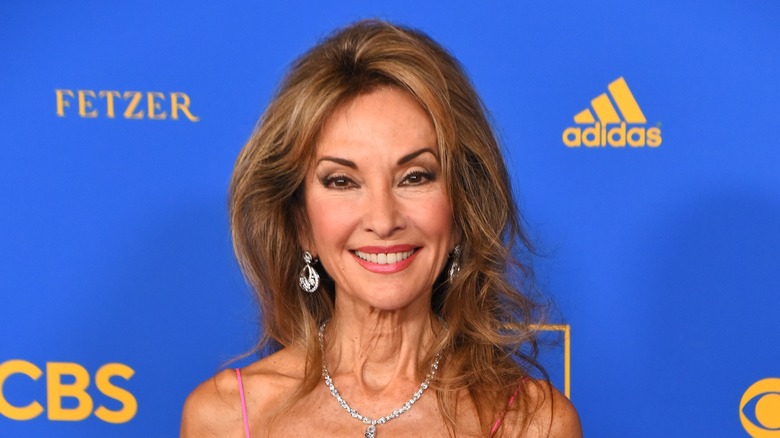 Michael Mattes/Shutterstock
Nothing can compare to the excitement when the Daytime Emmy award season rolls around. Fans from across the world wait impatiently to see which of their favorite shows and actors will be honored with nominations for their work and possibly win an award. No other daytime actor knows this sense of anticipation better than soap legend Susan Lucci.
Lucci is perhaps one of the most famous actors to ever emerge from daytime soap operas. She became a household name due to her portrayal of Erica Kane on "All My Children" for a whopping 41 years. Over her time as Erica, Lucci was generously recognized for her work, earning many nominations for the Daytime Emmy for outstanding leading actress in a drama series. However, Lucci proves that earning nominations doesn't always guarantee a win; in fact, she was nominated 18 times before finally breaking her streak and winning her first Emmy in 1999. Her reaction to her win was just as emotional and memorable as fans could have expected.
Lucci blacked out when she won her first Emmy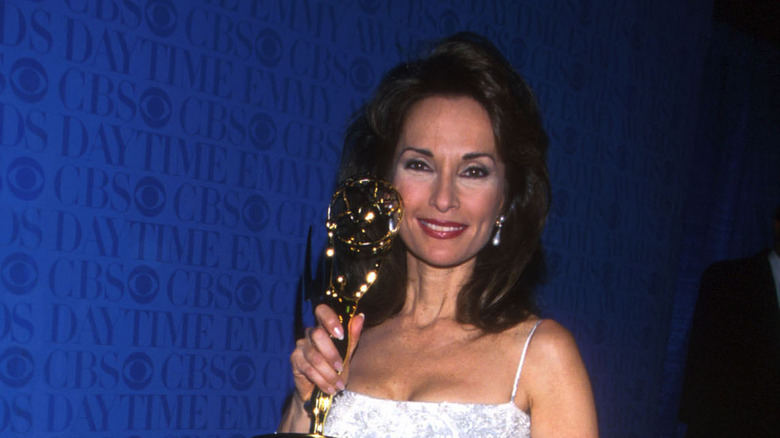 Diane Freed/Getty Images
Fans were thrilled when Susan Lucci started gaining acclaim for her role on "All My Children" and received a Daytime Emmy nomination. However, year after year, she was nominated but never won. Soon, the Emmys garnered so much attention due to the simple fact that people wanted to see whether or not Lucci would keep on losing or finally win. 
In 1999, on nomination number 19, she finally broke the streak. In an interview with Entertainment Weekly, Lucci described her reaction to the win. "When he [presenter Shemar Moore] said my name, I didn't hear it," she told the outlet. "After I think what was the ninth time [of being nominated], I started to black out. I don't know if it was self-protective. My biggest fear [was] that someday, I might just think they called my name and go up there."
Lucci went on to describe the surge of love and support from her fellow castmates and devoted fans, saying, "It was just incredible, I was blown away. I'll never forget the warmth that was pouring out to me."
Lucci's speech became the stuff of legend
Susan Lucci went on to accumulate a total of 21 Daytime Emmy nominations during her career, including being honored with the Lifetime Achievement Award in 2023. But she still only won one Emmy. However, that one win became one of the most iconic moments in all of the Daytime Emmy history. Lucci's acceptance speech was renowned as one of the best ever given by a recipient, due to her grace and gratitude for her career.
Instead of focusing on her losses, Lucci thanked the Academy for all of her nominations, saying, "The fact that you have thought my work was worthy of notice 19 times is something that I will treasure always."
In her speech, Lucci also acknowledged the fans and credited them for her continued success. She ended her speech with this promise to them: "I'm going back to that studio on Monday and I'm going to play Erica Kane for all she's worth." And so she did.