Meet General Hospital Star Laura Wright's Two Kids, Lauren And John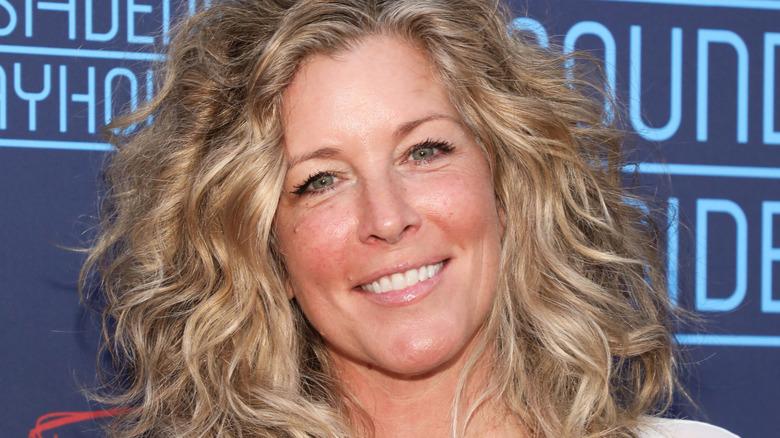 Paul Archuleta/Getty Images
"General Hospital" actor Laura Wright is a mama bear on the hit ABC daytime television series. As her character, Carly Corinthos, she often faces an uphill battle as a mother in the very dangerous and often unpredictable town of Port Charles. But on some days, Wright makes it look easy. That's because of the chemistry she has with her co-stars. In an interview with Michael Fairman TV back in 2011, Wright opened up about working with her on-screen son Chad Duell, who plays Michael Corinthos on the show. Wright said, "I could not love him more. He is such a joy to watch and to work with. You know, we have so much fun working together. It's good fun. And when we have places to go emotionally, we go." Laura has also made it no secret that she loves Eden McCoy (Josslyn Jacks) like her own daughter. She told Soap Opera Digest, "I love how easygoing Eden is. She doesn't take anything personally. She is easy to joke with, which I totally love."
While it's pretty obvious that Wright has great chemistry with her on-screen children, there isn't much that is known about her two real-life kids, John Michael and Lauren. But just like her on-screen character, Wright is quite the "caring, loving, and protective mother" you'd expect her to be, per Soap Opera News.
Laura Wright has a close relationship with her kids
Laura Wright has a very close relationship with her two children, John Michael and Lauren Wright. She shares her two kids with her ex-husband, architect John Wright. According to Laura's Instagram page, her son John Michael recently graduated from Colorado State University with a degree in Construction Management. Soon after his graduation, he headed to Aspen to work for the Whiting-Turner team. She's also super close with her daughter, Lauren, who is currently in college on the East Coast. If they are not playing pickleball together, then they are hanging out at home or doing what all moms and daughters love to do together, and that's go on shopping trips in New York City. 
Unlike their famous soap opera star mother, both of Laura's kids have decided to pursue career paths that have nothing to do with the entertainment industry. But they are still well-known because of their mother's popularity. Not only that, but for many "General Hospital" fans it seems like they've also watched John Michael and Lauren grow up before their very own eyes.
Laura Wright spends a lot of time with her kids when she's not filming
Laura loves to share throwback photos of her kids on social media. She marvels over how tall John Michael has gotten via her Instagram and can't stop gushing about her "lala" Lauren.  She also definitely spends a lot of time with her kids when she's not working. It seems like a week doesn't go by that she's not visiting either John Michael or Lauren. On John Michael's 16th birthday back in 2016, the proud mom shared a special message that said, "You make me laugh and smile — I just adore you" (per Soaps In Depth). Laura is the kind of mom who would shout about her love for her children from the highest rooftops if she could.
But then again, Laura has every reason to smile. Back in 2017, Wright said that despite all of the challenges that she has had to deal with, she's never been happier in her life. That's because she's surrounded by a lot of love from her two children. She told Soap Opera Digest, "Every day it's a choice, to be aware, to be accountable and to be grateful, really grateful, for everything I have. An incredible relationship with my daughter. A son that adores me, and I adore him."