Blake Lively And Ryan Reynolds Decided To Move In Together After Only A Week Of Dating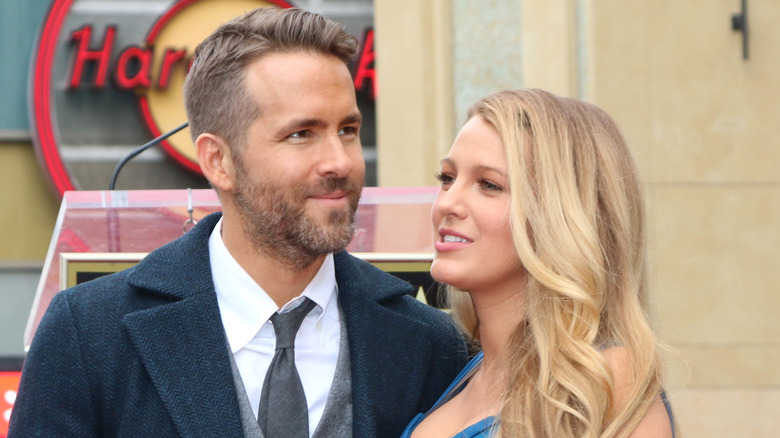 Kathy Hutchins/Shutterstock
Few other Hollywood couples can claim the longevity that Blake Lively and Ryan Reynolds' relationship has. The duo has been together since 2012 and have become parents to four adorable children. They've made it over a decade, and we've got our fingers crossed that they're not going to break out hearts with a split like Lisa Bonet and Jason Momoa or Joe Jonas and Sophie Turner.
While their marriage lifespan is the stuff of legend (at least for celebs), they sped past a few relationship milestones much quicker than you might realize. In fact, Lively and Reynolds moved in with one another after only dating for a week. Speaking to the SmartLess Podcast, Reynolds recalled the days when their relationship was in its infancy, stating, "A week later I was like, 'We should buy a house together,' and we did."
The "Deadpool" actor could only describe their love as "out of a fairytale." And we'd have to agree; it's rare that two people meet and find instant love at first sight that quickly outside of a Disney movie. But not everything was so fast-paced.
Blake and Ryan took their time getting together
Once Blake Lively and Ryan Reynolds admitted their feelings for each other, it was on. But before they agreed to live together and bought a house in the space of a week, the pair spent some time being friends. When the actors met on the set of "Green Lantern" in 2011, they were both with other people. Reynolds was married to "The Avengers" starlet Scarlett Johansson, while Blake was reportedly dating Leonardo DiCaprio around the same time.
About 12 months later, both "buddies" happened to be single. But a date with each other wasn't the next step. Reynolds confessed to Entertainment Weekly, "We went on a double date. She was on a date with another guy, and I was on a date with another girl. That was the most awkward date [from their perspective] probably because we were just like fireworks coming across."
It was that date that made them realize, after years of being friends, they were destined to be together romantically. Well, Reynolds might have realized sooner than Lively, telling SmartLess, "Next thing you know, she was going to Boston, I was going to Boston and I said, 'Well, I'll ride with you.' We got on the train and we rode together, I was just begging her to sleep with me."
Their friendship is their secret
Blake Lively and Ryan Reynolds have commented on more than one occasion that the way their relationship began, as a simmer and not an all-out forest fire, is the secret to their lasting marriage. Lively has come out and said that despite their friends-to-lovers relationship dynamic, Reynolds still treats her like his buddy. 
Reynolds confirmed that statement, actually referring to his wife as his buddy when speaking to ET Online. The actor gushed, "We don't take each other too seriously, but we're also friends," continuing, "We've always liked each other. We grow together. We learn from each other. So yeah, I'm lucky to have a buddy in that." In yet another interview, Lively confirmed the couple's secret recipe to marriage success, telling Entertainment Weekly, "In everyday life, he is my friend first."
It sounds like friendship truly is the key for the couple. And after you've been friends for a year, perhaps there's no harm accelerating past the dating formalities and moving in with one another ASAP; it seems to have worked out just fine for Reynolds and Lively.