Here's What Taylor Swift's Ex-Boyfriend Joe Alwyn Has Been Up To Since Their Split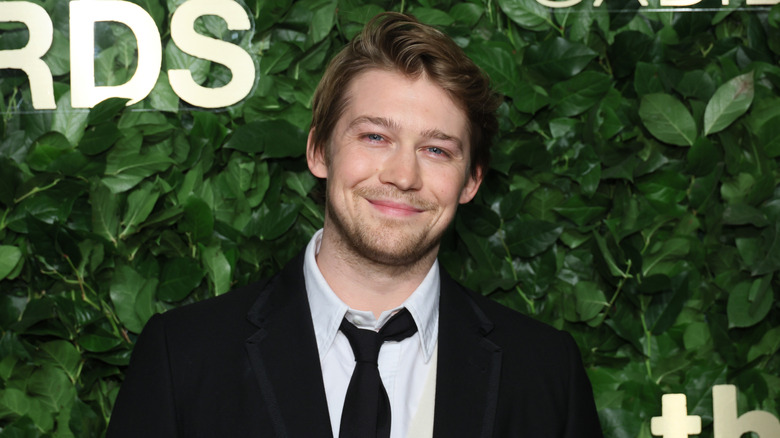 Dia Dipasupil/Getty Images
When news of Taylor Swift's split from Joe Alwyn dropped in April 2023, Swifties worldwide were shocked and saddened, especially after she started dating The 1975's controversial frontman, Matty Healy ... "[There] is no way Taylor Swift would break up with Mr. dress, delicate, call It what you want, king of my heart, gorgeous, London boy, lover, paper rings, peace, willow, invisible string, gold rush, lavender haze not when a whole LOVER album literally [exists]???" one surprised fan wrote on Twitter — Alwyn served as Swift's unofficial muse for several years, acting as the inspiration behind some of her more heartfelt songs.
Since her breakup, Taylor Swift has stayed busy. She's traveled the world on a sold-out tour with 18 different costume changes, announced the re-release of "1989 (Taylor's Version)," and hosted her annual Fourth of July party in Rhode Island — the guest list included Selena Gomez and the Haim sisters. According to inside reports, Swift was the one who called it quits. "She doesn't have anything bad to say about Joe," a source told People at the time. "They just grew apart. Taylor is staying very focused on her tour right now." 
Allegedly, the intensity of Swift's fame began to make Alwyn uncomfortable, especially after the COVID-19 pandemic. Since their split, the "Conversations with Friends" star — who was credited under the pseudonym William Bowery on her albums "Folklore" and "Evermore" — has continued acting in several projects. He was also rumored to be in a new relationship ... 
Did Joe Alwyn date his costar Emma Laird?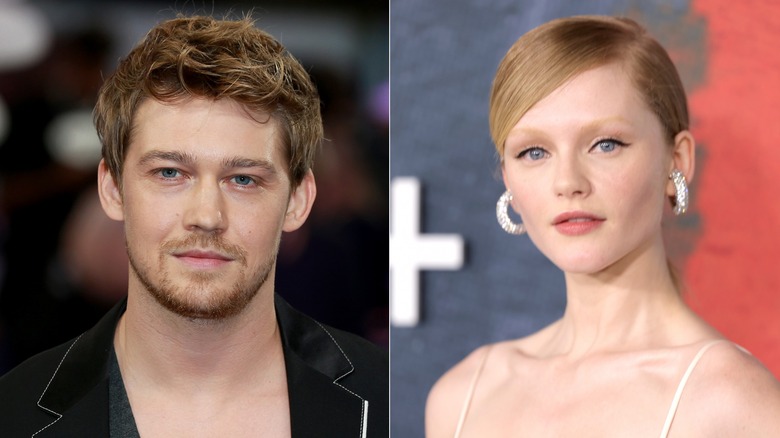 Michael Loccisano/Getty & Fred Duval/Shutterstock
After their breakup became public knowledge, Swiftie sleuths noticed that several of the singer's famous friends like the Haim Sisters, Blake Lively, Ryan Reynolds, Jack Antonoff, and Gigi Hadid had all unfollowed Joe Alwyn on social media ... Some fans speculated that this could point to bad blood between the exes. Specifically, rumors circulated that Joe Alwyn cheated on Taylor Swift with his "Brutalist" costar, Emma Laird.
This can all be traced back to a post on Laird's Instagram account ... Among a carousel of other cast photos, Alwyn can be seen riding a green electric scooter. "Moments in March," reads the caption. Laird disabled comments shortly after the post went public, but sentiments were clear. "The Swifties are not happy and they're coming after Emma Laird," summarized one TikToker. "As someone who has been a fan of Taylor my entire life, these comments are [embarrassing]," wrote another commenter, addressing the barrage of hatred directed towards the "Mayors of Easttown" star (via StyleCaster). Another fan wrote, "2016 Taylor just called and said this [behavior] is not it."
As an unnamed insider told The Sun in April 2023, "Emma has been there for Joe since news of his split from Taylor emerged ... Joe struggles with fame and enjoyed hanging out with Emma in Hungary, where he wouldn't be recognized." Although there's clearly a friendship between the two actors, a romance has yet to be confirmed.
Joe Alwyn is making strides in his career
Joe Alwyn, who's starred in movies like "The Favourite" and "Catherine Called Birdy," the latter of which was directed by Taylor Swift's longtime friend Lena Dunham, has continued to make advancements in his acting career since his public breakup. In March 2023, he began filming "The Brutalist" in Hungary. Here, he bonded with Emma Laird and collaborated with other costars, like Adrienne Brody and Felicity Jones. In May 2023, he turned heads at a Celine dinner event in Cannes, France, his first red-carpet appearance since ending things with Swift. A few months later, the notoriously private star made his first Instagram post in over a year, sharing a childhood photo, a short video from a Bon Iver concert, and (inexplicably) a snapshot of an embroidered hat ... As is the case with all of his posts, comments are disabled.
According to The Daily Mail, Alwyn felt "slighted" and "distraught" when Swift (allegedly) began dating Matty Healy. "Joe was aware that Taylor and Matt were making music together and collaborating," said the source, adding, "She told him that they had become friends and he trusted her." Despite rampant speculation, Swift reportedly did not start seeing Healy until after her breakup.
In August 2023, rumors of a reconciliation circulated on Twitter. However, it seems like this breakup is final. To quote Swift herself, they are "never ever getting back together."