The Wild Story Of How Giuliana Rancic Met Her Husband Bill Rancic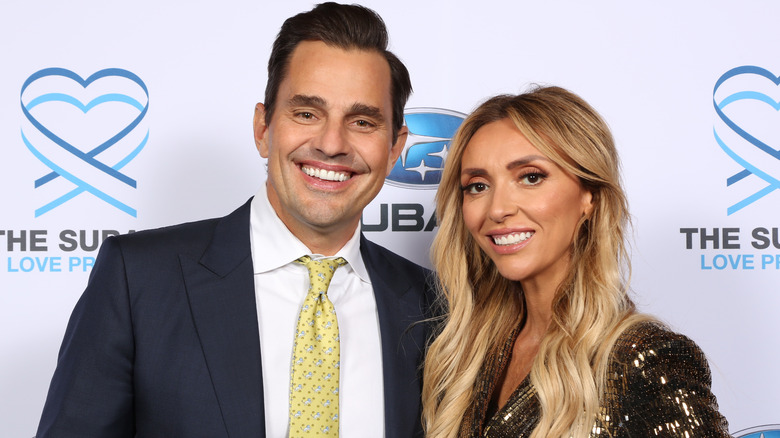 Adventure Photos/Shutterstock
The sparks flew instantly when Giuliana Rancic met Bill Rancic, winner of "The Apprentice" in 2004, during an interview that turned out to be anything but ordinary for the E! News host. For Giuliana, this was just another typical day on the job. After she spent extensive time on red carpets and conducted numerous celebrity interviews, Giuliana had seen it all. So, what made this particular assignment in 2005 stand out from the rest? Well, she was interviewing the man she would eventually marry.
However, it wasn't their first meeting. They had been introduced to each other in 2004 during an NBC event, but at the time, Giuliana was still with someone else, so nothing significant came of it. The host was captivated by the show and admired Bill the most among the participants. So when he arrived at the party, she couldn't contain her excitement.
As bizarre as it may sound, her ex-boyfriend actually introduced the host to her future husband. Since he was well aware that she really liked Bill at the time, he was a little cautious. The TV personality told US Weekly, "He said, 'I'm afraid the two of you would run off together.'"
The interview that brought Bill Rancic and Giuliana Rancic together
Thankfully, when they saw each other again for E! News, Bill Rancic and Giuliana Rancic's awkward but adorable meeting was caught on camera. The pair, who were still strangers at the time, were already joking about tying the knot. Bill asked her with a smile, "Want to get married?" while wrapping his arms around the reality TV star. Giuliana played along and even asked the camera, "Do we make a good couple?"
As the interview continued, the two were evidently engaged in some low-key flirting. The Italian-American reporter inquired about Bill's life, particularly in the realm of romance. Admittedly, "The Apprentice" star mentioned that he was single and available. The remainder of their discussion was filled with laughter and personal questions. Towards the end, Giuliana remarked, "This is so fun, but I guess I'll have to stop." She then asked for his astrological sign and concluded that they would make a great match.
It might appear as a joke, but prior to meeting Bill, the idea of marrying him had already crossed Giuliana's mind. In her 2013 interview with HuffPost, she confessed, "I would watch ['The Apprentice'] with my girlfriend Colette every week, and Colette's like, 'You need to marry him.' I'm like, 'I do need to marry him.'"
Marrying Giuliana Rancic was the best decision Bill Rancic ever made
Giuliana and Bill Rancic's undeniable connection during the aforementioned interview led them into a romantic relationship. While they were dating, they both realized that they were in it for the long haul. In an interview with Michael Rothman for ABC News, the businessman fondly recalled their first date, saying, "We knew instantly. We were having dinner in Malibu and we were making plans for three, four months out. That was on our first date. We had our phones out and we were like, 'In July, I gotta go here, maybe you can meet me' and this was in March, two hours into the first date. It was the craziest thing ever."
He went on to add that asking the host to marry him was something he would never regret as he made the right call. Bill mentioned that his little family has been a constant source of inspiration for him. The lovely couple tied the knot in September 2007, and after five years of being together, they welcomed their first child, Edward Duke Rancic, born via a surrogate in August 2012.
In 2022, Bill and Giuliana Rancic celebrated their 15th anniversary, and their relationship continued to flourish. The former E! News anchor and the entrepreneur frequently express their admiration for each other on social media. They also share a glimpse of what their family look like as they post pictures of their vacations, as well.