Sharon Osbourne Has Strong Feelings About Her Past Interactions With Ashton Kutcher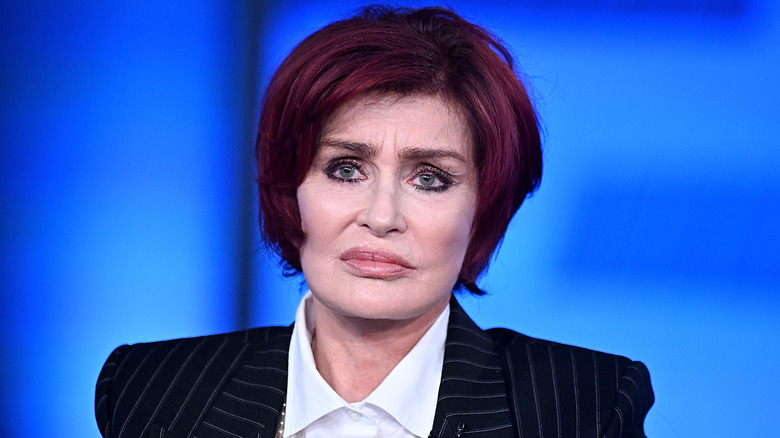 Steven Ferdman/Getty Images
The following article includes allegations of sexual assault.
Ashton Kutcher is known for playing lovable goofballs onscreen. Although his characters might not always be the sharpest tools in the shed, his real-life IQ is famously high. He was an early investor in tech start-ups like Uber and Airbnb, decisions which have earned him millions, and he and his wife Mila Kunis now live an insanely lavish life with their two kids. In 2009, Kutcher used his resources to launch Thorn with his ex, Demi Moore — a non-profit organization that seeks to combat child sex trafficking.
However, Kutcher's stellar reputation was called into question when he stepped in to defend his long-time friend and former co-star, Danny Masterson, who was sentenced to serve 30 years to life in prison after he was convicted of two counts of forcible rape (via Variety). In his now-infamous letter to Judge Charlaine Olmedo, Kutcher asked for leniency. He described meeting Masterson for the first time on the set of "That '70s Show," calling the older actor "a friend, dedicated [co-worker], and role model to me" (via The Hollywood Reporter). According to Kutcher, "He has always treated people with decency, equality, and generosity." According to Masterson's accusers, however, the actor drugged them before committing acts of sexual violence against them. Now that Kutcher's letter to the court has been released to the public, other not-so-favorable moments from his past are coming to light, and one involves none other than former "X Factor" judge Sharon Osbourne. According to the TV personality, Ashton Kutcher is (in her opinion) one of the rudest celebrities ever.
Sharon Osbourne isn't an Ashton Kutcher fan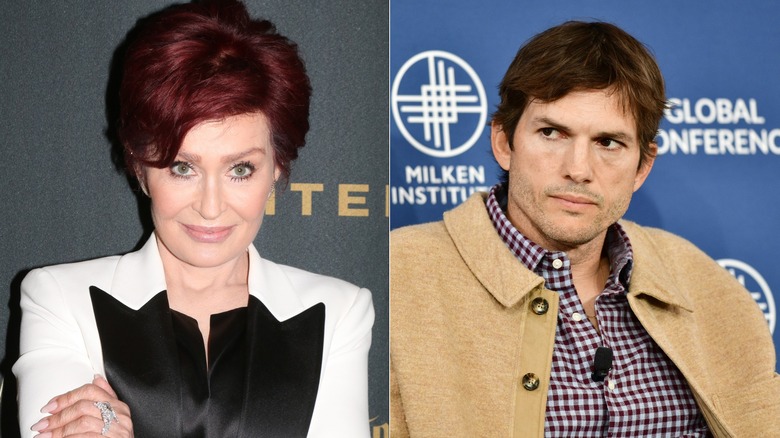 Jerod Harris/Getty & Kathy Hutchins/Shutterstock
Sharon Osbourne has met plenty of celebrities over her years in the entertainment industry. However, one stands out, and not in a good way. As Sharon Osbourne revealed on E! News in an interview alongside her daughter, Kelly Osbourne, Ashton Kutcher isn't as charming in real life as he appears on screen. When asked to "Name the rudest celebrity you've ever met," she didn't hesitate before calling the "That '70s Show" star a "Rude, rude, rude, rude little boy!" and a "dastardly little thing." 
In the midst of the Sharon Osbourne drama, Kutcher was also called out for past comments he made about Hilary Duff, who is 10 years his junior ... Suffice it to say, they go beyond "rude." "She's one of the girls that we're all waiting for to turn 18 along with the Olsen twins," he said in a resurfaced interview, per The Daily Mail on TikTok. Duff was just 15 at the time. Considering Kutcher's work to battle child sex trafficking, this comment is especially disturbing.
What's more, Mila Kunis previously called out her husband for being an "a**hole" during his first marriage to Demi Moore, per Esquire. Allegedly, the actor cheated repeatedly on his ex-wife and shamed her throughout her struggles with addiction. Another one of Kutcher's exes, January Jones, implied that he was unsupportive of her acting career when she was starting out in the industry, per InStyle. 
Sharon Osbourne called out Ashton Kutcher once before
Although Sharon Osbourne's most recent critique of Ashton Kutcher may have shocked her daughter, Kelly Osbourne, it shouldn't have. This wasn't the first time she's called out the actor and high-profile investor. In a past interview with Larry King, Sharon revealed that she "didn't get on" with Ashton Kutcher when he visited "The Talk." According to the reality judge, he had a bad attitude after she got his name wrong. "He was pissed and he comes on with an attitude and he goes, 'What have you done in this industry?' and I was like, 'Kid, don't start with me because I'm gonna eat you up and s*** you out.'"
In September 2023, criticism of Kutcher — specifically his involvement in the Danny Masterson case — came to a head, and he was forced to release an apology alongside his wife, Mila Kunis. In the short Instagram video, the couple addressed their support of their former costar. "We are aware of the pain that has been caused by the character letters that we wrote on behalf of Danny Masterson," said Kutcher. Kunis explained that their written statements were not meant to question the jury's ruling. Still, as one of Masterson's accusers told ABC News per Good Morning America, "This video was incredibly and insanely insulting. Hurtful ... Especially Ashton who claims to work with victims of sex crimes with the non-profit 'Thorn Foundation.'" Clearly, Sharon Osbourne isn't the only one who has negative things to say about Ashton Kutcher. 
If you or anyone you know has been a victim of sexual assault, help is available. Visit the Rape, Abuse & Incest National Network website or contact RAINN's National Helpline at 1-800-656-HOPE (4673).