The Truth About Ashton Kutcher And January Jones' Relationship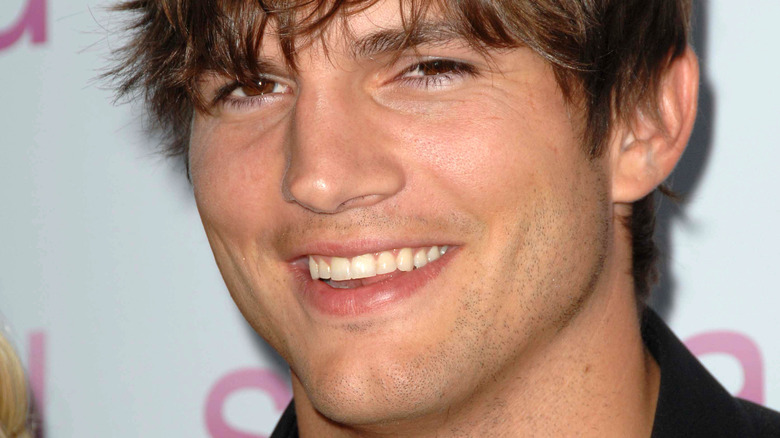 s_bukley/Shutterstock
When it comes to the world of Hollywood, with so many high-profile breakups and divorces, it can be hard to keep track of who's with who. For instance, did you know that Rihanna and Shia LaBeouf were once an item (via Cosmopolitan)? and that Keira Knightley and Jamie Dornan dated once upon a time?
Every celebrity really does have a past, just like us, and Ashton Kutcher is no exception. The "Two and a Half Men" actor has been married twice: His marriage to Demi Moore ended in divorce, but he is currently happily married to "That '70s Show" co-star Mila Kunis, with whom he shares two children. However, his relationship history doesn't end there. Back in the day, Kutcher was linked to "Mad Men" actress January Jones. The pair reportedly dated for three years, and even moved in together, before splitting up in 2001 (via The Daily Mail and People). As for why they broke up? In an interview with People, Jones admitted that romance "is too hard in this town," shortly after her split from Kutcher. However, there are several, more concrete, rumors as to why the power couple parted ways years ago.
Ashton Kutcher may not have been supportive of January Jones' acting career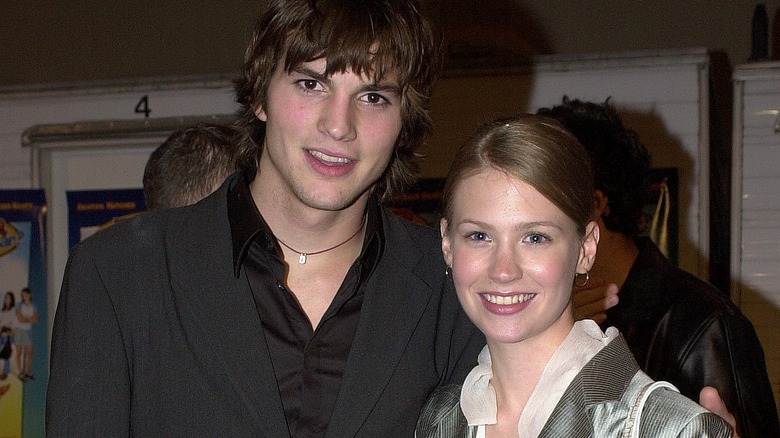 Newsmakers/Getty Images
Despite facing rejection and enduring one audition that almost made her quit acting, January Jones has a string of leading roles under her belt. But back in the day, the South Dakota native was best known for her work in another industry: modeling. The Golden Globe nominee launched her career as a model when she was 18 years old, before pivoting into the acting world in the late 1990s and early 2000s (via IMDb). It was during Jones's career shift that she also entered into her first public relationship with Ashton Kutcher (via Inquisitr).
Many have speculated that Jones and Kutcher's breakup occurred because the "No Strings Attached" star was not supportive of his ex's acting career. In an interview with GQ in 2009, Jones opened up about her transition into acting. "The guy I was dating when I first got to L.A. was not supportive," she revealed. "He was like, 'I don't think you're going to be good at this.' So — f*** you!" While Jones never mentioned Kutcher by name, many think that Jones was talking about the "Jobs" actor due to the timing of their relationship.
On "Watch What Happens Live with Andy Cohen," the notoriously direct host asked Jones point-blank whether she was referring to Kutcher in the GQ interview. Rather than answer the question, Jones continued to keep things vague by simply smiling and staying silent. 
Ashton Kutcher was jealous of January Jones' friendship with Bruce Willis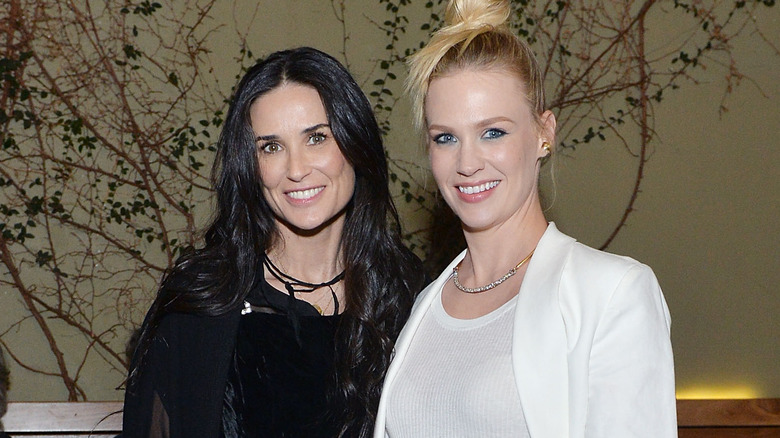 Roger Vivier/Getty Images
There are a lot of reasons why couples break up, with infidelity being one of the worst culprits. While Ashton Kutcher and January Jones were dating, the "Mad Men" actress got cast in the movie "Bandits" alongside Bruce Willis in 2001. As they were filming the heist movie, the two actors struck up a friendship.
In Demi Moore's memoir, "Inside Out," the "G.I Jane" star revealed that Kutcher was extremely jealous of Jones' relationship with Willis and felt certain that the two were having an affair (via Page Six). Ironically, the "Die Hard" actor had recently gone through a divorce from Moore, who would later become Kutcher's first wife (via Celebrity Nine). Unlike Kutcher and Jones, who reportedly haven't spoken since their split, Moore and Willis' relationship remains strong and friendly (via Rolling Stone). 
Years later, Moore crossed paths with Jones and decided to put the rumors to rest. The "Ghost" actress asked Jones whether or not she really did have an affair with Willis. According to Moore, Jones's response was: "Are you serious? I told him [Kutcher] a hundred times, I didn't want to f*** that old man!" At the time of the "Bandits" premiere, Jones was 23 and Willis was 46.