The Wild Rumor That Swirled About Suri Cruise Thanks To A Biography About Dad Tom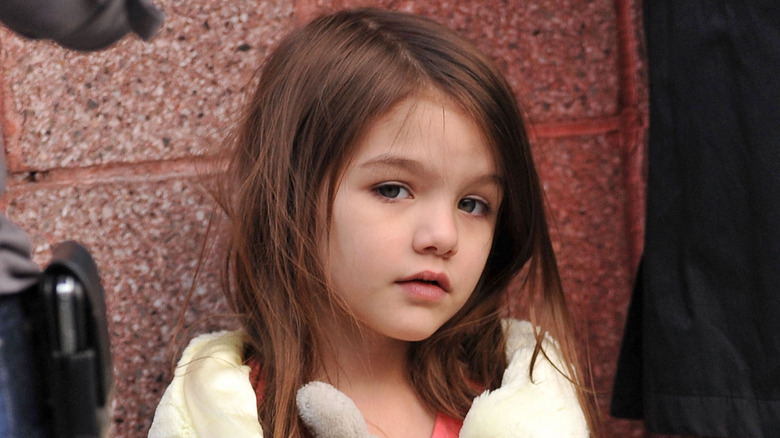 James Devaney/Getty Images
Suri Cruise is the only daughter of Katie Holmes and Tom Cruise (the "Top Gun" actor also has two kids with ex-wife, Nicole Kidman). Born in 2006, Suri instantly became one of the most talked about celebrity babies of all time, paving the way for Angelina Jolie and Brad Pitt's daughter, Shiloh Jolie-Pitt, who was born a few weeks later. Given the interest in Suri, it's no surprise that she's been a hot topic for tabloid fodder and, of course, the rumor mill churned out plenty of material about her — and her parents. One of those rumors went viral after biographer Andrew Morton made a bold claim about the youngster in his book, "Tom Cruise: An Unauthorized Biography." 
On the inside pages of his book, which was released on January 15, 2008, Morton wrote that Tom wasn't actually Suri's real father and that Katie was artificially inseminated, according to the New York Post. Morton claimed that Suri's real father is Scientology founder L. Ron Hubbard, who died after suffering a stroke in 1986, per The New York Times. Understandably so, the biography had people talking, and Tom's lawyer felt the need to set the record straight. And he didn't hold back when addressing the bizarre rumor.
Tom Cruise's camp called the rumor a 'grotesque lie'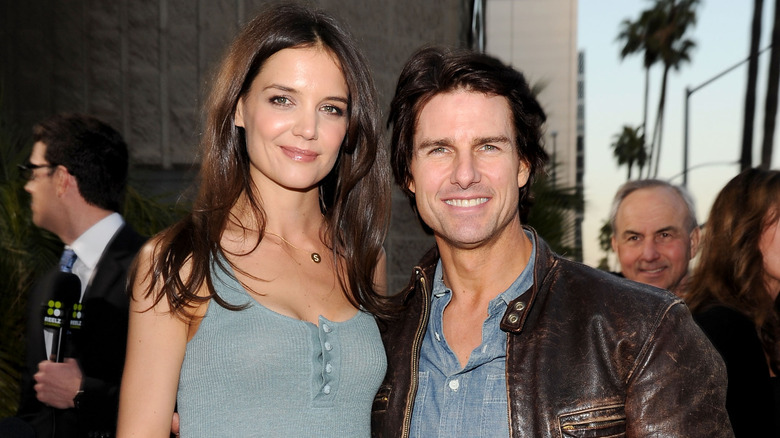 John Sciulli/Getty Images
A lawyer for Tom Cruise was quick to call out the claim made by Andrew Morton. "It's a grotesque lie. I know she's Tom's child. ... DNA could prove whose child it is. It could come to that," attorney Bert Fields said (via ABC News). Meanwhile, Church of Scientology chief counsel Elliot Abelson also spoke out, telling the New York Post that Morton's claim was "just the lowest of the low." But when Morton was questioned about his bold suggestion, he explained that he was simply pointing out what was in the realm of possibilities. "What I write is that the idea is absurd. But it's entirely plausible within the sect. ... It's in keeping with the hysteria within Scientology that greeted the pregnancy," he said, according to ABC News.
Suri Cruise's parents split in 2012, five years after they tied the knot. "This is a personal and private matter for Katie and her family. Katie's primary concern remains, as it always has been, her daughter's best interest," an attorney for Holmes told People magazine at the time. Although neither Tom nor Katie have spoken about their divorce at length, years later, Tom admitted that Scientology played a role, according to ABC News. In the years that followed, Tom's relationship with his youngest daughter dwindled, and it's believed that he is still estranged from Suri.
Tom Cruise reportedly hasn't seen Suri Cruise in 10 years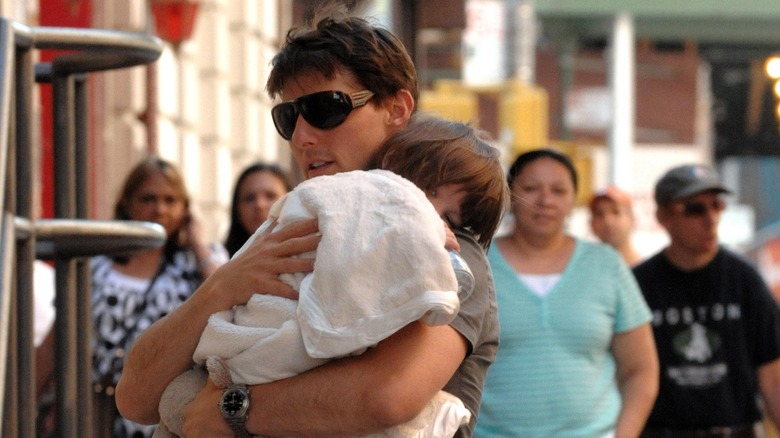 Everett Collection/Shutterstock
As the years have passed by, it has become more and more obvious that Tom Cruise doesn't play a role in Suri's life at all. Primarily raised by her mother, Suri had little-to-no relationship with her father after her parents' divorce. "Every person is allowed to see their child if they wanted to. He chooses not to because she is not a Scientologist," a source told Us Weekly in October 2018. 
Flash forward to 2023, and Suri appears to be living her best life in New York City with Katie Holmes — and she is preparing to head to college in the next year or so. "Suri is applying to schools all over the place. [Katie] really does want her to stay in New York so they can be close to each other. Katie takes great pride in her but is also extremely overprotective," a source told the Daily Mail in March. The outlet reiterated that Tom hasn't been involved in Suri's life since 2013.