The Worst Dressed Stars At The 2023 VMAs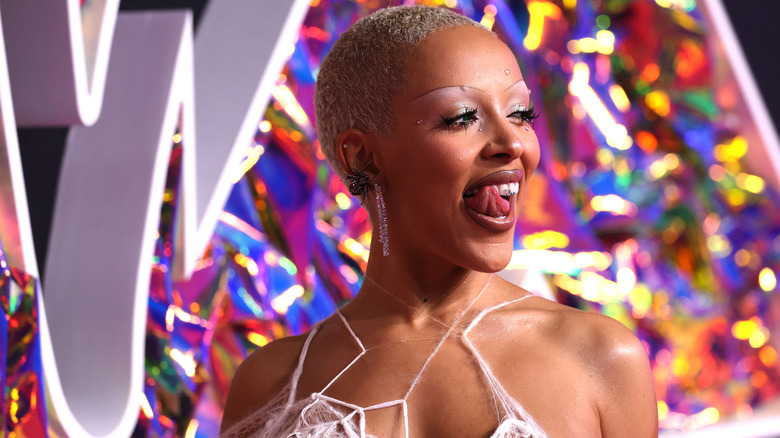 Kevin Mazur/Getty Images
The VMAs have arrived! The MTV Video Music Awards are known for being star-studded, full of amazing performances, and of course, a major night of celeb fashion. The 2023 VMAs brought all of those things, and among the many looks that graced the evening's pink carpet were many, many truly perplexing fashion choices. From near-nudity and spiderwebs to Barbie bones, Halloween must be coming up, because this night was full of some scary looks. 
Fashion risks frequently pay off on the red carpet, but the VMAs this year proved that not all risks are worth it, and some are just downright bad ideas. While the stars were certainly shining and taking home plenty of awards this year, star power isn't enough to keep you off the Worst Dressed list. In fact, celeb status may just give folks more confidence to make some truly bad fashion decisions right in the public eye. We've got all the wildest and worst looks at the 2023 VMAs.
Doja Cat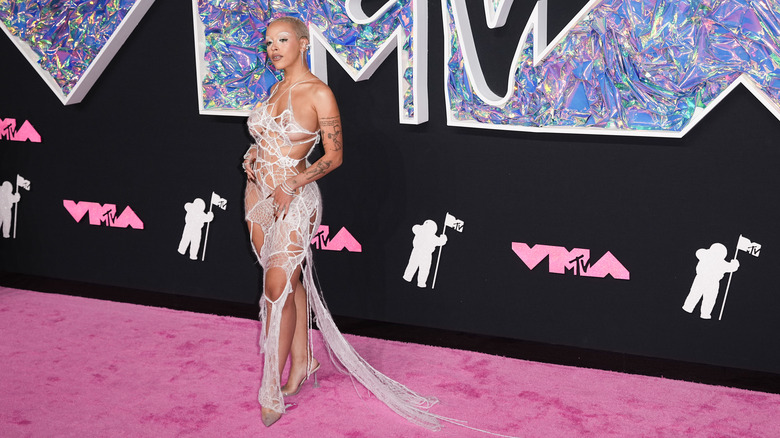 John Nacion/Getty Images
We've gotta hand it to Doja Cat; she's never one to play it safe. From Doja's cat costume at the 2023 Met Gala to her 2022 Grammys look, she's managed to do camp in ways that truly awed us. The 2023 VMAs look was certainly surprising, but instead of being iconic, it will forever remind us of the night that Doja Cat looked like she stripped naked and walked through a haunted house before hitting the VMA's red carpet in nothing but faux spiderwebs. She made a choice, but this one was a little too spooky for us. 
Anitta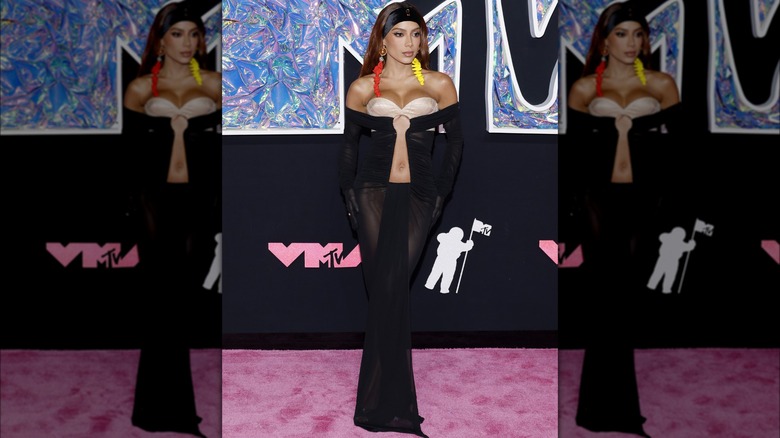 Jason Kempin/Getty Images
Anitta chose a 'fit for this year's VMAs that had plenty of bold elements. Unfortunately, none of those elements seemed to work together. The pairing of the nude bra top with sheer black draping washed the star out and made for an overall confusing and distracting appearance. The addition of the bold, colorful earrings was a clear attempt to add a pop of interest to the look, but they were too incongruous to add interest, and that headband just makes her look like she should be sporting her workout clothes instead of an evening gown. 
Saweetie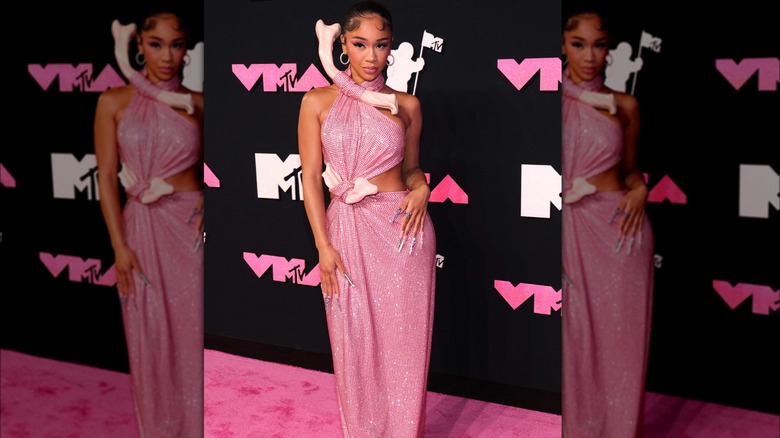 Kevin Mazur/Getty Images
Pebbles Flintstone, eat your heart out! On second thought, perhaps the sweetie from the Stone Age wore it better than Saweetie, herself. She may have chosen to match the pink carpet and embrace the on-trend Barbiecore color and glitz, but the bones took the look from cute to downright gory. Adding a bit of edginess to a bubblegum pink evening gown is definitely a good thought, but the dismantled skeleton dress elements don't give off the celebratory vibes we'd expect from the artist who performed at the pre-show. 
Emily Ratajkowski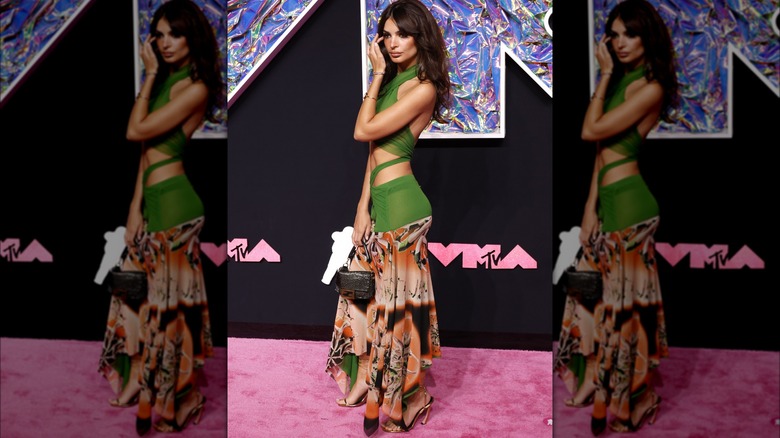 Jason Kempin/Getty Images
When Emily Ratajkowski hit the VMAs stage to present, we thought we'd been transported back in time to 2003. This dress looked like two entirely different looks mashed together. The green sheer cutout dress could have been edgy and chic if it was on its own, but when paired with a bold orange print, the look was too much. And, Ms. Ratajkowski may have given us the worst accessory choice of the night with this bag that looked way more appropriate for a day out running errands in the early aughts than on the red carpet in 2023. 
Nessa Diab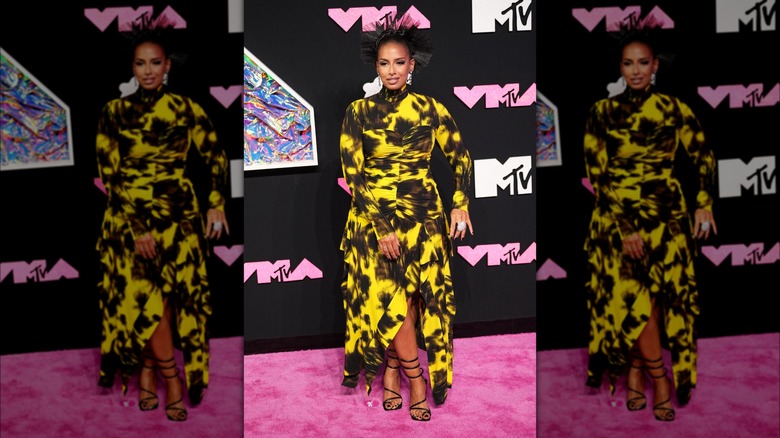 John Nacion/Getty Images
Does anyone remember Angelica's doll, Cynthia, from "Rugrats"? We have a feeling she's the inspo photo Nessa Diab gave her hair stylist when she was getting ready for the VMAs this year. We just wish she channeled Cynthia when she was getting dressed, too, because Diab could have rocked an orange minidress. This yellow and brown printed dress is totally overpowering and makes her look like an overripe banana. The dress is terrible on its own, but she managed to make it worse with her '90s strappy sandals and big jewels. This look is all over the place. 
Megan Ryte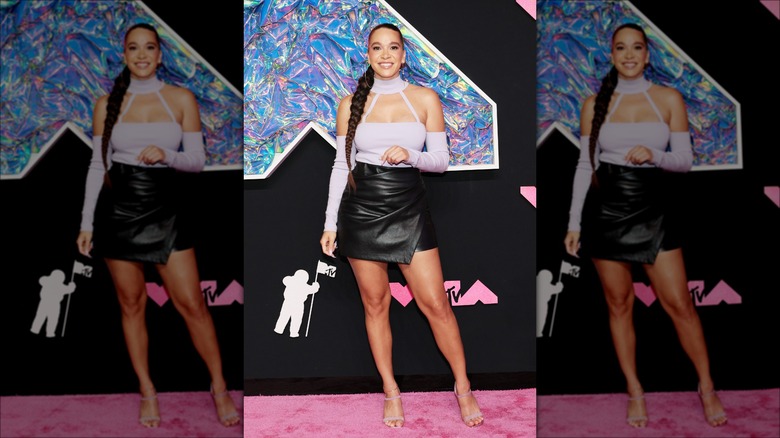 Dia Dipasupil/Getty Images
What in the 2012 "going out" ensemble has Megan Ryte put together for the 2023 VMAs? Her name may be "Ryte," but she got it all wrong with this look. A good vintage 'fit never goes out of style, but Ryte threw it back to an era of fashion we're not yet ready to revisit. She stunned with the hair and makeup, and if this top was paired with something different on the bottom, she may have gotten away with it. Still, this faux leather wrap skirt is just too fast fashion for the pink carpet. 
Chase Stokes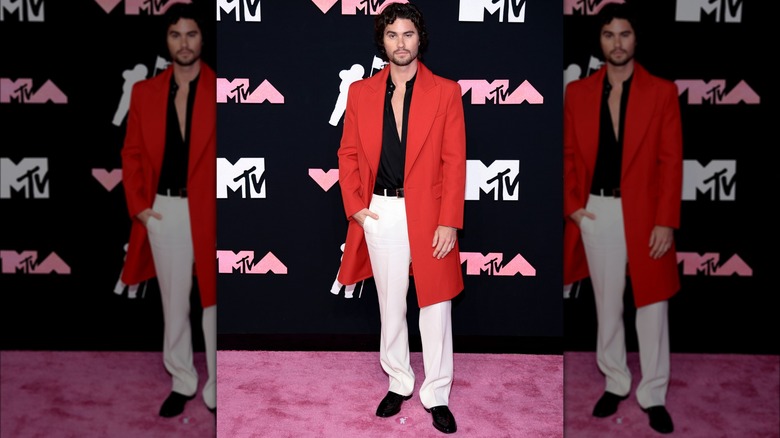 Dimitrios Kambouris/Getty Images
Chase Stokes delivered "supervillain heading into the office" chic on the red carpet, and needless to say, it didn't work. Both his pants and his jacket are way too long, and while the length of these pieces seems to be an attempt at a fashion-statement on Stokes' part, it didn't land quite how he may have intended. The color scheme could have worked with an outfit that fit a bit differently, and some extra styling and accessories would have elevated an otherwise bland look. 
Prince Derek Doll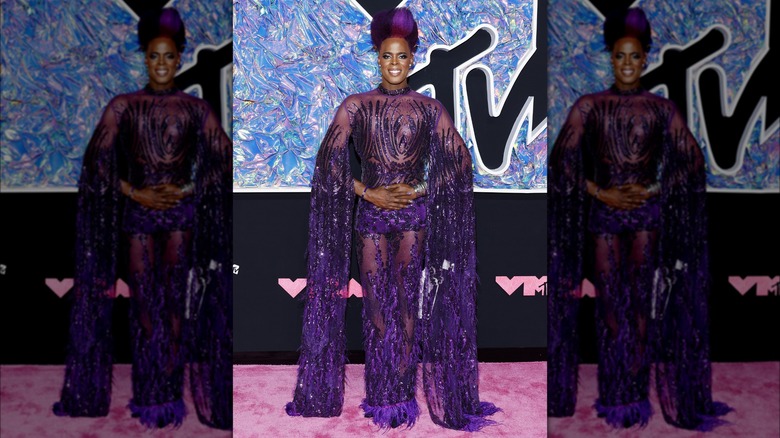 Jason Kempin/Getty Images
We love a celeb who never plays it safe on the red carpet. Prince Derek Doll certainly fits this description, and this singer/songwriter has taken plenty of fashion risks that have paid off. Unfortunately, his dramatic purple ensemble proves that not every risky look is worth it in the end. It's hard to look at this purple hairstyle without remembering the troll dolls of our youth, and this sheer, floor-length ensemble with tons of glitz and dramatic sleeves has way too many wild elements. 
NLE Choppa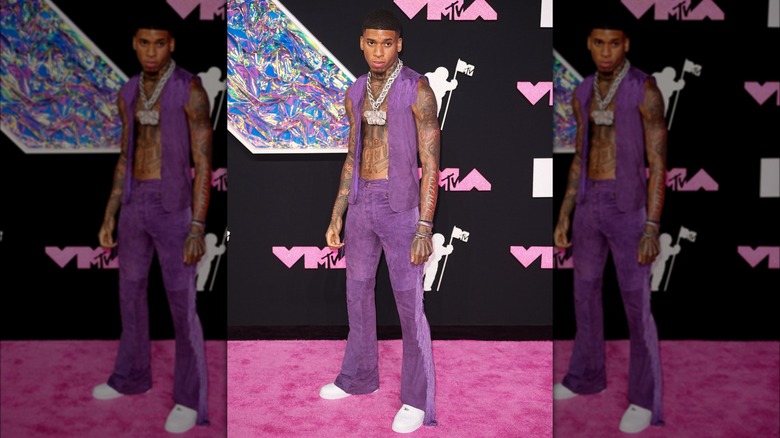 John Nacion/Getty Images
Prince Derek Doll wasn't the only artist to appear on the pink carpet in unpleasantly purple apparel. NLE Choppa also chose to coordinate with the Barbie-hued flooring with a purple ensemble, and this look just isn't quite working. Swapping out the vest for a jacket and layering a shirt underneath may have salvaged this look and left the rap star looking unique and updated, but styled the way it was just ended up looking strange, disjointed, and a bit like a few borrowed pieces from Willy Wonka's suit. 
Kathy Hilton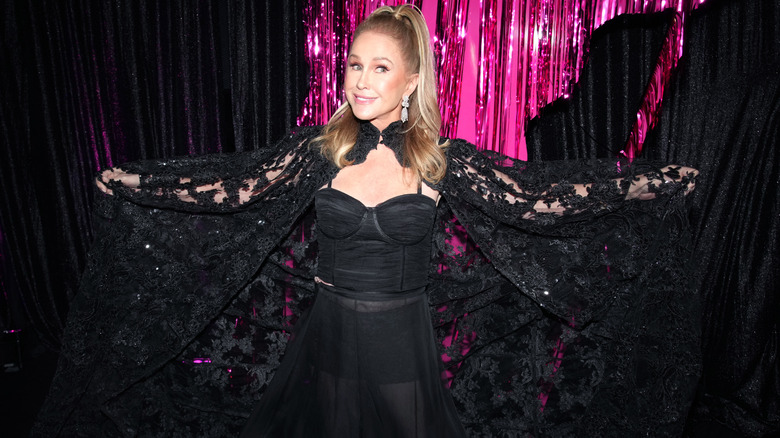 Jeff Kravitz/Getty Images
Kathy Hilton must have gotten the memo that this year's VMAs would have bats, spiderwebs, and skeletons abound, because she dressed like a Dracula lookalike. The black dress, itself, may have been a bit too boring for an event like the VMAs, but adding this cape reminds us way too much of spending time in a Spirit Halloween to really elevate the look. There's just nothing about this outfit that works for any red carpet other than the one leading to a Halloween party. 
AP Dhillon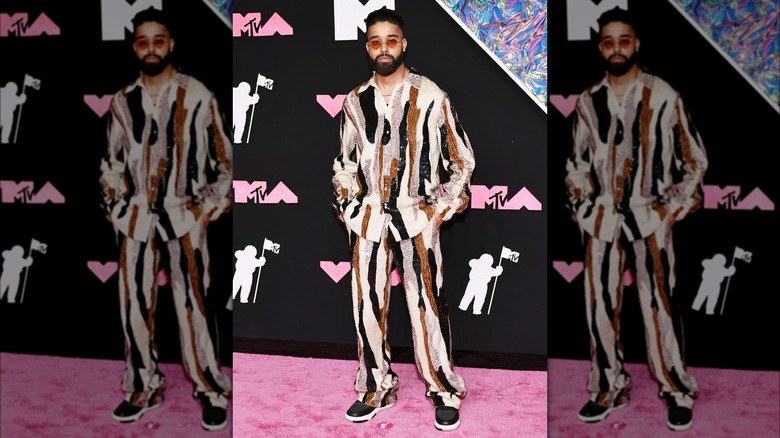 Jamie Mccarthy/Getty Images
A unique and statement-making suit is usually a great way to look the part on any award show red carpet. Unfortunately, AP Dhillon managed to find a suit that was distracting and just plain ugly. This glitzy black, brown, and beige suit was certainly eye-catching, but it made us wish that we were also wearing a pair of shades to shield our eyes like he was. Perhaps one piece in this print paired with something more neutral could have been a bit more pleasant to look at. 
Kaliii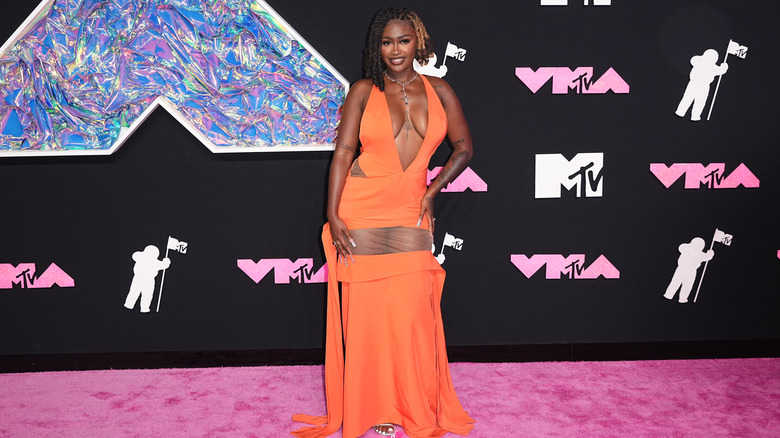 John Nacion/Getty Images
Most people wouldn't be able to pull off this bold orange hue quite as beautifully as Kaliii did. Still, with the exception of that color, everything about this dress isn't working. The neckline is too low, wide, and shapeless, and the dress' long, dragging hemline gives the bottom of the gown a sloppy look. The strangest part of this dress is the sheer cutout that exposed Kaliii's thighs. This cutout's placement was just another part of this dress that didn't work. We would have loved to see a version of this gown on Kaliii with a different shape. 
Bebe Rexha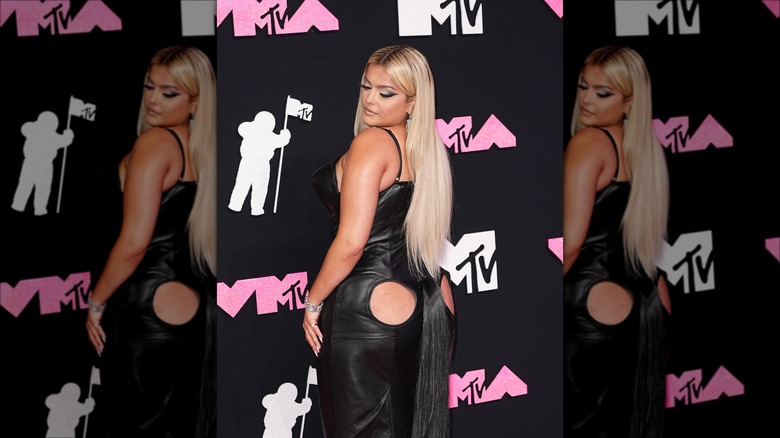 John Nacion/Getty Images
From the front, Bebe Rexha's look seemed glam and edgy. The back, however, caused quite a stir. Not only did she have some oddly placed cutouts, but she also had a rather surprising addition to her dress. She had a tail. Yes –– you'd never know it from looking at her straight on, but this 'fit isn't just all wrong from the back view; it's just plain weird. We recommend avoiding the tail and any cutouts near the butt next time. 
Ashanti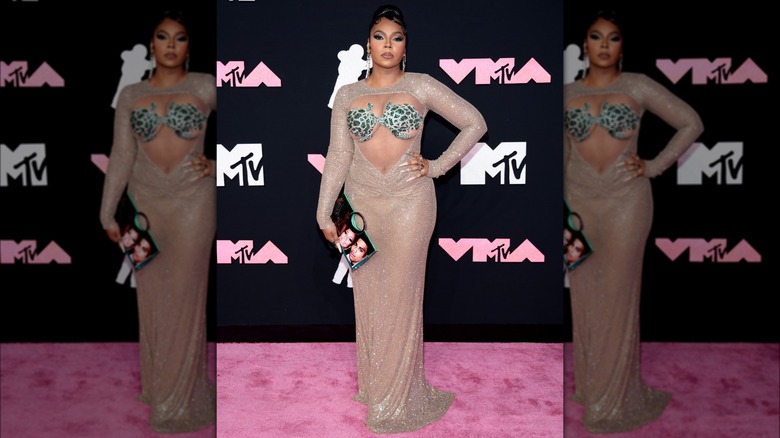 Dimitrios Kambouris/Getty Images
Back in the early aughts, Ashanti had us asking "what's luv?" At the 2023 VMAs, she had us asking, "Are those turtles?" Well, to answer everyone's question, yes. Those are, in fact, turtles in the place of a bra, and that's certainly a confusing enough choice. But, this beige cutout gown makes a bold statement like a turtle bra look bland and boring. And, the rather confusing clutch that seems to be featuring a photo booth photo makes this look even worse. 
Yung Miami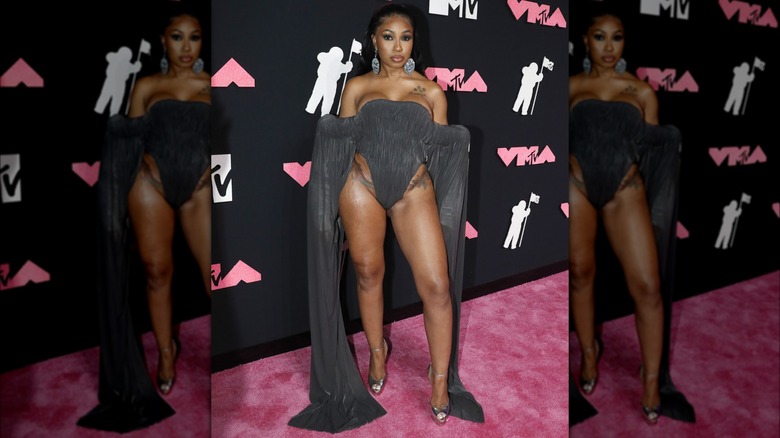 Johnny Nunez/Getty Images
They say "when you've got it, flaunt it." Yung Miami was ready to flaunt it at the VMAs, and she certainly proved that she does, in fact, "got it." Still, her confidence in baring it all did not make this article of clothing any less baffling. A high-cut bodysuit with long, flowing sleeves and nothing else but simple accessories left an impression that inspired some head-scratching. With that stunning hair and makeup, we would have loved to see this bodysuit in a different, less vampire bat-like shape. 
Demi Lovato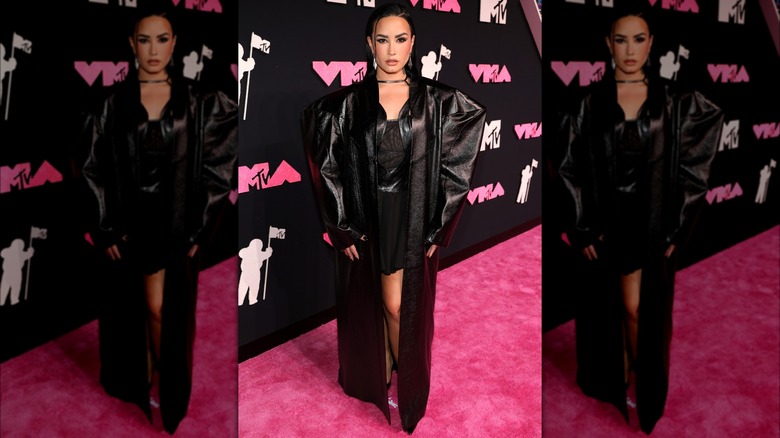 Kevin Mazur/Getty Images
Demi Lovato looked like a true award winner when she took the VMA stage to perform. We just wish she brought that same energy when she hit the pink carpet. Instead, she looked like she was entirely swallowed up by a whole lot of black leather. Lovato sported a black leather mini dress under a big, structured jacket with massive shoulder pads. Between the length and the huge shoulders, it was hard to even spot the star buried beneath all those clothes. 
Doechii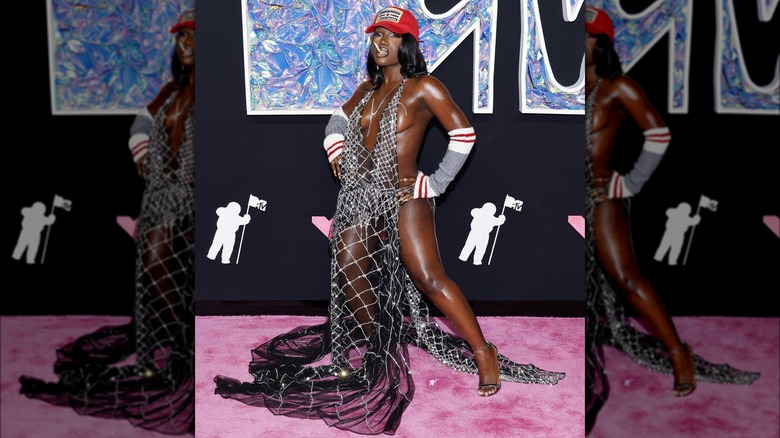 Jason Kempin/Getty Images
Doechii has made quite a few amazing statements on the red carpet. Remember her black gown at the 2022 Grammys? Incredible. Her outfit at the 2023 VMAs, however, made a statement that was far less positive. To be honest, this feels like an inside joke we're not in on. The tube sock fingerless gloves, the trucker hat, the lollipop, the dress made entirely of netting? We simply don't get it, but we know all of these elements certainly don't go together. 
Tinashe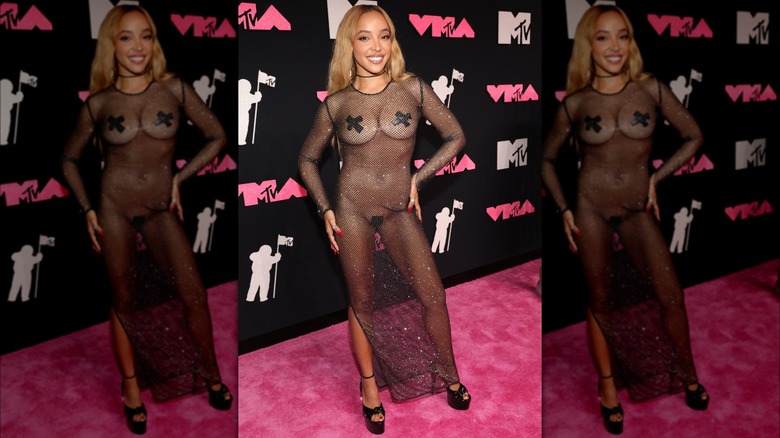 Kevin Mazur/Getty Images
Tinashe left little to the imagination on the pink carpet this year — very little. She clearly set out to have all eyes on her, and while that isn't easy in a sea of celebs, it's hard to imagine that she didn't achieve her goal. Still, we think the shock value of this dress took away from how perfect her makeup and hair looks. Had she layered this mesh gown over an edgy bralette and some shorts, this outfit may have gone in a totally different direction.
The D'Amelio sisters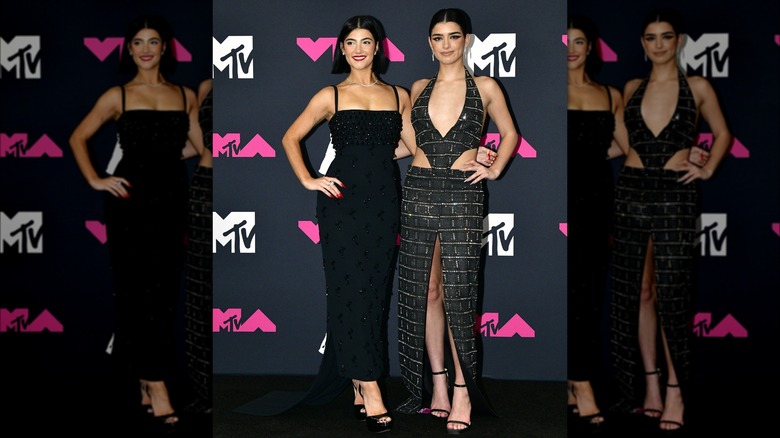 Eugene Gologursky/Getty Images
We're not sure where the D'Amelio sisters were heading in these dresses, but it shouldn't have been the VMAs. Charli and Dixie D'Amelio may be considered fashion icons by some, but it seems that they didn't consider that the VMA red carpet tends to be a bit edgier and more fashion-forward than other events when choosing their outfits. Both of the D'Amelios looked perfect to attend a formal wedding, but we would have liked to see some more edginess from them for an occasion like the pink carpet.