General Hospital Explainer: Carly And Nina's Forever Feud
Carly Corinthos (Laura Wright) is one of the most iconic characters on "General Hospital." Her on-again off-again relationship with Sonny Corinthos (Maurice Benard) is a hallmark of her time on the show. Another, more volatile relationship that Carly has maintained during her stay in Port Charles is her ongoing feud with rival Nina Reeves (Cynthia Watros). Nina hasn't been on screen as long as Carly, but that doesn't mean she hasn't caused just as much trouble.
Carly debuted on "General Hospital" in 1996 and came to Port Charles in search of her biological mother. Once in town, she went through many relationships before finding the presumed love of her life, Sonny. Nina arrived in Port Charles in 2014, on the hunt for her two daughters she had while in a medically-induced coma. Over the years, the two women have clashed over their relationships with Sonny, their kids' lives, and the many secrets they've kept from one another. And despite some attempts to mend fences, it doesn't seem like their feud is going to end anytime soon.
Carly hid secrets about Nina's daughter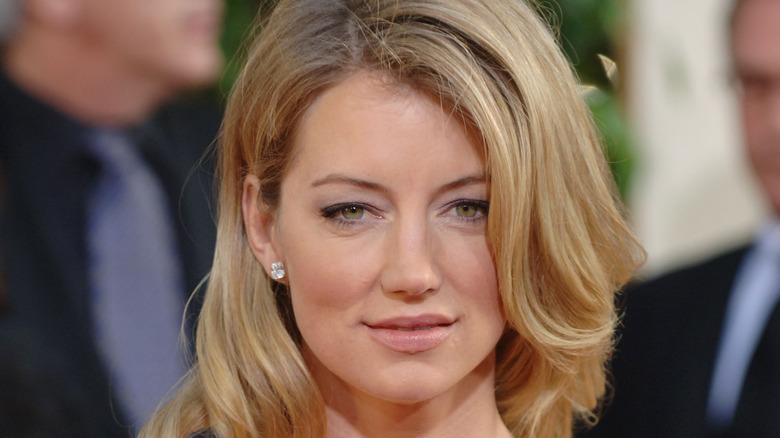 Jeff Kravitz/Getty Images
Carly first became involved in Nina's life when she saw Nina's daughter, Nelle Hayes (Chloe Lanier), die from a fall off of a cliff. Carly connected the dots that Nelle was Nina's long-lost daughter, but she kept the secret to herself. When the truth eventually came out, Nina turned her anger on Carly for keeping the secret about Nelle's cause of death and her parentage. That was the start of what would become a years-long grudge match between the two women.
When Sonny was presumed dead after a fall into a river during a fight, he was found alive but with no memory of his life before. He was hired at a bar owned by Phyllis Caufield's (Joyce Guy) husband, Lenny Caulfield (Rif Hutton). Calling himself Mike, Sonny was soon discovered by Nina, who realized his situation but kept it to herself. She flirted with Sonny and even kissed him before returning to Port Charles. When Nina tried to tell Carly about Sonny being alive, she immediately changed her mind when Carly went off on Nina for her relationship with their shared grandson, Wiley Cooper-Jones. Her decision didn't come without consequences.
Nina got in the way of Carly and Sonny's relationship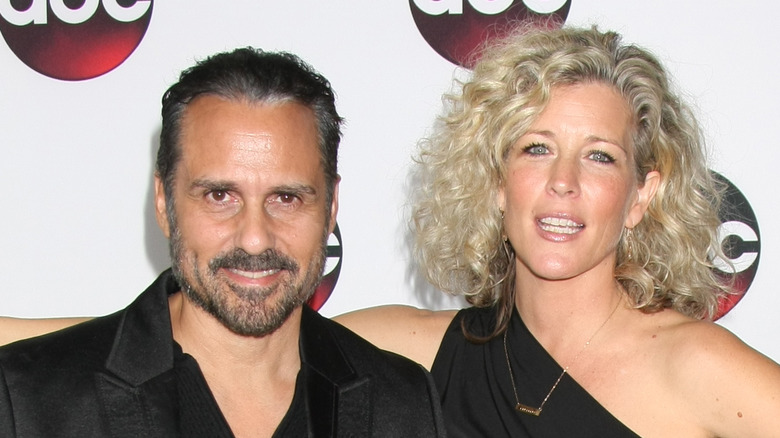 Kathy Hutchins/Shutterstock
Eventually Sonny regained his memories and blamed Nina for keeping him away from Port Charles. He reunited with Carly, who had her own bone to pick with Nina for not telling her about Sonny being alive. The couple seemed stronger than ever, until it was revealed that Sonny and Nina had carried on a relationship while he suffered from amnesia. In an attempt to win her back, Sonny invited Carly on a date, but she was so late that he ended up in bed with Nina.
Carly repeated history when she found out that Willow Tait (Katelyn MacMullen) was Nina's second long-lost daughter and Nelle's twin sister. She confirmed the rumor with a DNA test, but didn't reveal her findings to anyone. When Willow was diagnosed with leukemia and in need of a bone marrow transplant, Carly eventually told the truth, leading to more animosity over Carly's choice to keep the secret for so long.
A while later, in a gesture of friendship, Nina purchased Carly's share of the Metro Court Hotel so that she could give it back to her and start their relationship fresh. Due to their complicated history, Carly turned her rival down. In a twist of events, Sonny got engaged to Nina, unaware that she had just exposed Carly and Drew Cain (Cameron Mathison) for insider trading. Once again, Nina and Carly's animosity just might destroy every potential good they could have in their life; or, it might just push Carly and Sonny back together once again.