Was Dance Moms Scripted? Here's What The Stars Have Said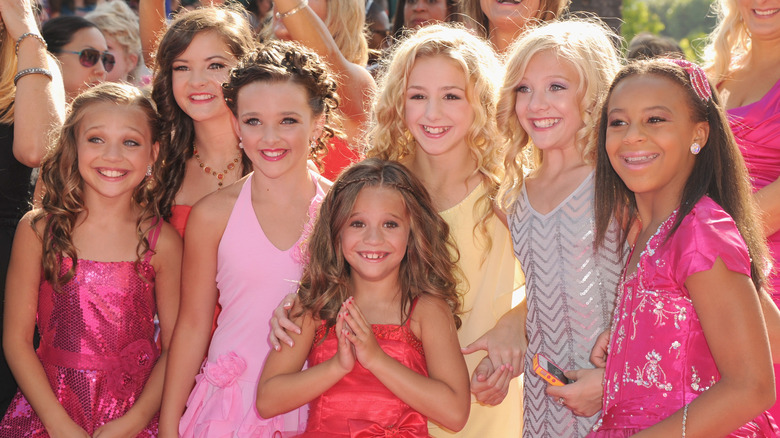 Steve Granitz/Getty Images
Before Maddie Ziegler was judging "So You Think You Can Dance?" and JoJo Siwa had her own empire, they were two among a cast of young dancers on Lifetime's "Dance Moms." Led by Abby Lee Miller, the dancers were frequently in the middle of a drama-infused tug-of-war between their coach, Miller, and their moms. How perfect each girl's jeté was became just as captivating as whose mom had it out for Miller that day and was stirring the pot from the glass-paned parent viewing area.
"Dance Moms" was such a spectacle that it's hard to believe it wasn't scripted — it was a reality show after all. But there were a fair number of viewers who didn't want to believe all the dance drama was more or less fake, until the one and only Maddie Ziegler admitted to USA Today, "The producers set it up to make us all yell at each other."
Unfortunately for those holdouts who thought there was no way the dancers and their moms were acting out a coerced scene, Ziegler confirmed the producers were doing much more than just gently nudging the show's stars into confrontations.
The moms had a good laugh about the fight scenes
Speaking to USA Today in 2015, the "Chandelier" dancer said, "The moms have to fake a fight sometimes. Afterward they just start talking and laugh about it." Note the "sometimes," though, which seems to imply that a few of the spats were real. Payton Ackerman confirmed Ziegler's statements on her own YouTube channel, stating, "Reality television isn't scripted, but it's not reality, things are set up." Although she did insist a script was never handed out.
However, some drama didn't have to be instigated — the intensity surrounding competitions. Zeigler noted that even though she considers many of the girls her good friends, she said the dramatic competition scenes were "Really real," continuing, "We do have a really crazy competition life." As chaotic as it may be, Zeigler did recall a time when it was dramatized. Coming forward on the High Low with EmRata podcast, "There were male producers saying 'This is what you have to say.'" Reportedly, they were coaching her to act like a brat, telling her, "Say you're the best, say you're better than everyone else," said Ziegler.
Similarly, Ashlee Allen, the dance mom everyone loved to hate, said on her daughter Brynn Rumfallo's podcast, "I was hired to come in and shake things up," divulging that in the confession interviews, "they would literally feed you lines," which could then be inserted later to elevate the drama and encourage feuding.
The moms and dancers weren't the only victims
As it turns out, producers weren't pitting just the dancers and their mothers against one another, they also fostered animosity between Abby Lee Miller and her "arch nemesis" Cathy Nesbitt-Stein. The coaches were actually friends before the cameras started filming, though they eventually did have a real falling out thanks to the show.
On Abby's podcast, "Leave It On The Dancefloor," Nesbitt-Stein said, "I looked at it as an acting job," continuing, "No, we did not have scripts that we had to memorize, but there was a definite agenda." She echoed Ashlee Allen's statements in that she, too, was brought scenes that she initially thought would be fun and harmless, only to have them later dramatized to drive a wedge between her and Miller.
While there may never have been a physical script, the producers knew that "Dance Moms" wouldn't have been half as entertaining without the drama, so they exploited each and every opportunity to stir the pot. Sadly, they may have gone a little too far in some cases, as a few members are still out there throwing shade, and "Dance Moms" is riddled with problematic moments.