John J. York Confirms Heartbreaking Diagnoses Behind His General Hospital Hiatus
"General Hospital" fans were very concerned when John J. York, who plays the beloved Mac Scorpio, announced on Twitter that he was taking a mysterious break from the soap. Fans were hopeful that he was using his time off for a positive reason, but on September 13, 2023, York posted a video update of what's been happening in his life since he left on X, formerly known as Twitter. Despite looking cheerful in the clip, he heartbreakingly revealed that his absence from "GH" is down to complications of Myelodysplastic Syndrome, or MDS, and Multiple Smoldering Myeloma, two blood and marrow disorders with which he'd been diagnosed back in December 2022. 
York further explained that he has undergone "three bone marrow biopsies [and] many chemo treatments" in the months since, with a further one scheduled. But that's not it.  "I'm closing in on a blood stem cell transplant," he added, revealing that he's been working with an organization called Be The Match to help look for donors. He implored his fans to join the registry if at all possible to help those who are in a similar position as him and are suffering and need help. 
York was ultimately positive in his message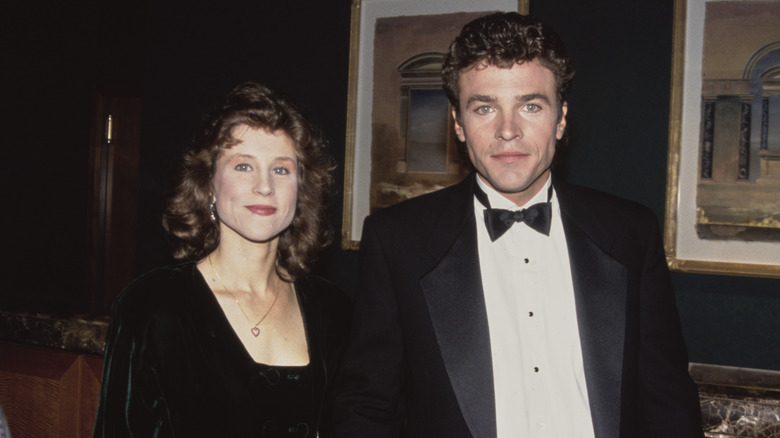 Vinnie Zuffante/Getty Images
York ended his shocking Twitter video on a positive note, stating, "I just wanna say thanks for all the support over the years. This isn't goodbye, this is just 'so long.'" He then informed the fans that his break from the show would last roughly three or four months, adding that he was still planning to be back on our screens as soon as possible. He then did his best Arnold Schwarzenegger impersonation, reiterating the words, "I'll be back!" He thanked the fans for their patience and prayers, promising to update everyone as soon as possible. His followers came out in full force sending their love and support, with one fan writing, "I pray that you find a match soon. I've been a fan of you/Mac since 1991, and I'm sending positive vibes and love to you and your family."
On York's Be The Match page, he wrote, "My most important role is husband to my wife Vicki, father to my daughter Schyler, son-in-law Mike, and Pop Pop to my three grandkids (and one on the way!)." He explained his diagnosis there and asked fans to join the BTM registry just as he did in his Twitter post. When one follower asked him to post his blood type, BTM responded that it's not a major factor in finding a match, but rather, "A donor must match via HLA and tissue type, rather than blood type!"
Our thoughts and prayers go out to York and his family. Here's hoping he makes a swift recovery.