How Hallmark's Vanessa Marcil Felt About Working With Gilmore Girls Alum David Sutcliffe
While Hallmark stars definitely have a reputation for building up catalogs of feel-good movies through the network, many of them have also become recognizable faces through other major projects. For example, while Lacey Chabert has long reigned as a Hallmark Christmas queen, she's also known for the '90s series "Party of Five" and her iconic role in "Mean Girls."
Similarly, Vanessa Marcil and David Sutcliffe, two Hallmark actors who starred together in the 2016 romance "The Convenient Groom," hail from some other notable works. You might recognize Marcil as a soap star who made the move to Hallmark, as she played Brenda Barrett on "General Hospital" for nearly 400 episodes. Meanwhile, Sutcliffe is most known for appearing as Christopher Hayden in the beloved series "Gilmore Girls."
Back in 2016, Marcil opened up about what it was like to collaborate with Sutcliffe on the Hallmark flick, sharing that the two clicked really well even if the "General Hospital" alum wasn't familiar with the classic "Gilmore Girls." 
Vanessa Marcil meshed well with her 'Gilmore Girls' co-star
In 2016, Vanessa Marcil talked with TVLine about working with David Sutcliffe for their Hallmark flick "The Convenient Groom." In the movie, Marcil stars as marriage counselor Kate Lawrence, who enters into a fake relationship with her Sutcliffe-played contractor after being left at the altar of her highly-publicized wedding.
"It's funny, he and I got along with each other really well right away, while it's a very comedic relationship that we have [on-screen] — she's engaged to someone else, and there's all kinds of complicated stuff going on," Marcil shared, referring to the on-screen hijinks that inevitably follows the fake dating trope.
While she hadn't seen her co-star's previous work before collaborating with him, adding that her mother was a huge fan, this didn't inhibit the two from hitting it off behind the scenes. In fact, Marcil's positive impression of Sutcliffe aligns with the off-screen friendship he experienced with his "Gilmore Girls" co-star Lauren Graham.
David Sutcliffe also appreciated TV movie work in general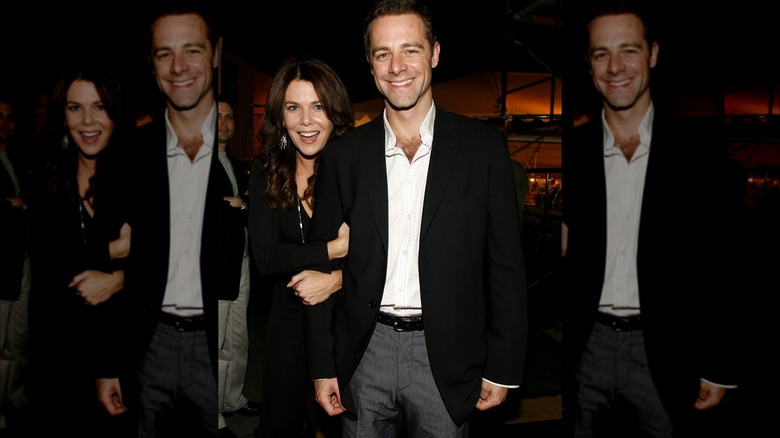 Christopher Polk/Getty Images
As mentioned, Vanessa Marcil opened up about collaborating with David Sutcliffe back in 2016, telling TVLine that they got along really well. "He and I were just like, 'You know, for me, it either happens just like that or it doesn't. It's either like music's playing and I'm crazy about someone and I'm going to stay friends with them forever or not,'" she explained, indicating that the on-screen duo experienced that rare instant connection.
This positive relationship fits in with what Sutcliffe's "Gilmore Girls" co-star Lauren Graham has said about the actor. Throughout the show's seven seasons, the two were long rumored to be good friends behind the scenes, with Graham speaking about their friendship in an interview with TV Guide.
"I am closer, personally, to David [Sutcliffe]. And we've gone to dinner together," she shared, poking fun at the fan theories incited by their public outing. "I always thought that maybe people thought I was trying to give him some sort of advantage because we're friends. But that's not it." Whether it's on a Hallmark rom-com or a long-running series, Sutcliffe's co-stars appear to have nothing but good things to say about him.