Celine Dion Once Performed For The Pope When She Was A Teen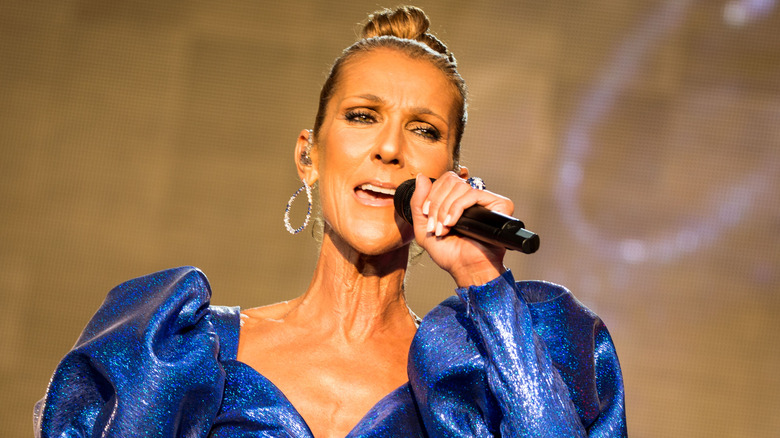 Tom Rose/Shutterstock
Celine Dion is a world-renowned recording artist with six Grammys under her belt. Her career spans decades and she has released 27 studio albums, but there's one thing in particular that separates her from her peers. Aside from her distinctive voice and impressive vocal range, Dion actually sang for the pope. She was only 16 years old at the time, but the experience stuck with her throughout her life and it is something that she will never forget. According to the Montreal Gazette, Dion sang "Une Colombe," a song from her album "Mélanie" at Olympic Stadium in Montreal, Quebec, Canada, in September 1984 while Pope John Paul II was visiting. 
The Pope's trip to Canada made history; it marked the first time that a Roman Catholic pope had traveled to Canada, according to the Canadian Conference of Catholic Bishops. "Speaking in English and in French, the Holy Father made more than 30 major addresses as well as many other statements, some of which were directed to Indigenous Peoples," the site reports. Dion's performance was one of many memorable moments from the Pope's time in Canada, but it also marked a pivotal time in the singer's own life.
Celine Dion became religious after performing for the Pope
Celine Dion's performance for Pope John Paul II was life-changing for the singer, who says that it caused her to become religious — especially when she witnessed something truly remarkable happen before her very own eyes. According to Female First, doves were released at the end of Dion's song — "Une Colombe" is French for "a dove." And Dion noticed that one of the birds landed on the Pope's shoulder and didn't leave him. Doves are considered special birds in many Christian-based faiths, and they appear in many instances in the bible. In many instances, the dove represents the Holy Spirit, so the bird staying by the Pope was undoubtedly a special moment for those who got to witness it.
Although Dion wasn't able to interact with Pope John Paul II following her performance, she was given the opportunity to meet with him 10 years later. "It was a moment, like time stopped. The emotion was bigger than everything. You sensed this incredible force," she said, according to Female First. "It was definitely one of the strongest moments in my life, like being in contact with heaven," she added. Dion's husband, René Angélil, was also on-hand to meet the Pope at the time. "He spoke to us in French when we met him. He blessed our families and wished Celine the best," Angelil, who died in 2016, previously recalled.
Celine Dion's song 'Une colombe' became a hit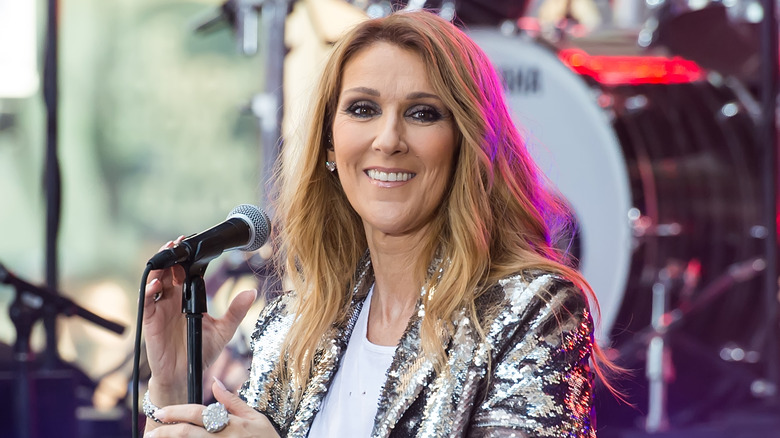 Gilbert Carrasquillo/Getty Images
Following her performance, Celine Dion's song "Une Colombe" went viral — in the way something in the '80s would go viral. Perhaps unsurprisingly, the song ended up becoming a huge success. "It turned out to be one of the biggest hits in Canada. It also went on to win two Félix Awards at the ADISQ Gala that fall, as bestselling single and pop song of the year," the Montreal Gazette reported.
Dion has been struggling with her health and has taken herself out of the public eye completely while she focuses on trying to get better. She was diagnosed with Stiff Person Syndrome in 2022. "While we're still learning about this rare condition, we now know this is what's been causing all of the spasms that I've been having. Unfortunately, these spasms affect every aspect of my daily life, sometimes causing difficulties when I walk and not allowing me to use my vocal cords to sing the way I'm used to," she shared in a candid Instagram video in December 2022. Dion doesn't share too many updates on her health, though her social media accounts are active.
In an update shared on Twitter in May 2023, Dion canceled all of her upcoming shows for 2023 and 2024. She hasn't shared any plans to return to the stage.