The Worst Grammys Looks Of All Time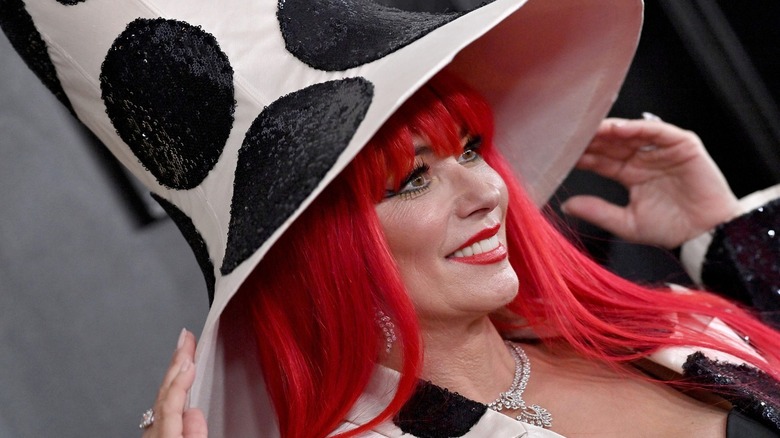 Axelle/bauer-griffin
For music industry movers and shakers, the Grammy Awards are the pinnacle in achievement. The annual award show is also the place for artists to see and be seen. This means walking the red carpet in their most stunning or artistically-inspired ensembles. Artists are known for their creativity, and, while this creativity can sometimes be admired, other times these more "artistically-inspired" outfits tend to veer more toward the garish and outlandish, leaving critics and viewers dumbfounded, questioning, "Why in the world would they wear that?"
Join us as we take a walk down Grammys memory lane and even provide some insight as to what went through these artists' minds when they chose their red carpet looks. From the excessive 1980s (where more was more and in which the majority of the fashion was bad anyway) to the skin-baring 2000s to today, we're pointing out some of the worst-ever looks we've seen paraded down the Grammys red carpet.
Harry Styles bared lots of skin and color on the 2023 Grammys red carpet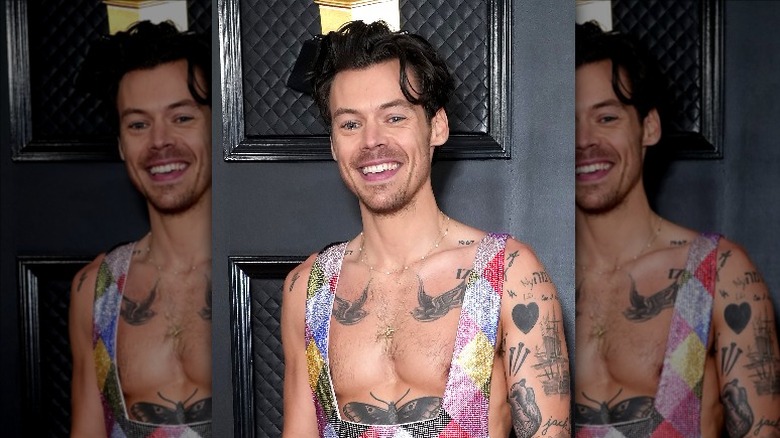 Kevin Mazur/Getty Images
For the 2023 Grammys, Harry Styles stepped onto the red carpet with his usual grin while showing off some skin. He appeared shirtless, showing off his tattoos, in a rainbow-colored sleeveless jumpsuit by Egonlab — his overall look was styled by Harry Lambert.  The jumpsuit, which was adorned with 250,000 Swarovski crystals arranged in a repeating diamond pattern, apparently took over 150 hours to construct. Styles completed the look with a pair of white boots, layered gold necklaces, and gold rings.
In a statement (via Grazia), the designer described the outfit as "a transcription of Harry's aura and his fearless approach to fashion," noting that "the powerful color combination is a visual metaphor for his personality, his commitment to self-expression and total acceptance." Commenting on the many Swarovski crystals, Egonlab said, "It is like a window to another world, a world of pure magic and wonder."
Styles may have donned the sleeveless unitard because it resembled his look from his "As It Was" music video. The song didn't take home any awards (it was nominated for Record of the Year, Song of the Year, Best Music Video, and Best Pop Solo Performance), but Styles' album, "Harry's House," did win Album of the Year and Best Pop Vocal Album.
While Styles can probably pull off any red carpet style, we were still somewhat taken back when we caught sight of this, er, ensemble.
Blac Chyna frightened onlookers on the Grammys red carpet in 2023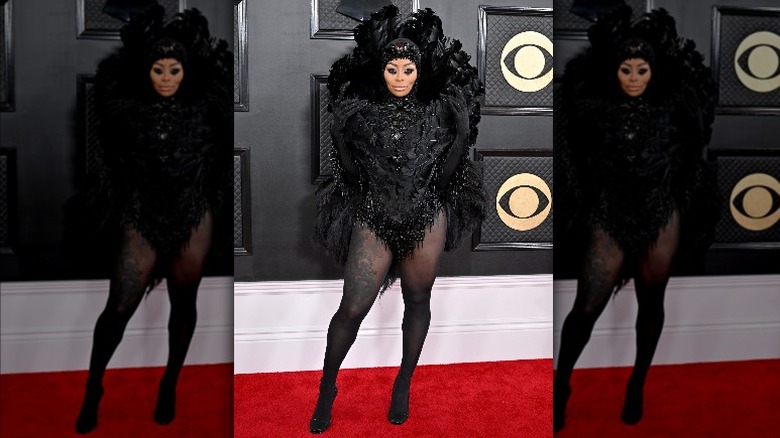 Axelle/bauer-griffin
Also in 2023, Blac Chyna walked the Grammys red carpet looking like she stepped out of a nightmare. She appeared in a black corset leotard covered in sequins, fringe, and feathers — which extended to her head and entire upper body — and matching black gloves, black stockings, and black heels. Adding to the frightening look was her smudged black eye makeup. In a fan chat room (via The U.S. Sun), the comments ranged from referring to her look as "Kris [Jenner]'s sleep paralysis demon," a "Gothic big bird," and "the doofy version of Natalie Portman in ['Black Swan']."
Chyna's outfit also didn't rate with her own mother, Tokyo Toni, who used the words "terrible," "horrible," and "horrendous" to describe her daughter's Grammy Awards outfit when speaking to both TMZ and Chyna herself. While Chyna is not typically known for her stunning red carpet looks, we're still shaking our heads over this one.
In 2000, Crystal Bernard looked like she forgot what century she was in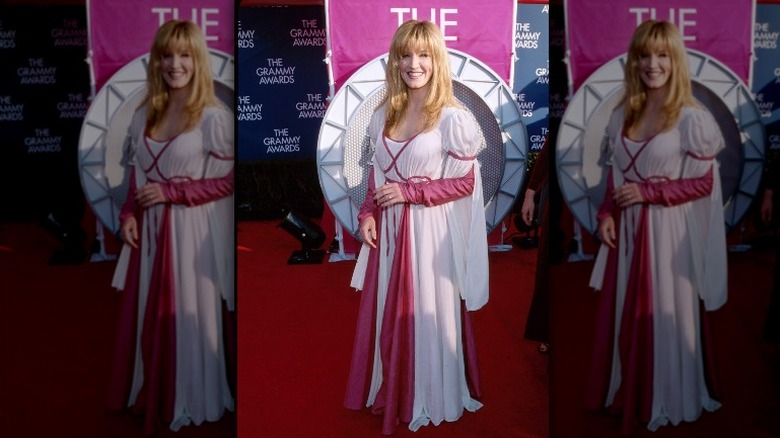 Kmazur/Getty Images
While we may have been frightened by Blac Chyna's red carpet look, we were downright confused by the dress Crystal Bernard chose to wear on the Grammys red carpet back in 2000. Her red and white dress looked like something straight out of Medieval times, leaving us wondering if she didn't have enough time to change after spending a day at a Renaissance Fair.
Taking a close look at the photo from this Daily Mail piece, it appears that one would expect her arms to be placed inside the white draped fabric, which resemble sleeves, but no. Her arms appear out of red draped fabric instead, almost looking like they came from someone standing behind her instead of from her own body. Bernard topped off the awful outfit with a pair of white sneakers, leaving us utterly confused and hell-bent that she did, in fact, come from a day of walking around a Renaissance Fair — either that or a film set straight out of Medieval times.
Alicia Keys got lost in sheer green fabric in 2002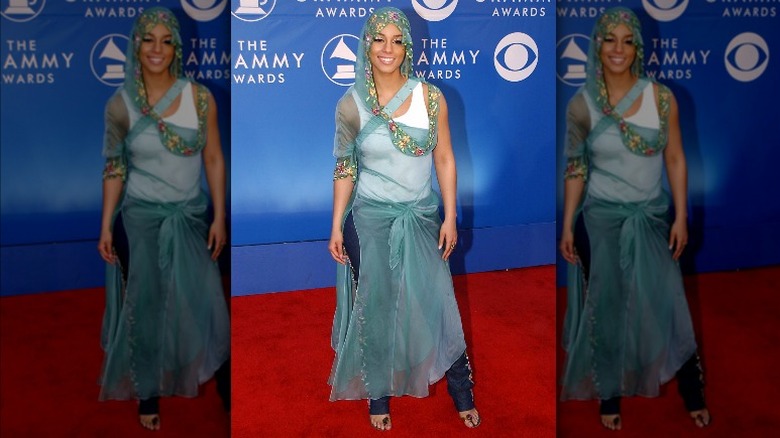 Jeff Kravitz/Getty Images
For the Grammy Awards in 2002, Alicia Keys decided to go for lots of fabric and a sort of Cleopatra vibe (though it was done all wrong). Her outfit consisted of a plain white tank top and dark denim jeans embellished with colorful beadwork. Over top of it, she wore a sheer green floor-length sari placed over her head and extending halfway down her right arm.
Nothing about this look bared any symmetry at all, which totally drives us nuts. It appears the sari was possibly just thrown on over her casual outfit at the last minute, perhaps even being worn incorrectly. Or, the outfit could have been a take on the dress-over-pants look. We're seriously questioning how her stylists let her out of the house in this getup. From the smile on her face, though, it appears she was none the wiser, which was probably a good thing.
Joy Villa took sustainable fashion to a whole new level in 2015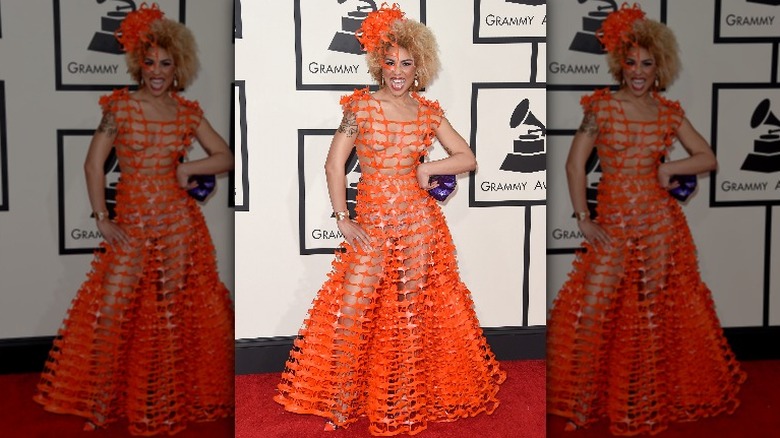 Axelle/bauer-griffin
In 2015, up-and-coming singer Joy Villa gave all new meaning to sustainable fashion when she showed up at the Grammys that year in a dress made from orange recyclable fencing material commonly found at construction sites. On her head, she wore a matching hairpiece made of the same recyclable material. While we're all about recyclable, sustainable fashion, this look should have remained in the recycling bin. Not only was the outfit unusual (that's an understatement), it didn't leave much to the imagination (though Villa did cover up her lady parts with pasties and nude undies).
Speaking to the Los Angeles Daily News, Villa gushed how much she loved her Andre Soriano-designed Grammys ensemble. "It's quite comfortable, believe it or not," she said, adding, "I hope I end up on both (best and worst dressed) lists. If people love it or hate it, it doesn't matter to me."
CeeLo Green looked other worldly on the Grammys red carpet in 2017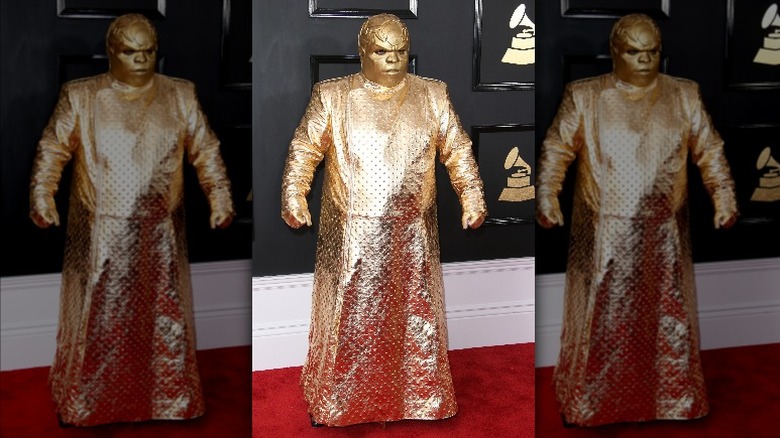 Dan Macmedan/Getty Images
Then there's CeeLo Green who didn't even appear human on the Grammys red carpet in 2017. Dressed in gold from head to toe (and we literally mean head to toe, as you can see from the pic — his face was even covered with a coordinating gold mask), he looks like he belongs in the latest "Star Wars" movie. James Corden, then-host of the "Late Late Show," called out Green's ensemble (via NME), saying, "Do we call it 'C3-P-LO,' or we thought 'C-LO-3O'? Or maybe we should just call it what it is: a cry for help."
Green himself actually denied it was him in that costume. Speaking to TMZ (via XXL Mag), he said, "That's somebody else altogether, man. I heard a lot about the guy, all the trouble he's making... I'm becoming a fan, he doesn't like me as much though." He later explained that underneath all that gold armor was his alter ego, Gnarly Davidson, whom he planned to release music under.
Twitter apparently blew up with tweets about the gnarly costume, err outfit, comparing it to everything from a "Ferrero Rocher" to a "handbag" to a "Power Ranger ready to battle." Clever, we have to say.
Half of Katy Perry's 2019 Grammys ensemble looked more edible than flattering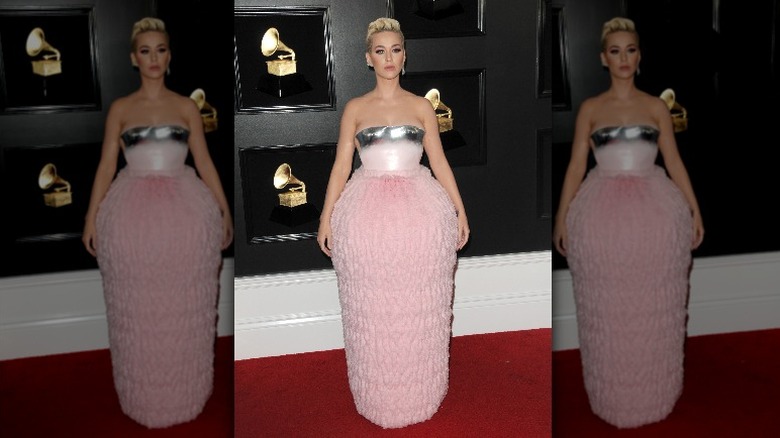 Kathy Hutchins/Shutterstock
We have some mixed feelings about this next one. We actually love the top half of Katy Perry's 2019 Grammys look. The strapless pink and silver bodice was striking and sleek; yet, then, you look down at the rest of her dress, which appears more like a cupcake you'd find at a baby shower. We probably could have come up with a bunch of ideas for the bottom half of the dress that would have appeared more flattering for Perry's figure.
The bottom of the dress appears to be completely separate from the bodice and constructed of individual rows of ruffles, which made it resemble — in addition to a cupcake — a loofah and a tutu. We also can't imagine that Perry's ensemble was easy to walk around in — we can't picture trying to trot around in it all night, let alone perform in it. We bet the pop star was thrilled to take it off once the night was over!
Annie Lennox got mousey for the 1995 Grammy Awards
Steve Granitz/Getty Images
In 1995, Annie Lennox also donned what appeared to be a costume on the Grammys red carpet. She arrived dressed to impress as Minnie Mouse, wearing a very short and shiny black vinyl dress, black stockings, and over-the-knee black boots. She completed the look with a choker around her neck and, of course, black mouse ears and a red and white bow on her head. Commenting on her ensemble for the event, she said (via Entertainment Weekly), "What else is a girl going to wear to the Grammys?" Umm, we could probably come up with more than a few ideas.
It turns out there was a method to her madness. Lennox, who tended to lay low, had an new album coming out, so when asked to present an award, she accepted the opportunity but wanted to make a statement. "I think Mickey Mouse is very sinister. My children love him, all children love him, but Mickey Mouse is big because of dollars," she told The New York Times that year. "I wore the ears and the leather dress to connect the Mickey Mouse crown, if you will, with the fetishistic dark underworld ... that the Grammys represent."
Perhaps she had enough Minnie and Mickey to last her a while, since she did a total 180 when choosing her Grammys look the following year – a red maxi dress, long black button-down coat, and black shoes — similar colors but much more understated.
Nicki Minaj tapped into her spiritual side for the 2012 Grammys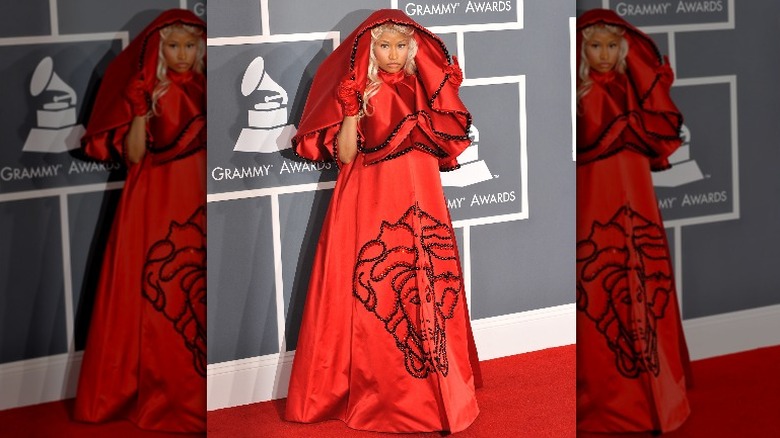 Featureflash Photo Agency/Shutterstock
At the 2012 Grammys, everyone was probably more than a little surprised to see Nicki Minaj all covered up and dressed in a red cloak and cape alongside a guy dressed as the Pope. Her religious-themed ensemble was from Versace, though Time compared her more to Little Red Riding Hood than the Pope's sidekick. Once Minaj went to perform on the Grammys stage that year, her purpose became evident: Her outfit was selected to promote her new single, "Roman Holiday."
It seemed as if Minaj was trying to emulate Lady Gaga's dramatic red carpet entrances or Madonna, circa 1989's "Like a Prayer," but she seemed to fall short. The whole religious thing didn't fly for Minaj, whom onlookers expect to see wearing bright colors and showing lots of skin. We give her credit for trying something different but recommend she sticks to the tried-and-true.
Cher appeared weighed down at the 2008 Grammys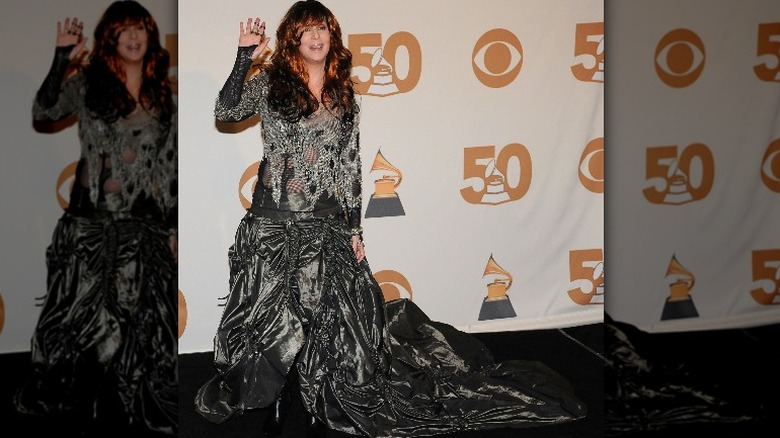 Jeff Kravitz/Getty Images
In 2008, Cher also didn't wear to the Grammys what we may have expected her to — she was much more covered up. However, she went the opposite extreme from showing too much skin that year. The superstar's Goth-inspired gown in black and charcoal, which was designed by Julia Gerard, consisted of way too much material, so much that she appeared weighed down by it.
We almost feel sorry for the iconic singer and actor in this photo, as it seemed she was struggling to drag this ensemble around all night. Perhaps Cosmopolitan described her dress best by referring to it as something out of a "zombie prom movie." Cher's hair for the evening was red and shaggy — her bangs even appeared to be in her eyes, and she looked as if she needed a haircut just as much as a way lighter dress.
Debbie Gibson paired a bunch of mismatched pieces together in 1988
On March 2, 1988, Debbie Gibson arrived at Radio City Music Hall in New York City for the Grammy Awards alongside her mother, Diane Gibson. The then-teen pop sensation showed up in a mismatched getup, and we were truly bewildered. She wore a black top with sequins and a pink and black skirt in a swirly pattern also decorated with sequins galore over black stockings and black boots. Around her neck she wore a colorful, patterned scarf with — you guessed it — more sequins. She topped off her outfit with an oversized, long white coat (or is it a blazer?). The singer's mother, meanwhile, looked demure, wearing a black dress accessorized by a string of pearls around her neck. 
We imagine teenage Debbie entering her closet earlier that day in a hurry and grabbing whatever was within her reach. What else can explain this ensemble which makes no sense? The '80s may have been a unique time for fashion but still.
Shania Twain channeled glamorous cow(girl) vibes for her 2023 Grammys look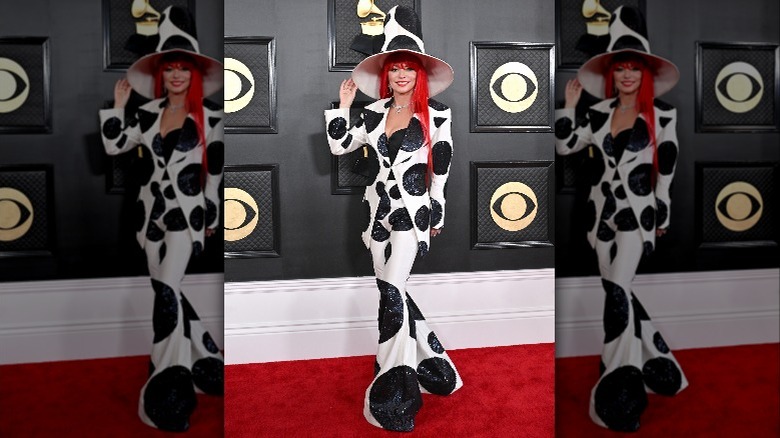 Axelle/bauer-griffin
What's black, white, and red all over? Why, that would be Shania Twain, of course.
While we may not have been a fan of Shania Twain's 2023 Grammys red carpet ensemble, we admit she looked gorgeous — albeit in a wild way. Her white suit by Harris Reed featured large sparkly black polka dots all over and bell-bottom pants — altogether, the black-and-white look gave off some serious cow vibes. She wore her hair long and dyed bright red, which popped underneath her huge hat that featured the same pattern as her suit.
While the country-pop singer's outfit that year was compared to the likes of Cruella Deville of "101 Dalmatians" and a character from Dr. Seuss books, Twain had this to say on Instagram regarding her ensemble and its purpose: "I came out to play and have fun on the @recordingacademy #grammys red carpet."
Her playful red carpet attitude and look this year may be explained by the feel of her latest album, "Queen of Me," released February 3, 2023. "There's a lot more 'get up and want to shake your body' kind of thing," Twain described the album to InStyle. "There's still some stomp in there, though. It's almost like everything is there, but a new dimension I just really want to get up and dance to it myself."
Justin Bieber looked like a mismatch from his model wife at the 2022 Grammys
Married power couple Justin and Hailey Bieber looked like sheer opposites on the Grammy Awards red carpet in 2022. While Hailey looked the epitome of simple elegance dressed in a sleek white satin strapless Saint Laurent gown and dainty jewelry, Justin was overwhelmed by his gray Balenciaga suit which hung on his body, appearing to be several sizes too big. On his head, he wore a pink beanie and, on his face, dark sunglasses. Where were Justin's hands? Oh, hidden in the sleeves of his oversized jacket.
Perhaps this juxtaposition was exactly the artistic vibe the couple was going for, but we can't help but think they looked a bit mismatched in their ensembles. The fabulousness that was Hailey's gown — she especially looked fab considering her recent health scare – seemed to draw even more attention to the ridiculous fit of her pop star husband's look that year.
Dencia achieved her goal of wearing her pj's on the red carpet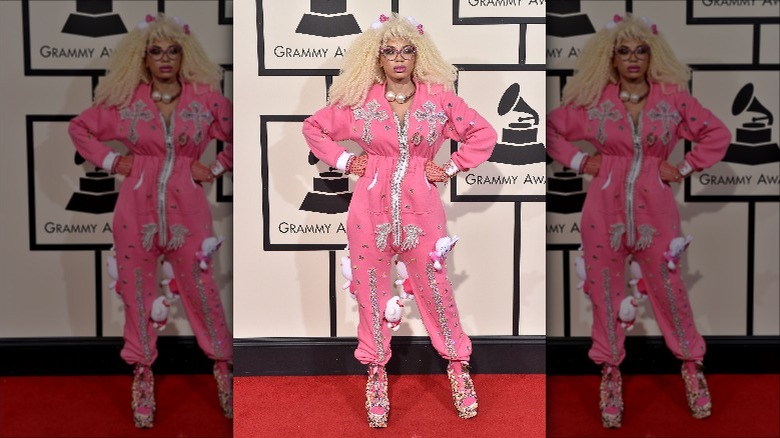 Axelle/bauer-griffin
Someone wanted to be comfy at the Grammys in 2016. Newcomer Dencia wore a bedazzled pink Hello Kitty onesie with platforms to match. She wore her voluminous blond hair crimped with two small pink and white bows added near the top of her head. She completed her way-out look with glittery pink cat-eye glasses, a necklace featuring two giant pearls, and pink lipstick to match.
Dencia shared a video of herself wearing the outfit to her Instagram feed along with the caption, "#grammys in my Jammies." In another post to Instagram which appears to have since been deleted, the singer wrote (via E! News), "When I moved to [LA], my dream was to one day get to a point where I can wear my Pj/On[e]sie everywhere & I just rocked my Jammy to the #grammys #Goals #lastMinu[t]eOutfitChange."
While the look may not have landed her on many (or any?) best-dressed lists, at least it made her happy to accomplish one of her goals.