Where's Taylor? B&B Sets The Record Straight On Krista Allen's Status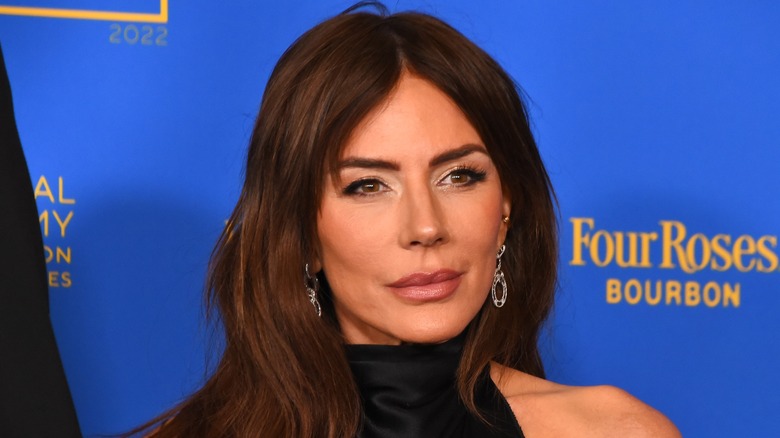 Michael Mattes/Shutterstock
Taylor Hayes has always been an important and integral character to the foundation of "The Bold and the Beautiful." While Hunter Tylo did a fine job in the role for several years, she wasn't consistently on the canvas enough for Taylor to make a continual impact. When Krista Allen joined "B&B" and stepped into the role of Taylor, it appeared that was finally changing. For once, Taylor appeared set to remain on the show for the long haul, creating an equal playing field for her to have as much airtime as Brooke Logan (Katherine Kelly Lang) and Taylor's daughter, Steffy Forrester (Jacqueline MacInnes Wood).
Taylor returned to the series in 2021 with Allen at the helm, and she immediately set her sights on reclaiming her ex, Ridge Forrester (Thorsten Kaye). After his wife Brooke let him down several times, Taylor spent more time with him, leading to the pair eventually getting engaged and on the verge of tying the knot. However, Taylor's decision to withhold a major secret from Ridge spelled doom for their relationship, and he called it off. Ridge left town for a period, giving Brooke and Taylor the chance to become friends for the first time.
However, after Ridge returned, the women were back to fighting over him, and unfortunately for Taylor, Brooke and Ridge reunited. Since then, Taylor has only been seen a handful of times, but thankfully, "B&B" has confirmed that she isn't going anywhere. Taylor is here to stay, and she's returning soon.
Taylor is returning this month with new scenes
Krista Allen is finally returning to "The Bold and the Beautiful," squashing any rumors about her potentially being let go from the series. Given the history of Taylor Hayes disappearing at random intervals, it seemed possible that the cycle would continue. However, according to Soap Hub, a rep from the sudser iterated that Taylor remains on contract and isn't leaving anytime soon.
Despite the news of Taylor heading to Rome to spend some quality time with Steffy Forrester, she will be making her way back to Los Angeles later this month. Steffy is in need of some motherly love due to leaving her husband, Dr. Finn (Tanner Novlan), because of his connection to criminal Sheila Carter (Kimberlin Brown). According to the source, Taylor's newest scenes will occur on September 27, 28, and 29 and in early October. She will likely come back to LA to give an update on Steffy's life in Rome after she fled to avoid Sheila's reign of terror. 
Despite the network providing a positive comment about Allen's status on the soap, viewers on social media aren't convinced that it's legitimate. One fan tweeted, "So she's going to be in a few episodes before her contract is up. Did they decide to actually write an exit instead of her just disappearing? Because that's all I'm getting from this. It doesn't explain why she isn't a part of her family's storylines."