What We Know About Melissa Joan Hart's Husband, Mark Wilkerson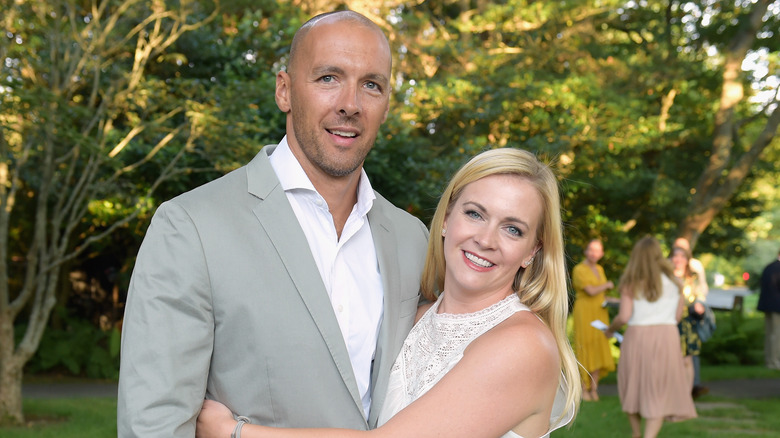 Jason Kempin/Getty Images
Melissa Joan Hart and her husband Mark Wilkerson have been married for more than 20 years. A little more than a year after meeting at the Kentucky Derby in 2002, they got married in Florence, Italy, with their wedding featured in the ABC miniseries "Tying the Knot." Hart's favorite part of her wedding? Her vows. "Mark was crying so hard and we were supposed to put our heads down, but his nose had filled up! I had my grandmother's handkerchief in my cleavage, so while the priest was speaking, I reached into my dress and everyone giggled — that was the only part of the day that didn't get caught on camera," she told Woman's Day. In the years that followed, the couple welcomed three sons: Mason, Braydon, and Tucker.
During the pandemic, Hart and Wilkerson moved to Nashville, Tennessee, with their family. While Hart is busy flying to various filming locations, her husband is a stay-at-home dad. "I could not have asked for a better husband and a better partner in this world to raise these kids. He is a great husband but he's a fantastic dad and he just lives and breathes those boys," she said in a March interview with Hello! magazine. And though Wilkerson isn't in the spotlight like his TV star wife, he does have a pretty cool background.
Mark Wilkerson used to be in a band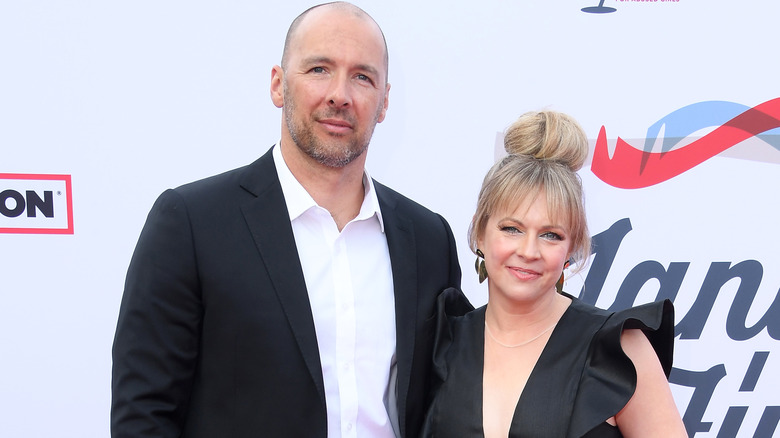 Steve Granitz/Getty Images
Before Mark Wilkerson took on the role of dad full-time, he used to make music. According to Spotify, Wilkerson co-founded the music group Course of Nature in 2001 along side John "Fish" Milldrum. The guys had previously been in the band Cog together before joining forces to create a new music entity. Wilkerson was the lead singer and also played rhythm guitar for Course of Nature. The band is described as being "post-grunge and alternative pop/rock." In 2002, the band released the album "Superkala" and, in 2008, they released "Damaged." Both albums consisted of 10 tracks. 
Wilkerson is also a talented songwriter and was even nominated for a Grammy award in 2007 for his work on Daughtry's "It's Not Over." In a 2007 interview with Metal Underground, Wilkerson revealed that it was his music career that actually introduced him to Melissa Joan Hart. He was playing a benefit and the "Sabrina The Teenage Witch" star actually introduced the band before their performance. Wilkerson and Hart ended up chatting backstage after the show and the rest was history. Perhaps unsurprisingly, Hart is a big fan of Course of Nature. On her hubby's birthday on September 6, she penned an Instagram tribute to him and used the band's song "Caught in the Sun" to accompany her photo collage.
Mark Wilkerson & Melissa Joan Hart have gone to couple's therapy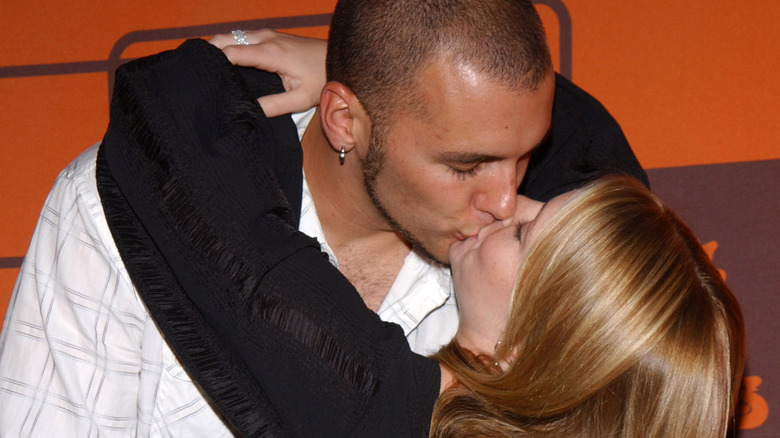 Jean-paul Aussenard/Getty Images
Mark Wilkerson and Melissa Joan Hart have been dedicated to making their relationship work from the very beginning. In fact, they made a sort of pact that they would always put their family first, no matter what. "We made a commitment, especially since we have kids, that family is definitely number one. One of us will always be available. We don't work at the same time. So that's pretty much how we operate," he told Metal Underground in 2007. The duo welcomed their first son, Mason, in 2006, followed by Braydon in 2008, and Tucker in 2012.
Over the years, Wilkerson and Hart have traveled the globe together, even taking their kids on an epic family adventure to Zambia this past July. And while the two seem to have it all figured out, Hart will be the first person to tell you that she and Wilkerson work at their marriage. "We've been in and out of couples therapy and we really enjoy that because it just helps us understand each other better even after 20 years. We do it once in a while," she admitted to Us Weekly in March. She added that their relationship is a continual work in progress that focuses on basic kindness and consideration. It seems like it's working!