Kalani Hilliker On Prioritizing Her Mental Health After Dance Moms - Exclusive Interview
Polo Gibson
Few cast members shone quite as brightly as Kalani Hilliker on Lifetime's "Dance Moms." The Arizona native joined the show at the tender age of 12, following a successful run on the hit series "Abby's Ultimate Dance Competition." From there, the young dance prodigy quickly caught everyone's attention — including that of notoriously tough coach Abby Lee Miller. Beyond her mesmerizing technical ability, Hilliker demonstrated a sense of discipline and maturity well beyond her years. Despite a few dramatic moments, she remained on "Dance Moms" for a total of four seasons, ultimately departing the series in 2017.
Since appearing on "Dance Moms," Hilliker has made strides in several fields, from design and self-care to mental health advocacy. The beloved dancer and actress launched her beauty and wellness line Kare x Kalani earlier this year, aimed at sharing some of her favorite therapeutic tools with fans. Her ambitiousness doesn't stop there, either — these days, the 22-year-old is even an accomplished dance teacher in her own right. The List recently caught up with Hilliker to find out more about the life of this celebrated star, including reflections on her time on "Dance Moms."
Kalani knew from the start that dance was her calling
At what point in your life did you realize that you wanted to pursue dance professionally?
I booked one of my first jobs when I was around 10, so I knew quite early. I did try everything, as most kids do. I did soccer, softball, and everything, but I always knew that dance was my passion. My mom also put me in whatever [activities] I was happy with. I found out quite early that I really loved dance, and that was what I was best at out of everything.
What was it like for you to get adjusted to the filming of "Dance Moms?"
"Dance Moms" was an adjustment. I was going from being a regular kid and living my everyday life to soon having cameras on me all the time. I was doing some shows before; I was on "Shake It Up," a Disney Channel show, when I was young. I also was on an ABC show called "Bunheads." I was just dancing, and it was two days of filming, and then I was away. I knew what it was like to be on camera. 
I did "Abby's Ultimate Dance Competition," which was eight weeks of that. Once I did "Dance Moms," though, it was all the time, having a camera on you. It was weird to have cameras following every little move that you did, but I did get quickly adjusted to it because it became my new normal.
Despite her innate talent for dance, Kalani worked tirelessly to perfect her craft
Your dancing technique is so impressive. Was dancing always second nature for you, or were there really a lot of challenges for you to overcome with practice?
I was very naturally talented in dance. That was just something that I was good at. My teachers always told my mom, [who] was never a dancer or anything, "[Kalani's] really naturally gifted in this." I was naturally gifted, but just because you're naturally gifted doesn't mean you don't have to work hard. I did work really hard to get to where I was at. I put in many hours and gave up a lot of things to be able to be as good at dance as I was. I loved it, and it was my passion, so I wanted to do it.
What were some of the biggest life lessons that you took away from being on "Dance Moms?"
Discipline is the first one. Every single week, I was learning a new routine to go on stage, and that took a lot of discipline. I worked really hard outside of the hours that we were filming. I would go home, and I would practice my dances and make sure that I knew them and perfected them. It's my art. I was working on it all hours of the day so that I could be able to make sure I went onstage and performed really well. 
[That] discipline I've taken with me now, into my [later] years, and it's something that I'm forever grateful for. It's a lot of hard work and dedication, but it really paid off for me, and I'm really happy to be where I'm at and still carry those lessons that I've learned.
Things have come full circle for Kalani since her Dance Moms days
We heard that you're actually a dance teacher now. What do you find the most rewarding about being on the other side?
I started teaching dance more recently. I put dance on the back burner for a little bit, just because it was such a big part of my life that I wanted to try out other things and was a little bit burnt out. I re-found that love for dance. I love dancing myself, but I know that I learned so much growing up.
I have a lot of knowledge that I wanted to be able to share with younger kids, take them along this journey, give them a little bit more of a positive outlook on dance than maybe I would've had, and be able to teach them how amazing dance is. It's more than just dance. It teaches you how to be a person. Most life lessons I've learned, I learned through dance. At the end of the day, I want to teach my kids how to grow up and how to be a good person to be in this real world — more than just technique and how to dance.
Kalani is passionate about the importance of self-care – especially for dancers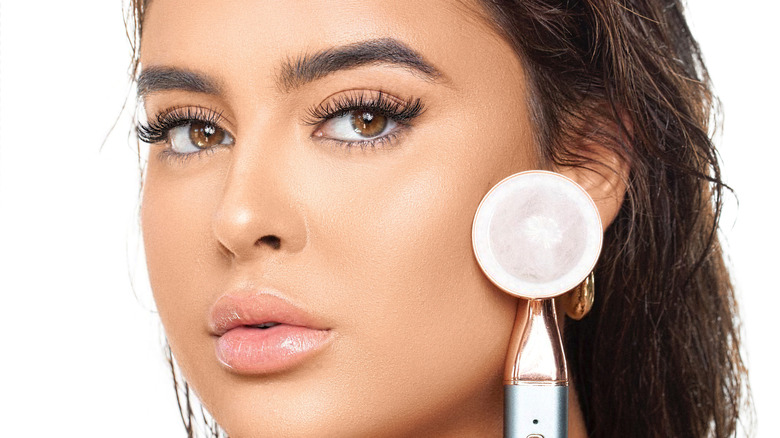 Polo Gibson
You mentioned that you experienced some feelings of burnout when you were on "Dance Moms." What are some of your favorite ways to practice self-care these days?
Growing up, self-care, anxiety, depression, [and overall] mental health awareness wasn't really there. I was constantly on the go, constantly moving, and I never really took a second for me, to recover from dance or recover mentally from everything that I was going through with the show.
Now, I love to incorporate so many different ways to recover — with [products from] my brand, Kare x Kalani, [and] I have a massage chair. It's really important to recover your muscles from dancing all day long, or working out, or whatever you might do. I know that in "feminine" sports such as dance, people don't [always] consider them "really" sports. They don't give you lots of recovery, whereas, if you're playing football, there are so many different recovery methods that they have and days that they have. They don't have a ton of that in dance, so I wanted to incorporate that into my care line.
I struggled with anxiety from having such a fast-paced life then, but it's still a fast-paced life now. Most people do, whether you're working a nine-to-five, whether you're an athlete, or whether you're a dancer. Whatever you might be, we all need time to recover and take time for ourselves so we don't burn ourselves out. I love to take baths, do meditation, manifestation, and journaling. Taking time to relax is something that I'm really passionate about.
The Kare x Kalani founder shares more about her self-care routine
Can you tell us a little bit more about your line, Kare x Kalani, and some of your go-to products?
I recently launched my brand, Kare x Kalani, in May. I'd been working on it for a super long time, and the whole point and message of Kare was to create a brand that wasn't just a brand. I wanted to be able to help people with things that I've struggled with and create a brand that's based on helping each other and helping ourselves.
I have so many different products. My favorite right now would be The Thera-Wrap Headband. It's a headband, and you can put cooling or heating pads inside of it. It helps with migraines, headaches, de-puffing, and relaxation. It's something that I love to use. Personally, when I am in a panic attack or having anxiety, I love to hold something cold or have something cold around me. I use it in the morning and at night.
I also have an eye mask that does the same thing. I love to put the eye mask on for meditations, things like that, to really find time to relax myself. Whether it's 15 minutes a day or I spend the whole day on it, finding some time during the week is really important. I love to use these products to help relax and decompress after a week of stressfulness, or whatever it might be.
From designer to entrepreneur, Kalani reflects on her NYFW experiences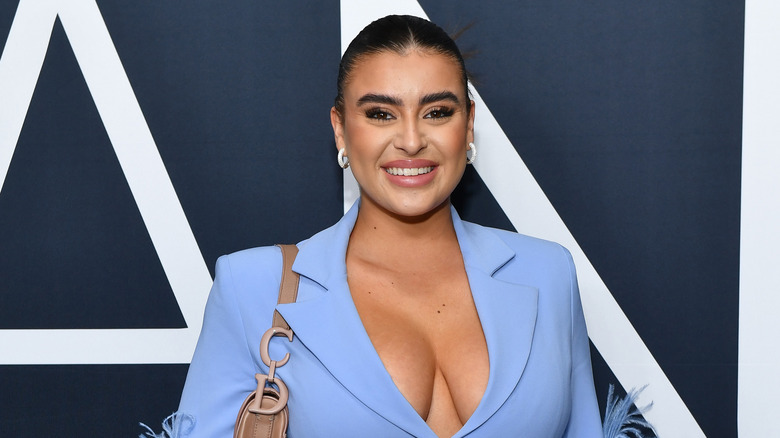 Noam Galai/Getty Images
In the past, you had presented your own designs at New York Fashion Week. How would you say that your personal style has evolved since that first collection?
I've matured and come into [my own] a lot. As a kid and a young adult, I had so many other things going on, and a lot of people telling me in my ear what was needed. As a dancer or being on a show, there are so many other people that are around you. Once the show was over and I finally got to be able to grow into myself, I started making a lot of decisions for myself, and my style really evolved to be what I want to be.
It's been super fun being here [in New York] for Fashion Week. I haven't been here in a minute. It's been really cool to be here and be super busy, have my own style, and be able to do my own things in the city this year. It's been fun.
What were some highlights for you at this year's New York Fashion Week?
This year, I actually had a gifting suite with Kare x Kalani in it. I was really excited to be able to showcase my brand here and be able to [get] some of my friends, influencers, and other people's judgment on what they think of the brand. I love to always help people. That was probably my favorite part that I've had here so far. Also, going to the different shows and presentations is always fun. Running into friends, and being able to get ready — it's really tiring, of course, but it's cool to do.
Kalani's kaleidoscopic talents make for a bright future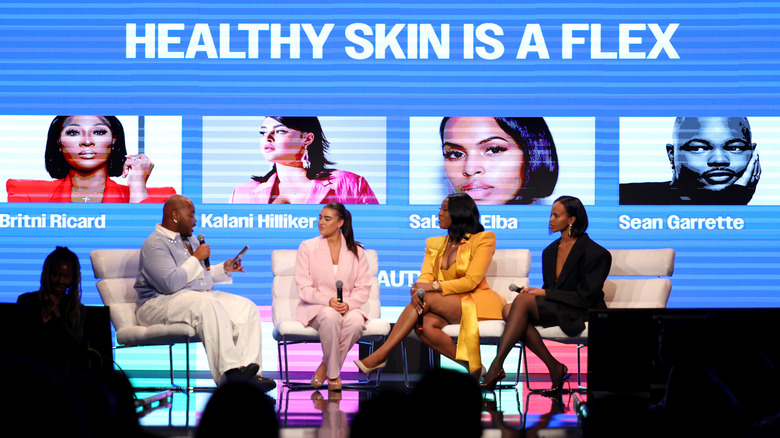 Robin L Marshall/Getty Images
Can you fill us in on any upcoming projects or plans that you're working on?
There are a couple of things going on. While I've been here, I've been on a couple of podcasts. I'm really excited for those to launch. With me living in Arizona and being somewhat out of the loop, I'm not always in L.A. and New York. Whenever I get the opportunity to do some podcasts and stuff where people get to see a different side of me, that's really fun. I have some stuff coming out with that, and then new products for Kare x Kalani. We launch pretty often. I'm currently working on some stuff in the skincare, makeup, and fitness-dance space. I'm really excited to grow the brand and cover all bases of health and wellness.
Kalani recently announced Kare by Kalani x Poppy Aesthetics while presenting at BeautyCon 2023. The "Dance Moms" star invites you to explore the full Kare x Kalani line at kare.shop.
This interview has been edited for clarity.