Meghan Markle's Father Isn't Giving Up Hope On Seeing His Grandchildren
Meghan Markle's dad, Thomas Markle, has given another interview with "Good Morning Britain" and is very upset about his lack of a relationship with Meghan and Prince Harry's two young children, Archie and Lilibet. "I still haven't seen my grandkids. ... And I think the king would like to see his grandkids as well," he said. Thomas shared that he suffered a stroke and that Meghan hasn't reached out to him at all. "I haven't seen Meghan and Harry in five years," Thomas said, adding that the Duke and Duchess of Sussex's decision to keep him away from his grandchildren is "cruel." 
This, of course, isn't the first time that Thomas has tried to reach out to his daughter by way of the media. "I'm not a tearful type ... but I'm certainly hurt by a lot of it. There's a good chance I might never see my grandchildren," he said in an interview with "60 Minutes Australia" in June 2021. That same month, Thomas told Fox News that he planned to file a petition with the state of California in hopes of getting a judge to rule that he could see Archie and Lilibet, but that didn't work out the way he'd planned. Meghan and her father have been estranged for quite some time now, and the duchess previously explained why she's no longer in contact with her dad.
Meghan Markle said her father betrayed her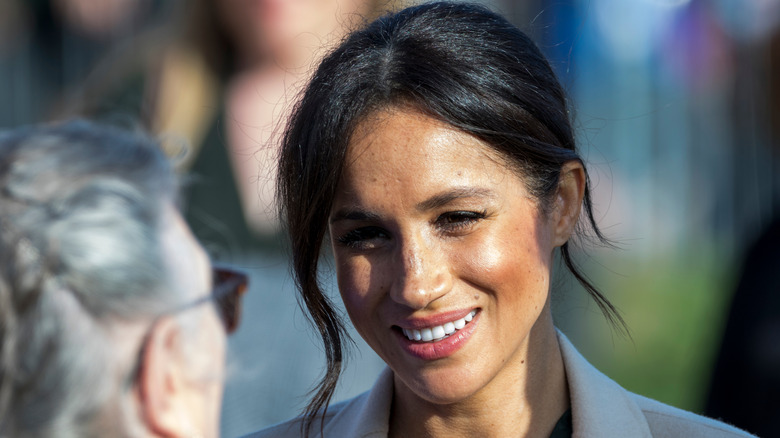 Alan Fraser Images/Shutterstock
During the now-infamous March 2021 interview Meghan Markle and Prince Harry, Duke and Duchess of Sussex, gave to Oprah Winfrey, Meghan revealed the one thing that her father did to effectively end any and all communication that she had with him. The Duchess of Sussex recalled the conversation that she had with Thomas Markle in which she asked him if he had spoken to the press ahead of the royal wedding, which he falsely denied. "I said, you know, the institution has never intervened for anything for us, but they can try to go in and kill this story. But if they do this once, we're not going to be able to use that same leverage to protect our own kids one day," she explained, according to CBS News. Meghan explained that she asked her father to tell her the truth about his interactions with the press. "He wasn't able to do that," she said.
In another interview with British television, Thomas admitted that he made a mistake in his dealings with the press and said that he'd apologized to his daughter many times (via CBS News). However, Meghan and Prince Harry have continued to keep their distance. Now, Thomas is making another plea to put the past in the past and move forward. On "Good Morning Britain," Thomas maintained that he's not a "bad guy." Thomas spoke about himself and also about Harry's father, King Charles. "There's no excuse for her to treat me this way. No excuse to treat a king that way as well," he said.