The Biggest Regret Jessica Simpson Has About Her Marriage To Nick Lachey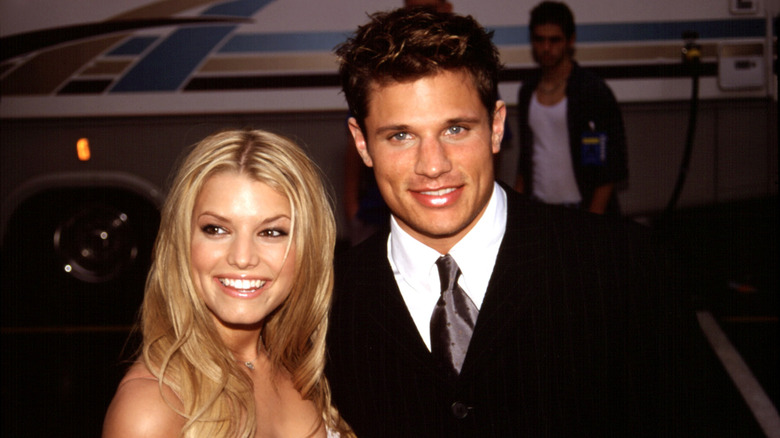 Everett Collection/Shutterstock
"Newlyweds" stars Jessica Simpson and Nick Lachey got married in 2002 and split just four years later. Looking back on her time in an extremely public marriage, Simpson cited her union with Lachey as a huge financial no-no, thanks to their lack of prenup.
Amid their marriage, Simpson also founded her eponymous fashion line. Launched in 2005, the Jessica Simpson Collection sold everything from women's clothes to jewelry, shoes, and perfume. After she sold her majority share of the company in 2015, Simpson successfully regained ownership in 2021. Now, the Jessica Simpson Collection has cemented itself as a billion-dollar business.
When asked what her biggest money mistake was in an interview with CNBC, the fashion founder immediately referenced her first marriage. She also opened up about it while talking on "The Dr. Oz Show" (via People), saying, "I wish I would've signed a prenup. The funny thing is that Nick wanted me to sign a prenup but I was so offended. I'm like, 'But we're going to be together for the rest of our lives.'" While this was one of the first financial mistakes Simpson would make, it wasn't the last. Over the years, she would go on to lose a lot of money before landing back on her feet.
Nick Lachey ended up with a major payout after their split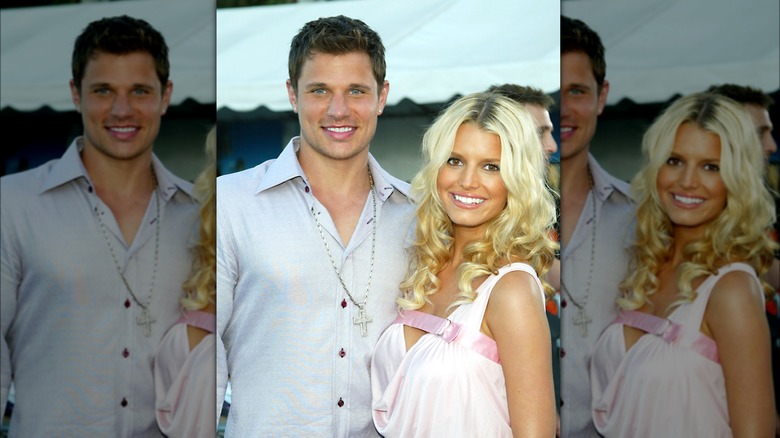 DFree/Shutterstock
Even though it only aired for three seasons, "Newlyweds: Nick and Jessica" was a cultural staple in the early '00s. Following two of the world's hottest pop stars at the time, the show gave an unfiltered look into Jessica Simpson and Nick Lachey's life as a couple. The reality series aired from 2003 to 2005, and quickly skyrocketed them to mainstream fame. 
Despite their joint success, Simpson was still the breadwinner thanks to her multiple business ventures.  To finalize the divorce, she had to pay Lachey a large sum during the splitting of assets – up to $12 million, per Radar. Even though their marriage ended in financial turmoil, Simpson admitted that she doesn't regret starring in their MTV reality series. "If anything, it was great TV. It was very real, and Nick and I actually had a lot of fun ... Ours was actually very real and very authentic because it was one of the first, Simpson told "The Real." 
Due to the current reality TV landscape, Simpson, who has undergone a stunning transformation, said that she could never see herself returning to life on camera. Meanwhile, the former band frontman is still dabbling in reality television — this time, not as the star. He and his wife Vanessa Lachey are hosts of "Love Is Blind" and "The Ultimatum," two of Netflix's hit dating shows. 
Jessica Simpson admitted that their marriage was ruined by the media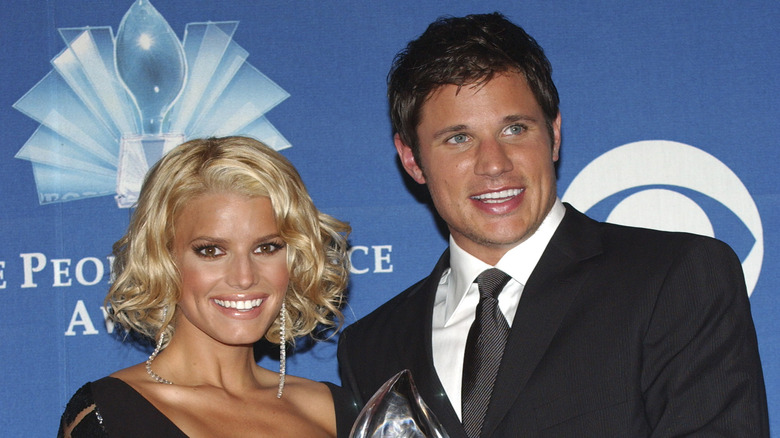 Jon Kopaloff/Getty Images
While Jessica Simpson said that reality TV wasn't an experience she regretted, she has admitted that public criticism played a large role in her failed marriage to Nick Lachey. She opened up about their relationship in her memoir "Open Book," released in 2020. "I would watch episodes back and I didn't like what I saw," the songstress wrote (per Us Weekly). "We really got crushed by the media and by ourselves. I couldn't lie to our fans and I couldn't give somebody hope that we were this perfect golden couple."
Decades after "Newlyweds" debuted on MTV, fans are still intrigued by Simpson and Lachey's short-lived marriage. The series has gained a new following thanks to TikTok, and viewers are as critical as ever. But this go-round, Simpson is not to blame — Lachey is undoubtedly recognized as the villain.
Life on-camera of course comes with public opinion, which eventually impacted their marriage beyond reparation. "Jessica and I began playing these parts even when we were by ourselves," Lachey explained amid their divorce (via People). "It became a really blurred line. There was a question about what truly was our reality." Since their split in 2006, both parties have happily remarried: Simpson to former football player Eric Johnson, and Lachey to model Vanessa Lachey.