Julie Chen Is Radiant Without Makeup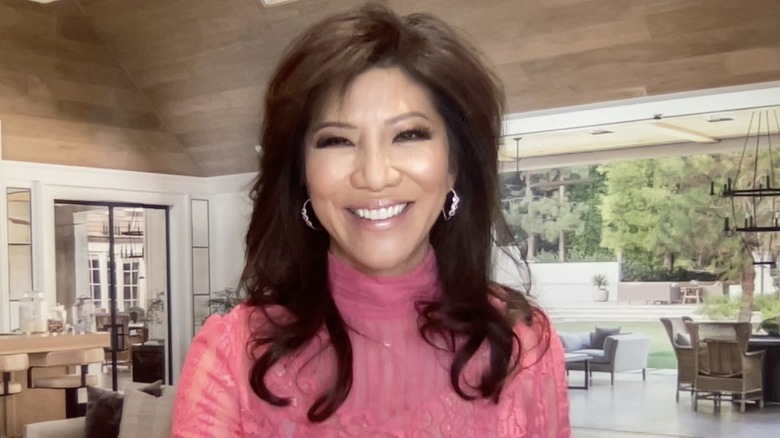 Jamie Mccarthy/for Pete's Sake Cancer Respite Foundation/Getty Images
Julie Chen Moonves is no stranger to being in front of a camera. She was the co-anchor of "The Early Show" on CBS from 1999 to 2012, she started hosting "Big Brother" in 2000, and she was a co-host on "The Talk" from 2010 to 2018. As such, we're very much used to seeing her with full makeup. She doesn't go over the top with her look, but she's definitely got makeup on when filming her segments.
However, before Chen Moonves left "The Talk", she and her fellow co-hosts twice came to the set wearing bathrobes without any makeup. It wasn't because someone slipped up and forgot to coordinate makeup and wardrobe; it was very much on purpose as a themed show. 
"We decided the ultimate way to be real and authentic would be to go on without our fake hair, fake eyelashes, five pounds of TV makeup," Chen told People. "Luckily what makes our show work is that the women who sit at that table are comfortable enough in their own skin that we'll all take that risk." (via Digital Spy). There was no reason for her to be nervous about what she looked like — or any of the cohosts for that matter — as Chen and her fellow hosts looked fantastic without makeup.
Julie Chen Moonves uses serums to keep her skin looking fantastic
For their second makeup-free episode in 2018, the co-hosts of "The Talk" spoke with Entertainment Tonight about the experience. Julie Chen Moonves revealed one of her skincare secrets, and it's all about layering products before she goes to sleep. "I put on, like, seven serums, 'cause we get a lot free from the show," Chen said.
While seven serums may have been an exaggeration, you definitely can layer your products. If you plan to try out Chen Moonves' serum-layering technique, start with the lightest weight serum first and wait for each layer to be absorbed by your skin before you add the next one. And if you're using a moisturizer, put it on after you've applied any and all serums to help lock them in.
As well as baring her face on occasion on national TV, Chen Moonves has also shared the occasional make-up-free post on social media. In one Instagram video, she took people behind the scenes of "Big Brother," and she's wearing a blue hoodie with her hair up and no makeup in sight. And she looks fantastic with plenty of fans in the comments noting how beautiful is while she rocks a natural look.
Julie Chen Moonves regrets not wearing more sunscreen when she was younger
Julie Chen Moonves told Entertainment Tonight that it was scary to be going makeup-free on TV: "The camera has a different eye. People [...] who don't work in television might not realize that." But overall, it sounds like she's comfortable with her look as she's gotten older. "When I look at pictures of myself without makeup on, I always think I look better than I thought I did," Chen Moonves wrote in Glamour. "When I go out without makeup on, I feel confident about it now." However, she also said that she did have one skincare regret as she's gotten older and developed some sunspots: not wearing enough sunscreen.
Chen Moonves has an undeniably radiant look, but it's more than makeup and good skincare. She's been open about the cosmetic surgeries she's had. She revealed on The Talk that she'd had a double eyelid surgery early in her career after having been told she needed one to advance at work, via YouTube. Chen Moonves went under the knife again to get a facelift in 2018 after she left "The Talk." In her audio memoir "But First, God," she wrote with candor about why she got it: "I knew part of my bread and butter being in front of the camera was to maintain how I looked, stay out of the sun, put on sunblock and yes if I have to, go under the knife" (via People).