Which Of Kody Brown's Ex-Wives Would Enter Another Plural Marriage After Sister Wives Splits?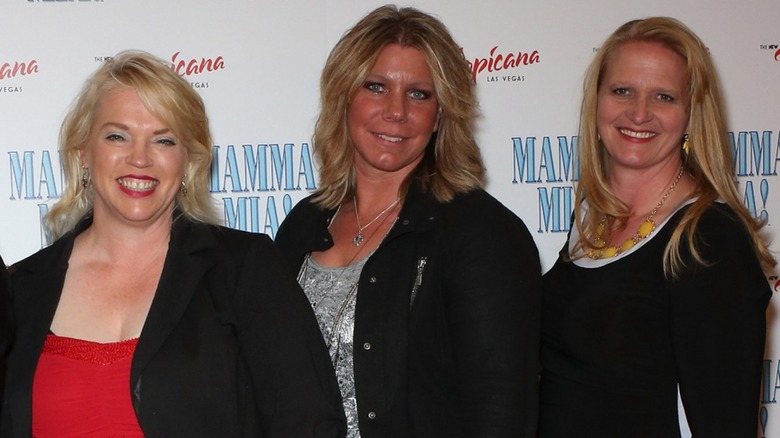 Gabe Ginsberg/Getty Images
Kody Brown's divorces have been making headlines for a couple of years now, and it seems the drama is nowhere near over. Following Christine Brown's departure from the Brown clan, Kody saw another of his four sister wives follow suit less than a year later when Janelle Brown took off on her own too. This left Meri Brown as one of the only remaining two wives, but sadly, Kody was no longer interested in having any kind of romantic relationship with her. 
Meri openly expressed her desire to reconcile with Kody on multiple occasions, to no avail. Left with a single wife, Kody has started to reconsider his choices, and the "Sister Wives" crew is documenting his journey. As the patriarch struggles to embrace his monogamous reality, one of his former wives is contemplating reentering a polygamous relationship. Janelle is exploring her options after divorcing Kody, but he might be her best choice once again.
Janelle is open to reconciling with Kody
Surprisingly, despite gushing about how happy she was without Kody Brown, his former sister wife Janelle Brown is contemplating a return to plural marriage. When questioned about her feelings regarding their separation during the Season 17 "One on One" special, Janelle stated, "I know I'm happy; I don't want him to come back," (via People). And yet, she acknowledged that her religious beliefs dictate a lifelong commitment to marriage once a person gets into one.
It appears her faith got the best of her, as Janelle confessed that she would consider reconciling with Kody regardless of the many challenges they have faced over the years. In fact, during a Season 18 episode of their hit show, the mother-of-six disclosed, "Despite the fact that Kody and I are having problems, I do think I could live plural marriage again," per Us Weekly. Janelle also confirmed that she still sees the advantages of living in a plural marriage. 
However, the reality star would likely only return to a polygamous family if it was with Kody because "You don't really go around finding people who are living plural marriage." The patriarch is apparently open to the idea, too. In an interview with People, Kody shared that he was more than willing to work things out with Janelle. The "Sister Wives" star expressed his confidence in their ability to rebuild trust from the ground up, no matter how hard things get.
Meri seems to be completely out of the picture
Following Kody Brown's breakups, the polarizing reality star has found himself in a rather undesirable position for a man practicing a polygamous lifestyle. Kody is left with only one spouse, Robyn Brown, and is already longing for the days when he had multiple wives by his side. In a Season 18 episode of "Sister Wives," he candidly shared with a group of friends, "If I'm married to this woman and she's really cantankerous and I don't enjoy her, but I can't leave, it'd be nice to have another wife 'cause then I can get away from her for a little bit," (via Us Weekly). 
Ironically, when he did have four wives, Kody blamed God for making his life so complicated. Curiously, despite Kody's openness to the idea of plural marriage, Meri Brown has been conspicuously absent from the conversations. Out of his three ex-wives, Meri is the only one who didn't choose to leave Kody, rather he ended things between them. Despite Meri's repeated attempts to reconcile, Kody has consistently rebuffed her. In his post-divorce world, it appears there's still no place for Meri, regardless of any lingering desire Kody may have to return to his previous way of life.