Huge Fashion Trends You Need To Know In 2019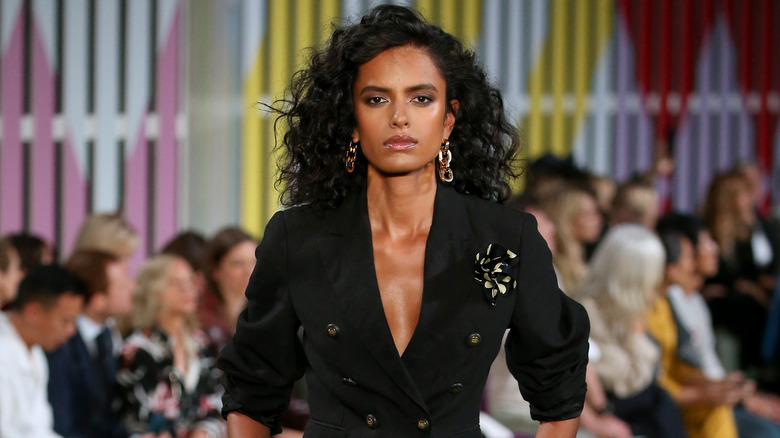 Getty Images
In 2018, you were able to experiment with some pretty fab fashion trends. Velvet dominated not only the holiday season, but fall, spring, and even summer. The denim-on-denim ensemble continued going strong throughout the year and minimalist fashion became more and more popular. "Geometric minimalism" dominated the jewelry market just as jewelry designer and expert Heena Shah predicted it would when speaking to The List in 2017. Ahead of 2018, Genevieve Hartmann Colom, the style training manager for Trunk Club, also told The List that she expected "French girl chic" to be a dominating force. Sure enough, minimalist styles with a French influence proved to be en vogue all throughout 2018.
While fashion experts expect some of your favorite trends to stick around in 2019, you're going to see them reinvented in interesting ways. Exciting, brand new trends are also predicted to make their way into stores over the course of the 2019 year. Here's what our expert sources say you can expect.
Genderless fashion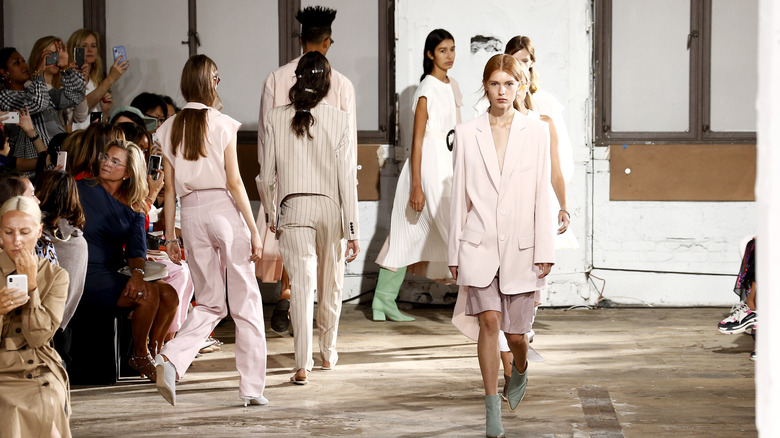 Getty Images
One of the biggest trends of 2019 is expected to be gender-neutral fashion. "It's fitting to see more and more androgynous looks walking down the runway," personal stylist and CEO of CBS Lifestylist Catherine Bachelier Smith opined to The List. "Sometimes I feel like wearing a pretty dress and sometimes I steal my husband's button down to finish off my Annie Hall (menswear) look." We hear that.
At the Spring 2019 Ready-To-Wear fashion show in New York, many of the looks designed by Tibi featured gender-neutral apparel. But Tibi isn't the only brand embracing genderless fashion. Louis Vuitton, Valentino, and others have also began designing similar looks as 2019 drew near. In fact, Vogue fashion critic Anders Christian Madsen feels 2019 is going to "revolutionise the way we see and wear clothes." Bachelier Smith certainly agrees. She revealed, saying, "2019 is sure to see most designers blurring the lines on what is men's/women's fashion because it's fun to act like a Gemini!"
The ultra-feminine trend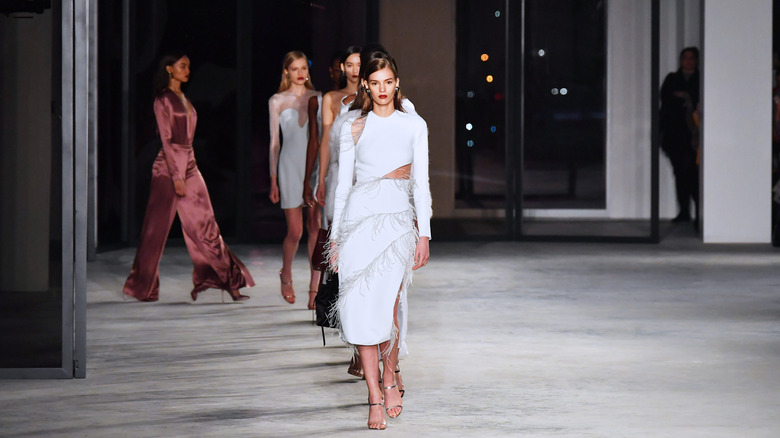 Getty Images
Although genderless fashion is going to be a huge trend in 2019, there's still room for what Maria Dueñas Jacobs, director of brand development and style expert at Stitch Fix, dubs "the ultra-feminine trend." She explained that the style "lives on with florals, gingham, stripes, bows and ruffles."
Designers at New York Fashion Week served up plenty of these ultra-feminine looks during the Spring 2019 show, including billowy dresses by Zimmermann and 3.1 Phillip Lim. Super feminine midi dresses, like the neon ensemble with plunging neckline by Cushnie et Ochs, proved that there's a place for both feminine and gender-neutral fashion in 2019. 
Of course, you need not wear a fancy schmancy dress to pull off the ultra-feminine vibe. The style expert said by simply incorporating little details, like the aforementioned florals and ruffles, into your shoes or accessories, you'll be able to "give your outfit a fresh look" for the 2019 year.
High-shine fabrics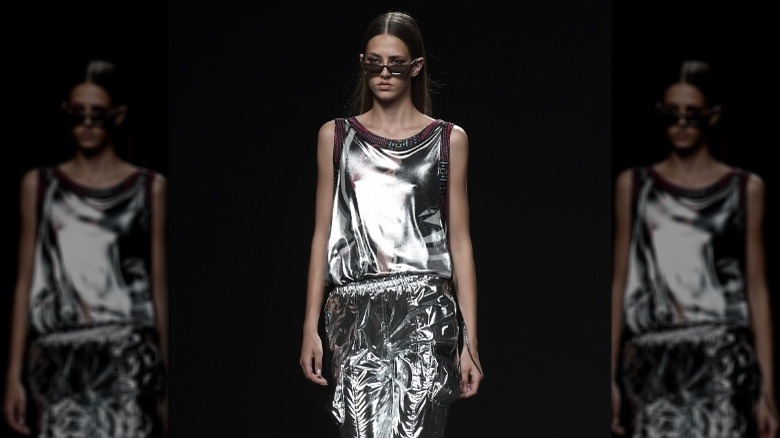 Getty Images
Futuristic styles are securing their spot in 2019, celebrity stylist Soneca Guadara told The List. Although the likes of Tom Ford, Moschino, and Gucci embraced this fun trend during New York and Milan Fashion Weeks in Fall 2018, Guadara expects to see lots of "metallic foil fabric" along with "high-shine materials" and "holographic" designs throughout 2019.
At the Barcelona Spring 2019 fashion show held back in September 2018, metallic fabrics were a central theme of Custo Dalmau's designs. Vogue reported that the designer's collection was filled with "holographic sequins" and "glossy textures." Renowned stylist and fashion designer Rachel Zoe also embraced this bold new trend in her Resort 2019 collection. Women's Wear Daily reported that Zoe's daytime looks included jumpsuits and crepe dresses with "metallic liquid tweed." She also incorporated "fancy sweaters" complete with "holographic paillettes." Don't expect these über mod looks to be confined to the runway for long.
Monochromatic looks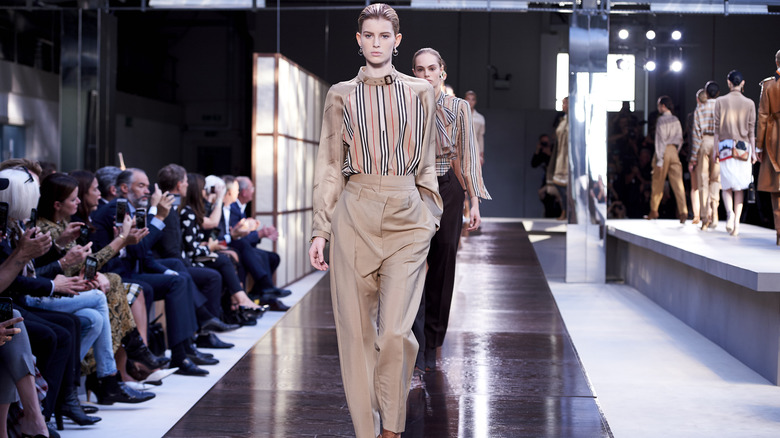 Getty Images
If capsule wardrobes are your thing, you're in luck. After attending the spring 2019 fashion shows, San Diego-based personal stylist Vanessa Valiente revealed to The List that "monochromatic looks" are definitely going to be in fashion. Yay for easy-to-coordinate pieces! "Sally La Pointe, Tibi and Burberry showed gorgeous examples," said the stylist.
As pictures of the Burberry collection show, designer Riccardo Tisci was surely all about monochromatic fashion. He included plenty of muted tones, like taupe and camel, all throughout his designs and even presented subdued versions of what would normally be very bold prints, like leopard. A few pops of solid colors were added, including fiery red, but the Spring 2019 designs remained cohesive and monochromatic — and yet, they were anything but monotonous.
As Burberry was also named the most sustainable luxury brand by the 2018 Dow Jones Sustainability index, the label is certainly proving itself to be a great choice for the fashion-forward, eco-conscious minimalist.
Tons of fun colors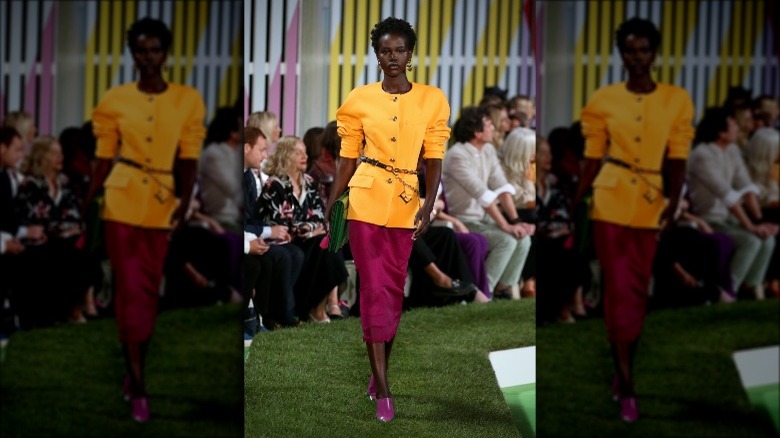 Getty Images
Neutrals aren't everyone's thing. You might find them a bit too drab for your taste — and that's okay. Catherine Bachelier Smith, personal stylist and owner of CBS Lifestylist, said designers will still be using "a wide palette of color" in 2019. In fact, she expects even more color to make its way into the year. "Color evokes emotions and I predict 2019 will be filled with color-saturated sentiments on the runway and streets," she told The List. "Why? Because we are an emotional country dealing with heavy/fun/terrifying/wonderful stuff." 
After analyzing 2019 runway collections, Harper's Bazaar reported some of the colors they expect to be a hit. With bold to dusty blues, dark greens, and even buttery yellows hitting the runways, you don't have to worry about 2019 being a washed out and uninteresting year for fashion. Even the more minimalist trends are expected to feature deep colors like chocolate brown and auburn reds.
Feathers, feathers, and more feathers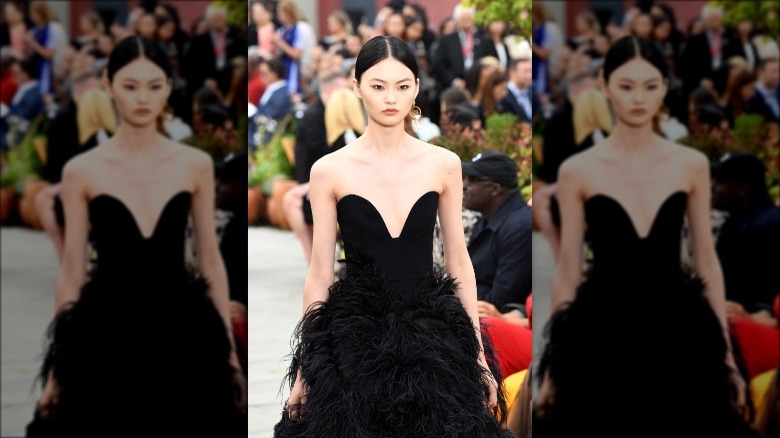 Getty Images
"Feathers are back!" personal stylist Vanessa Valiente divulged to The List. If you can name a famous designer, you can bet they've incorporated feathers into their designs. Marc Jacobs? Yes indeed. Valentino?  Definitely. Even Burberry who stuck with a monochromatic theme during the Spring 2019 fashion show embellished a neutral trench coat with feathers. Yes, we just used neutral and feathers in the same sentence.
Valiente said some of her personal favorite uses of feathers came from heavy-hitters Oscar de la Renta and Tom Ford. The latter designer revealed both feather-topped vests and coats, while Oscar de la Renta incorporated feathers to hemlines and even presented a gorgeous plunging-neckline black feather dress. While it's one thing to don feathers on the runway, wearing them IRL is a whole different matter. Stick with subtle feather collars or cuffs and you won't have to worry about looking like a bird.
Dramatic capes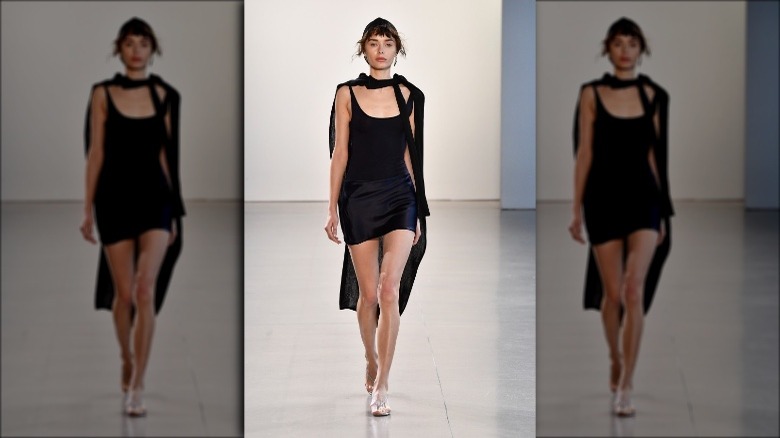 Getty Images
Just as not all superheroes wear capes, capes are not exclusively worn by superheroes. That's right — you don't have to be Batgirl or Super Girl to pull off a great cape in 2019. Celebrity stylist Soneca Guadara told The List that "flowing capes" are going to become a huge trend. The stylist said this style will be "worn over gowns to add drama." 
As reported by W Magazine in 2018, the cape surpassed the trench coat in popularity by the beginning of the year. Givenchy designed a sort of cape-trench hybrid for a fun new twist on 2018 outerwear and Burberry's Christopher Bailey stunned runway audiences with a bright rainbow-striped cape worn by Cara Delevingne.
While the popularity of capes will continue through to 2019, the emphasis is going to be on "flowing," as Guadara explained, and instead of replacing the trench as practical outerwear, it's going to be used as a great companion to formal wear.
'90s grunge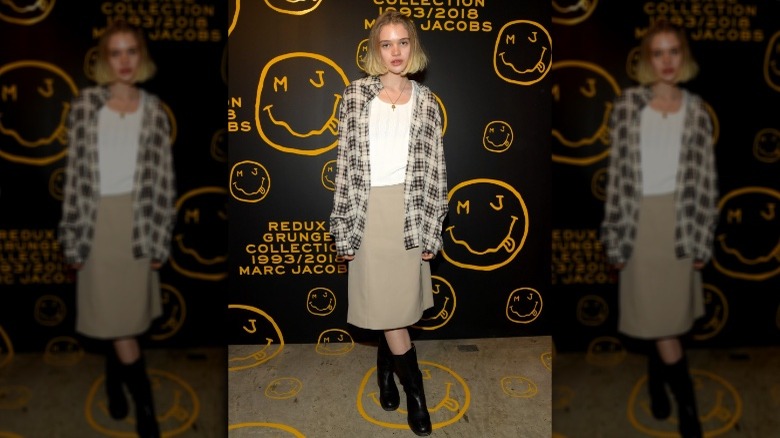 Getty Images
Don't go clearing your closet of '90s-inspired grunge ensembles just yet. Owner of CBS Lifestylist and personal stylist Catherine Bachelier Smith said, "'90s grunge hit hard in 2018 and will continue through next year." Whether you're happy to hear that the trend is sticking around or ready to see it go the way of dad sneakers, the expert stylist said there's a reason it remains so popular: "Because mixing lady-like with heavy metal is creating perfect balance." After all, Bachelier Smith explained, "Oxymoron is what made Coco Chanel so brilliant."
You could even argue that grunge is going to become more popular in 2019 than it was in 2018, especially with Marc Jacobs' launch of the Redux Grunge collection in the last month of 2018. Actress Sandra Bernhard, who attended the private party in celebration of the new collection, told Women's Wear Daily that it's fun to revisit the trend because "the whole grunge thing was so evocative in its day." She's not wrong.
Luxe suits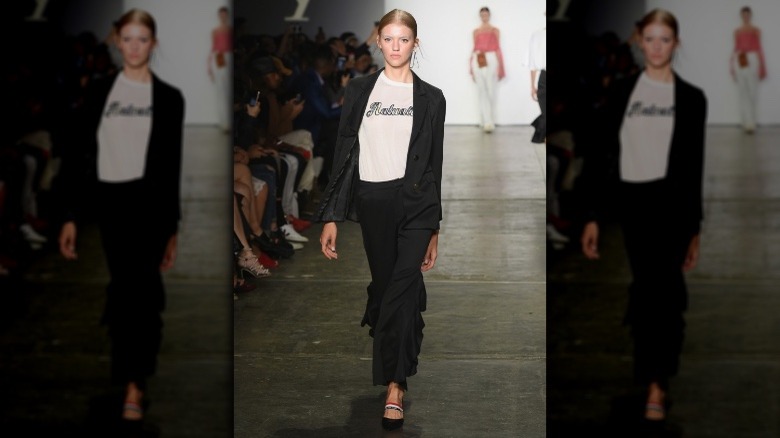 Getty Images
The '90s may still have a firm grasp on the fashion world, but that doesn't mean we've totally forgotten about the '80s. Because, really, who could? Jenny Livits, wardrobe stylist and CEO of Pink Lagoon, said the decade has already begun influencing 2019 high fashion, as evidenced by the Spring 2019 Gucci fashion show. But the '80s vibe isn't going to stay confined to runways. "It's moving into the contemporary marketplace with fun graphic shirts paired back to great suiting," the stylist told The List.
"Suiting," Livits explained, "is a super hot trend." Suits, or "luxe basics" as Livits dubbed them, are something she's noticed on many of her clients' lists. Suit separates are also making a comeback, the expert revealed. While pairing sharp suits with bold graphic tees certainly makes for an unexpected look, it's also what keeps the outfit perfectly balanced — not looking overly formal or stuffy.
Pretty in pastel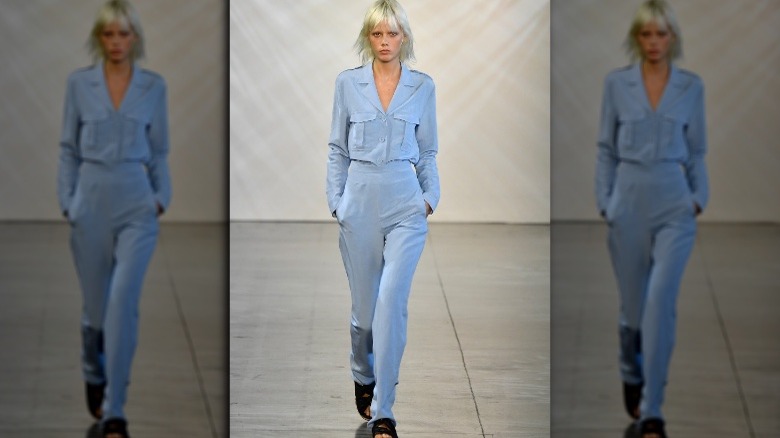 Getty Images
You may be used to packing up your light colors once the weather starts getting colder, but who says pastels are seasonal? Personal stylist Catherine Bachelier Smith told The List that 2019 is basically going to be like "Easter eggs all year." She continued, saying, "Fashion loves breaking its own rules about when to wear certain colors." If you've always thought pale yellows, soft pinks, and powder blues to be spring and summer colors, you're not alone. Nevertheless, 2019 calls for "keeping the winter pastels through spring and summer because it brings variety to our otherwise dark or neutral wardrobes," according to Bachelier Smith.
This doesn't mean you should dress in head-to-toe light colors through the cold and dreary seasons, however. The stylist recommends breaking out your pastels and incorporating them with dark shades, like black and navy. This keeps your wardrobe looking fresh and not so season-specific.