Kin Shriner Explains His Reason Behind 'Blunder' Jump From General Hospital To Texas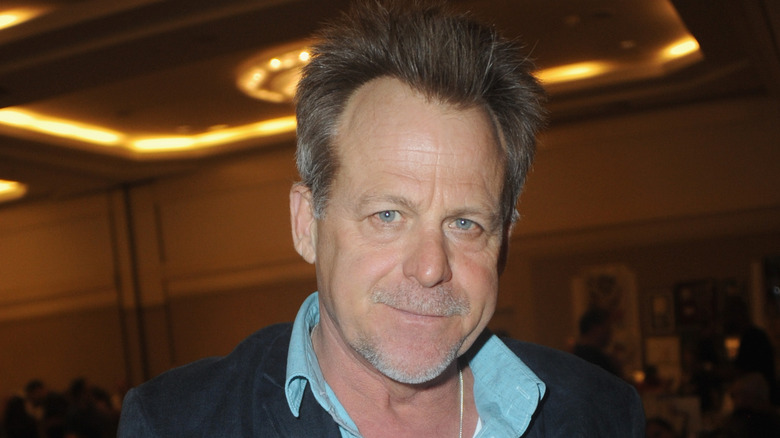 Albert L. Ortega/Getty Images
Scott Baldwin is a character that has definitely left his mark on "General Hospital." Scotty's relationship timeline with Laura Spencer (Genie Francis) reads like a soap love letter. He has also fathered so many children on the show that even fans have lost track of his kids. Actor Kin Shriner, who has been playing Scotty since 1977, says he's so used to being Scotty in front of the cameras that it blends into his real life and vice versa. He told Variety in early 2023, "I crossed the Kin-Scotty line decades ago. I can't tell the difference anymore. What you get is what goes on camera. Same guy!"
While it's hard to imagine Shriner as anyone else but Scott "Scotty" Baldwin, there was a time when he did switch gears. In 1980, he left the fictional Port Charles for the Lone Star State in the short-lived "Another World" spin-off series "Texas." It was a controversial move at the time that Shriner himself says was a huge "blunder" in his career — even if it paid off financially.
Kin Shriner regrets his move to Texas
In a throwback moment on X, the platform formally known as Twitter, Kin Shriner shared a photo of an old magazine cover. As Jeb Hampton from "Texas," Shriner posed in a cowboy hat and brown vest. He captioned his post with, "When NBC network tapped me to kick off the new Soap 'Texas' in NYC in 1980, and traded in Scotty's pea coat for cowboy hat I knew giant blunder but nyc was the scene so I jumped !!" Many of Shriner's followers commented, with one saying, "It's a shame they didn't know what to do with you on 'Texas.'" Another person wrote, "NBC must have backed up the brinks truck to get you to leave 'GH' at that time," to which Shriner responded, "Yeah it was lucrative but still a mistake!" — proving that a fat paycheck isn't everything.
Shriner says his move from "General Hospital" to "Texas" was all done in good fun — until it wasn't fun anymore. The actor told Soap Opera Digest in 2020, "I don't think 'Texas' ever really found itself. Shriner explained, "Another producer came on by the name of Gail Kobe, and I'm not sure we got along too well. She said, 'You just wanna go back to General Hospital.' I said, 'Well, that's not true.' But yeah, I would rather be on General Hospital than this show! I realized what a blunder I made by going to [Texas] in the first place."