Matchmaker Tells Us Why Travis Kelce's Lack Of PDA With Taylor Swift Hits Different Than Her Past Beaus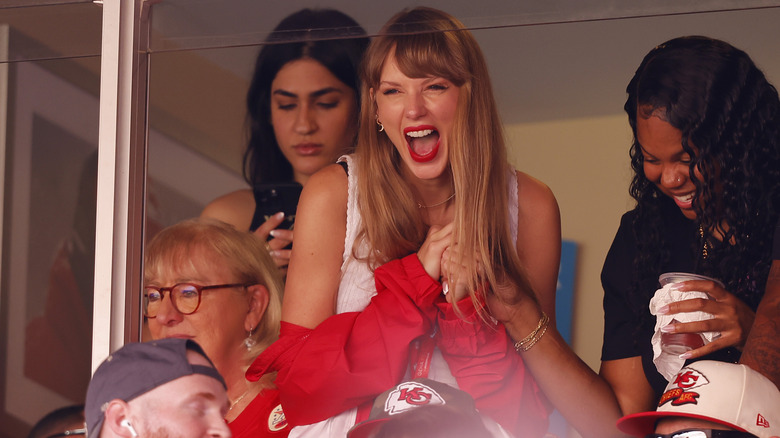 David Eulitt/Getty Images
Whether you're a Swiftie, a football fan, or none of the above, you've probably heard that these two fandoms are having a very unexpected crossover moment. No one can cause quite the stir with a rumored romance like Taylor Swift can. She's one of folks' favorite eligible bachelorettes as of late, and it seems like the entire internet is waiting with bated breath to see who might be her next beau. Recent rumors have linked the star to NFL tight end, Travis Kelce, who plays for the Kansas City Chiefs. And, on September 24th, it seemed that these rumors were confirmed right in front of our eyes. 
Swift was seen in a suite on the sidelines of the Chiefs' football game against the Chicago Bears. Not only was the singer cheering along for her rumored boyfriend, but she was also seated directly next to his mom. The two were spotted chatting and laughing throughout the game. If all of that wasn't enough to make this possible romance seem like a sure thing, Swift and Kelce left together after the game, and video evidence was posted to the NFL's official TikTok account. 
Plenty of Swift's fans have cheered on the potential relationship with Kelce in ways they haven't with some of the Grammy winner's past partners. And this may actually be for good reason. The List consulted an expert matchmaker on Swift's new flame, and she's got a lot of thoughts about this exciting superstar courtship.
An expert noticed plenty in this pair's body language
We want to know about Taylor Swift and Travis Kelce's rumored romance just as much as the rest of the internet. So we spoke exclusively to Susan Trombetti, matchmaker and CEO of Exclusive Matchmaking, about her thoughts on this particular match. 
Trombetti took a look at the clip of Swift and Kelce walking together post-game, and she called it "very interesting." She elaborated, saying, "[Taylor's] arm is literally hanging there in a very awkward-looking position where she is purposely and intentionally not touching him or holding hands." So, why no handholding for these lovebirds? Trombetti says, "If the reason they are refraining is that he doesn't like PDA, possibly there could be a minor compatibility issue there because she is known for showing PDA in public with her very public romances." 
Still, Trombetti adds, "We know they would likely be more than just friends based on the recent news." And appearing in public together at all makes a bit of a bold statement all on its own. "Since we don't know the reason, I would go with a lack of PDA so as not to stir up the media," the matchmaker shares. "It's been said that he is a bit embarrassed by all the attention he is getting over this relationship." Swift might just need to ease Kelce into her level of public scrutiny. That surely takes some getting used to.
Things are looking good between this new couple
Cooper Neill/Getty Images
It did appear that Taylor Swift and Travis Kelce were very deliberate in avoiding too much affection in front of the cameras during their first public appearance together. Still, Susan Trombetti believes that, even if these two don't align perfectly in how they show PDA, it doesn't necessarily mean bad news. "As long as they show affection in private ... this is a small lack of compatibility," she says, adding, "If she understands his feelings and hears him, that's what relationships are all about." Swift was also rumored to have bought out a restaurant for private time with Kelce after the game. If true, the gesture "sounds sweet and understanding" to Trombetti.
Ultimately, while they may not have held hands for all of the internet to see (...yet), just the two supporting each other with the whole world watching is a seriously big step. "Their willingness to go public says a lot," explains Trombetti. "As a matchmaker, I tell my clients taking a relationship public is one of the first stages of commitment and lets everyone know they are there for each other." Furthermore, the matchmaker says, "Let's not forget she was there with his mom, too. It makes it known to the world they are more than a casual item, and this lack of PDA was carefully staged. It bodes well for them both." 
Whatever happens next, one thing is for sure: we are all rooting for this match made in Swiftie heaven.