B&B's Tanner Novlan Celebrates His Liberty Mutual Return In New Side-Splitting Ad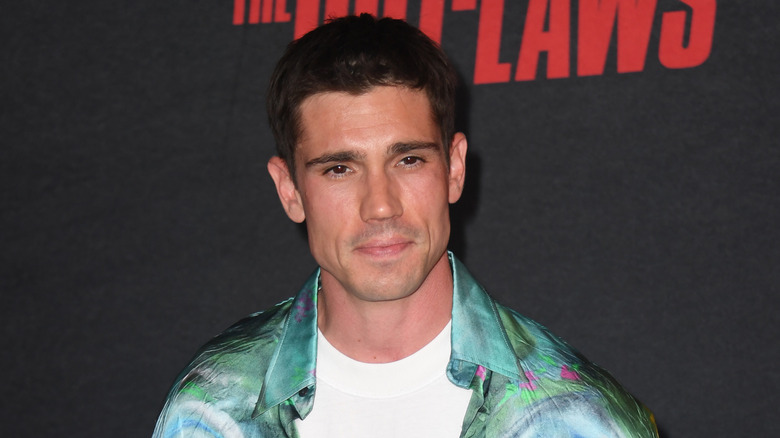 Albert L. Ortega/Getty Images
Come on, admit it: much like us, whenever you see Tanner Novlan (John "Finn" Finnegan) on "The Bold and the Beautiful," you hear him say, "liberty biberty." That comes from his hilarious 2019 Liberty Mutual commercial in which he plays a struggling actor who can't get his lines correct. He can't even remember the company's name, going through various iterations with "liberty biberty" being the most remembered by fans. 
Soaps in Depth posted an interview with Novlan in November 2020 where he explained how he's embraced the spot which had wormed its way into pop culture. He loves being recognized for it, and although he thought his role on "B&B" would have a great impact on his career, he didn't expect the huge popularity he would receive from one commercial, noting, "When something like that happens, it doesn't happen as often as it used to, so I've been enjoying every minute of it."
He further discussed his public recognition for it, noting, "It's really fun to be in a Home Depot and have somebody look at you and go, 'Hey! Liberty Biberty!' It doesn't happen very often. And now, if I ever forget my lines on set, they really know what to expect. It's what they hired!" Not feeling that the silliness of the hit commercial takes away from the seriousness of portraying Finn, Novlan is in a new Liberty Mutual ad, and it's just as funny as his original one. "We are back baby!!! Liberty Biberty," he posted on his IG Story alongside the commercial.
Trevor Novlan brings more hilarity to his new commercial
While his character Finn Finnegan is having relationship issues with his wife, Steffy Forrester (Jacqueline MacInnes Wood) — because of the machinations of his evil birth mother, Sheila Carter (Kimberlin Brown) — on "The Bold and the Beautiful," Tanner Novlan is having a blast in the real world with his new Liberty Biberty, er, Liberty Mutual commercial. The insurance company has released a string of hilarious commercials with the characters LiMu Emu and Doug (David Hoffman). In the new spot, Doug is on set rehearsing his lines when he realizes the script calls for a baby grand piano to be dropped on his head. Concerned for his job security, Doug is shocked when Novlan shows up in the spokesperson uniform sans mustache. He points out that error to which Novlan immediately slaps on a fake one, albeit crooked. Once again, he erroneously refers to the company as "Liberty Biberty," and even calls LiMu "Beboo," clearly still struggling with his lines.
Liberty Mutual's official YouTube page captioned the hysterical ad with, "There's a new Doug in town. And he can't even say the company name. This might be a problem." Viewers were pleased to see Novlan back in the ads, with one "B&B" fan noting, "Hey there's Finn from 'Bold and The Beautiful.' His liberty bibberty is hilarious!"