Seraphina Affleck's Hair Makeover Solidifies Her As Jennifer Garner's Boldest Child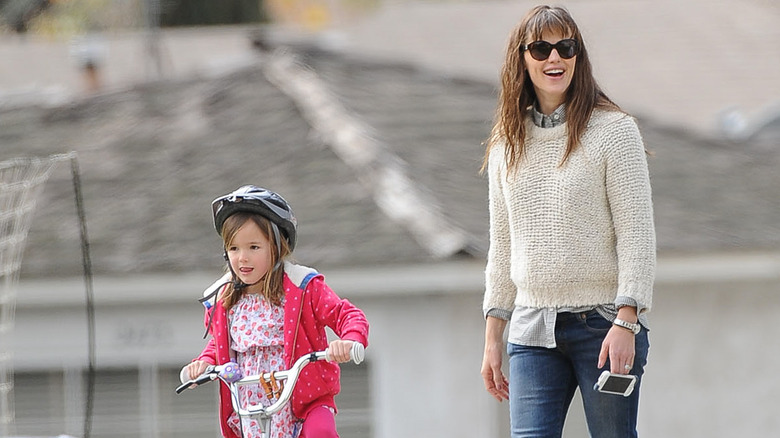 Gonzalo/bauer-griffin/Getty Images
We all remember when the world saw Jennifer Garner and Ben Affleck's daughter, Violet, all grown up during her rare appearance at the White House with her mom in 2022. The internet buzzed with surprise at just how much this former celeb couple's eldest daughter looks like her superstar mom. These days, though, it's a different Affleck daughter who's getting attention from pop culture fans. Seraphina Affleck is 14 years old — aka the perfect age to really start to find your style. It seems that Seraphina is having no trouble in that department. She's been out and about and making some serious fashion statements.
No matter what was going on in the ex-couple's relationship, Ben Affleck and Jennifer Garner have always been careful about keeping their three kids out of the spotlight and off of social media as much as possible. As a result, the public has only caught glimpses of their children now and then over the years. Yet, recent sightings of Seraphina prove that she's the boldest member of the Affleck brood.
Seraphina Affleck has some serious style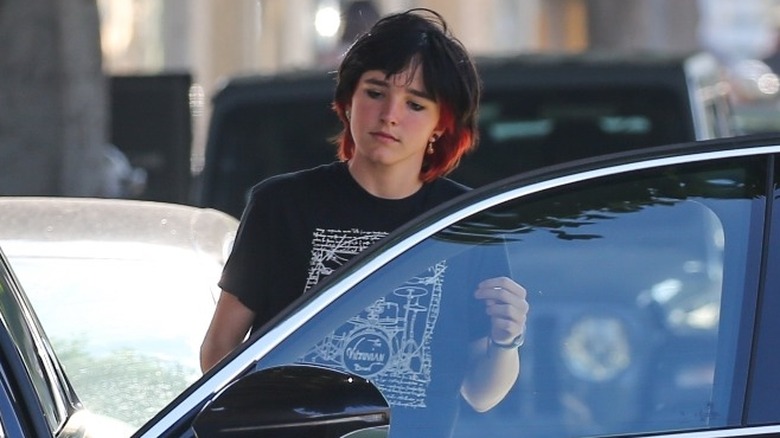 Backgrid
Recent sightings of Seraphina Affleck have shown just how much the teenager is coming into her own, and her style says a lot about who she's becoming. Lately, Seraphina has been spotted on separate occasions with each of her parents, and it's clear that she's leaning into a punk-inspired aesthetic with big graphic tees, bomber jackets, and slouchy denim. Most notably, her once-naturally blonde hair is nearly black and styled into a short, layered, wolf-cut-like bob. 
Most recently, Seraphina's choppy bob was dyed a bold, fire-engine red at the bottom. She paired the edgy look with black eyeliner and a black graphic tee that appears to be featuring a drum set. Could the new look imply that she's the musical one of the family? We wouldn't count it out. Back in January, both of her parents and her stepmom, Jennifer Lopez, were photographed in Los Angeles attending a musical performance that the teen was a part of. Based on her style, we could see Seraphina being the next Olivia Rodrigo. And with the talent she has in her genes, we're looking forward to it.