Jennifer Garner And Ben Affleck's Daughter, Violet Is All Grown Up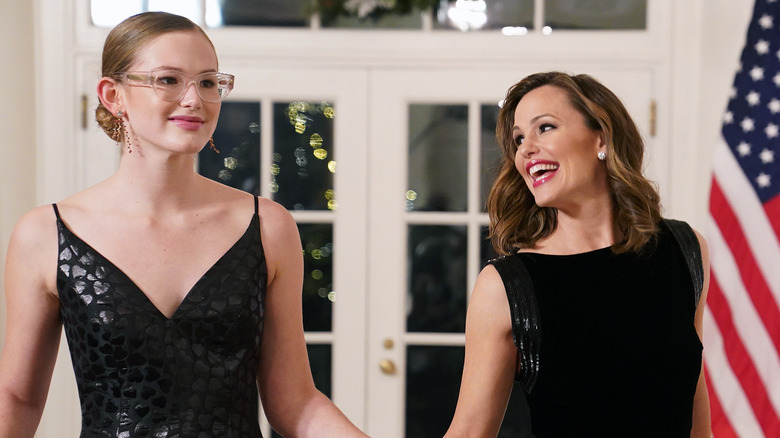 Nathan Howard/Getty Images
Jennifer Garner and Ben Affleck's daughter Violet Affleck is all grown up. She looked exactly like her mom as a young girl, but these days, the teenager looks so much like her movie star mother that fans are getting the two confused. While Violet has enjoyed much of her childhood out of the spotlight, as per her parents' wishes to give their three kids as normal a life as possible, the soon-to-be high school graduate has been making more public appearances the closer she gets to adulthood. 
Naturally, all three of Affleck and Garner's kids have been subject to the curious public's gaze since their dad reunited with Jennifer Lopez in 2021. While younger siblings Seraphina and Samuel are a rarer sight, Violet has frequently accompanied her mom, dad, and stepmom to several events over the past two years. The teen was most recently spotted at a Fourth of July party with Affleck and Lopez, and before that, she joined Garner for a state dinner at the White House. On both occasions, fans couldn't believe how strikingly similar her facial features are to her mother's — and how grown up she's looking these days. Scroll on to get a glimpse into Violet Affleck's sheltered childhood and blossoming adolescent years now that she's nearly 18. 
Violet Affleck is the eldest of Garner and Affleck's three kids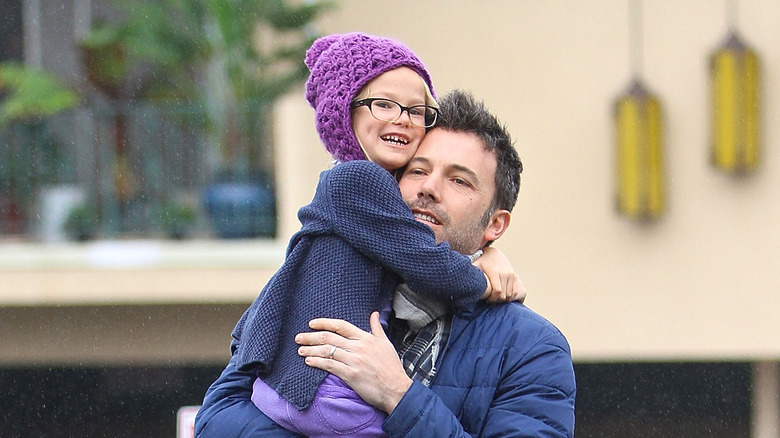 Bauer-griffin/Getty Images
Violet Anne Affleck made her entrance into the world on December 1, 2005. Her movie star parents, Jennifer Garner and Ben Affleck, met on the set of "Pearl Harbor" in 2001, then starred alongside one another in the 2003 superhero flick, "Daredevil." After years of working closely together, Garner and Affleck's relationship took a romantic turn circa 2004, and in June 2005, the couple said "I do" in Turks and Caicos. Less than six months after their nuptials, Garner and Affleck welcomed their firstborn child, a daughter who not only grew up looking like her mother's mini-me, but also shares her middle name.
Just over three years after Violet's birth, the former spouses celebrated the arrival of a second daughter. Seraphina Rose Elizabeth Affleck was born a month after her big sister turned 3, on January 6, 2009. Then, in the most peculiarly identical timeline, little brother Samuel Garner Affleck joined the family on February 27, 2012 — three years and a month after Seraphina's birth date.
Violet started dealing with unwanted media attention as a kindergartener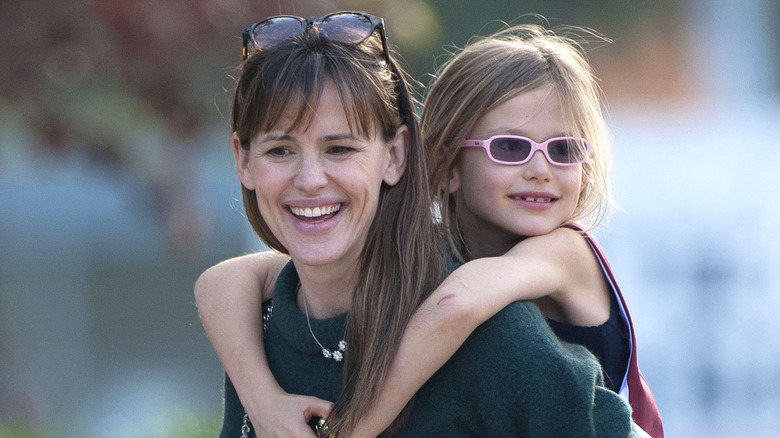 Gonzalo/bauer-griffin/Getty Images
Having two of Hollywood's most beloved actors as parents comes with a lot of media attention — a caveat Violet Affleck wasn't too keen on as a kid. In a 2020 interview with The Hollywood Reporter, Jennifer Garner recalled a gathering she hosted for community leaders and other parents to discuss the intrusive way paparazzi treat famous families. Violet, then a little girl, shared her perception of the ever-present paps with those in attendance. The "13 Going on 30" star recalled, "[S]he stood up on a chair in a little velvet dress, with her hair a bit back and her glasses on and she didn't say her Rs right, and she said, 'We didn't ask for this. We don't want these cameras, they're scary. The men are scary, they knock each other over and it's hard to feel like a kid when you're being chased.'"
On behalf of Violet, Garner worked with the government to pass a bill protecting celebrity kids from paparazzi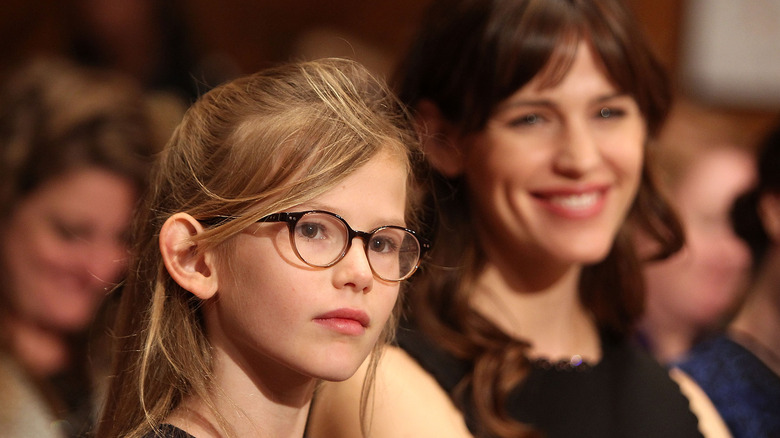 Paul Morigi/Getty Images
The media harassment was so intrusive that in 2013, Jennifer Garner joined a group of famous parents attempting to get a bill passed by the government to protect their kids from paparazzi. Authorities gave the law the green light, making it illegal to photograph celebrity children without explicit permission from their parents. Nearly a decade later, the start of "The Last Thing He Told Me" recalled the constant chaos that followed her family prior to the law. As she told Kelly Corrigan during a PBS "Tell Me More" segment, "For 10 years, there were at the very least six cars and often 20 outside of our house, and outside of school, and at the pediatrician's. And you're begging them, 'Please step aside from the pediatrician's door. I have a sick kid. Please.'" Garner added that it was "a total circus" anywhere she went with her kids, which infringed on other nearby families so much that her daughter was even asked not to participate in a youth soccer league for the sake of the other children.
Violet was the last kid in her class to get a laptop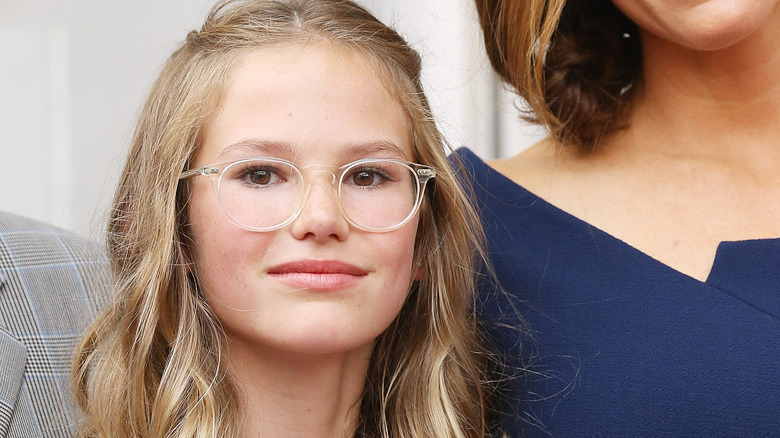 Michael Tran/Getty Images
Jennifer Garner and Ben Affleck's protectiveness of their kids extends past physical harassment to potential cyberthreats and mental/emotional distress. The mom of three revealed to "Today" that Violet Affleck, 10 years old at the time, was the last kid in her class to get a computer of her own. Garner shared, "We just had back-to-school night, and I said afterwards, 'Do they need a computer?' Our daughter doesn't have any of those things, and she's the only kid in the class who doesn't, apparently, so I found an old laptop this weekend for her," the nervous mom said. The "Dallas Buyers Club" actress added that she felt anxious about social media as well, noting the no social media policy at Violet's school was helping her put off the conversation with the then-preteen, but it would eventually be a complex topic to discuss once her firstborn hit a more appropriate age.
She isn't allowed to have an Instagram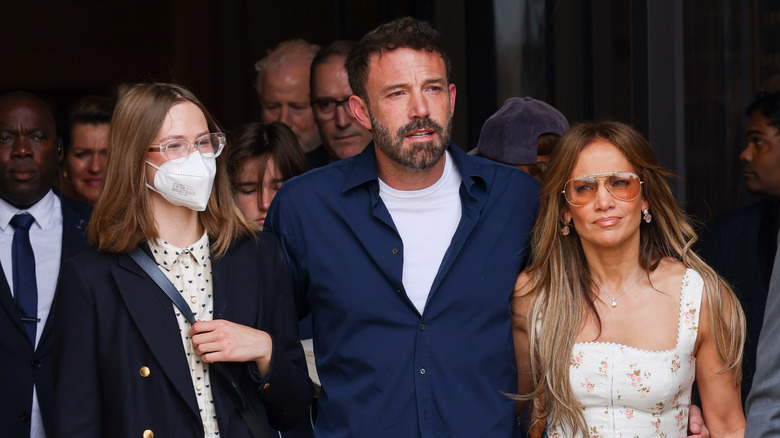 Pierre Suu/Getty Images
Three years after her 2016 conversation with "Today," Jennifer Garner asserted her unyielding anti-social media stance with her kids during an appearance on Katie Couric's podcast, "Next Question with Katie Couric." While her kids, including then-13-year-old Violet Affleck, were granted supervised internet privileges, the protective mom said the young teen was forbidden to have an Instagram account. 
"Without even having parents who are well known, I worry about all kids having to deal with this new pressure," Garner said of the largely unknown long-term effects of social media. "She'll occasionally talk to me about getting Instagram, and I can see why because I'm on there and it's something kind of fun that I do ... [but] I just say, 'When you can show me studies that say that teenage girls are happier using Instagram than not, then we can have the conversation.'" The "Juno" star added that she allows Violet to browse the platform through her account if they're together, but private browsing time and a personal page for the teen are strictly off-limits.
At 15, Violet hadn't started dating yet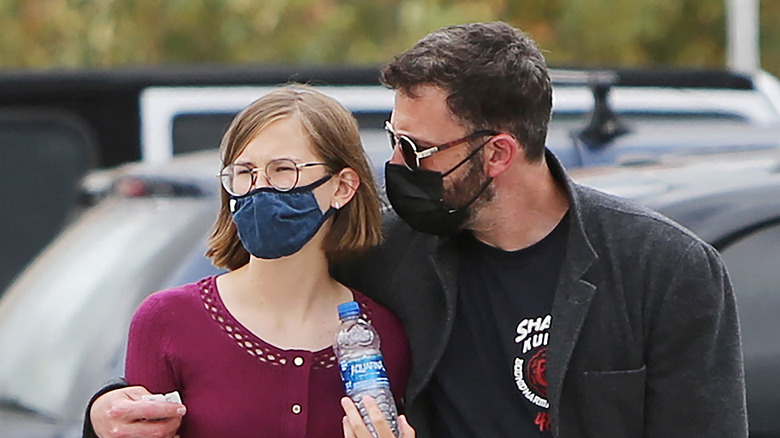 MEGA
Although she had entered the high school ecosystem, which often elicits the teenage desire to date, 15-year-old Violet Affleck had not started going out with any potential crushes, according to her mom. Jennifer Garner outed her daughter on her birthday in 2020 during a virtual appearance on "Today." After telling co-hosts Hoda Kotb and Jenna Hager Bush that the day happened to be her eldest daughter's 15th trip around the sun, Kotb had to know if Garner had sat Violet down for any conversations about dating. The mom of three said she and ex-husband Ben Affleck have not had to navigate the subject yet, likely because of two big obstacles in the teenager's way at the time. "All I know is she's on Zoom school [during the coronavirus pandemic]; she goes to an all-girls school — we haven't had to deal with that yet," the relieved mom laughed.
She trolls her dad about his age, like every teenager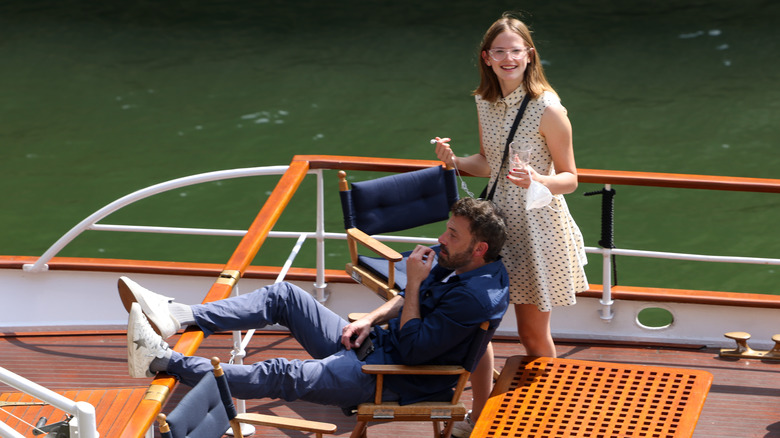 Pierre Suu/Getty Images
To take her mind off of social media, the internet, and any potential crushes, Violet Affleck spends time trolling her dad — just like any other teenager. During a 2020 screening event for his film "The Way Back," Ben Affleck revealed how much his firstborn daughter loves making fun of him for his lack of emoji knowledge and general texting etiquette. "My daughter is so funny, she teases me," he told People. "[S]he's like 'Why do they let you on this group chat? You don't know what you're talking about. Don't pretend you have any idea what's going on.'" The Hollywood tycoon joked that between Violet and his younger co-stars, he was "learning a lot" about "everything going on" with modern-day text messaging. Affleck was channeling his inner June George from "Mean Girls" — the kids sure are keeping him young, or at least they're doing their best keep him up to date with the times.
Violet became the fearless leader of 4 siblings after her dad married Jennifer Lopez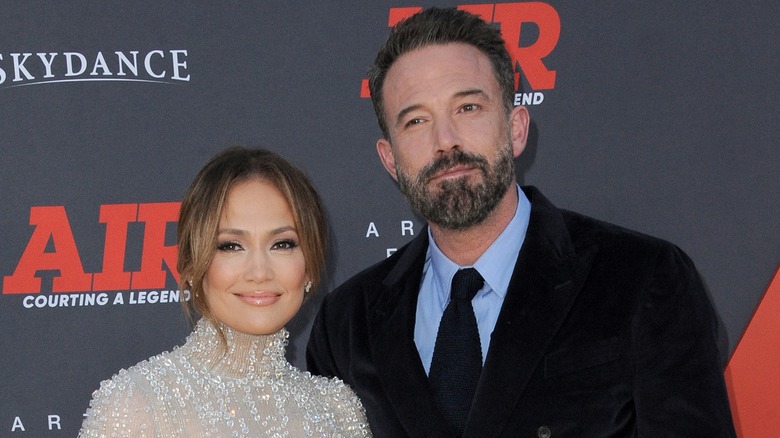 Tinseltown/Shutterstock
In addition to her younger sister Seraphina Affleck and her baby brother Samuel Affleck, Violet Affleck inherited two more siblings when her dad married Jennifer Lopez. The "On the Floor" singer is Mom to a set of twins: her daughter Emme Muñiz and her son Maximilian Muñiz, who goes by "Max." The two teens were born on February 22, 2008, and their father is the "Selena" icon's ex-husband, Marc Anthony. Lopez met the singer in 1998, and they wed in June 2004, just months after the "Mother" actress and Affleck called off their first engagement. Three years after welcoming the twins, the musical couple separated in 2011 and finalized their divorce in 2014.
All five of Affleck and Lopez's kids have been seen on outings with the couple since becoming a blended family, and Jennifer Garner has even cultivated a close bond with Emme. During rare occasions when all five of the kids have been spotted together in public, they look as friendly and relaxed as could be around one another.
Violet is also a kind leader and friend to her peers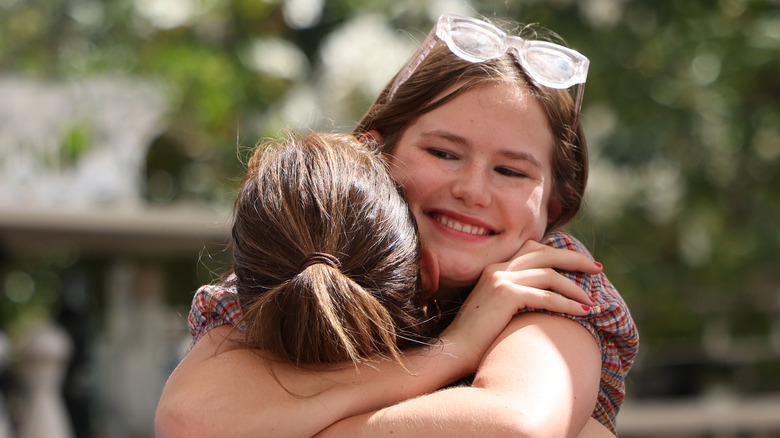 Pierre Suu/Getty Images
Jennifer Garner appeared was Allure's May 2023 cover star, and the journalist who interviewed her for the accompanying story, Danielle Pergament, shared her very sweet tie to the star's eldest daughter. Pergament explained to the "Elektra" star that her own daughter attends the same school Violet Affleck does, and though they don't know each other because of their four-year age gap, the elder teen acted as a kindhearted friend and leader when the younger girl was being bullied. As her daughter held back tears in the lunch line, "an older girl asked her if she was okay and somehow managed to replace a mean-girl episode with a moment of kindness and grace." Later, Pergament's daughter was told it was Violet Affleck who comforted her in her moment of distress. Unsurprised but pleased, Garner effused, "Oh, I love that. That's Violet."
She's embraced a retro-casual style in her late teen years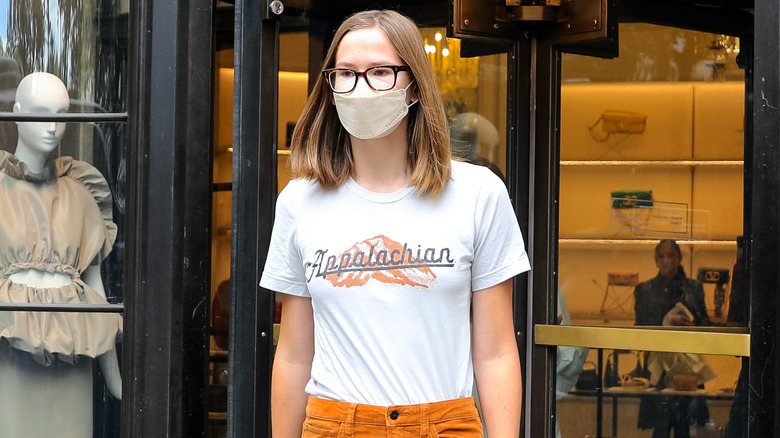 Jose Perez/bauer-griffin/Getty Images
As Violet Affleck has gotten older, she has embraced quite the eclectic fashion aesthetic. The teen has been seen on various outings with her parents over the past few years, and she always dresses in retro-casual ensembles that strike a contrast between femininity and masculinity for her own signature style. On one occasion, Violet paired egg-yolk-colored Capri pants with a white Appalachian Mountains graphic tee and finished the look with pink, orange, and yellow platform sandals. During a more recent outing, she rocked a demure floral-print maxi dress with blue and yellow tennis shoes and a sporty gray sweatshirt. 
While the aesthetic is a bit funky, Violent is confident with her personal style, perhaps in large part to her parents keeping her off social media. Most Gen Z kids seem to be all about copying what they see others do online and desperately trying to look older than they are, and it seems like the eldest Affleck kid's lack of exposure to style trends has allowed her to cultivate her own uniquely youthful look.
Violet looked very grown up during a rare outing at the White House in 2022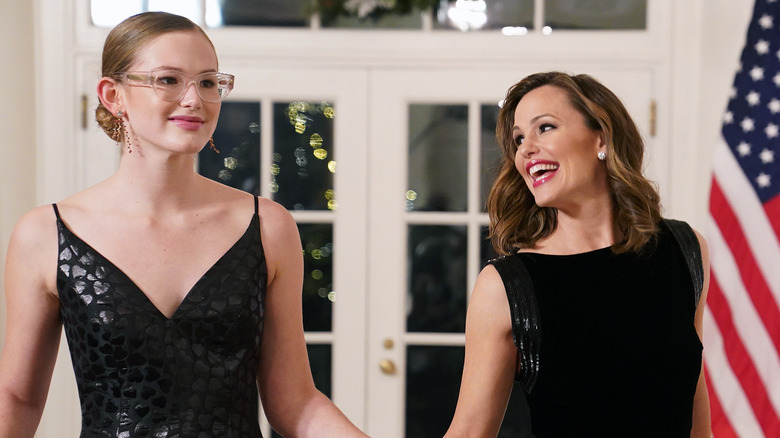 Nathan Howard/Getty Images
Violet Affleck's December 2022 White House appearance with her mom felt like her long-awaited public debut. The teen accompanied Jennifer Garner to a state dinner in Washington D.C., celebrating her 17th birthday in style with major figures including President Joe Biden. Violet looked as grown up as ever yet still innocently adolescent in her black Carolina Herrera fit-and-flare dress, which featured shiny heart imprints across its fabric. She accessorized with red heels, a black handbag, and dazzling dangling earrings. Her slicked-back bun and signature clear eyeglass frames added to the youthfulness of her appearance, while her mom's nearly identical features gave a good idea of exactly what Violet will look like as she gets older.
Garner beamed at her look-alike daughter, holding hands with the teen as they flounced through the White House halls. Seeing the two side by side in their coordinating black ensembles was like seeing two freeze frames from time lapsed footage spanning several decades — it's as freaky as it is utterly fascinating.
She towers over her mom with a tall frame inherited from her dad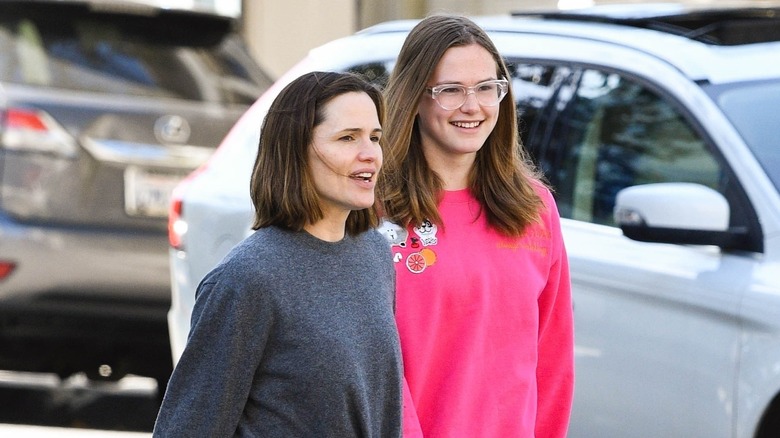 BACKGRID
Jennifer Garner has come full circle with her stance on paparazzi photographing her kids — well, one of them at least. In June 2023, the mom of three hilariously used Violet Affleck as a shield from nearby paps, who caught the playful moment on camera. As Garner hid behind her daughter — easy to do considering that Violet towers over the actress with height clearly inherited from her father Ben Affleck — the teen laughed at her mom's silly antics.
Violet's willowy frame is just like that of Garner's, but she has Ben Affleck to thank for her supermodel height. In fact, in photos of the dad-and-daughter duo walking side by side during a cute coffee run in August 2023, Violet is nearly as tall as the "Justice League" actor! While she appears to have taken after Garner's looks in every other way, her runway inches are the one obvious physical trait she inherited from Affleck.
Fans were stunned by how much Violet looks like her mom in Independence Day party photos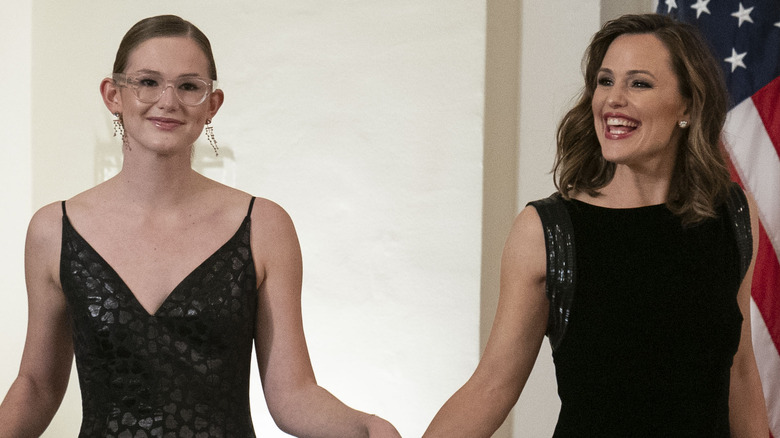 Bloomberg/Getty Images
If you thought Jennifer Garner and Violet Affleck looked startlingly identical during their mother-daughter White House date, photos of the teen at a star-studded Fourth of July party will have you doing a major double take. For Independence Day 2023, Violet attended a lavish celebration in the Hamptons with Ben Affleck and Jennifer Lopez. The teen wore a sweet summer maxi dress and raffia platform sandals — both in white to adhere to the party's all-white dress code. 
Violet styled her hair in low pigtails and donned her usual clear eyeglass frames, and she had a great many people confusing her with Garner in viral photos of herself, her dad, and her stepmom during the patriotic party. If the eldest Affleck ever decides to swap her glasses for contacts, truly no one will be able tell her apart from her mother.
Violet will soon be entering an exciting new chapter of her impending adult life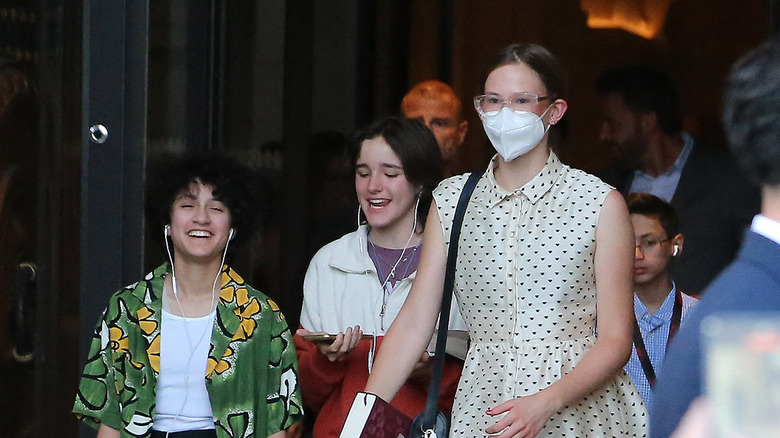 MEGA
So what's next for Violet Affleck now that she's all grown up? The teen is reportedly looking at colleges ahead of her final year of high school. Whether she'll stay close to home — perhaps UCLA? — or move across the country to find herself at New York University, like so many other celebrity kids, exciting things are surely ahead as Violet transitions to adulthood. 
Her chosen field of study will be interesting to learn as well — with two wildly successful parents in the film industry, it would be no surprise for the teen to follow in their footsteps. Violet has also shown a keen interest in books, having been photographed with a novel in her hand frequently while out and about with her family. We'll be eagerly waiting in the wings to learn her next steps as her metamorphosis from teen to adult continues.