The Stunning Transformation Of Joan Collins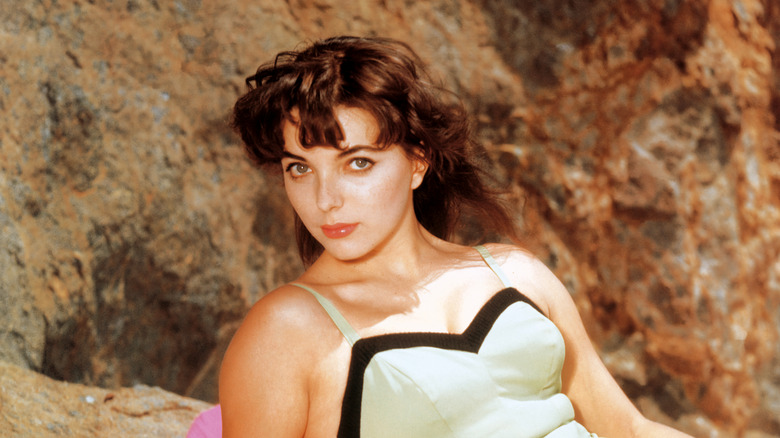 Sunset Boulevard/Getty Images
Trigger warning: The following article contains references to sexual assault and abortion.
From Grace Kelly to Judy Garland, Marilyn Monroe to Bette Davis, there are countless icons from old school Hollywood who are just so admirable. Sadly, few are still alive to recount the stories of their youths and compare their experiences in the film industry to the evolved version it is today. This can't be said for Dame Joan Collins though, as the badass beauty of Hollywood's Golden Age celebrated her 90th birthday in May 2023. Over the years, she's told countless tales of her early life in England, working in film, and the stunning transformation she's had over the years.
Collins has had one hell of a life, and if you primarily know the actress from her reign on the 1980s television drama "Dynasty," you don't know the half of it. Her career spans 70-plus years, having graced the big and small screen, penned more than 20 books, and received the honor of damehood. Not only has Collins aged with complete grace, but she's just as witty and down to earth now as she was when she was an up-and-coming star.
With effortless style, grace, and courage, the actor and writer has evolved from a child evacuee grappling with the reality of World War II into a legendary artist; and we'll always remember her as having pulled off shoulder pads better than anyone else in the '80s.
Joan Collins grew up during WWII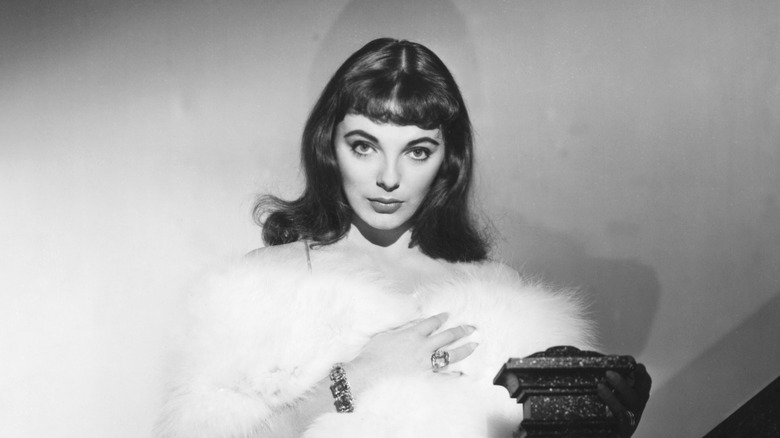 Bettmann/Getty Images
Joan Collins was born in London, England in 1933, and was the eldest of three. If you're at all familiar with the history of World War II, you probably have an idea of the torment she endured as London was bombed by Germany between 1940 and 1941 in an attack campaign known as the Blitz. Collins was just a child when she became an evacuee. She told Hello! in 2020, "I was evacuated constantly. My sister Jackie and I were taken by my father to a variety of places — Chichester, Bognor, Brighton and Norfolk. We were all over the place."
The family even took to sleeping in the London Underground at times, adding, "We went to the one at Marble Arch the most. It was very convivial — people would have accordions and they'd sing." Eventually, the war ended and Victory in Europe (VE) Day was celebrated on May 8, 1945. "[W]e drove around London, which was full of people dancing and singing, kissing and hugging each other, climbing up lamp posts, waving Union Jacks and screaming with joy," Collins recalled.
If you were to speak to her about it today, though, you'd have thought her childhood trauma was merely a minor setback. She told The New York Times in 2022, "I have to say, every time I read about an actor today, they've all been abused or had terrible childhoods. I had a great childhood, other than the war."
She was dubbed Britain's 'bad girl' in her early career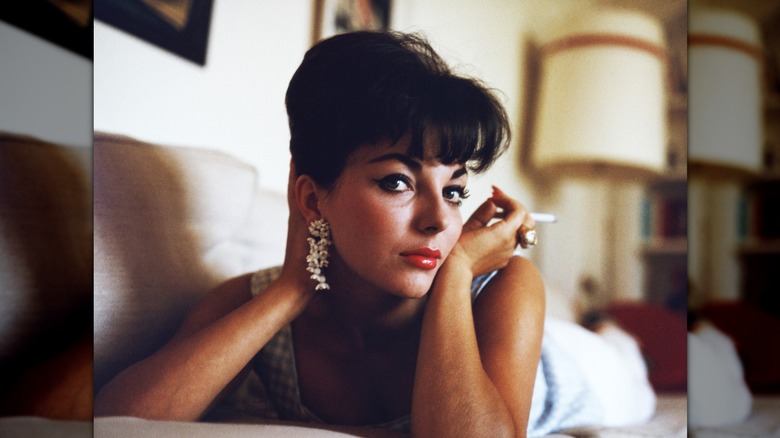 Bettmann/Getty Images
Before she arrived in Hollywood, Joan Collins got her start in British cinema in the early 1950s, and though she was just a teenager, she was quickly typecast. Some of her earliest film credits include "Bikini Baby," "Turn the Key Softly," and "Land of the Pharaohs," with Collins taking lead roles just a few years into her career. Speaking with the Irish Times in 2021, the actor explained, "I was typecast from the time I was put under contract aged 17. I was typecast as the smoldering British bad girl, I played baby prostitutes, I played juvenile delinquents. I have been typecast for most of my life."
Although Collins would eventually wed several husbands throughout her life and have a handful of love affairs with dashing Hollywood actors, it wasn't her personal life that established her reputation for being bad. In her 2022 interview with The New York Times, Collins gave her perspective. "I'm not a bad girl. I was a very innocent girl. But I had dark hair and green eyes and I suppose they said that I smoldered," she said. The press were less than kind to the young actor, and although it used to get to her, she remarked, "then I shrugged and just got on with it."
Joan Collins married her first husband in 1952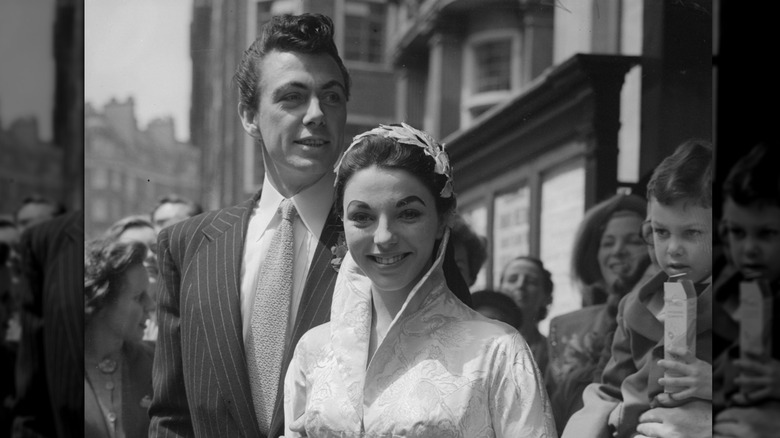 Evening Standard/Getty Images
The "Dynasty" star has had incredible success in her career, but up until recently, her love life had been complicated. Joan Collins has been married five times in her life, having tied the knot for the first time when she was just 19 years old — and it sadly wasn't for love.
The actor met 31-year-old Maxwell Reed, an Irish actor, when she was just 17. As she described in the documentary "Brave Miss World," the two had been on a date when Reed drugged her drink with what she believed to be Rohypnol and he allegedly raped her. "It wasn't my fault but I didn't know, I went out with him. And maybe I shouldn't have gone out with him. He was much older than me, and he was a famous star," Collins said.
The two continued to date for a few months until Reed proposed, and out of guilt for having lost her virginity to him, Collins said yes. The marriage lasted from 1952 to 1956. While she had regrets about the marriage, Collins later said, "But what the hell. I got rid of him," to The Times in 2023.
If you or anyone you know has been a victim of sexual assault, help is available. Visit the Rape, Abuse & Incest National Network website or contact RAINN's National Helpline at 1-800-656-HOPE (4673).
Joan Collins dealt with predatory producers in Hollywood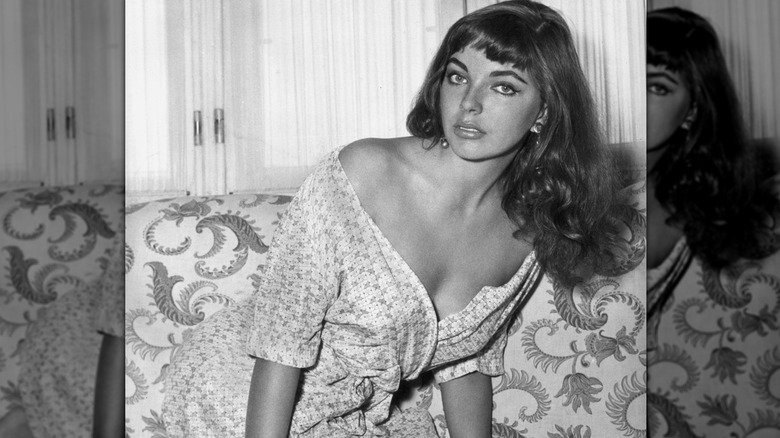 Hulton Archive/Getty Images
Today, when the press catches wind of a top dog in the film industry acting out of line, they're usually held accountable. Several celebrities have spoken publicly about sexism in Hollywood, and while it's still prevalent and there's undoubtedly countless offenses still unaccounted for, the Golden Age was sadly a very different time. Sexual misconduct came with the territory.
By 1955, Joan Collins left England behind and signed with 20th Century Fox for her first Hollywood film, "The Virgin Queen." While many naïve actors have jumped hastily into the film industry, Collins was well informed about the process thanks to her father who was a theatrical agent. She divulged with Vogue in 2022 that she'd had "a couple of close calls with producers who were notoriously dreadful toward young girls," and that Marilyn Monroe had once warned her about "wolves at the studios."
She said, "I told her, 'Oh, I think I can cope with wolves; I've been in the English film business since I was 17!' She just looked at me and said, 'Well, these studio bosses are different, honey. If they don't get what they want, they'll drop your contract without a second thought.' It was unavoidable."
She landed bigger roles after moving to America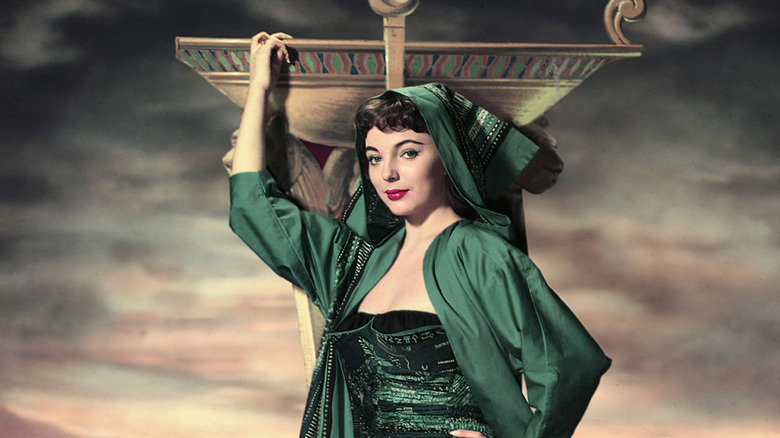 Donaldson Collection/Getty Images
Heading to Tinseltown in the 1950s was about more than just glitz and glamor for Joan Collins; it was a clever career move. Speaking with Decca Aitkenhead, the actor explained that she wasn't thrilled about moving away from England, so she used her position to negotiate for higher pay (via Daily Express). "I didn't really want to go to Hollywood, I still wanted to be in the theater. So when I got the offer to go to Hollywood and the offer was $1,000 a week, which is a lot of money. I said, 'No, I want $2,500 a week.'"
With an increased wage and a contract with 20th Century Fox, Collins began making bigger films than she had before. "The Girl in the Red Velvet Swing" (1955) and "The Opposite Sex" (1956) saw Collins in the spotlight, and she quickly garnered the public's attention, becoming a household name. She continued acting in films like "The Bravados" and "Seven Thieves" throughout the '50s and '60s, before steering toward television roles.
She was engaged to Warren Beatty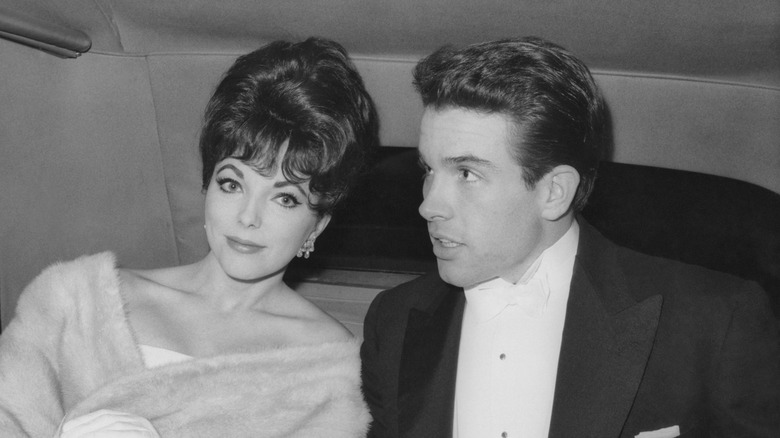 Archive Photos/Getty Images
Joan Collins was 26 when she locked eyes across a busy restaurant with actor Warren Beatty. He was still an up-and-coming actor and had yet to star in the iconic films he's known for today, like "Bonnie and Clyde" or "Reds," unlike Collins who had already been well-established in Hollywood. Speaking of their time together on "Piers Morgan's Life Stories" in 2021, Collins said, "It was quite a passionate relationship, it was quite demanding he was 22." She later confirmed that, after moving in together and getting engaged, she became pregnant and decided to have an abortion. "It would have been the death of my career. [...] I was a feminist before the word was heard, and I should do what I felt was right for me," Collins explained.
In their 18 months together, Beatty had become practically an overnight sensation, and rumors began flying about other women he might have been wooing. The couple began fighting relentlessly, and eventually they decided to call it quits — though Collins says the two are still friendly when they bump into one another.
She had two children with her second husband
Bettmann/Getty Images
After breaking off her engagement to Warren Beatty, Joan Collins married her second husband in 1963, singer Anthony Newley. The couple had two children together, daughter Tara Newley and son Alexander Newley. Collins and Newley's marriage lasted eight years, but it seemed that the actor's husband had a wandering eye.
In 2023, she told the crowd at Kite Festival about the many women he cheated on her with, saying, "He was fabulous until he went off to make a movie about his life in which he went to bed with about 72 women. [...] I knew that there was something going on when Barbra Streisand was singing to him at one of our parties, like looking up into his eyes, and I found out later they had had an affair." Their marriage was over by 1971 and Newley died many years later from cancer.
Joan Collins became known for her reign on 'Dynasty'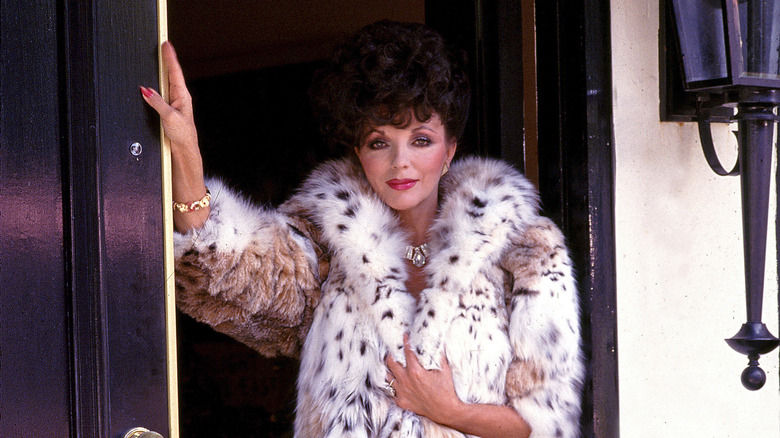 Eddie Sanderson/Getty Images
For nine seasons, Joan Collins played one of the most iconic television characters of the '80s in "Dynasty," a serial drama that followed the feud between the Carringtons and the Colbys. Having starred in several films over the previous 30 years, she was an established actress and cashed in on her bad girl reputation that she never truly shook. Collins became a top-billed cast member when she played the conniving and sinister Alexis Carrington on the show which, according to the actor's many memoirs, led to bad blood between her and the rest of the cast. Her price per episode even led to her appearing in just half a season at one point, as she was told that the show couldn't afford her.
After nearly a decade, "Dynasty" drew to an end, which Collins wrote about in her memoir, "My Unapologetic Diaries." She explained, "The show had gone so rapidly downhill both in ratings and audiences that it had turned into a joke, and impossible as an actor to take seriously or to make any sense of the puerile plots and dialogue."
She's been recognized several times for her work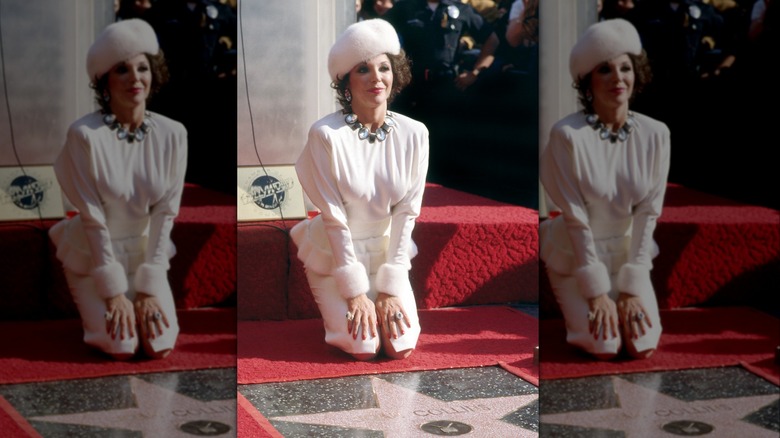 Mediapunch/Getty Images
Joan Collins has been a force to be reckoned with for decades, but it wasn't until the '80s that the world finally recognized her for her talents. Playing Alexis Carrington on "Dynasty" brought the actor more attention than she'd had in her entire career, and with it came several award nominations. Between 1982 and 1988, Collins received 12 nominations for her role on the show, including Outstanding Lead Actress in a Drama Series from the Primetime Emmy Awards and Outstanding Villainess in a Prime Time Serial from the Soap Opera Digest Awards.
In 1983, Collins won her first award related to "Dynasty," snatching up a Golden Globe for the Best Performance by an Actress in a Television Series Drama. In her acceptance speech, she said, "This is a very special award for me because the last time that I won an award was for the most promising actress in 1957, so it's taken me a bit of time, but I'm really happy to have it." The year 1983 proved to be one of Collins' most successful, as she was also awarded with a star on the Hollywood Walk of Fame that December.
Joan Collins got divorced two more times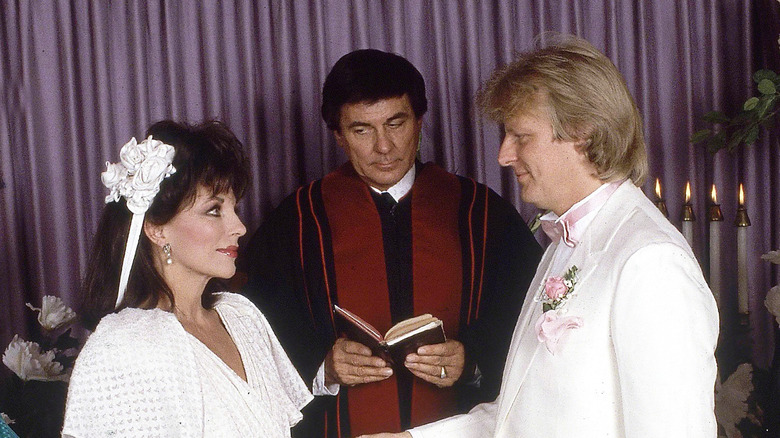 Eddie Sanderson/Getty Images
In 1972, Joan Collins got married to her third husband and head of Apple Records, Ronald Kass. The couple had one child together, Katyana Kass, but their relationship fell apart when their daughter was in a devastating accident. Collins spoke of the incident in her 2022 documentary, "This Is Joan Collins," saying, "She was knocked down by a car and sustained very serious brain injuries and I was told that she was going to die. She was in a coma for a very long time." This was when Ron began using drugs and alcohol, and the couple divorced in 1983, just a few years before the record label head died.
Collins' fourth husband was singer Peter Holm, whom she married in 1985, but the relationship was short-lived. They began the process of getting divorced just two years later, with a 15-month legal battle ensuing over the split of assets. During which, Holm's mistress gave a compelling testimony over the affair she'd had with the actor's then-husband.
In a July 2023 interview with The Times, Collins referred to Holm as an "obdurate dullard and calculating sociopath," and admitted that her many divorces over the years cost her. "They all got money out of me, actually," she said. As lucky as she'd been in her career, love was not on Collins' side — that is, until the year 2000.
Joan Collins finally found her prince in husband number five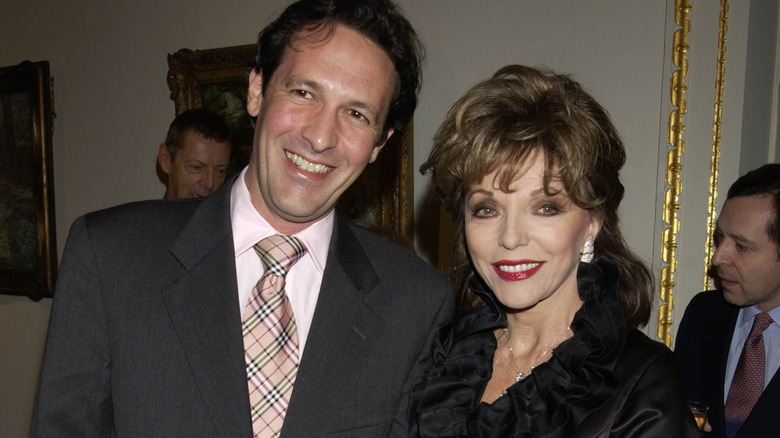 Dave Benett/Getty Images
The "Empire of the Ants" star finally found herself in a loving relationship when she met a man 32 years younger than her in 2000. Percy Gibson had been the producer of a play Joan Collins was starring in, and although she was in a relationship at the time, there was an undeniable connection between the two. After dating for less than two years, Collins and Gibson tied the knot in a London ceremony in which she went with a lilac-colored dress rather than a traditional white one.
In her 2011 memoir "The World According to Joan," Collins wrote, "I kissed a lot of frogs before I found my prince. For those women who are looking for a life partner, that old saying that men are like buses and 'if you wait long enough the right one will come along' is true for a reason." Although he was in his 30s and she in her 60s when they met, leading to speculation from the public over whether the two could truly be compatible, Collins and Gibson have been together for more than two decades and seem to be just as in love as when they first met.
She became a dame in 2015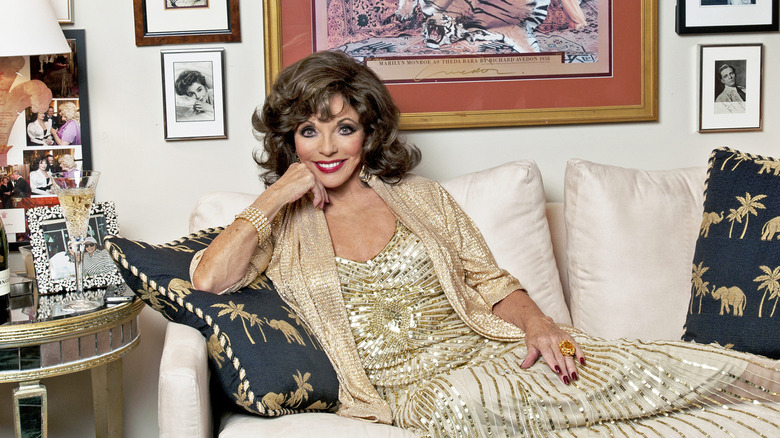 Eddie Sanderson/Getty Images
While we're of course familiar with Sir Elton John's knighthood, or Dame Judi Dench's damehood, there are undoubtedly several celebrities you didn't know had been knighted. While many received the honor from Queen Elizabeth II, Joan Collins was one of many stars to receive her damehood from then-Prince Charles.
The actor had been recognized for her charitable work for children and breast cancer research when she received the honor in 2015, at 81 years old. Speaking with the BBC after Collins had gained her new title, she said, "Not in a billion years did I think I would be made a dame. It wasn't anything I ever aspired to. I just wanted to be [a] jobbing actress." Nevertheless, Collins was thrilled and shared the day with her husband Percy Gibson and daughter Tara Newley. Later that year, she went on to play the Grand Duchess Alexandra of Oxford in the fictionalized drama series "The Royals."
Joan Collins celebrated her 90th birthday in 2023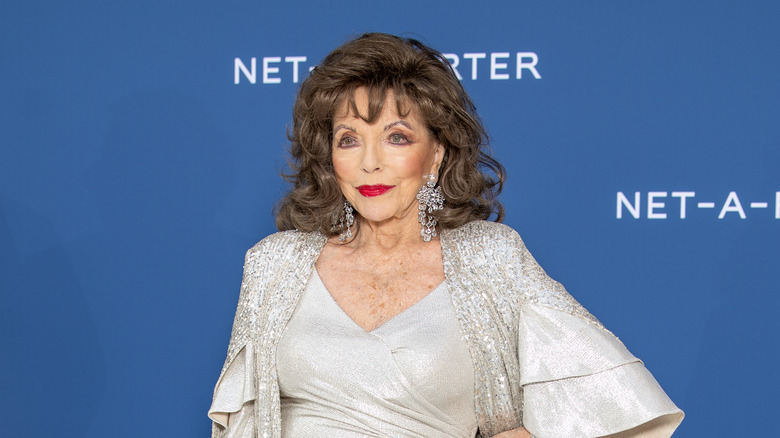 Shane Anthony Sinclair/Getty Images
Joan Collins is officially a nonagenarian, having celebrated her 90th birthday on May 23, 2023, and she looks as glamorous now as when she stepped onto the scene as a promising young actor seven decades prior. She was seen in London on her way to celebrate the milestone birthday with her husband, wearing a floral dress and a shoulder padded white coat her "Dynasty" character would certainly give her seal of approval on.
Despite having worked tirelessly for decades, Collins is still active in Hollywood and hasn't shown any wish to retire. Speaking with The Times in 2023, the actor said simply, "I work because I have to make a living. This is what astounds me. What kind of money do you think I have?" In 2022, Collins starred in musical "Tomorrow Morning" and a short titled "The Gentle Sex," for which she received an Idyllwild International Festival of Cinema nomination for Best Actress in a Short. She also has a handful of projects still in the works, so it would seem that Collins isn't slowing down anytime soon.