How Many Times Has Joan Collins Been Married?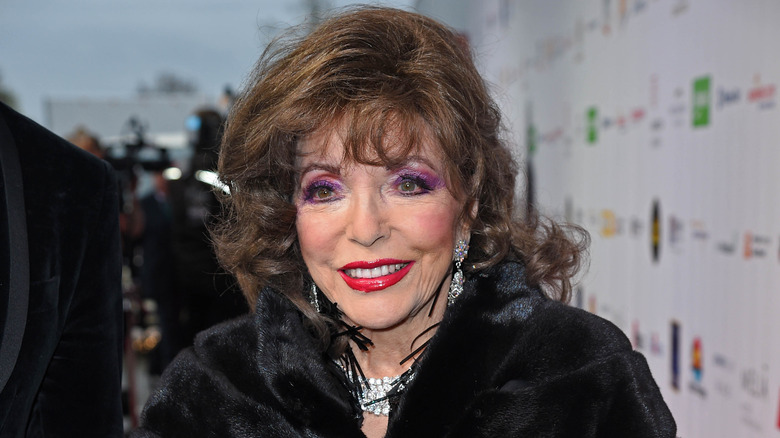 Tristar Media/Getty Images
We may receive a commission on purchases made from links.
Prolific writer, dancer, and actress Joan Collins is probably most well-known for her iconic role as Alexis Carrington during her nine-year run on the '80s soap opera "Dynasty." Like her seductive character, Collins' love life has been full of ups and downs, from her first marriage at just 19 to finding the love of her life in her 60s.
While Alexis might be her most prolific role, the iconic Joan Collins has filled many roles in her award-winning career, from her debut in "A Doll's House" as a teenager to being named Dame Commander of the Order of the British Empire in 2015. The UK novelist and regular magazine contributor has never been shy about speaking her mind, especially about the royal family, whether it involves King Charles, Princess Diana, or Meghan Markle and Prince Harry.
She's also never been shy about her love life. Through her memoirs and columns, she's recounted everything from the tragic beginnings of her first marriage to how her fourth husband tried to swindle her. She's also one to gush openly about finding the love of her life and true soul mate in Percy Gibson. Settle in to learn the ups and downs of her five trips down the aisle and how each different relationship has molded this Golden Globe winner into the icon she is today.
Joan Collins' first marriage started in tragedy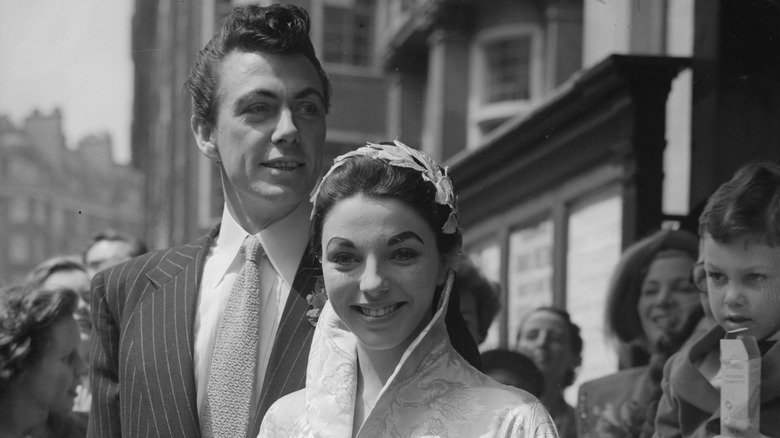 Evening Standard/Getty Images
Finding the right person can be hard to attain for anyone; however, celebrities are pummeled by people on the daily, making that lasting marriage a thing of legend. While this hasn't stopped the beautiful "Dynasty" star from trying, Joan Collins' five marriages have been anything but simple. 
Collins' first time donning a white dress was in 1952 to 33-year-old actor Maxwell Reed. However, she'd known Reed for a while before walking down the aisle. According to her tell-all documentary on BBC, "This is Joan Collins," her first encounter with her husband ended in tragedy. In her own words, Collin's recounted the sexual abuse she endured after Maxwell had slipped a drug into her drink. She went on to note how it was her shame that pushed her into marriage, "Had I not been so innocent about sex and the way things should be, I wouldn't have done that. But I had a strong sense of guilt, so I did it," she said (via Belfast Telegraph).
The abuse continued throughout the couple's four-year marriage until Collins' reached her final straw, and the couple divorced in 1956. Once Collins had stepped out of the shackles of her first marriage, she didn't contemplate walking down the aisle again until the early 1960s. 
Joan Collins' second husband was involved in a scandal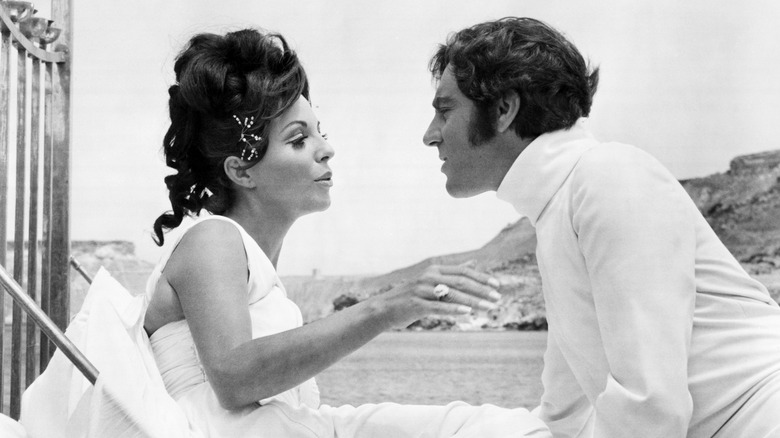 Silver Screen Collection/Getty Images
While Joan Collins' had a relationship with Warren Beatty through 1959, the two were never wed. It wasn't until 1963 that Collins again opened her heart to marriage when she got hitched to actor and songwriter Anthony Newley. 
In addition to bringing two children, Alexander — who goes by Sacha — and Tara, into the world with the "Fear in the Night" star, Newley was famous in his own right. Throughout his career, he starred in six major films and wrote songs that became billboard hits, including the score for "Willy Wonka and the Chocolate Factory." This Academy Award-nominated star was also a prolific director and producer of several acclaimed motion pictures in the 1970s. Anthony Newley was cast into the spotlight in 2017 by Sacha Newley's claims of pedophilia, but both Joan Collins and Tara Newley have refuted this, according to People.
Though a lot about their relationship remains unclear, infidelity caused its ultimate end. Writing about her memories in columns for the Daily Mail, Collins stated, "But my husband was still womanizing, and it was plainly too late to save our marriage. So, in 1970, I went through divorce number two." However, this mother of two did not stay single for long. In fact, she would enter her third marriage just a short year after her second divorce.
American charmer Ron Kass showered Joan Collins with love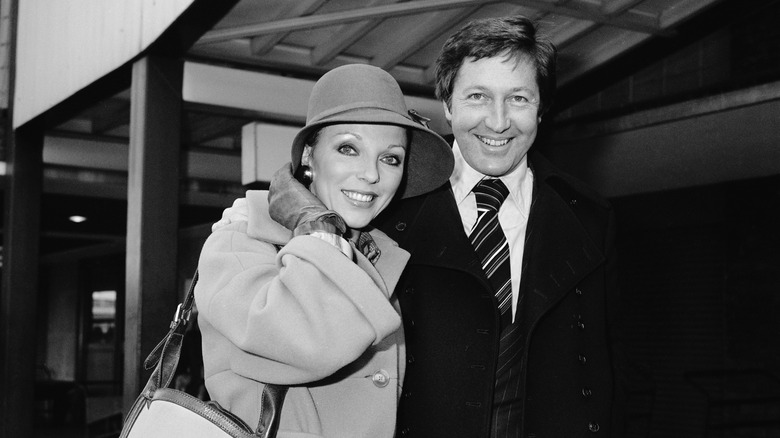 Express/Getty Images
With two failed marriages, Collins wasn't looking for another love to sweep her off her feet. However, shortly after her second divorce, she met Ron Kass, who showered her with so much love she couldn't say no to his proposal. In her memoirs, she said, "So we married, our darling Katyana — known as Katy — was born soon afterward, and the next three years were among the happiest in my life" (via the Daily Mail).
Being 35 years old with two children in tow, Collins took a chance on the 36-year-old Kass, who headed Apple Corporation in addition to The Beatle's production company. While the two shared a beautiful child and happy life for three years of their marriage, disaster struck when Ron was fired from the film company he'd helped to start. This hit led to the beginning of Ron's drug abuse, which sent their marriage into a downward spiral. 
In addition to dealing with their daughter's severe injury from a car accident, Collins found out her family was in financial ruin due to Kass' heroin addiction, which brought about the final blow to their marriage according to her memoirs. It was in 1983 that the "Dynasty" star and American businessman formalized their split; however, it was only a few years later that her marriage to Peter Holm began.
A whirlwind romance lead to her fourth marriage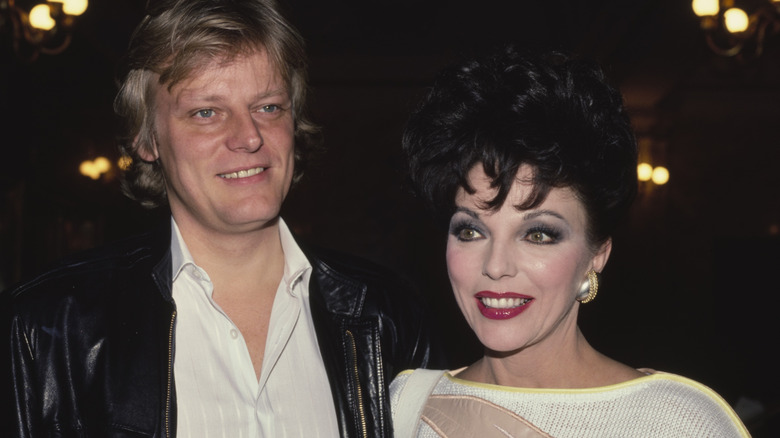 Michael Ochs Archives/Getty Images
After her marriage with Kass ended in heartache, the "Tales From the Crypt" star was prepared never to wed again. However, the Swedish pop star walked to her life and her heart, making her take the walk of matrimony once again.
In the summer of 1983, this prolific writer and actress met Peter Holm, who was 14 years her junior, poolside with her daughter Katy. Struck by his good looks and charisma, Collins began seeing him, and they eventually married in 1985 in Las Vegas. What started as an open and honest relationship quickly changed to one of deceit and heartache when Peter took over her financial decisions and started having extramarital affairs. However, she realized her mistake eventually, saying in her memoirs that "Finally, I forced myself to face reality. I'd allowed Peter total control over my life — and for that, I realized, I had myself to blame" (via the Daily Mail).
After Collins realized Holm was "angry, sulky, and incredibly rude," she decided it was time to bounce. However, the divorce proceedings were bitter until they finally ended in 1987 after 4.5 hours of hard bargaining between them. Joan would celebrate the single life for more than a decade before entering into matrimony one more time with Percy Gibson.
Finding her prince in Percy Gibson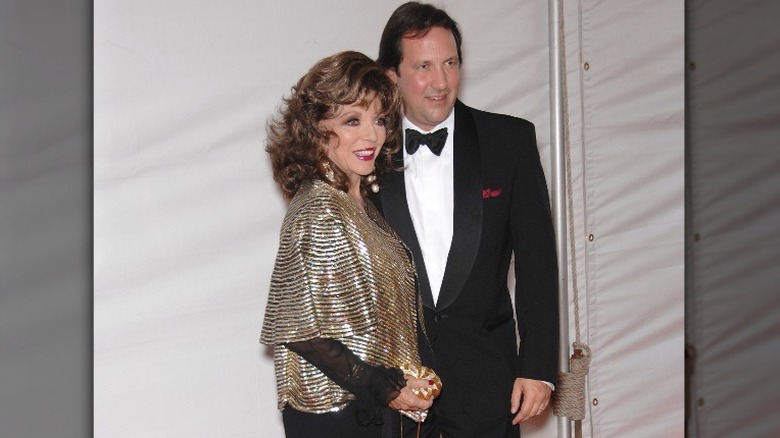 Featureflash Photo Agency/Shutterstock
While four of her marriages were a bust, Collins stated in her memoir "The World According to Joan Collins," that she "kissed a lot of frogs before I found my prince." But her prince finally made it into her life when she found love with the "Dynasty" producer Percy Gibson, who was also 32 years her junior.
Though Collins was in a relationship with Robin Hurlstone for more than a decade, she'd sworn off marriage, but that all changed when the film producer Percy Gibson walked into her life in 2000 during the play "Love Letters." She told BBC, "It was giddy, it was fantastic, and Percy and I fell madly in love. I've finally found my true soulmate and my husband forever" (via People). The two married in 2002, and the Broadway actress has never looked back.
The prolific actor and sister of writer Jackie Collins has seen her share of love, loss, and tragedy through her five marriages. However, love prevailed when this Hollywood dame finally found her prince.