How Demi Lovato Really Feels About Their Previous Age-Gap Relationships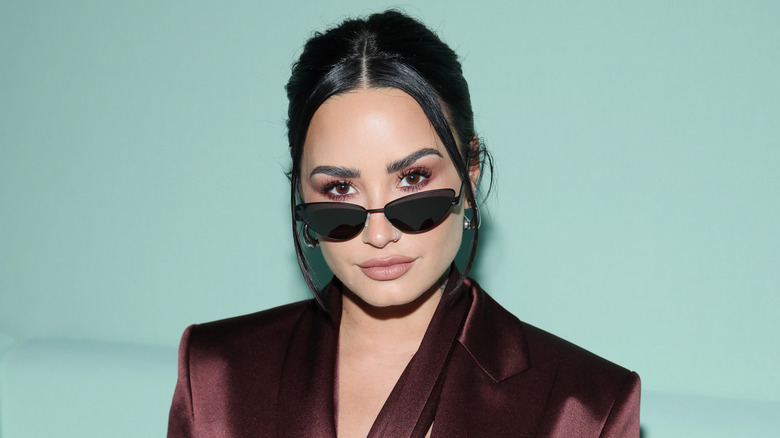 Daniele Venturelli/Getty Images
Demi Lovato started her entertainment career on "Barney & Friends" when she was just seven years old. They developed a crush on set for none other than the performer in the big purple dinosaur suit. Lovato's career took off with her starring role in Disney's "Camp Rock" movies. The first one aired in 2008, the same year that Lovato released "Don't Forget," their first of several studio albums. Her love life took off, too, and she went from a childhood crush on the Barney performer to dating. Lovato has a complex dating history, and a number of her romantic partners were men who were older than she was. And in looking back on those relationships, Lovato has some thoughts about what was really going on.
Lovato went on SiriusXM's "The Howard Stern Show," and she spoke about her relationship history, admitting that there was definitely a pattern going on for a while. "I think what I went through is that I had a phase of dating older men and dating older guys," Lovato explained. "I went through a phase when I was attracted to older guys because of my daddy issues, obviously."
Demi Lovato dated the much older Wilmer Valderrama for 6 years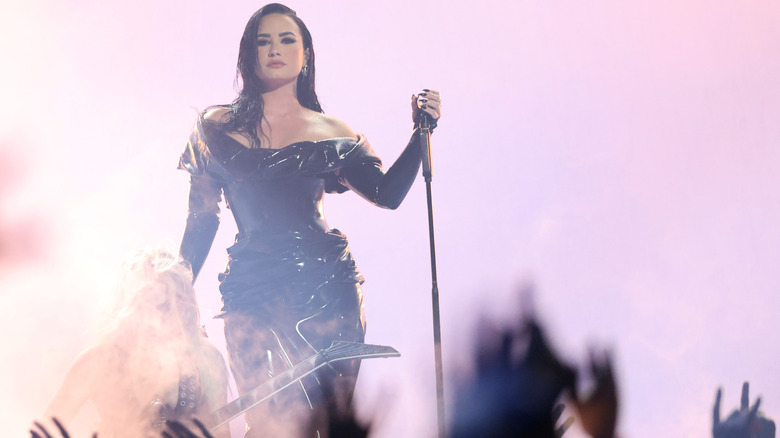 Mike Coppola/Getty Images
Demi Lovato didn't name-drop anyone specific as she talked with Howard Stern about the time they spent dating older men, but one of their longest relationships was with "That '70s Show" actor Wilmer Valderrama — they were together for six years. The two first met when she was 17 and he was 29, and Lovato and Valderrama's romantic relationship started a year later. Any Lovato fans will recognize those ages as an important part of her song "29." While Lovato hasn't confirmed that the song is about Valderrama, the lyrics seem pretty clear that she's singing about him. It also tracks with what she told Stern about why she dated older guys.
The lyrics that seem like they could really only be about Valderamma are "17, 29 / Had me in your grip, went beautifully with / All my daddy issues and this s*** continues / I see you're quite the collector / Yeah, you're 12 years her elder." Not only was Valderamma 12 years older than Lovato when they dated, but his current wife, Amanda Pacheco, is 12 years younger than him.
Demi Lovato's dad wasn't in her life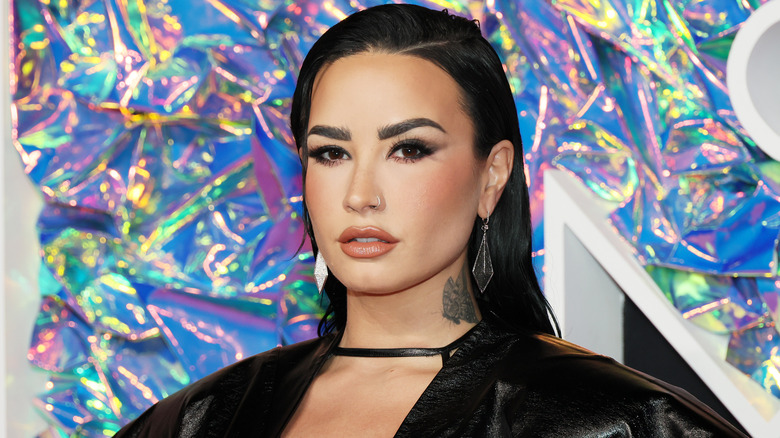 Dia Dipasupil/Getty Images
Demi Lovato has been open about the tricky relationship she had with her father, Patrick Lovato, who died in 2013, which clearly informed her relationships with men as an adult. In her YouTube docuseries "Dancing with the Devil," Lovato talked about her father and how he was absent from her life when she was little. She also mentioned wanting him in her life but knowing that pursuing a relationship with him wasn't a good idea. "He was an addict and an alcoholic, and he was abusive to my mom. And so I cut him out because I felt like it was causing more harm than good having him in my life."
Then, in an Instagram Story on Father's Day in 2021, Lovato posted about their dad, showing some of the struggles that they faced with their father, having to keep him out of their life for the sake of their own health. "It's complicated, and I wish it were different, but this made me into the person I am today," they wrote, per People.
Lovato is currently dating musician and songwriter Jordan Lutes aka Jutes. He's a year older than she is, and she told Howard Stern that the two of them have talked about marriage.