Zahara Jolie-Pitt Looks All Grown Up As Mom Angelina's Style Protégé In Rare Video
Angelina Jolie is the proud mother of six kids who are proving to be as stylish as their mom. Three of her kids, Maddox, Zahara, and Pax, were adopted, while Shiloh, Knox, and Vivienne are Jolie's biological children — their dad is A-list actor Brad Pitt. "They're pretty great people and because there's so many of them, I think they've had a very significant effect on each other," Jolie told People about her kids in 2021. "It's not like I'm the head of anything. I'm very honest with my kids."
Still, life hasn't been simple for the Jolie-Pitt children. Since 2016, their celebrity parents have been battling it out in court in a prolonged divorce; after all, there were plenty of signs the Jolie-Pitt marriage wasn't going to last. Still, despite the family turmoil, Jolie enjoys a close relationship with her children. At the premiere of Marvel's "Eternals" in 2021, the kids stood by her side -– Zahara Jolie-Pitt even wore Jolie's 2014 Academy Awards dress, establishing herself as her mother's style protégé. 
Now, Jolie is collaborating with Zahara, an emerging style icon, on a new business venture called Atelier Jolie, an interactive, socially conscious fashion brand. "I am building a place for creative people to collaborate with a skilled and diverse family of expert tailors, pattern makers, and artisans from around the world," the A-list actor wrote on the brand's website, describing it as: "A place to have fun. To create your own designs with freedom. To discover yourself."
Zahara Jolie-Pitt and her mom have a shared artistic vision
The collaborative fashion brand Atelier Jolie will be based out of 57 Great Jones St., an iconic Manhattan property that was once the studio of artists Andy Warhol and Jean-Michel Basquiat, and offer custom upcycling services while working with global artisans, according to the brand's website. Jolie says she has her daughter Zahara Jolie-Pitt to thank for the choice of location, as they scouted it together. "I can be very impulsive, but Zahara is so grounded, decisive, and thoughtful," the actor told Vogue. "When she agreed, I felt we were both decided."
As Atelier Jolie continues to gain traction, Zahara has gotten more and more involved. In a rare video published by Vogue, the mother-daughter duo are captured in action, consulting with each other at the brand's home and posing in upcycled Atelier Jolie looks. According to the publication, Zahara and her older brother, Pax, have played important roles in designing their own pieces — Pax even helped with the Atelier Jolie logo.
Perhaps most importantly, Zahara recommended that her mother expand shade options for her "nude" slip dress collection to encompass a wider range of skin tones, making inclusivity a big part of Atelier Jolie's goal. "Obviously, as a white woman, I've never had this experience," the actor told Vogue, adding, "It never crossed my mind until [Zahara and I] went shopping together and I saw that there's so much room for improvement." 
Angelina's daughter is taking her mom's advice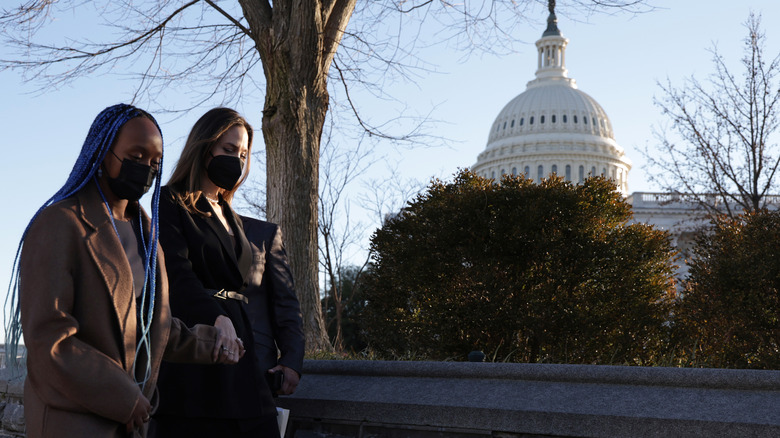 Alex Wong/Getty Images
When she's not working with mom Angelina Jolie on Atelier Jolie, Zahara Jolie-Pitt is a student at Spelman College in Atlanta, Georgia, where she began as a freshman in 2022. Jolie has always been an advocate for women's rights, and even though she's intrigued by fashion, the star has always placed an emphasis on the mind and body beneath them.
In an essay penned for Elle, the actor wrote, "I often tell my daughters that the most important thing they can do is to develop their minds. You can always put on a pretty dress, but it doesn't matter what you wear on the outside if your mind isn't strong." Following in that vein, Zahara accompanied her mom on a trip to Washington D.C. in 2022, when Jolie spoke with Congress members about the rights of crime and abuse survivors.
Those survivors are part of who Atelier Jolie, and the designs that emerge from it, is all about. "Sometimes the way you dress says, 'Don't mess with me — I've got my armor on,'" Jolie told Vogue. "But I want a woman to feel safe enough that she can be soft."