How Kerry Washington And Nnamdi Asomugha Pulled Off Their Secret 2013 Wedding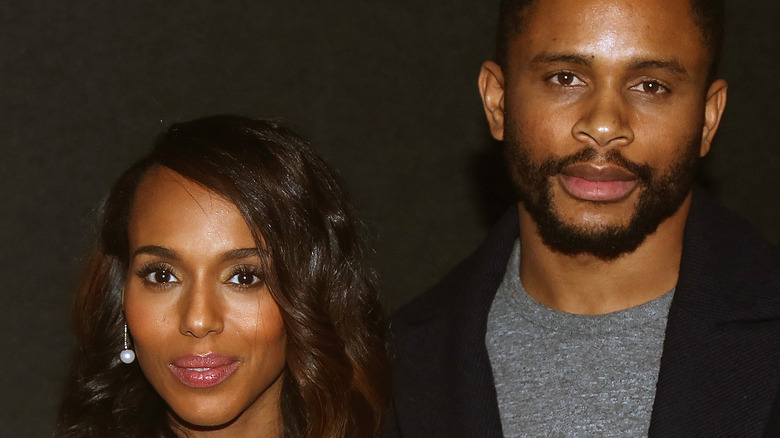 Bruce Glikas/Getty Images
Actor Kerry Washington has climbed the Hollywood ranks, yet she has maintained a level of privacy surrounding her personal life that is not commonly seen. Therefore, news of her releasing a memoir may have shocked Washington's fans and colleagues alike. "Thicker Than Water" debuted on September 26, 2023, and included several significant revelations, one of which was that Washington and former San Francisco 49ers cornerback Nnamdi Asomugha had secretly tied the knot back in 2013. 
While it was widely known that the two were together for a while and had got married, neither made a formal announcement when it happened. The celebrity couple rarely makes public appearances together, which is, in part, how they were able to pull off a top-secret wedding. The quaint ceremony took place in Idaho on June 24, 2013, with Washington and Asomugha deciding against a grand venue — another factor that protected their big day. It seemingly went off without a hitch and was a team effort.
Washington hid her engagement ring to prevent speculation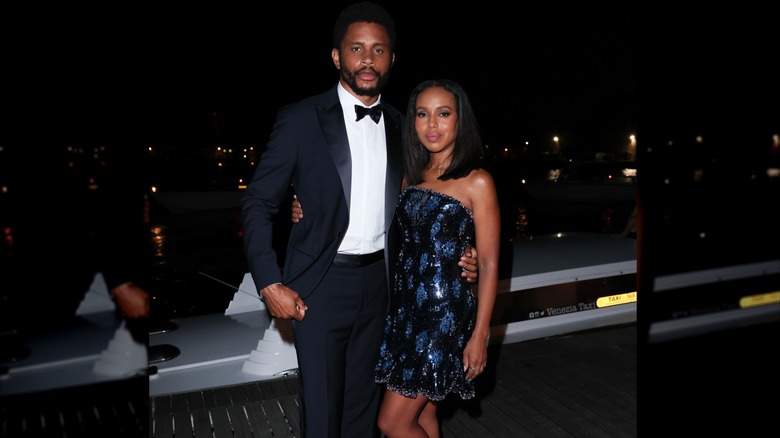 Jacopo Raule/Getty Images
Since they met in 2009, Kerry Washington and Nnamdi Asomugha kept their relationship firmly under wraps. So, it's unclear exactly when Asomugha popped the question. However, when it did happen, Washington wanted to protect their special moment as much as possible. "For months, I had been wearing my engagement ring secretly pinned inside my clothing for fear that if people knew we were engaged, it would be impossible to have a wedding away from public spectacle," Washington wrote in "Thicker Than Water" (via People). 
The woman who winningly brought "Scandal's" Olivia Pope to life also acknowledged that it has not been easy for Asomugha to finally reveal such intimate information about their time together. Nevertheless, she praised the athlete-turned-actor for his unwavering support. As Washington explained, "I'm really grateful that he allowed me to put some of that in there because I think it was really pertinent to telling the story of me stepping into being a person who felt solid and independent enough that I could commit to another person."
The couple used code words while planning their wedding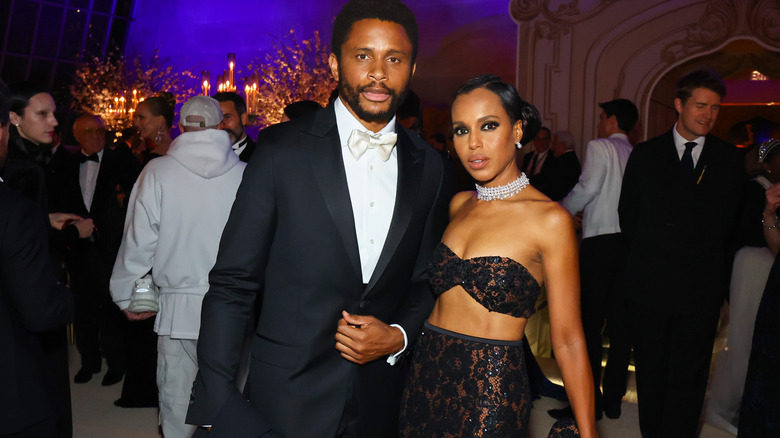 Arturo Holmes/mg23/Getty Images
Kerry Washington and Nnamdi Asomugha had another unique way to protect their wedding day when it came to planning it. They used code words, as Washington shared with Robin Roberts on "20/20" (via X, formerly known as Twitter). For example, the couple referred to the wedding as a "family reunion." Even when communicating with her dress designer, the bridal gown was described as a red carpet look to prevent prying eyes and ears from figuring it out.
"My dress designer called it 'the dress for the Moroccan premiere of Scandal.' I don't know why we went with Morocco, but that's because we didn't want anybody in his office to know," Washington recalled, though an insider told People that her stunning white gown was something simple that could easily have been mistaken for a store-bought piece. Their meticulous preparation led to an outdoor celebration at a close friend's house, with only family and a small circle of pals present, most of whom were flown there by private plane. 
Following their nuptials, the couple began growing their family, welcoming daughter Isabelle in April 2014 and son Caleb in October 2016. Asomugha also has an older daughter from a previous relationship, whom Washington embraces as one of her own. The celebrity couple has done a swell job of keeping their little ones away from the limelight, just as they have with everything else in their relationship thus far, with Washington still only revealing scant details in her book.