Why Zooey Deschanel Almost Never Returned To TV Show Acting Again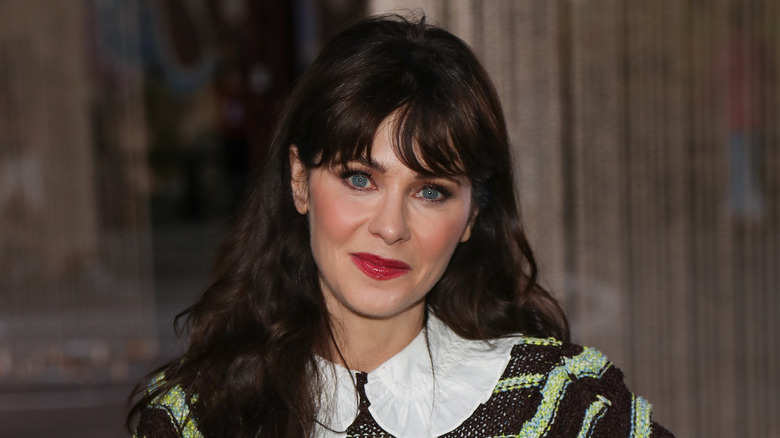 Manny Carabel/Getty Images
From her character in "500 Days of Summer" to her seasons-long stint as Jessica Day on "New Girl," Zooey Deschanel defined what it meant to be "quirky" in the early 2010s. It was the era of ukuleles, fingerstaches, and hipster glasses. That being said, Deschanel doesn't identify with the "manic pixie dream girl" label that's followed her around for well over a decade. "I'm not a girl. I'm a woman," she told The Guardian in a 2022 conversation. "It doesn't hurt my feelings, but it's a way of making a woman one-dimensional and I'm not."
"New Girl," which ran from 2011 up until 2018, tackled the quirky-girl trope head-on, adding nuances to Deschanel's character one 30-minute episode at a time. In the first season, Jess explains that femininity isn't a weakness. "I brake for birds. I rock a lot of polka dots. I have touched glitter in the last 24 hours ... and that doesn't mean I'm not smart and tough and strong!" she says in a now-famous monologue, per YouTube.
Although "New Girl" quickly became a comfort show for millions (plus, it inspired many of us to rock Peter Pan collars), it definitely took a toll on its lead, per The Hollywood Reporter. "I couldn't picture myself getting back into the game like that, especially not right away," the actor told the outlet, referring to the intense burnout she felt after the series wrapped. Here's what we know about Zooey Deschanel's years-long break from the world of TV acting post-"New Girl."
Zooey Deschanel turned to other pursuits after New Girl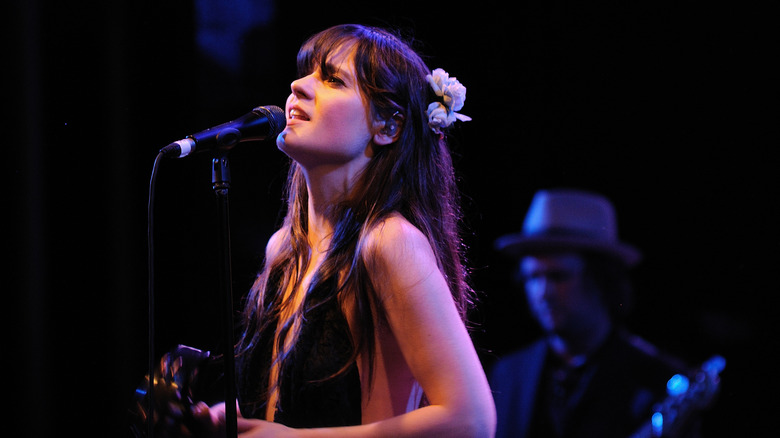 Christian Bertrand/Shutterstock
After Zooey Deschanel said goodbye to her "New Girl" cast members in 2018, she reevaluated her future in television. "I thought maybe I would just do movies, or movies and music," she told The Hollywood Reporter. "I needed to give myself the time to think about how much I could really take that on." 
She'd definitely had a lot going on in her life since the show began in 2011. The actor welcomed two children, in 2015 and 2017 respectively, with her now ex-husband, Jacob Pechenik. Since 2006, she's also been one-half of the musical duo She & Him with guitarist M. Ward. In 2022, they released their seventh studio album "Melt Away: A Tribute to Brian Wilson." Although she may have taken a break from television, the actor still lent her voice to animated films like "Trolls World Tour." She also appeared in Katy Perry's 2020 music video for "Not the End of the World." 
At first, music was a form of escapism for Deschanel. "I found being on [filming] locations very, very lonely. I always have," she told Guy Raz on "The Great Creators" podcast, explaining the ins and outs of her acting career. "My outlet would be writing songs about loneliness." For the "Almost Famous" star, it's important to take a step back when the business gets overwhelming. "I think these larger breaks, too, where you're maybe not doing things, you can come to that other pursuit with a new perspective." In other words, creative pursuits feed into one another.
Zooey Deschanel has taken breaks from acting before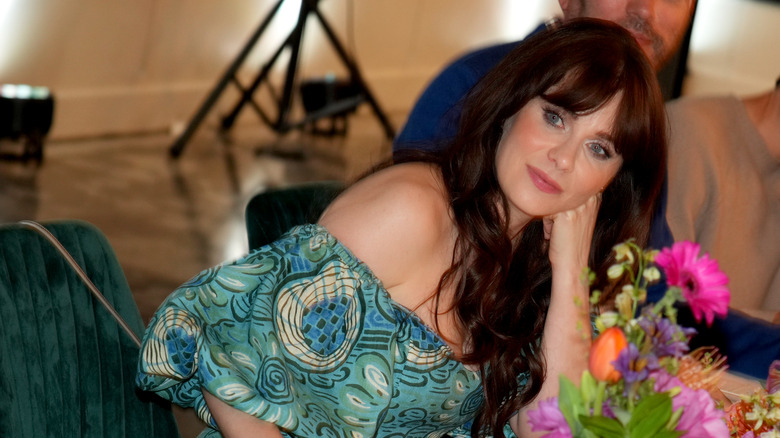 Jeff Kravitz/Getty Images
According to Zooey Deschanel, it's easy to lose yourself in acting, especially if you're taking on too many roles. "You stop being a person in a weird way. I remember doing so many acting roles in a row that I was like, 'I have nothing left ... I just feel spent,'" she told Guy Raz on "The Great Creators" podcast. 
After starring in 2009's "500 Days of Summer," Deschanel almost left the acting business entirely. As the She & Him singer explained, studios were cutting their indie budgets, opting for blockbuster superhero flicks ... She didn't know where she fit. "I almost quit," said Deschanel. "New Girl" pulled her out of this early 2010s slump, and she focused on developing Jessica Day alongside showrunner Elizabeth Meriwether.
Outside the worlds of acting and music (and kids), Deschanel was a founder of the popular site HelloGiggles; the site was sold to Time Inc. in 2015. She also started the indoor edible plant business, Lettuce Grow — the TV star has accumulated millions in revenue from her businesses, making a name for herself in the world of start-ups. When she's not acting (or launching businesses), you can probably find her with her long-time partner, Property Brother Jonathan Scott.
In 2023, Deschanel finally decided to break her years-long "no TV" stint. She signed on to star in Season 3 of the Apple TV+ show, "Physical" alongside Rose Byrne. "I only do stuff that I'm really excited about," Deschanel explained to The Hollywood Reporter. "I love the show! ... The whole cast is just so great."