Jonathan Scott And Zooey Deschanel Just Hit This Major Relationship Milestone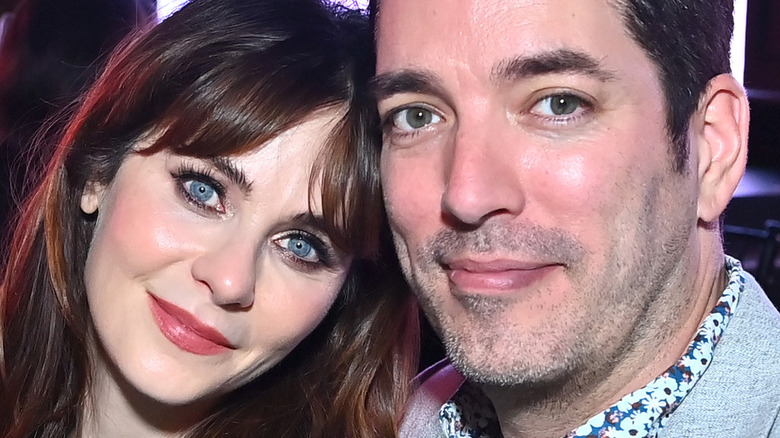 Stefanie Keenan/Getty Images
Ever since "Property Brothers" star Jonathan Scott and actress Zooey Deschanel made their relationship Instagram official in October 2019, fans have marveled from afar at the couple's storybook romance. In true Hollywood fashion, the pair met for the first time while filming an episode of "Carpool Karaoke" alongside their famous siblings, Emily Deschanel and Drew Scott. As Jonathan later admitted during an interview with the "At Home with Linda & Drew Scott" podcast, he spent the vast majority of the time filming "Carpool Karaoke" flirting with Zooey. "I thought I was playing it cool, but the producer said I was flirting so hard that they had to cut a bunch of it out," Jonathan said on the podcast, per People.
In every Instagram post involving her beau, Zooey has also made it clear she's head over heels in love. "Happy birthday to my kind, sweet, wonderful, hilarious, clever, generous, caring, handsome gentleman who sometimes orders pizza and grilled cheese at one meal," she wrote in an Instagram post for Jonathan's birthday in April. "I love you always and in all ways ... I'm the luckiest girl in the world."
Most recently, the couple took a major step forward in their relationship.
The couple is renovating their LA dream home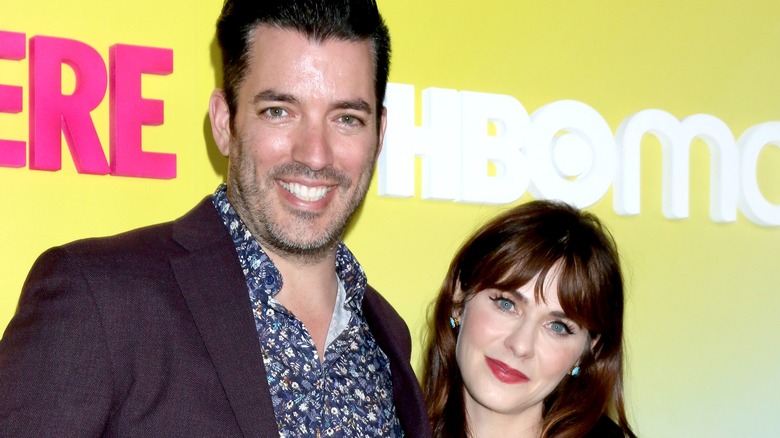 Kathy Hutchins/Shutterstock
In the latest issue of Jonathan and Drew Scott's magazine, Drew + Jonathan Reveal, Jonathan wrote an essay about purchasing and renovating his dream home with his girlfriend, Zooey Deschanel. In June 2020, the couple purchased a five-bedroom home in Los Angeles which they have been renovating every square inch of together ever since. "Eight months into our relationship, I already knew Zooey was the yin to my yang, the PB to my J," Jonathan wrote (per People). "We were on parallel paths toward the happiness we'd been seeking our whole lives."
The couple (along with Zooey's two children from her previous marriage to Jacob Pechenik) are now the happy owners of a Georgian-style house built in 1938. "As we pulled up the drive, it just seemed...magical," Jonathan described in the essay. "It sat on a little over an acre, and with its lush lawn and massive California sycamores, it looked like a park. Which is why when we first brought the kids by the property, they dubbed it the Park House."
Though the couple discovered a few difficulties in the renovation process, they provided opportunities for Jonathan to add more eco-friendly features, like fossil fuel-free heating and cooling, solar panels, and a new type of eco-friendly insulation, to the property. "[O]verall I want it as close to her vision as possible because I know, like her, it will be beautiful, eclectic, and wonderfully unique," he said.