Why Hulk Hogan And His Ex Linda Split After 24 Years Of Marriage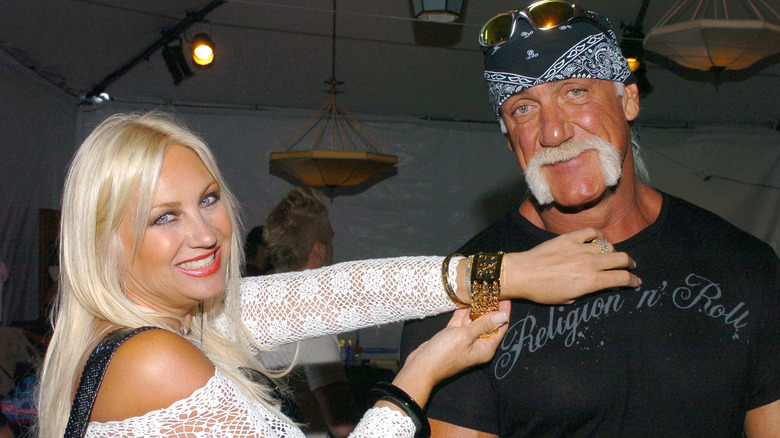 Mark Sullivan/Getty Images
We may receive a commission on purchases made from links.
Hulk Hogan and Linda Claridge, also known as Linda Hogan, tied the knot on December 18, 1983, becoming an adored couple within the wrestling community. Key figures and colleagues of Hulk, such as the late Andre The Giant and co-founder of the modern WWE, Vince McMahon, were present for the big day. The two welcomed their first child, daughter Brooke, in May 1988, followed by son Nick, in July 1990. Claridge appeared happy throughout the years while she supported her husband in the ring and on camera in films such as the "Thunder In Paradise" franchise. The couple showcased their family life in the VH1 series, "Hogan Knows Best" for four seasons. Sadly, like many celebrity marriages that face an uphill battle, Claridge made the decision to file for divorce after filming wrapped in 2007.
Their split was anything but amicable. Claridge hurled several accusations of infidelity at Hogan, something that we know can make or break even the happiest marriages. In more damning claims, she said there was abuse in their home. The pair battled it out in the courtroom for almost two years before finalizing their divorce in July 2009, concluding over two decades of marriage.
Hulk Hogan allegedly cheated on Linda with their daughter's friend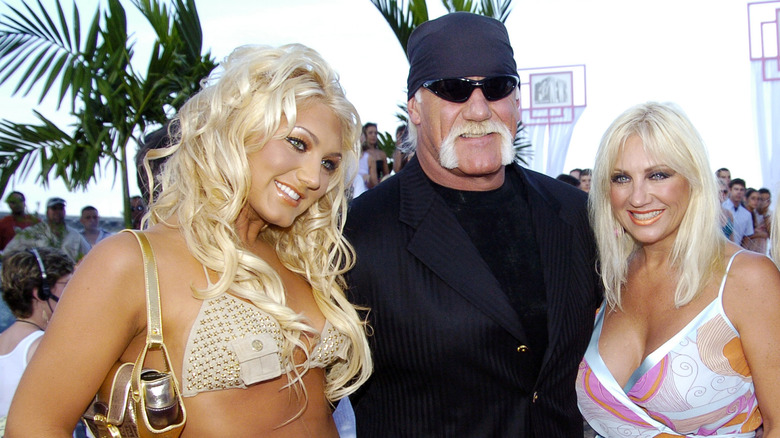 Jeff Kravitz/Getty Images
When Linda Claridge filed for divorce from Hulk Hogan, she made a shocking claim about her husband. The reality star initially kept her reasons for the split quiet. However, a year after filing, she claimed that Hogan cheated on her with a friend of their daughter, Brooke Hogan. 
The woman was identified as Christine Plante, who also coworkers with Brooke at one point. Plante confirmed the affair to the National Enquirer [via The Sportster] in 2008. However, Plante maintained that their connection only began when his marriage to Linda was coming to an end. Even while praising Hogan for being a great person, Plante admitted that her actions were wrong. "Having felt the guilt and pain build up, I gave a note to Brooke apologizing for my actions. I will never be able to fully forgive myself for this. I have lost an amazing friend," Plante told the outlet.
The cheating weighed heavily on Claridge. However, Hogan flat-out denied the notion that he stepped out on his wife. He has also shot down other accusations, which played out in a separate legal feud after parting ways with Claridge.
Linda Claridge claimed she was beaten during her marriage to Hogan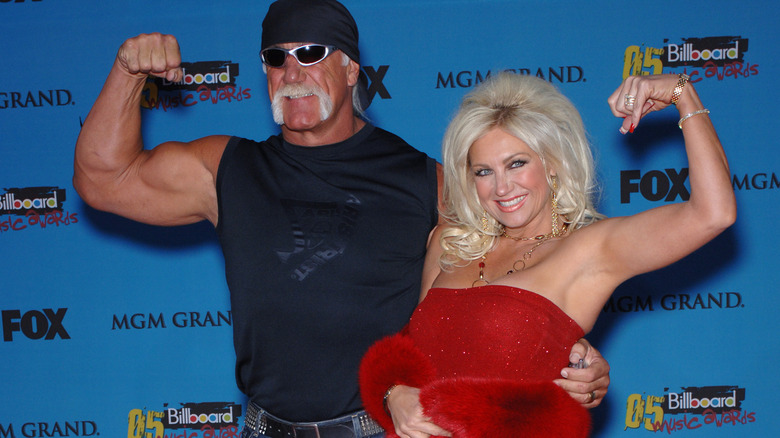 Featureflash Photo Agency/Shutterstock
Linda Claridge and Hulk Hogan were again at odds two years after their marriage was dissolved. This time, it was over more explosive claims regarding why she left him. In her July 2011 memoir, "Wrestling the Hulk: My Life Against the Ropes," Claridge said she was choked, had items thrown at her, and was even drug by her hair by her ex-husband.
The Hogan's Hangout owner responded by suing Claridge for defamation. In his court filing, he claimed Claridge ruined his reputation, which impacted potential business dealings. The outcome of that suit is unknown. When the dust settled, Claridge still had over $10 million as part of her divorce settlement, and Hogan moved on to a new sweetheart. He married Jennifer McDaniel in December 2010, ultimately separating in October 2021. Once again, Hogan wasted no time finding a woman, marrying his third wife, Sky Daily, in September 2023. Claridge, on the other hand, started dating 19-year-old Charlie Hill in 2008. However, after four years, their relationship soured, and Hill sued his former lover over claims that he was forced to be a worker in addition to a boyfriend. The courts eventually dismissed the lawsuit. 
It's unclear if Claridge is dating anyone, and her Instagram profile has not been updated since 2016, so it seems she is living her life outside the spotlight. Despite a scandalous divorce and post-relationship, the couple has moved on, and it's likely for the best.