Why Mark Wahlberg Nearly Passed On The Film That Skyrocketed His Acting Career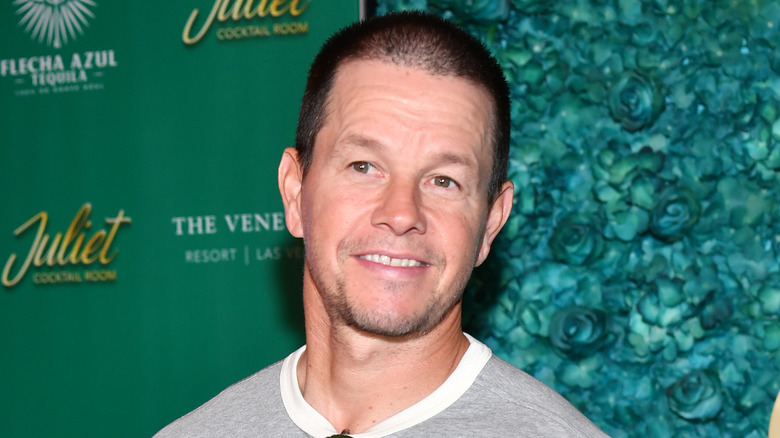 Denise Truscello/Getty Images
It only takes one pivotal role to change an actor's life forever. For instance, Mark Wahlberg, who got his start in the rap group "Marky Mark and the Funky Bunch" almost turned down the leading role in Paul Thomas Anderson's 1997 film "Boogie Nights." Thankfully for him, he took the leap — and it was this project that catapulted him to leading man status in Hollywood.
In "Boogie Nights," Eddie Adams (played by Wahlberg) transforms into the one and only "Dirk Diggler," climbing the ranks of the 1970s porn industry in Los Angeles. When the film hit theaters, it received an R rating for its abundant sex scenes and depictions of drug use. It was also designated an instant classic, receiving universally positive reviews. 
For Anderson, scriptwriting and casting are more or less the same. In an interview with Charlie Rose, the "There Will Be Blood" director revealed that he usually writes parts for his actor friends, or sometimes other creatives he admires from a distance. However, Dirk Diggler wasn't initially intended for Mark Wahlberg. In fact, Anderson joked that Wahlberg came off as arrogant and rude in their first meeting, recalling, "I said, 'So, you know, have you read the script?' And he said, 'Well, to be honest, I've only read 30 pages.'" Wahlberg wasn't immediately sold on Anderson, either — afraid of being typecast as a guy in his underwear rather than a serious actor, he almost passed on the role.
Mark Wahlberg didn't want to be overly sexualized in Boogie Nights
Before he started acting in the late '90s, Mark Wahlberg was an established rapper and model. He'd worked with Kate Moss on a famous Calvin Klein underwear campaign — allegedly, it was a pretty uncomfortable photo shoot for Moss — and often appeared shitless in music videos and album covers. "When I first heard about the film and the subject matter, it was not appealing to me," the "Good Vibrations" rapper remembered in a conversation with Cigar Aficionado. "I came from the whole Marky Mark thing, pulling down my pants, Calvin Klein underwear — I just didn't know if this was just, like, the next level of exploiting me, and all of a sudden we're going to lose the underwear," he continued.
Ultimately, after meeting with Anderson and talking about the script in depth, Wahlberg decided to sign on to the project. This was largely due to the immensely talented people who were also rumored to be involved — Burt Reynolds was eventually cast as one of the leads, but Robert DeNiro and Sean Penn were also in talks to star. In the beginning, Mark Wahlberg knew that "Boogie Nights" would either be a total hit or a catastrophic miss, telling Kevin Hart on an episode of his talk show "Hart to Heart" that he understood the premise wouldn't appeal to everyone. Ultimately, the movie was a total success, and Wahlberg's star skyrocketed. 
Another A-list actor passed on Boogie Nights first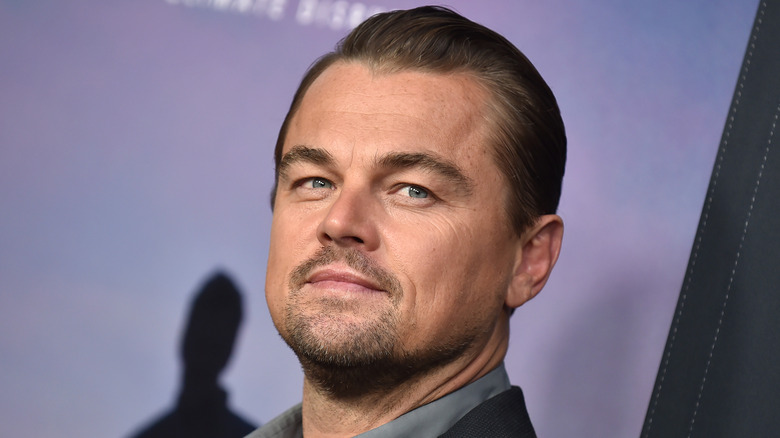 DFree/Shutterstock
Before Paul Thomas Anderson offered Wahlberg the leading role in "Boogie Nights," he envisioned Leonardo DiCaprio as the one and only Dirk Diggler. ​​"[DiCaprio] spent many, many months agonizing and debating about it," the award-winning director explained on the "Smartless" podcast in 2022. While DiCaprio was interested, scheduling conflicts meant he had to choose between Anderson's project or "Titanic," and we all know how that went. Oddly enough, Wahlberg was also considered for the role of Jack in James Cameron's epic 1997 romance, he shared on "The Late Late Show With James Corden." Hollywood today would be a very different place if "Marky Mark" had been the one to scream, "I'm the king of the world!"
While "Titanic" made Leonardo DiCaprio a household name, Anderson revealed on the "Smartless" podcast that DiCaprio wishes he could have been involved with "Boogie Nights." As Anderson puts it, "It would have been a different direction, careerwise." DiCaprio admitted as much himself, saying in a 2008 GQ interview, "I think they're both great and wish I could have done them both." Ultimately, it was Leonardo DiCaprio who recommended Mark Wahlberg to Paul Thomas Anderson. Looks like that worked out well for both stars!