Kate Vs. Meghan: Who Wore It Worst? Fans Weigh In On Their Similar Outfits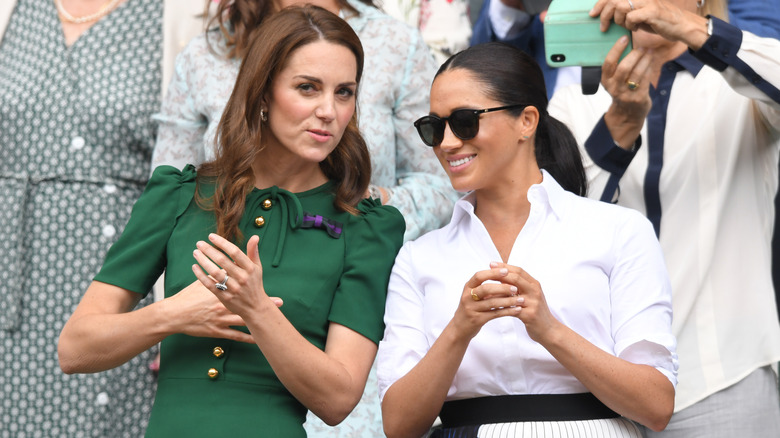 Karwai Tang/Getty Images
The royal family has long been associated with fashion. From Queen Elizabeth's handbags and hats to Princess Diana's couture gowns, fans of all things Buckingham Palace have always watched to see what new and fabulous items they can admire and emulate. 
When Kate Middleton entered the picture as the girlfriend, future wife of William, Prince of Wales, royal fashion entered a new stratosphere. With her pulse on young and fresh designers, there was so much more to see. Then, Prince Harry introduced Meghan Markle as his love interest, and an extra element was added to the mix.
Not only are they married to royalty, but the sisters-in-law also share an interest in fashion. However, each has her own individual style, frequently sparking debates that compare and contrast their wardrobe choices. Royal watchers are often divided on their opinions, especially when the Princess of Wales and the Duchess of Sussex turn up at different events wearing outfits that mimic what the other wore.
The classic wool camel coat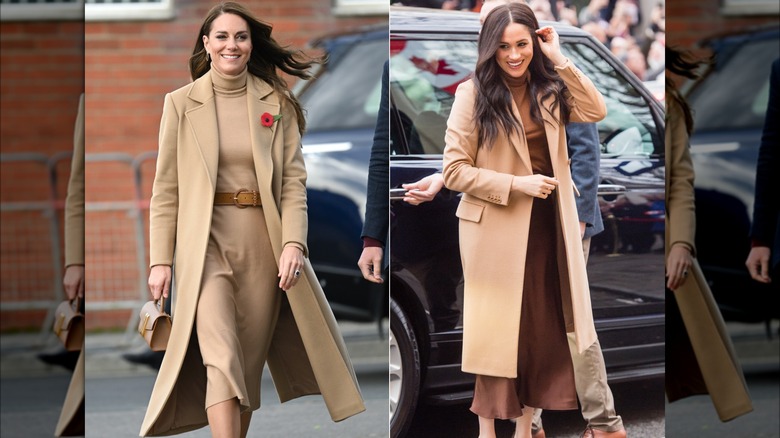 Karwai Tang & Samir Hussein/Getty
London gets chilly in the winter months, and Kate Middleton and Meghan Markle have both shown they're stylishly prepared for the season by donning a variety of coats and jackets. The wool camel coat has always been a staple in many fashionistas' wardrobes, and the sisters-in-law each have at least one of their own. The Princess of Wales' long, sleek coat is from Max & Co, while the Duchess of Sussex's shorter, double-breasted version is from Stella McCartney. 
In a survey conducted by Nicki Swift, fans shared their opinions on who wore it worst — and it's definitely Meghan who gets the vote for least favorite camel coat wearer. "No comparison! Kate is royal, Meghan looks like she has walked out of the charity shop!" commented one person. Another noticed the shorter length of the sleeves and hem, observing, "Meghan looks like she's out grown [sic] her coat." Taking in the whole outfit, an individual shared, "Meghan looks sort of thrown together."
As for kudos for Kate, commenters were generous with their praise. "Princess Catherine, always beautiful," wrote one, while another enthused, "The QUEEN-IN-WAITING NEVER missteps!!!!!" Others liked how the princess paired her coat with the outfit underneath. "Kate looks [fire emoji]. I love the mono camel with the tan belt!"
The monochromatic red pants outfit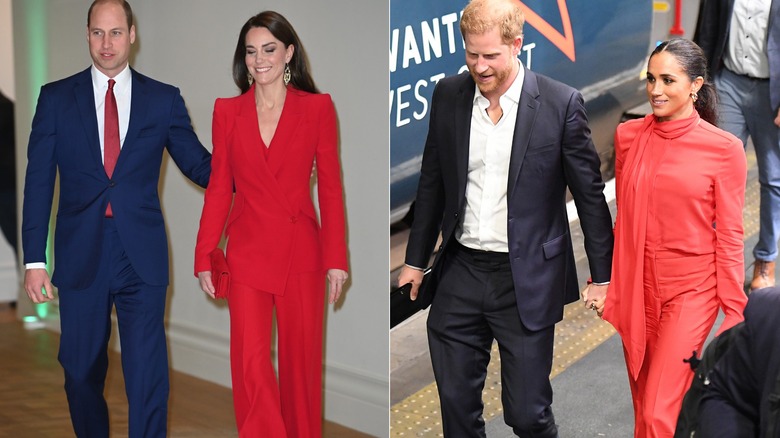 Mega & Wpa Pool/Getty
While dresses are often de rigueur for most formal occasions, both Kate Middleton and Meghan Markle have been known to change things up by wearing pants when the event allows for a little more leeway. The Princess of Wales tends to favor pairing her trousers with blazers or suit coats, while the Duchess of Sussex has worn hers with a variety of tops. Kate's red pantsuit is from Alexander McQueen, and Meghan's matching pants and blouse are from Another Tomorrow. 
When Royal Family News asked fashion fans which sister-in-law wore their monochromatic red pants look the worst, the Duchess of Sussex once again lost the battle. "Worst? Meghan hands down. Princess Kate looks amazing," opined one person. Another commented on the style, saying, "Meg's looks like a Granny outfit." And several others pointed out what appear to be wrinkles in Meghan's outfit. "Markle is always a wrinkly mess no matter what she wears," was one comment, along with, "always looks as if she's slept in her clothes." 
The Princess of Wales' red pantsuit was much more to everyone's liking. "She seems to have her looks curated properly to her," noticed one fan. "No comparison needed... Princess of Wales every time, a true Lady in Red," shared another. Kate herself seemed to be a fan of the outfit, pulling the matching asymmetric jacket and trousers out of her closet to wear a second time at King Charles' Coronation Concert.