The Truth About Kate Middleton And Meghan Markle's Relationship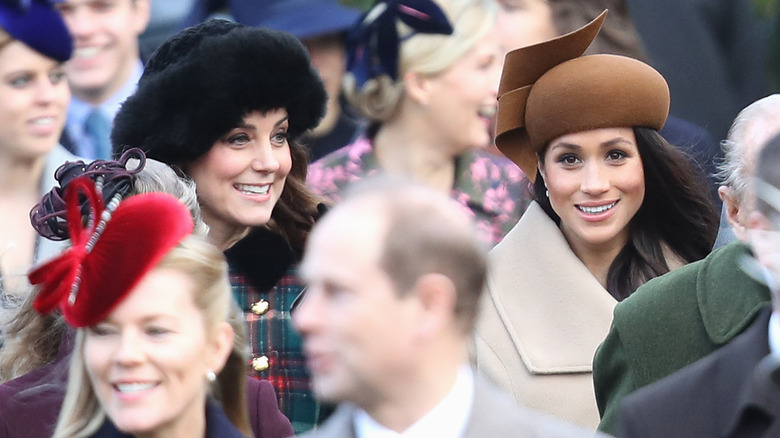 Getty Images
Kate Middleton and Meghan Markle became sisters-in-law when the former Hollywood actress tied the knot with Prince Harry on May 19, 2018, effectively bumping Middleton's 2011 wedding to Prince William out of recent memory. However, Middleton and Markle had started getting to know one another back during the days of Markle and Harry's headline-making engagement, and they've no doubt only continued to learn more about one another as they've attended royal events together and grown their respective families.
But how close are they really? After all, it's not exactly common to forge a friendship while leading lives in the spotlight and keeping up with royal traditions. Let's take a closer look at the royal women's bond, and figure out the truth about how these two duchesses really feel about one another. We have a suspicion that there's more than meets the eye when it comes to Kate Middleton and Meghan Markle's relationship.
Sneaky secret get-togethers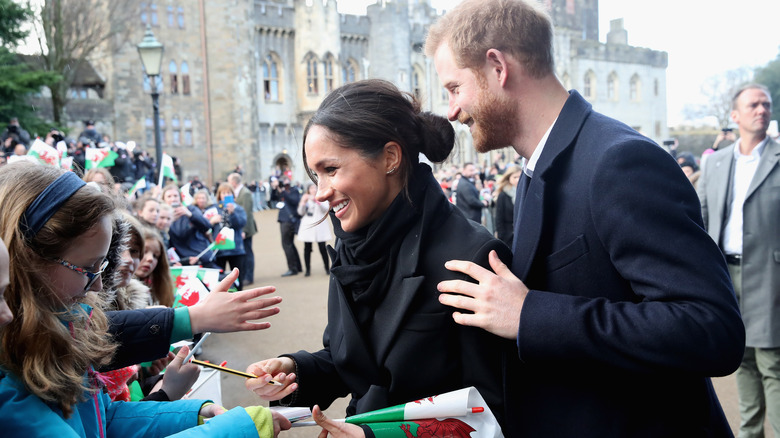 Getty Images
It can be hard to get out of the house unnoticed with press and paparazzi trying to grab a photo everywhere. Yet, luckily for Prince Harry and Markle, that wasn't an issue when it came to spending time with Prince William and Middleton.
The brothers are neighbors, which makes secret get-together events way easier to plan. Prince Harry and Markle opened up about this during an interview with BBC, sharing that Harry's big brother and sister-in-law had been very welcoming to Markle after they'd made their relationship official. Markle described her new sister as "wonderful" throughout this process.
Meghan is in with the other Middleton sister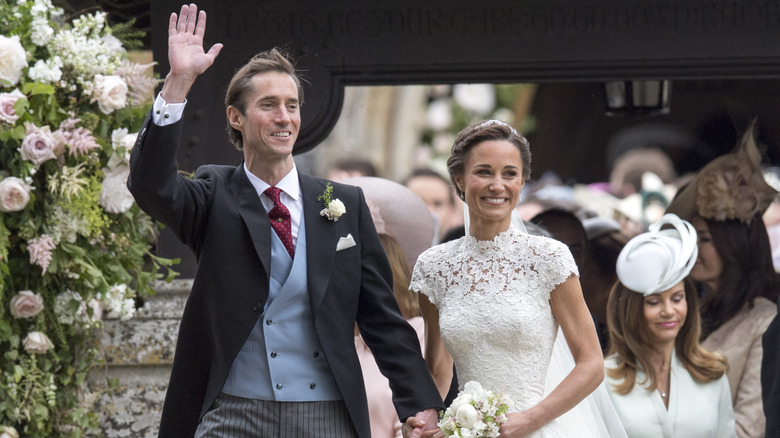 Getty Images
One easy way to form a deeper friendship with someone is by getting along with their friends. One of Kate Middleton's best friends is her sister, Pippa, so it should come as no surprise that Markle was on-hand to support Pippa on her big day. On May 20, 2017, Markle was spotted with Prince Harry attending Pippa Middleton's wedding celebration.
This was a big moment for Markle. First of all, as Us Weekly reported, this was the first event she attended with the royal family. Secondly, Prince Harry proved just how much he wanted her to be there for the celebration. Because Markle couldn't attend the ceremony, Prince Harry drove 100 miles round trip to make sure Markle made it in time for the reception. Good thing that Prince Harry was devoted to making sure she was there for the celebration; it was a perfect opportunity for Markle to bond with those Middleton ladies.
Their first photo-op sparked a family holiday tradition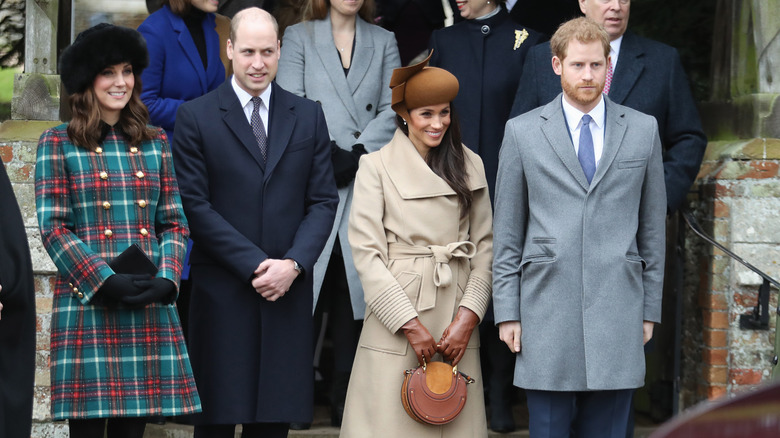 Getty Images
Christmas 2017 was an exciting time for Meghan Markle, who spent the holiday with Prince Harry and her future family for the first time. As a source shared with Us Weekly, "Given that Meghan doesn't have family in the U.K., it's only right that she spends Christmas with Harry and his.... Harry asked the queen for permission last month and she is delighted to have Harry bring his fiancée. It is a family occasion, after all, and Meghan is very much family now."
Markle joined the family as they took part in traditions, attending the church service and joining them for lunch. The holiday also allowed Markle to bond with Middleton. As the magazine reported, Prince Harry and Markle stayed with Prince William and Middleton, giving the future sisters more time to get to know each other. And this was just the first year. In time, we're sure that Middleton and Markle will create their own traditions together.
Kate understands how overwhelming royal life can be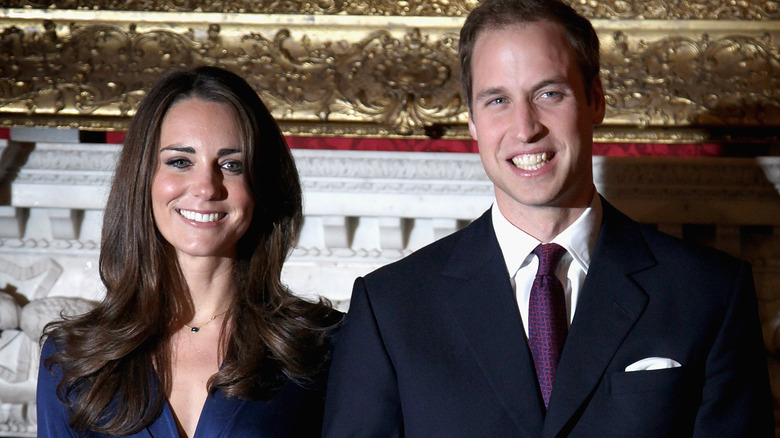 Getty Images
Markle is familiar with being in the spotlight from her time as an actor, but being a part of the royal family is a whole new level of fame and attention. As she geared up for her royal wedding, she had to make adjustments in her life that Kate Middleton similarly had to make in the past.
As a royal insider shared with Hollywood Life, as shared by an article that's since been deleted, "Kate has taken Meghan under her wing and has offered her support and the promise of plenty of advice to help her adjust to her new life. Kate knows better than anyone how overwhelming and challenging it can be to make the transition into being a member of the royal family, and she's vowed to assist Meghan in any way she can." Now that's a good sister.
Meghan is "trendy," Kate is "traditional"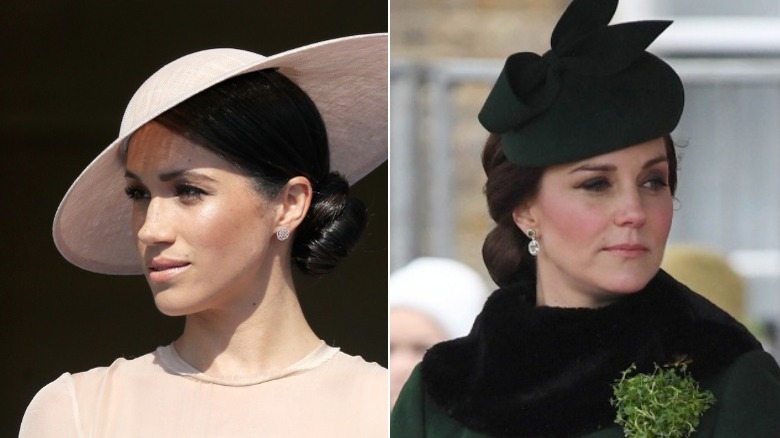 Getty Images
It's a little obvious looking at Middleton and Markle that their clothing styles are a bit different. While Middleton has a more traditional, British look, Markle goes for a contemporary, trendy style. Both women own their styles, looking fabulous in every outfit they pick.
And while the overall looks have major differences, the effect of these clothing choices is pretty similar. As Business Insider reported, Middleton's fashion picks have led to the "Duchess Effect." When Middleton wears a certain piece of clothing, it immediately sells out.
And sister-in-law Markle has had a similar effect. In fact, it's called "The Meghan Effect." When Markle wore a coat by designer Line during her engagement announcement, so many people tried to buy the coat that the designer's website crashed, as Business Insider shared.
Kate to Meghan: Don't sunbathe topless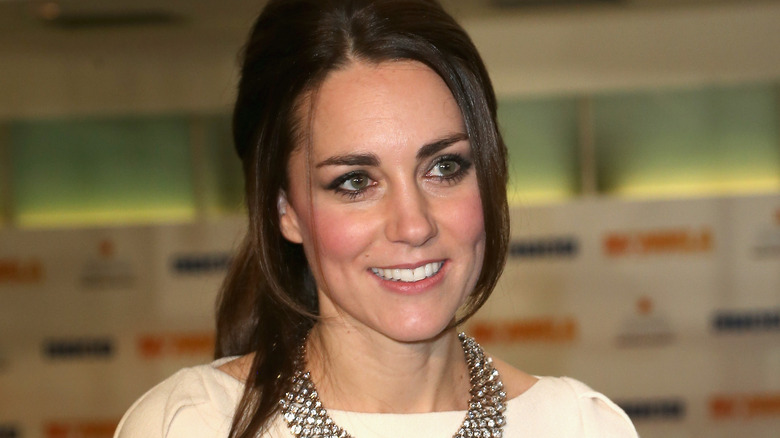 Getty Images
Over time, Kate Middleton had to learn lessons about being a royal the hard way.
In 2012, the new Duchess experienced a major invasion of privacy when photos were published of her sunbathing topless. She and Prince William later sued French magazine Closer for publishing the photos. According to Vogue, the Duchess and Prince William were finally paid for damages in 2017, receiving 100,000 euros. The couple learned a lot from this experience, giving focus to their desire for privacy in their lives. It's a lesson Meghan Markle may have learned from, too, as she embarked on her future with Prince Harry.
Kate wasn't a bridesmaid for Meghan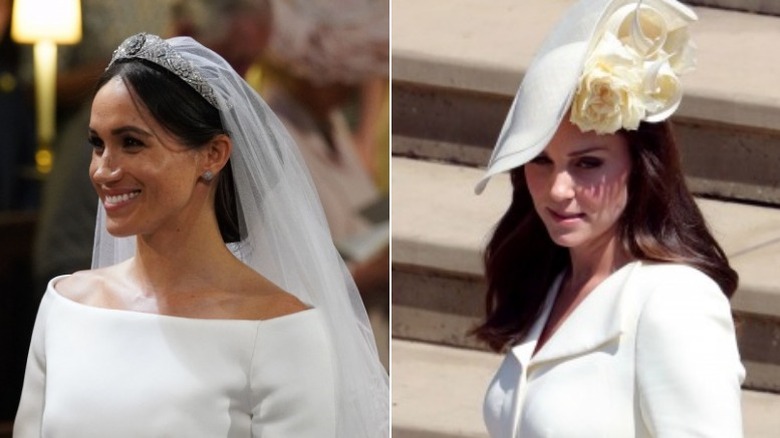 Getty Images
When Markle's wedding planning began, many wondered about Middleton's possible role in the ceremony. In the end, Middleton wasn't a bridesmaid. But no worries — that didn't mean Markle didn't want Middleton in the wedding. In fact, it just goes back to tradition.
As royalty expert Marlene Koenig shared with Town & Country, "Most royal brides do not have adult bridesmaids.... It would be unusual for a royal bride to have a woman in her late 30s as a maid or matron of honor. The Duchess of Cambridge having her sister, Pippa, was unusual." Instead, Markle's wedding party consisted of ten children, including Prince George and Princess Charlotte. 
Can they ever really bond?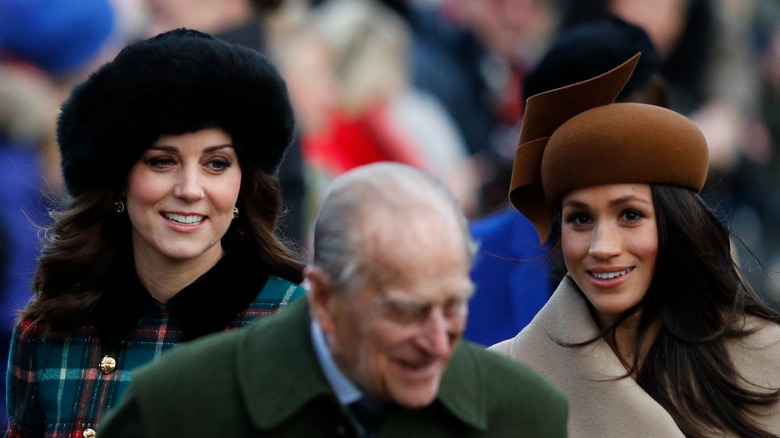 Getty Images
Kate Middleton and Meghan Markle have some major differences. As Business Insider points out, while Middleton and Prince William met when they were young in school, Prince Harry and Markle did not meet until they were already in their 30s. While Markle has been married previously, Middleton's marriage to Prince William was her first. And when it comes to careers, Middleton does not have acting credits, while her royal sister-in-law made a living in front of the cameras.
So, how could women who are so different create a close bond? It actually might not have been that hard. While Prince Harry is Prince William's younger brother, Markle is actually the same age as Middleton. And it's not just their age that might help bring them closer together. Once they spend more time together, we're sure they'll realize just how much they have in common (far more than their age, we can assure you). For instance...
Future friends forever?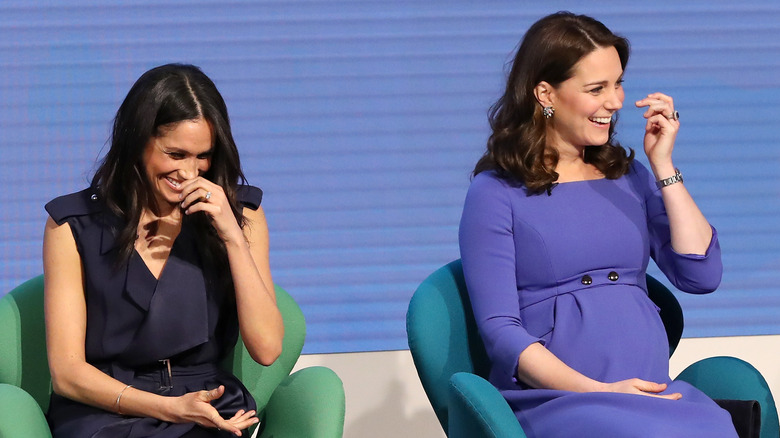 Getty Images
Hollywood Life spoke with a royal insider, who shared how the two women are actually similar. Both Markle and Middleton love the countryside, proving that they'll be perfect neighbors for each other.
What else do they have in common? According to this source, they both love to give of their time to help others and are interested in fashion. The source continued, saying, "Meghan and Kate clicked immediately, they share a very similar sense of humor and they're both super sweet and kind people." 
Only time will tell if these two women become close friends, but maybe there's a pretty good chance.
Their kids could bring them closer together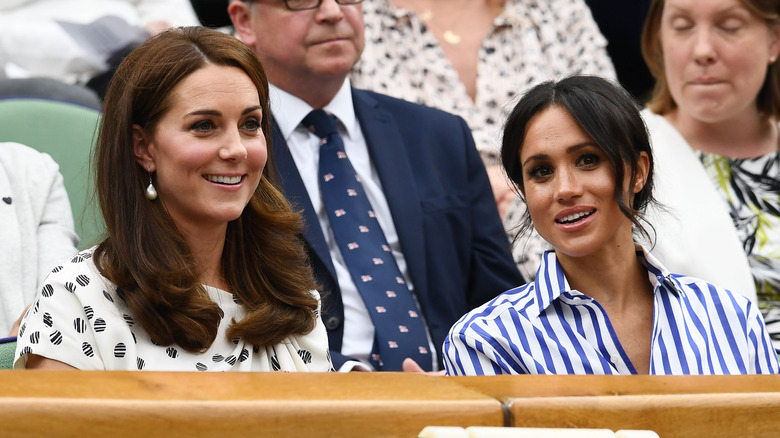 Getty Images
On Oct. 15, 2018, Kensington Palace announced that Meghan Markle and Prince Harry were expecting their first child together. And, as could be expected, many people freaked out — with even celebrities getting in on the news by sharing their thoughts on the pregnancy. Of course, Prince William and Kate Middleton also commented on the exciting announcement, as a spokesperson for the royal family revealed that they were "delighted" to learn of Harry and Markle's future as parents (via The Telegraph).
Fortunately for Markle and Harry, William and Middleton are pros at the whole parenting thing, having three little ones of their own: Prince George, Princess Charlotte, and Prince Louis. Markle will, of course, be able to ask Middleton for advice during her pregnancy and long afterwards, as she adapts to her new role as a mother. And we suspect that the two will be able to bond over their respective parenthood journeys, especially when they see their kiddos playing with one another in the future.