The Time Ivanka Trump And Chelsea Clinton Came To Malia Obama's Defense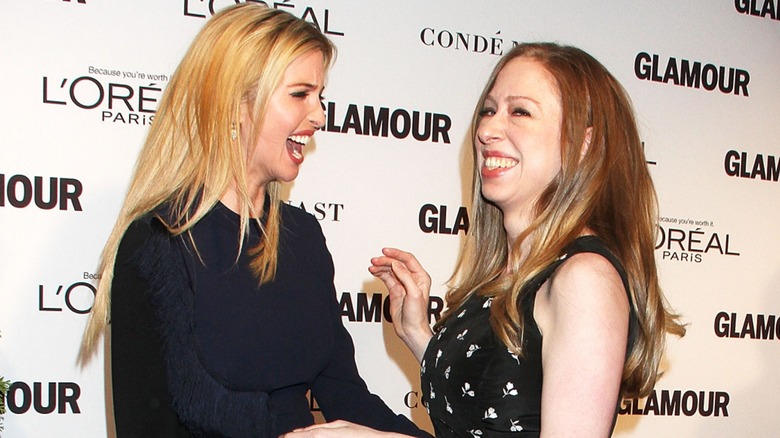 Laura Cavanaugh/Getty
Looks like Ivanka Trump and Chelsea Clinton found something they can both agree on. While their parents have all had their differences, their daughters have one thing in common: occupying the tricky, often complicated position of first daughter. During Malia Obama's high-profile freshman year at Harvard University, Trump and Clinton took to Twitter to send everyone an important message — back off. In 2017, Obama was spotted smoking and making out with a classmate while tailgating at the Harvard v. Yale football game, which made headlines on TMZ and other such news sites.
When the photos first leaked, rumors swirled as to who Malia Obama's boyfriend could be, prompting Trump and Clinton to defend Obama's right to a private life. While none of the women are friends — Chelsea and Ivanka stopped speaking after the 2016 election — they seem to have a level of respect for each other, and empathy for others in their position.
First daughters squad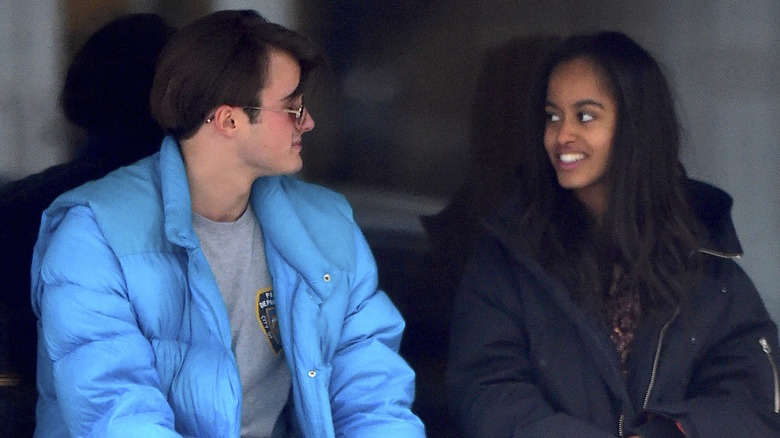 Alo Ceballos/Getty Images
When Malia Obama's college experience was being highly publicized for all to see, Chelsea Clinton and Ivanka Trump were having none of it. Ivanka tweeted: "Malia Obama should be allowed the same privacy as her school aged peers. She is a young adult and private citizen, and should be OFF limits." 
Chelsea's tweet was surprisingly similar: "Malia Obama's private life, as a young woman, a college student, a private citizen, should not be your clickbait. Be better." Notably, they both point to Malia's status as a private citizen, which is probably something they can both relate to. Malia didn't choose to be a public figure — her father did. His fame should not interfere with her personal decisions. Unfortunately, that seems to be the last time Ivanka had Malia's back. When Malia was caught drinking wine with her friends in 2019, Trump's silence was palpable. Even though Chelsea reiterated her stance on Malia's right to privacy on X, formerly known as Twitter, Ivanka stayed tight-lipped on the matter.
Chelsea and Ivanka weren't the only first daughters to show their support. The daughters of former president George W. Bush, Jenna Bush-Hager and Barbara Bush, wrote an open letter for the Obama sisters in 2012, published in Time. "Enjoy college," they wrote. "As most of the world knows, we did. And you won't have the weight of the world on your young shoulders anymore. Explore your passions. Learn who you are. Make mistakes — you are allowed to." 
Malia Obama's rise from scandal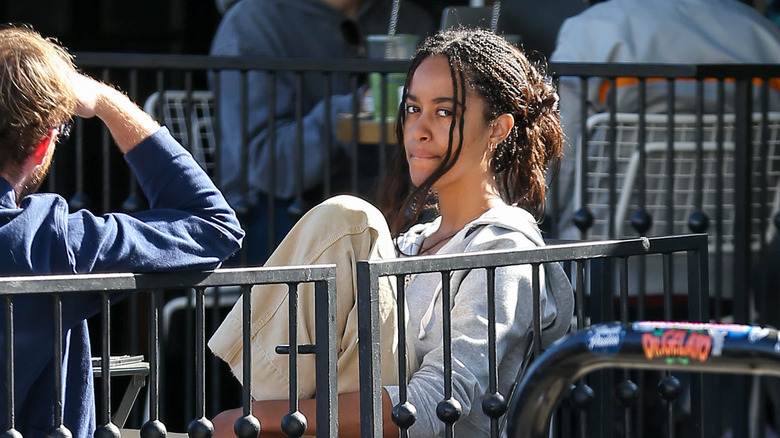 Bellocqimages/bauer-griffin/Getty Images
Since the scandals that plagued her college experience, Malia Obama has been forging her own career in Hollywood. She graduated from Harvard in 2021 and seems to be drawn to showbiz. In fact, she's already starting to make a name for herself by becoming Donald Glover's protégé. She worked as a writer on his hit Amazon Prime show, "Swarm," co-writing the fifth episode, "Girl, Bye." And she isn't stopping there — Gilga, Glover's new production company, is set to produce her first short film, which will also happen to be the company's first project. This will be her first time in the director's chair, but Glover is committed to preparing her. In an interview with GQ, he said: "The first thing we did was talk about the fact that she will only get to do this once. You're Obama's daughter. So if you make a bad film, it will follow you around."
Obama is used to scandal following her around. If her past experiences with the media are any indication, though, she will continue marching to the beat of her own drum regardless.