Why Snoop Dogg Doesn't Get Involved In Martha Stewart's Love Life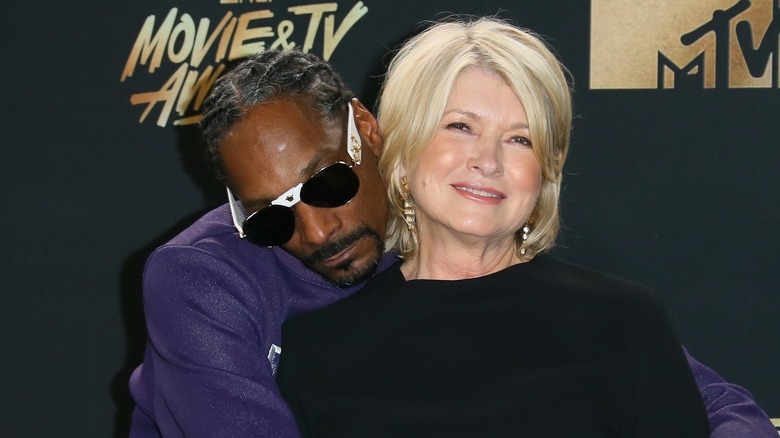 Jb Lacroix/Getty Images
As far as celebrity friendships go, Martha Stewart and Snoop Dogg probably have the most unlikely — it even rivals Barack Obama's unexpected bond with Bruce Springsteen. Stewart and Snoop met in 2008 on an episode of her cooking show, hit it off while making mashed potatoes, and have remained a dynamic duo ever since. "When you work with someone like Snoop, it's like having a sidekick. How great it is," the television personality told People. 
Over the years, the pair have teamed up to co-host cooking shows and the annual Puppy Bowl. They even participated in the memorable Comedy Central Roast of Justin Bieber. What's more, Snoop says Martha Stewart is the inspiration behind his ice cream brand, Dr. Bombay. "She was always explaining to me about being in different department stores, having a cookbook, expanding my business, doing different things to diversify my portfolio," he told TMZ. "She showed me how to excel at what I'm doing."
Although they've gotten to know each other pretty well since 2008, there's one thing Snoop Dogg won't get involved in: Martha Stewart's love life. "She's picky," he explained in a conversation with Insider. Here's what else we know about why dating is an off-limits conversation for the long-time friends and collaborators.
Snoop Dogg thinks Martha Stewart deserves the best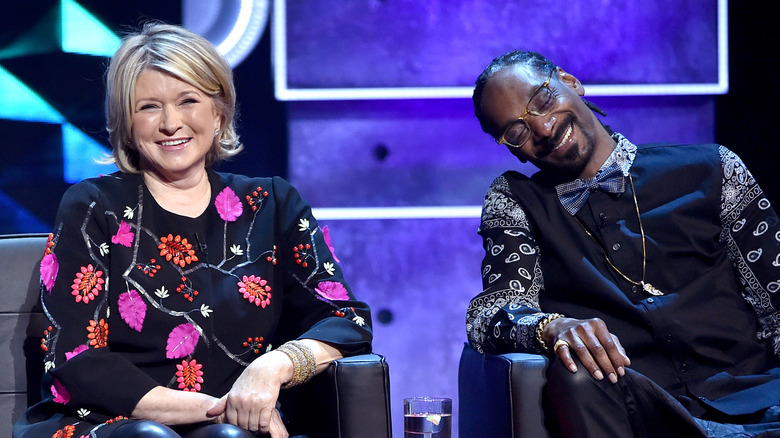 Kevin Winter/Getty Images
According to Snoop Dogg, not many people are good enough for Martha Stewart. "I wouldn't dream of trying to set her up unless I met a f***ng trillionaire, he told Insider. "I don't want that on my record that I brought somebody that she can't stand. No way." Stewart may have never dated a "trillionaire," but she was in a long-term relationship with billionaire Charles Simonyi for 15 years — they even stayed together throughout her prison stint in the early 2000s. Before dating Simonyi, the TV personality was married to publisher Andrew Stewart (hence her last name). They were together for several decades and share a daughter, Alexis.
Believe it or not, another of Martha Stewart's exes is Hannibal Lecter himself, actor Anthony Hopkins. Suffice it to say, their relationship didn't work out — she's yet to incorporate a fava beans and liver recipe into one of her cookbooks. These days, the business mogul will sometimes find herself attracted to her friends' husbands. "It's very difficult because I think there are certain ages we go through where it's very tempting because you wanna believe that 'Oh, maybe this relationship that they're in is temporary,'" she explained on a 2022 episode of "Dear Chelsea." 
As of late, Martha has been "thirst-trapping," according to her BFF, Snoop Dogg. "I said, 'Martha, you playing games right now,'" he told Insider, referring to her famous May 2023 Sports Illustrated cover in which she posed wearing a swimsuit.
Snoop Dogg's relationship with Martha Stewart is strictly platonic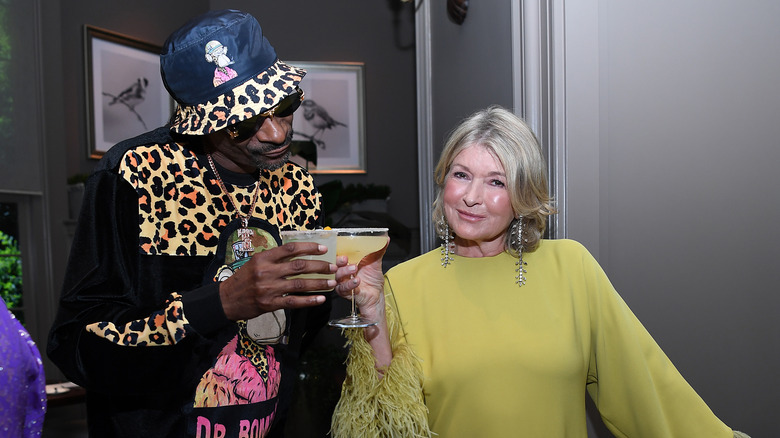 Denise Truscello/Getty Images
When he does come across a Martha Stewart "thirst trap" on Instagram, Snoop Dogg says he scrolls away. "That's a lane we both stay out of," he clarified, per Insider. Despite hopeful fan speculation, their relationship has always been platonic. In an interview with "Good Day New York," Martha Stewart noted that, although Snoop is "very attractive," she's not interested in him romantically (via the Daily Mail). "We have to have to have a professional relationship," she added. Still, the TV personality and cookbook mogul appreciates everyone's interest in their connection. "I think it's just that we're an odd pair and people like contrast," she speculated to Us Weekly.
Snoop Dogg has been married to his high school sweetheart, Shante Broadus, since 1997. Martha, meanwhile, is fielding Instagram DMs. "I've gotten a few inquiries. Just a couple," she told Entertainment Tonight. As for dating apps, they haven't worked out well for her in the past, and Martha Stewart isn't looking for a serious romance any time soon. When she does find a man, however, she'd like him to have a boat, a plane, or even a helicopter. It's important that her future Mr. Right can keep up; Martha is a millionaire herself, after all. Although a Snoop and Stewart "friends to lovers" arc would certainly make for a good story, don't count on the pals ever crossing that line.