How Julie Chen And Leah Remini Salvaged Their Friendship After Their Messy Feud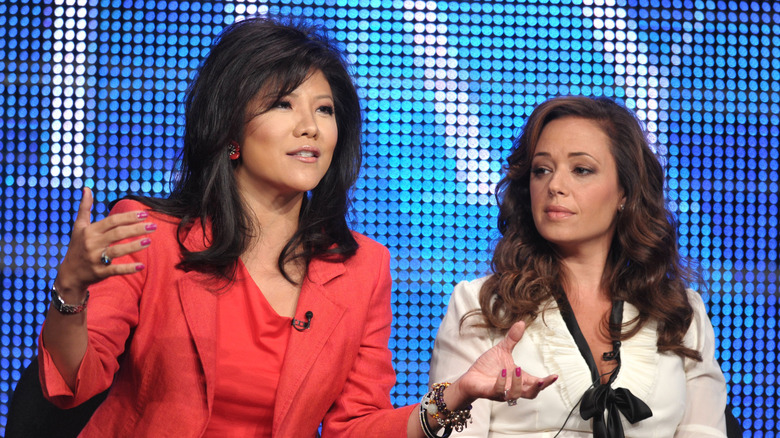 John Shearer/Getty Images
Julie Chen is an Emmy-award-winning journalist who has moved seamlessly between the worlds of reality and talk show television. She abruptly left "The Talk" in 2018, after her husband and CEO of CBS Les Moonves was accused of sexual misconduct. While Chen ended her tenure on the series after eight long seasons, it turns out that her time was almost cut short — thanks to two of her cohosts.
In her 2023 audio memoir "But First, God," Chen disclosed that differences between the women led to secretive conversations with showrunners. While the "Celebrity Big Brother" host was on vacation from "The Talk," Leah Remini and another cohost — who she didn't name — went to producers behind her back. The betrayal was especially hurtful as Chen considered Remini a close friend at the time.
"We were buddies. We were, like, going on vacation together," Chen revealed in "But First, God" (per Insider). "And when she went to the network with this request, I felt betrayed," she added. "I completely iced her out and we didn't talk for years. It took almost a decade."
Leah Remini tried to get Julie Chen booted off 'The Talk'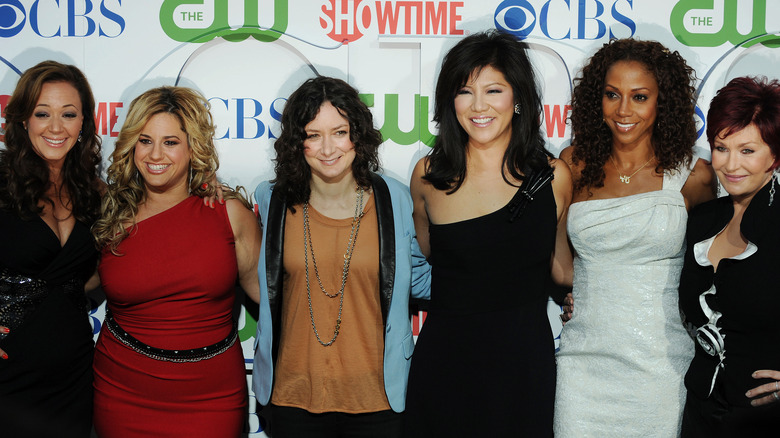 Jeffrey Mayer/Getty Images
While similar shows such as "The View" have had several on-air arguments that went too far, it appears that the drama on "The Talk" occurred off-camera. Chen opened up about her unfavorable treatment on the show in her audio memoir "But First, God." At the time of the betrayal, Chen said that she faced stress from CBS producers as the lead moderator. She was the only host who wore an earpiece, essentially steering the conversation according to what showrunners wanted to see (via New York Daily News).
Upon returning from vacation, Chen described the tension she felt with Remini and her cohosts. "I remember coming back and the room was very, very icy," Chen wrote in "But First, God," per Insider. "... My cohosts, while I was away, went to the network and said, 'We can't work with Julie anymore. She's too uptight, she's not one of us. If she stays, we go.'"
Eventually, Remini ended up being the one who left "The Talk" after Season One. The "King of Queens" actor went on to pick up more television roles and never returned to the Emmy award-winning talk show. Chen shared that she was devastated by the betrayal and that her friendship with Remini ended and would not be repaired for over a decade as they went their separate ways.
Julie Chen eventually forgave Leah Remini after running into her husband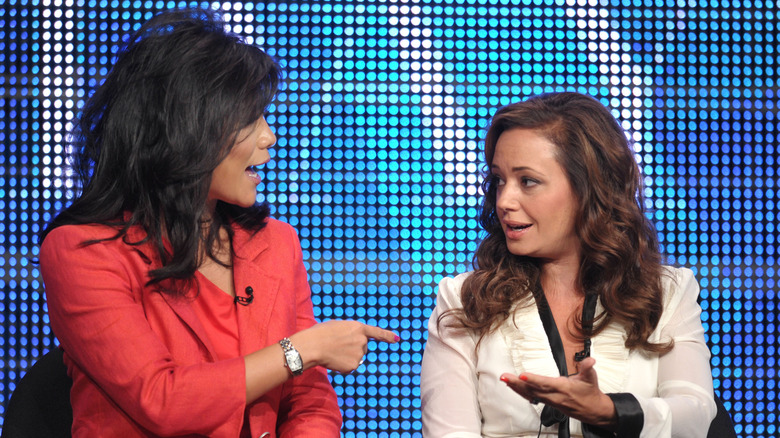 John Shearer/Getty Images
After nearly 10 years without speaking, Julie Chen experienced what she considers divine intervention. She spotted Leah Remini's husband at a party and asked him for her ex-cohost's phone number. Remini had attempted to apologize shortly after the feud, but Chen couldn't stomach the apology at the time. "I was too hard-hearted to accept it," she admitted of the failed apology in "But First, God" (per People).
After getting ahold of Remini's number, Chen felt compelled to call. She credited this new spirit of forgiveness to her strong relationship with God. "So I called her, she answered. We laughed. We buried the hatchet," Chen said in her audio memoir. "And today, we're probably closer than ever."
After healing their friendship, Remini has been fierce in her protection of Chen. In 2021, Remini called out racist remarks made by Sharon Osbourne towards Chen and other "The Talk" cohosts. In an exclusive interview with journalist Yashar Ali on The Reset, Remini said that she wished she had spoken up about the racism and homophobia her co-hosts faced earlier. "Not only did I do nothing about the racism and bullying I was receiving and witnessing, I was party to it. I had to own up to my own ugly," Remini admitted.