The Permanent Mistake Jenna Bush Hager Almost Made After A Nasty Breakup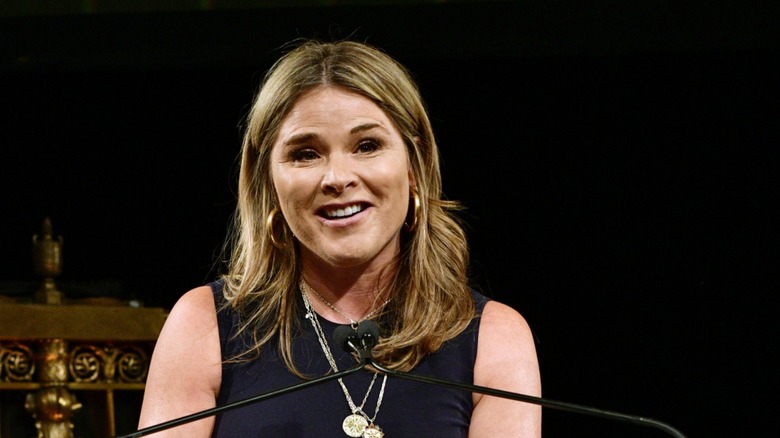 Eugene Gologursky/Getty
The amount of time it takes to actually get over a breakup can differ depending on various factors. But one thing is certain: It's never a good idea to make an impulsive decision right afterward. Jenna Bush Hager almost made one mistake that's hard to fix after a nasty breakup — she almost got a tattoo.
Hager and her "Today with Hoda & Jenna" cohost Hoda Kotb discussed Sofia Vergara and Joe Manganiello's divorce on the September 21, 2023 episode of the show. Then, they talked about how they cope with bad days. Hager admitted that she used to hide how she was truly feeling and go partying with her friends when she was heartbroken, saying, "I think forcing yourself to put on something for other people is a waste of energy."
She also described how, during a particularly bad heartbreak, her friend Tracy convinced her to stop moping and to go out with her. "And we went out and we danced," Hager said, "and then I almost got 'Survivor' tattooed onto my back."
Some thought Jenna Bush Hager did have a back tattoo in 2022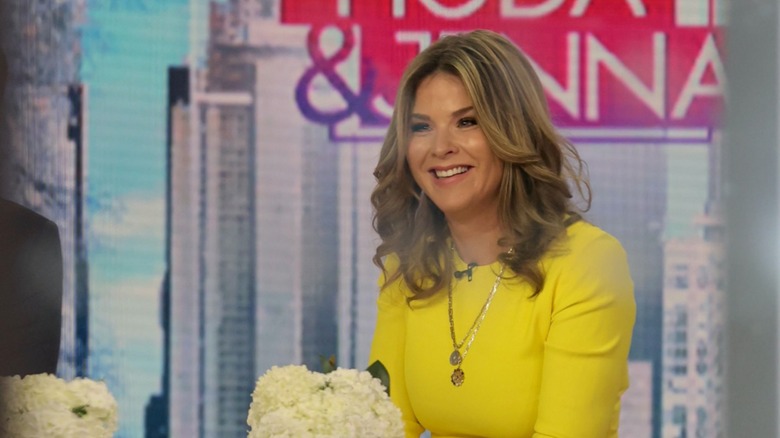 Jose Perez/bauer-griffin/Getty
Hoda Kotb was shocked at the news of Jenna Bush Hager's potential tattoo, and the "Today" studio audience laughed. Hager explained the reason for the tattoo was because of the Destiny's Child song of the same name. Notable lyrics in the song include, "I'm a survivor / I'm gonna make it / I will survive / Keep on survivin'," which is definitely a great mantra to have post-breakup, even if you don't get it permanently placed on your skin.
Hager was relieved that the tattoo parlor she and her friend Tracy went to that night was closed, or else she would've gone home with fresh ink. Some eagle-eyed "Today" show fans thought Hager might have a secret back tattoo in April 2022. In a clip posted to Instagram when she and Kotb danced to the stage, there's a point in the video when Hager is facing away from the camera. The tattoo in question some commenters asked about was nothing more than the wires on her microphone pack.
Today, Jenna Bush Hager and her husband have a strong relationship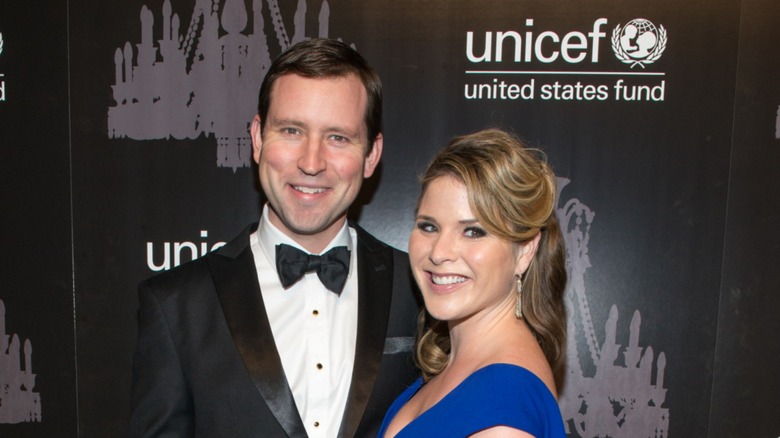 Mike Pont/Getty
Jenna Bush Hager did survive her past breakups, but she doesn't need the tattoo to prove it. The evidence of her resilience is shown in her happy marriage to Henry Hager and the three children they share together. The course of Jenna and Henry's relationship had its complications — including Henry's car accidentally rolling into a Secret Service car right behind them, and his not-so-sneaky sneak out of the White House after spending the night with Jenna — but nothing left her heading to the tattoo parlor.
It did not take long for Jenna to know that she wanted to spend the rest of her life with Henry after they got together. Jenna explained that, in a prior relationship, she lied about her hobbies to bond with her boyfriend, and it caught up to her. With Henry, Jenna did not do that.
"I do think one of the reasons why I knew really soon that Henry was 'the one' is that I was completely myself, and he loved it," Jenna told Hoda Kotb in a 2020 episode of "Today with Hoda & Jenna." In an earlier episode, Jenna recounted asking Henry to marry her very shortly after they started dating. They didn't get engaged then, but he officially proposed a few years later.