Count Nikolai Of Denmark: 13 Facts About The Royal And Model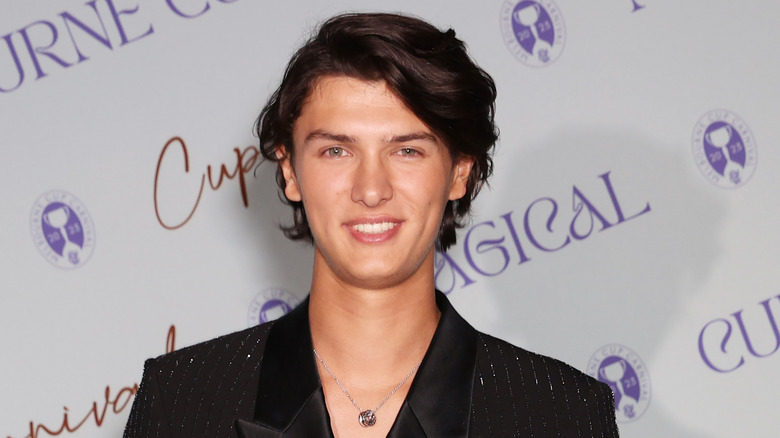 Don Arnold/Getty Images
Count Nikolai of Monpezat, who was born a Prince of Denmark, has captured international attention in past years for how he has navigated the twists and turns of being a young royal. His public adoration has only grown since he branched out and kickstarted a career in the fashion industry in which he seems to perfectly embody the glamorous allure of royalty. But being in the spotlight is not new to this young royal. As the oldest of Queen Margrethe II's grandchildren, Count Nikolai of Monpezat has experienced the unique responsibility of learning how to be a young royal in the modern age — all in the public eye. 
However, although he is indeed in the line of succession for the throne of a 1,000-year monarchy in Denmark, Count Nikolai has not been obligated to carry out any royal responsibilities. Instead, he has been given the freedom to explore and choose his own path. Throughout his evolution into the handsome royal we know him as today, Count Nikolai of Monpezat has effectively challenged the norms that we have come to expect from young royals. As he continues to find his way, Count Nikolai joins the likes of other forward-thinking young royals such as the Sussexes and Princess Margaret in reimagining what life as a royal can look like in an ever-changing world. 
He is seventh in line for the Danish throne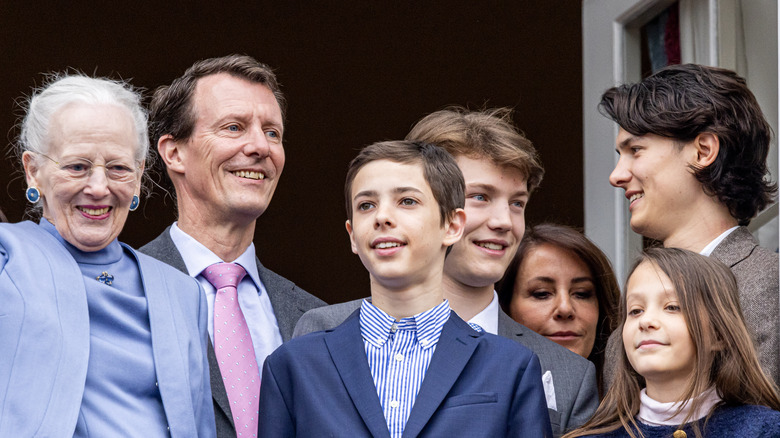 Patrick Van Katwijk/Getty Images
Four years after the youngest son of Queen Margrethe II, Prince Joachim, married the Hong Kong-born Countess Alexandra of Frederiksborg, they welcomed their first son in August 1999. Although he would eventually experience a shift in royal titles, Count Nikolai of Monpezat was born as Prince Nikolai of Denmark. The young prince was Queen Margrethe II's first grandchild and took his place as third-in-line to the Danish throne behind his father and his uncle, Crown Prince Frederik.
However, Count Nikolai's rank started to diminish when Crown Prince Frederik and Princess Mary began having children of their own. Still, Count Nikolai grew up with the grand legacy of his grandmother and the longest-reigning monarch in Danish history, Queen Margrethe II, as an example. Not long after Queen Margrethe II took over the throne from her father, Frederick IX, in 1972, Queen Margrethe II quickly established herself as a royal who was and continues to be fearless in pushing boundaries and redefining what a royal should and shouldn't do. This strong-willed, chain-smoking Queen of Denmark undoubtedly taught her grandchildren, including seventh-in-line Count Nikolai, to confidently make their own choices in life — regardless of what the press or public might say. 
Count Nikolai is well-educated
In addition to his royal title and classic good looks, this Count of Monpezat also has a bright mind. Like many of his royal relatives, Count Nikolai has been a student at multiple prestigious institutions in his home country of Denmark as well as abroad. When beginning his education, Count Nikolai followed in his father Prince Joachim's footsteps by attending a private school in Copenhagen known as Krebs School. Next, he studied at the elite boarding school of Herlufsholm School — an institution that came under intense scrutiny in Summer 2022 for allegations of sexual abuse and bullying. Having graduated from the school in 2018, Count Nikolai himself has not made any public comment that confirms or denies the allegations brought against the school he once attended. However, Count Nikolai's cousin, who is the heir apparent Prince Christian, was pulled from the institution when the scandals emerged.
After leaving Herlufsholm, Count Nikolai split his time between establishing his modeling career and beginning his studies at the Copenhagen Business School. While at the prestigious business university, Count Nikolai pursued a degree in Business Administration and Service Management. In addition to his studies in Copenhagen, he spent one semester abroad in Paris. There, he was able to simultaneously further develop his education while also spending time in one of the fashion capitals of the world. To Numéro Netherlands, Count Nikolai described his time in Paris as "fabulous," noting how he was able to explore both of his passions. 
If you or anyone you know has been a victim of sexual assault, help is available. Visit the Rape, Abuse & Incest National Network website or contact RAINN's National Helpline at 1-800-656-HOPE (4673).
He once broke his school's alcohol rules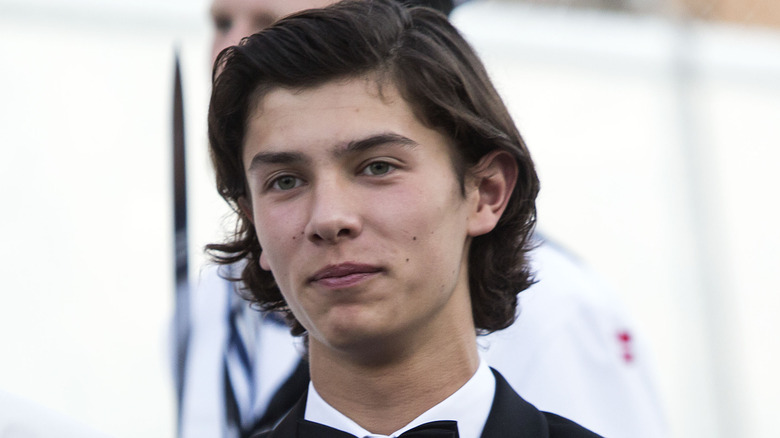 Ole Jensen/Getty Images
While at the prestigious Herlufsholm School in the capital city of Denmark, Count Nikolai got in major trouble for breaking his school's alcohol regulations. Though there was no media coverage of the incident at the time it occurred, the event actually came to light years after the young royal had left the school. In May 2022, Klaus Eusebius Jakobsen, who was the headmaster at the same time Count Nikolai was a student from 2014 to 2016, shared the details of the incident with the Danish publication TV 2 ØST. Jakobsen had come to TV 2 Øst to defend Herlufsholm against claims that the elite boarding school favored students of privileged backgrounds — such as royal family members. In his interview, Jakobsen revealed that a royal family member was given a warning and sent home from school for breaking school rules involving alcohol (via Berlingske). When TV 2 ØST asked him directly if the royal involved was Count Nikolai, Jakobsen said yes. 
Helle von Wildenrath Løvgreen, who is the press advisor for Count Nikolai's mother, confirmed to Ekstra Bladet that Jakobsen's story about Count Nikolai was indeed accurate.  According to Countess Alexandra of Frederiksborg, the young count was given a warning and sent home for a couple of days where she and Prince Joachim handled the situation. Jakobsen has since apologized to Count Nikolai and his family for revealing the details of the incident to the public (per TV2 ØST). 
He made his fashion debut at 18 years old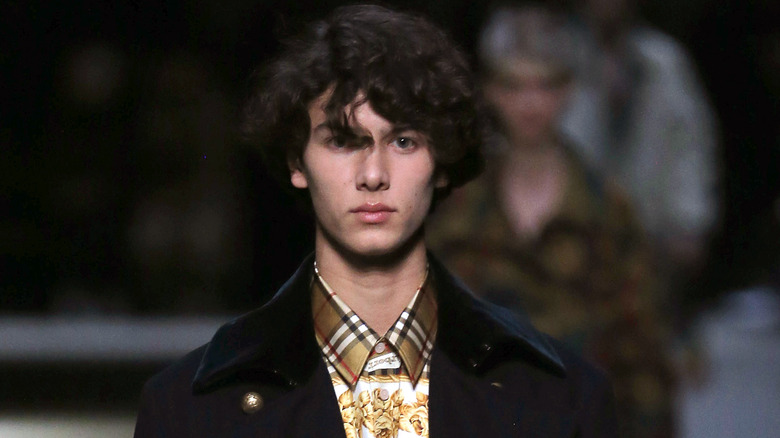 Estrop/Getty Images
Before February 2018, Count Nikolai's reputation centered around being the eldest grandchild of Queen Margrethe II of Denmark. However, that all changed when Count Nikolai burst onto the fashion scene as a model when he appeared on the catwalk of London Fashion Week. As he rocked one of London-based Burberry's iconic trench coats down the runway, the Count of Monpezat also successfully captured the attention of famous attendees sitting in the front row such as Naomi Campbell and Kate Moss. 
Count Nikolai's fashion debut inspired royal watchers to reimagine the possibilities available to those born into royalty. He became the first male royal to explore a modeling career and joined the shortlist of royals such as Lady Amelia Windsor and Charlotte Casiraghi to find success as a model. And he was serious about pursuing his new interest. Shortly after his first runway appearance, Count Nikolai accepted a contract offered to him by Scoops Models — a prominent modeling agency based in Copenhagen.
Prince Joachim, Count Nikolai's father, spoke to the Danish publication, Billed Bladet, about his son being free to explore career paths regardless of his connection to the royal family. Prince Joachim said, "He must not be forced to do anything. Nikolai's life must proceed entirely according to his own plan. I want to help him on his way and try to inspire him." Count Nikolai of Monpezat must be taking his father's advice to heart. 
Count Nikolai is in quite a beautiful relationship
As he continues to cement his status as a royal heartthrob, Count Nikolai has sparked musings surrounding his love life — spoiler: he's in a relationship. In fact, he has been in a happy relationship with Danish fashionista Benedikte Thourstrup since 2018. The glamorous couple met and began dating while they were both students at the boarding school Herlufsholm. Together, they graduated in 2018 and have rarely left each other's side since. While they were both students at the Copenhagen Business School, they lived together in a swanky apartment in Copenhagen and even moved to Paris together to study abroad for six months. 
Though she may not herself be a Danish royal, Thourstrup is just as glamorous as the family of her beau. Benedikte Thoustrup is a designer and businesswoman who owns BénéSoie,  a Danish fashion brand that specializes in producing hair clips, accessories, and silk bands that offer an alternative to curling irons. In addition to prioritizing its fashion, BénéSoie is committed to the sustainability of its designs. Thoustrup's personal Instagram includes photos of her modeling her company's products in addition to aesthetic photos of lavish events and the occasional photo of her royal boyfriend. It seems that whether one of them goes, the other will always follow — and look absolutely beautiful when doing so. 
‌Count Nikolai dropped out of military school
Even after his modeling debut was met with success earlier in 2018, Count Nikolai of Monpezat decided to explore yet another path: the Danish military. Just as many royals, including his father Prince Joachim had done, Count Nikolai decided to undergo military training. In August 2018, Count Nikolai relocated to the Royal Danish Military Academy in Copenhagen to begin a two-year military training with the intended goal of becoming a Lieutenant of the Reserve. 
However, after two months, it was announced that Count Nikolai had decided to leave his program in October 2018. The news came from the private secretary of Count Nikolai's mother, Countess Alexandra. In the statement, it was made clear that Count Nikolai was dropping out of his military training because he could no longer see himself in a future military career. The announcement seemed to emphasize that Count Nikolai's decision to not complete his training was not in response to a negative experience at the Royal Danish Military Academy, but that he had realized that a military career simply did not suit him. Just one year later in 2019, Count Nikolai's younger brother, Count Felix, would similarly drop out of his own military training to become an Army Lieutenant. Like Count Nikolai, Count Felix left the Royal Danish Military Academy after two months with the same reason: it was just not a good fit.
His face has appeared on multiple magazine covers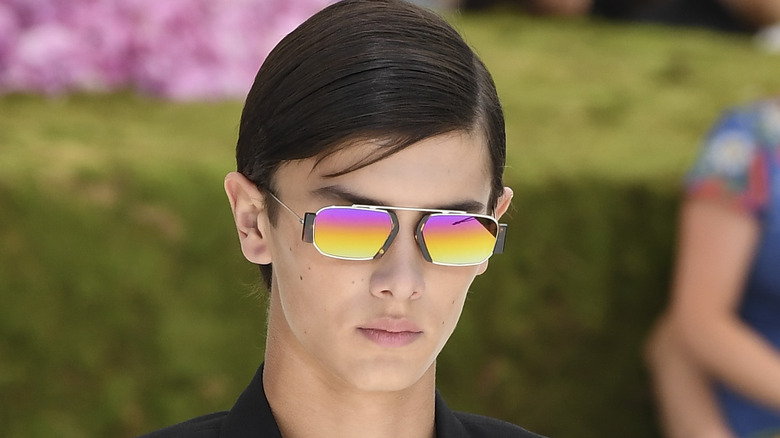 Pascal Le Segretain/Getty Images
Since he took his first steps onto the fashion scene in 2018, Count Nikolai has found success on and off the runway. The handsome face of Queen Margrethe II's oldest grandchild has graced the covers of some of the biggest names in the industry. While simultaneously completing his studies, Count Nikolai found the time to stun audiences in 2022 with an appearance on the cover of Vogue Scandinavia's February-March edition. Wearing a soft pink jacket from Dior, for whom he has also walked the runway, Count Nikolai displayed the dreamy sophistication and effortless grace that has contributed to the mystique of royalty throughout the centuries. 
As his following and respect in the fashion industry grew, so did his popularity. Count Nikolai appeared on the cover of the April 2019 edition of Vogue Ukraine in addition to a striking editorial spread. With his signature dark curls framing his face perfectly, Count Nikolai was a vision of poise. Other magazines he has shone on the front covers of include Vogue Czechoslovakia and Numero Netherlands. Whether or not Count Nikolai will continue appearing on the covers of magazines or will explore a new career path entirely, his fashion legacy will remain in the stunning editorials he has appeared in.
The Count of Monpezat is a regular on the runway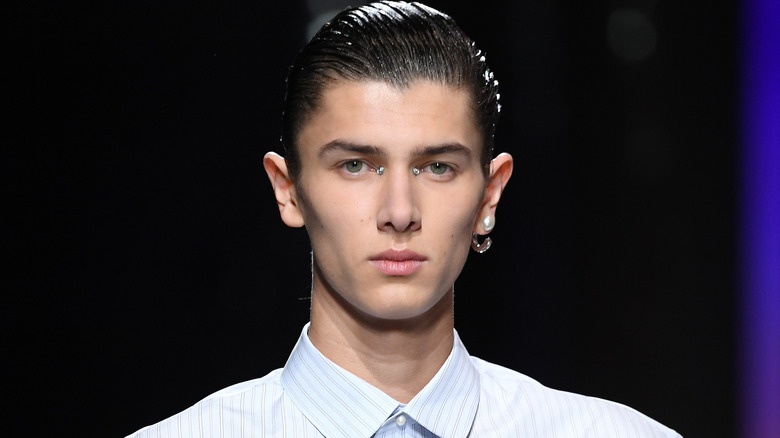 Pascal Le Segretain/Getty Images
Count Nikolai seems to have a special affection for the catwalk. After all, it is through that form of fashion that he made his debut. Since 2018, Count Nikolai has represented several iconic brands on the runway. From Dior to Burberry, the handsome Danish royal has captured the adoration of high-end designers. In 2022, he provided the Danish brand Rains with a grand finale as he modeled their final look on the catwalk of Paris Fashion Week. He appeared in an oversized coat representing "Pink Sky" — which is one of Rains' new featured colors of the event. With his signature slicked-back hair, Count Nikolai took to the runway and represented both the brand and his country, with an ease of elegance. 
Not only does the runway love Count Nikolai, but Count Nikolai loves the runway. To walk the runway at iconic fashion weeks around the globe fills him with energy. After all, he is no stranger to crowds. But his love for the runway goes before the energy of the crowd. One of the aspects Count Nikolai is most drawn to is the incredible dedication of everyone involved in each runway event. "The huge amount of work that goes into every little detail is remarkable and when I get the opportunity to represent a fashion house or a clothing line, I want to participate to this perfection" (via Numéro Netherlands).
Fashion is more than just a career to him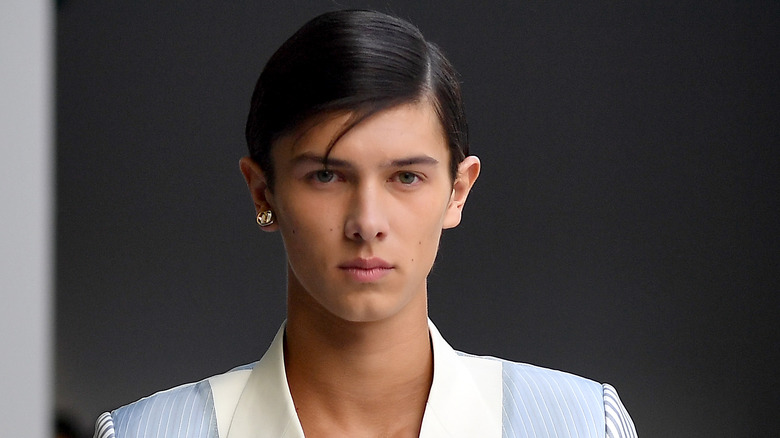 Jacopo Raule/Getty Images
After he snatched the attention of the fashion scene with his debut runway, royal onlookers and industry professionals alike were surely wondering if Count Nikolai of Monpezat had secured himself a future as a working model. He had great career potential: he already had the looks, the connections, and the name to make him a star. But, for Count Nikolai, his interest in fashion goes beyond the possibility of a successful career — it's about passion. In an interview with Numéro Netherlands, Count Nikolai described how fashion represents so much more than simply modeling. He told Numéro Netherlands, "Fashion for me is a large entity. First and foremost, I very much enjoy working with fashion ... Design is an art form I much respect and fashion can be a way to express oneself." His curiosity shows more than just excitement at finding something he can make his own. It shows a genuine desire for exploration. 
Beyond passion, Count Nikolai's involvement in the fashion industry also represents independence. It was revealed in May 2016 that he would receive not a state-funded salary upon his 18th birthday — a decision that meant that Count Nikolai would not have the financial safety net that was previously expected for the children of Danish royalty. So, his modeling career is a way for him to establish himself as a passionate individual whose identity is greater than who he is related to.
He was hurt when his grandmother removed his royal title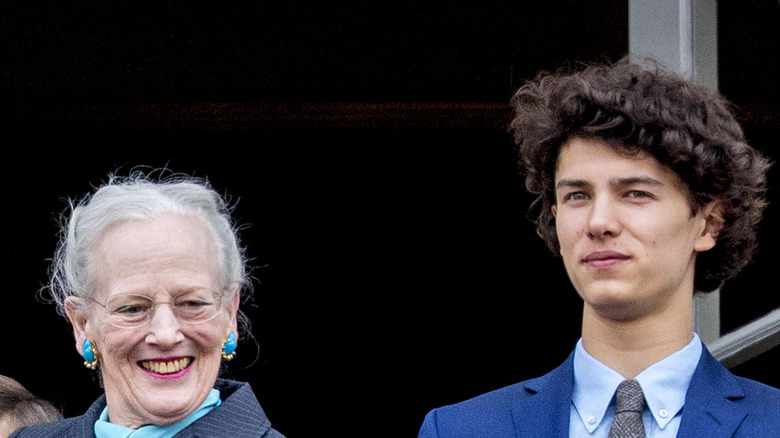 Patrick Van Katwijk/Getty Images
The Danish royal family was thrown into the international spotlight in September 2022 when Queen Margrethe II made the controversial decision to change the royal titles of her younger son, Prince Joachim's children. In a decision that only impacted the four of her eight grandchildren, Queen Margrethe II announced that the "prince" and "princess" titles that once belonged to Count Nikolai, Count Felix, Count Henrik, and Countess Athena would be removed and, beginning in January 2023, they would be known as count or countess of Monpezat. Additionally, they would no longer be known as His Highness or Her Highness, but would instead be formally addressed as His and Her Excellency. 
This decision sparked a great deal of tension not only in the public but, more importantly, within the Danish royal family itself. Alexandra Countess of Frederiksborg, mother of Count Nikolai and his brother Count Felix, publicly expressed her disappointment with the decision. Even Queen Margrethe expressed regret at the harm she caused. But, more importantly, Count Nikolai wasn't afraid to share his reaction. When speaking to the Danish publication Ekstra Bladet, Count Nikolai shared his own confusion and disappointment. He told them, "My whole family and I are of course very sad. We are, as my parents have also stated, in shock at this decision and at how quickly it has actually gone. I am very confused as to why it has to happen like this."
His Instagram is becoming increasingly popular
Unlike many other European royals, Count Nikolai is active — and rather successful — on social media. But he didn't always have a presence online. It wasn't until Queen Margrethe II made the decision to remove his title of "Prince" that Count Nikolai seemingly felt free enough to launch his own personal Instagram and open his life up to the public. In the days following the controversy surrounding the decision to strip the Danish grandchildren of their royal titles, Count Nikolai created an Instagram that exploded onto the Internet. In a matter of weeks, the young royal had amassed around 35,000 followers.
Count Nikolai uses his Instagram in a variety of ways. Not only does he share photos from his modeling career that promote runways and editorial spreads that he appears in, but he also shares moments from his personal life. As of Fall 2023, the account boasts 77,000 followers (and counting!) who can view photos of Count Nikolai's everyday life as well as lavish vacations such as skiing with his family in the Alps. When he prepared to move with his girlfriend, Benedikte Thoustrup, to Australia in the Fall of 2023, Count Nikolai used his Instagram to document his final days in Europe. With the opportunity to post directly on his own social media, Count Nikolai has managed to cultivate a familiarity between himself and his followers — a relationship between royal and commoner that has rarely felt so personal.
Count Nikolai enjoys spending time at his family's summer home
Count Nikolai, along with the other Danish royals, lives quite lavishly in incredibly beautiful locations. The Château de Cayx is one of these stunning places. Purchased by Count Nikolai's grandparents Queen Margrethe II and Prince Henrik in 1974, the Château de Cayx is a historic villa in the south of France. The estate has become a favorite place for Count Nikolai and his family to spend their summer holidays. Along with his father and stepmother, Prince Joachim and Princess Marie, Count Nikolai enjoys time with his brother and half-siblings in this idyllic setting.
Dating back to medieval times, the Château de Cayx has been an estate for the nobles of the region. With breathtaking views of the beautiful French countryside as well as the estate's historic vineyard that continues to produce wine today, the Château de Cayx has understandably become one of the places Count Nikolai loves to vacation. Count Nikolai showcased this beautiful French getaway in an Instagram post from July 2023. He captioned his collection of photos from the Château de Cayx with "a good week" written in French. His time at the summer home was something out of a dream. His photos included swimming in the river, setting wine out for dinner, preparing for a tennis match in the backyard, and enjoying a sunny boat ride with his family.
He has relocated to Australia with his girlfriend
Whether he is exploring a new career path or a brand new city, Count Nikolai seems to have a penchant for adventure. Perhaps it is this curiosity for exploring the world that led him and his girlfriend, Benedikte Thoustrup, to decide to relocate once again — this time, to Sydney, Australia. In May 2023, it was announced that the power couple would be moving to Sydney in the Fall of 2023 to study together at the University of Technology in Sydney for one semester. Moving to Australia was an incredible opportunity for Count Nikolai. He told Numéro Netherlands, "The choice fell on Australia because it is very foreign for a Dane like me. I have never been that far away and I believe seeing that corner of the world takes more than two weeks' holiday, hence I want to try and move there." 
After an idyllic summer during which Count Nikolai enjoyed his final days in Europe in dreamy photos shared on social media, Count Nikolai and Thoustrup made the long-anticipated move. This adventure Down Under is somewhat of a fresh start for Count Nikolai, who, in early 2023, found out that his title of "Prince" would be taken away by his grandmother. But as he and Thoustrup moved into their new home in beautiful Surry Hills, Count Nikolai surely celebrated an opportunity for something new.