Who Is Donna Kelce, The NFL Mom Adored By Football Fans?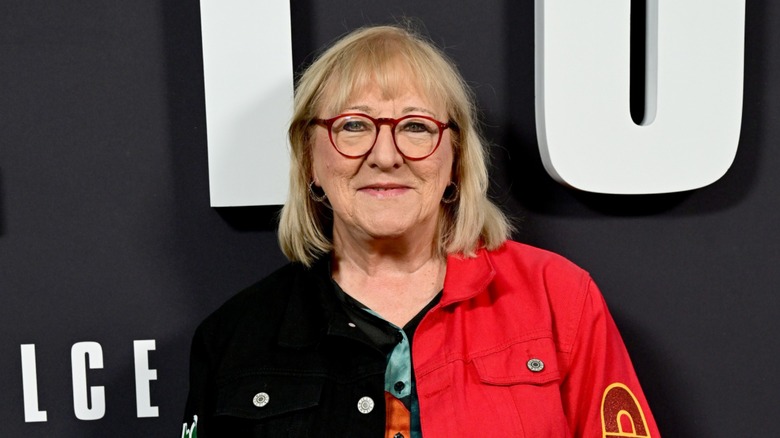 Lisa Lake/Getty
The 2023 Super Bowl was a legendary one. Making the event even more memorable was that, due to playing on separate teams, brothers Jason Kelce and Travis Kelce competed against each other. Their mother, Donna Kelce, attended the game in a colorful outfit that showed she would not choose sides between the teams, as it featured elements for both Jason's team (the Philadelphia Eagles) and Travis' team (the Kansas City Chiefs). The proud NFL mom has won over fans of both teams through her devoted parenting. 
Like her sons, Donna has an athletic streak. In her younger years, she medaled at the Junior Olympics as a member of the track and field team. She told her sons on their podcast, "New Heights," that she had to participate in the sport secretly because her father didn't approve, but her stepmother convinced her to compete.
On the podcast, Donna also talked about her childhood and upbringing, detailing how she became the first college graduate in her family. She and her ex-husband, Ed Kelce, who was also featured in the episode, both expressed that, despite getting divorced, they still care for each other. 
Donna said 'it's just been a pure joy' watching her sons play sports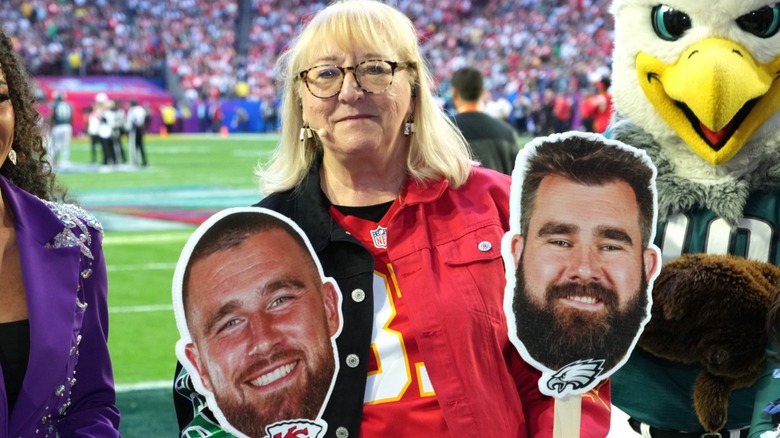 Kevin Mazur/Getty
Donna Kelce is immensely proud of her boys, and she got choked up talking about it on "Today" prior to the 2023 Super Bowl. When she was asked about what it means to have both of her sons, Jason Kelce and Travis Kelce, operating at such a high level and both making it to the Super Bowl, she talked about how watching your kids play sports, you never know how good they really are compared to other players across the country. Donna loved watching them participate in all the sports they played since Jason and Travis did much more than just football.
She continued, "It's just been a pure joy to watch them compete and be allowed to do it for this many years, it's just amazing." Donna also said that although she really could not choose a team to root for at the Super Bowl, she told Jason she was rooting for the Eagles because he's the brother who has given her grandkids.
Prior to their big game, the NFL mom revealed that she had prepared her sons a sweet gift. "I wrote them both letters and I'm going to take them cookies," she told People.
Donna also watched her sons on SNL
No destination is too far for Donna Kelce when it comes to watching her sons play football. In 2022, the NFL posted on X, formerly known as Twitter, that the proud mom traveled from Florida to Missouri in one day to see both of their playoff games.
In addition to attending her sons' games, Donna has shown up for other big moments. In March 2023 a few weeks after the Chiefs' Super Bowl win, she (along with Ed Kelce and Jason Kelce) were in the crowd to watch Travis Kelce host "Saturday Night Live." Donna got to see both her athletic sons try their hand out at acting because Jason even got in on the fun, making cameos in a couple of sketches with his brother.
Months later, rumors that Travis was dating Taylor Swift began to swirl. Travis subtly confirmed his Swiftie status on an episode of "New Heights" after the singing superstar attended a Chiefs game and sat with Donna, who reportedly approves of the music icon. "Donna likes Taylor and thinks she's very sweet and down to earth," a source told People.